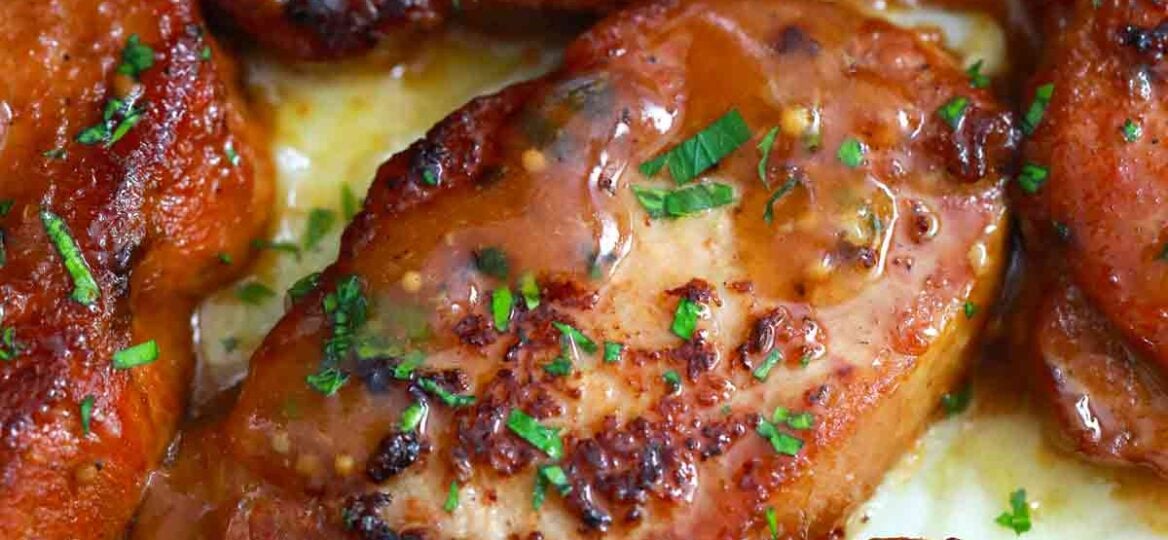 Instant Pot Honey Garlic Pork Chops [Video]
Instant Pot Honey Garlic Pork Chops are incredibly juicy and tender, perfectly soaked in the most delicious honey garlic sauce. This is a quick and easy dinner ready in less than 30 minutes using fresh or frozen chops.
This is one of my favorite go-to Instant Pot Recipes because it is easy to prepare and very satisfying. For more delicious IP dinners, try my Instant Pot Honey Garlic Chicken Thighs, Pressure Cooker Apple Cider Pork Chops, and IP Frozen Pork Tenderloin.
Instant Pot Pork Chops With Honey Garlic Sauce
These Instant Pot Honey Garlic Pork Chops are just as delicious and juicy as my Oven-Baked Pork Chops but just quicker and easier made in the pressure cooker. This is truly one of the best pork recipes to make in the IP.
Firstly, if you are busy and want a quick and easy dinner, this is the perfect solution. You simply make the sauce, put the meat in the IP, and cook it for less than 15 minutes.
And just like that, dinner is served! Another reason I love this dish is that you can cook fresh or frozen meat in the pressure cooker. The results are equally delicious, the only difference would be to increase the cooking time by a few minutes for frozen chops. Similarly, you can easily cook bone-in or boneless chops.
In addition, the meat is cooked to perfection, and it is super flavorful, juicy, and tender. The honey garlic sauce adds a nice touch to it, and it truly elevates the flavors. I like making some extra sauce and store it for later, to use it in other recipes.
Ingredients needed to make this recipe:
For the exact ingredients measures, please refer to the recipe card below.
Meat: Either boneless or bone-in pork chops work well here, depending on your preference. The important thing to remember to try using a thicker cut. About 1 inch to 1.5-inch think works the best here, especially when cooked under pressure.
Seasoning: Salt, paprika, onion and garlic powder, ground black pepper, chili powder. garlic powder, onion powder, brown sugar.
All-purpose flour
Mustard seeds
Freshly minced garlic
Butter: It goes well with the minced garlic and it adds plenty of flavors and makes it extra creamy. Use unsalted and unflavored butter.
Borth: I like using my homemade chicken stock. However, you can use vegetable broth or a store-bought version.
Honey and apple cider vinegar: For the sauce.
How to make the best Instant Pot Honey Garlic Pork Chops?
Season and rub the meat: First, in a medium bowl, combine the dry seasoning ingredients with all-purpose flour. Then, season the chops evenly on both sides with the rub mixture.
Saute the chops: Click on saute button, and add the butter. Next, add the meat to the bottom of the pot and brown them on each side for about 2 minutes. Once browned, remove from the pot, and set aside.
Make the sauce: Add the minced garlic to the IP, along with mustard seeds, and cook for 20-30 seconds. Then, add a bit of all-purpose flour, and stir well. Next, add the stock, vinegar, and honey and whisk well so that nothing sticks to the bottom.
Pressure Cook: Add the meat back to the sauce in the pot. Close the lid and cook on HIGH for 7 minutes.
Serve: Lastly, release the pressure and enjoy it warm with your favorite side dish.
Recipe Variations and adaptations:
Gluten-Free: To make it gluten-free, replace the all-purpose flour with a gluten-free version.
Seasoning: Feel free to use other seasonings. Some great alternatives would be ranch seasoning, cajun seasoning, or taco seasoning.
Spicy: Mix in some freshly chopped jalapeno, or chili flakes.
Other meats: Alternatively, you can use other meats. This recipe works well with chicken thighs, breasts, and lamb chops.
Creamier: For a creamier texture, you can add one spoon of cream cheese or Greek yogurt to the mix.
Can I make this recipe in the Slow Cooker?
Absolutely! Making it in the slow cooker is equally easy.
Follow the same steps above, and season the meat.
Then, brown the meat for 2-3 minutes on both sides on an iron-cast pan.
Make the sauce, and pour it at the button of the pot.
Next, add the meat to the sauce, close the lid, and cook on LOW for 4 hours, or HIGH for 2-3 hours.
Also, I highly recommend trying my Slow Cooker Teriyaki Pork Chops.
What to serve with this meal?
I would recommend pairing it with the following:
Can I cook frozen pork chops in the Instant Pot?
Yes! The beauty of the pressure cooker is that you can cook fresh and frozen meat in it. For frozen meat, simply increase the cooking time by 5 minutes.
Also, it is best to use a thermometer to check the internal temperature. It should ready at 145 degrees F. If it is less than this, you can cook them for a few extra minutes.
More Instant Pot recipes to try:
Storing Instructions:
Refrigerate: Leftovers can be refrigerated in an airtight container for up to 4 days.
To freeze: Use a freezer-safe container, and freeze leftovers for up to 3 months.
To reheat: Microwave them for 2-3 minutes until warm. Also, you can reheat them in the oven at 350 degrees F for about 10 minutes.
Recipe Tips:
I highly recommend using thicker cuts, at least 1 to 1.5 inch thick chops.
It is important to brown the meat on both sides, this will lock in the flavors, and make it juicier.
Also, you can use bone-in or boneless pork chops. Just go with what you have on hand.
To avoid the burn notice, ensure to deglaze with stock, and scrape the bottom of the pot prior to adding the meat.
Garnish them with some freshly chopped parsley or green onion.
Deliciousness to your inbox
Enjoy weekly hand picked recipes and recommendations