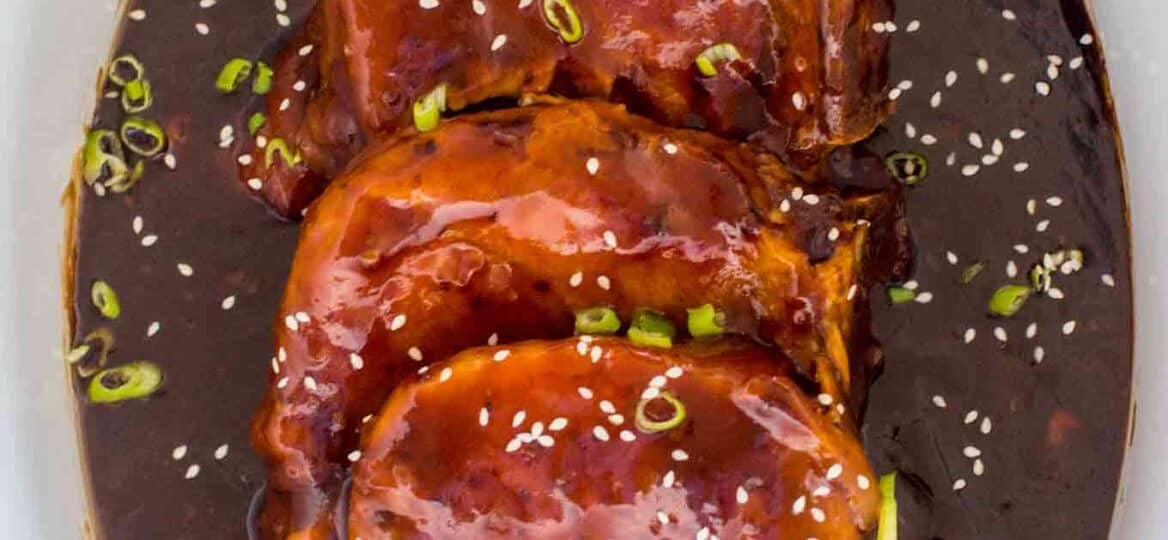 Easy Slow Cooker Pork Chops [Video]
Slow Cooker Pork Chops are incredibly easy to make and are cooked to perfection in a delicious teriyaki sauce. This comfort meal requires only two ingredients – chops and teriyaki sauce. Follow this easy recipe and learn how to cook fork-tender and succulent pork chops in the crockpot!
I love slow cooker recipes because they are budget-friendly and very easy to make. You simply dump the ingredients and let it slowly cook for hours to do its magic. The meat always turns out flavorful and very tender. For more easy dinner recipes, try this Slow Cooker Peach Pork, Crockpot Pot Roast with Red Wine, and Slow Cooker Short Ribs.
Crock Pot Pork Chops with Teriyaki Sauce
Slow Cooker Pork Chops is the perfect comfort food for the whole family to enjoy. This is a hearty and budget-friendly dinner that requires only a few minutes of preparation time.
Slow cooking the meat results in the best pork chops, with juicy and flavorful texture. All you need is some good bone-in pork chops and teriyaki sauce, for a delicious and mouth-watering dinner.
Also, I use chops that are about 1-1 1/2 inches thick with the bone-in. You can also use thinner cut chops, but the cooking time should be reduced because the meat will be a bit dry.
The bone-in is optimal for this recipe, as it has an extra flavor from the bone. And when cooking for a longer time frame, the meat turns out perfectly tender and juicy.
Once you have the cuts ready, place them in the slow cooker and add the teriyaki sauce and cook on low settings. Serve them warm over some mashed potatoes.
How do you keep pork chops from drying out??
The secret starts with the meat. For ultimate results follow the guidelines below:
Try not to use thin-cut pork chops
Using thin-cut chops can result in dry meat. Since the meat will be cooked for a longer period of time in the crockpot, it tends to dry out if it is thin cut.

The best alternative to cooking the thin-cut chops would be cooking them on the stovetop. Once cooked, top them with teriyaki sauce at the end.
Using boneless pork chops
You want to have nice and thick boneless pork chops when cooking them in the crockpot. It will result in fall of the bone-tender and juicy meat.
Similarly, the thick-cut boneless chops cook very quickly and are usually done in 2-2 1/2 hours. So make sure to check on them when you hit the 2-hour mark.
You know that the meat is done cooking when they reach an internal temperature of 145 degrees F.
For the best results use thicker, bone-in pork chops
This is your go-to category for the ultimate meal. Using bone-in meat will result in a flavorful and tasty meal.
Similarly, the bone-in helps insulate the meat and keep the chops tender, juicy, and very moist.
Lastly, using moisture or sauce while cooking on a low setting will prevent the pork chops from drying out.
How to make Slow Cooker Pork Chops?
Before cooking, make sure the meat is dry. If needed, dry them with a paper towel on both sides.
Also, prior to adding them to the slow cooker, you can brown the chops in a skillet, for 2-5 minutes per side. They should have a nice golden brown color on them. If you are short on time, you can skip this step.
Next, spray the slow cooker with some olive oil, and place pork chops on it.
Lastly, pour in the teriyaki sauce. Then cover and cook.
For bone-in thick cut chops, you will need to cook them for about 6-7 hours on LOW, or 3-4 hours on HIGH. For boneless chops, the cooking time will be about 4-5 on LOW or 2-3 on HIGH.
Possible flavor variations:
Sweet and spicy: If you want them on a sweeter note, then brush the meat with barbecue sauce. Also, mixing some brown sugar and cider vinegar is a great flavor alternative.
Instant Pot Apple Cider: Alternatively, feel free to make this Instant Pot Pork Chops recipe. It is super quick and easy, and would make for a perfect family dinner during busy weeknights!
Cream soups: This is another great option, and you can use pretty much any cream soup you like. Substitute the teriyaki sauce with an equal amount of cream of mushroom soup, cream of chicken soup, or cream of mushroom soup. You can also add half a cup of chicken broth for extra moisture.
Can you cook them on high heat?
Yes, you could. However, I would not recommend it because the meat will not be as juicy and as tender.
The best way to cook them would be on a low setting. This will result in fall-apart tender and juicy meat.
How do you make your own Teriyaki Sauce?
If you would rather use homemade teriyaki sauce instead of store-bought, use this version to make your own.
Teriyaki Sauce ingredients:
1 1/2 cups water
1/3 cup soy sauce, reduced-sodium
5 tablespoons packed brown sugar
1 teaspoon minced ginger
1 teaspoon minced garlic
2 tablespoons honey
1/4 teaspoon red pepper flakes, optional
2 tablespoons cornstarch
1⁄4 cup cold water
Cooking steps:
First, place a saucepan over medium heat.
Next, add all the ingredients, except for the last two: cornstarch and water.
Stir to combine and cook until the sauce starts to simmer. Stir and simmer for 2-3 minutes.
In a cup, mix cornstarch and cold water to dissolve.
After, add cornstarch and water mixture to the saucepan, whisking well until sauce thickens.
Heat until sauce thickens to desired thickness. If the sauce is too thick add more water little by little.
How to make oven baked Pork Chops?
Before cooking, use a paper towel to dry the meat on both sides.
In addition, prior to putting them in the oven, you can brown the chops in a skillet, for 2-5 minutes per side. They should have a nice golden brown color on them. If you are short on time, you can skip this step.
Next, transfer them to a baking dish. Pour the teriyaki sauce on top of them, and cover with foil.
Bake them at 350 degrees F for about 30-40 minutes. They are done when they reach an internal temperature of 145 degrees F.
Can I use chicken instead of pork?
Chicken is a great alternative to pork in many recipes including this one. If you plan on using chicken, it is best to use chicken thighs, with or without the bone. Both versions will work perfectly here. I also like to brown the chicken thighs before adding them to the slow cooker.
Check out the Slow Cooker chicken version here.
What to serve with pork chops?
Storing instructions:
Refrigerate: Let leftovers completely cool at room temperature prior to storing. Then, transfer them to an airtight container and refrigerate them for up to 4 days.
Freeze: Before freezing, let the sauce from the slow cooker cool completely. Next, transfer into freezer-safe containers or heavy-duty freezer bags and add the pork chops. Then, label with the date, and freeze for up to 3-4 months, or longer if you use a deep freezer.
Reheat: You can reheat them in the microwave for a few minutes until warm.
More comforting slow cooker meals:
Cooking Tips:
For a spicier kick, you can add some sriracha or chili flakes
Teriyaki sauce can be replaced with BBQ sauce if desired
Similarly, you can use general Tso or orange sauce
Add some chopped parsley or green onions at the end for a fresh flavor. If you don't have parsley on hand, you can omit it, or substitute sliced green onions.
Also, for extra flavor feel free to add some garlic powder, onion powder, or ranch seasoning.
In addition, if you are not a fan of teriyaki sauce, replace it with barbecue sauce.
Tools used to make this recipe:
Crockpot – very reasonably priced and definitely a kitchen must-have if you are busy.