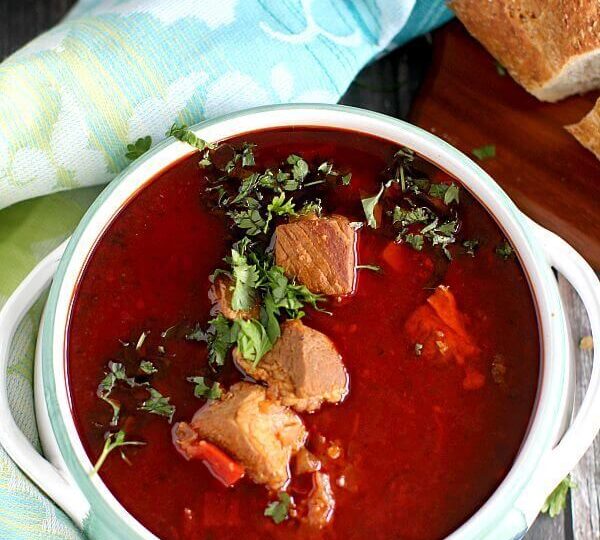 Slow Cooker Pork Goulash is tender with tons of veggies and packed with delicious flavors. It is made using the Instant Pot Slow Cooker function and is a perfect meal for a weeknight.
We love the Instant Pot recipe, and among our favorite dishes to make is pulled pork, instant pot chili, and smoked ribs in it.
Slow Cooker Pork Goulash
I love my Instant Pot, all its functions, and the convenience of a home-cooked dinner that comes with it. This slow cooker pork goulash is very easy to make because the slow cooker does the heavy lifting for you. All you have to do is put the ingredients in and wait patiently.
This slow cooker pork goulash is the epitome of deliciousness for me. First of all, it packs a good chuck of tomatoes, and also carrots and juicy bell peppers. Furthermore, it has a subtle smoked and spicy flavor from the smoked paprika used in the recipe. The pork gets very tender and it absorbs the delicious tomato sauce.
The veggies are soft, but not mushy, they have just the right amount of chewiness. The slow cooker pork goulash is better served over white rice or mashed white potatoes, garnished with fresh parsley. You don't have to wait for cold weather to make this easy, delicious, healthy, and time-saver meal.
Why You'll Love This Recipe:
Firstly, it is very easy to make with minimal prep work.
In addition, it's a hearty and delicious meal that can be served as a weeknight dinner.
The dish is packed with amazing flavors and protein. Hence, very nutritious.
It is a one-pot meal that is easy to prepare and clean.
Also, you will have delicious leftovers the next day.
What is goulash?
It is delicious comfort food that originated in Hungary. This dish dates back many centuries and it was originally made by shepherds drying our meat. They would add water to create a soup or stew.
The traditional goulash is made with beef, onions, paprika, macaroni, tomatoes, various veggies, and broth. However, this version is made with pork.
There are many variations of this classic dish. Some use potatoes, carrots, celery, and various ingredients.
What dried herbs do you need to make Slow Cooker Pork Goulash?
How to make Slow Cooker Pork Goulash?
Brown the meat: First, using the saute function, brown the meat for a few minutes on both sides.
Add onions: Next, add the chopped onion and garlic and cook until tender.
Add the rest of the ingredients: Then, add the rest of the ingredients to the pot.
Cook: Cover and cook on low settings.
Serve: Enjoy it warm.
Variations and substitutions:
Other Meat: You can substitute the pork for chicken or beef, it will come out just as delicious. Also, if you want to go for a vegetarian, just substitute with beans and reduce the cooking time by 1/3.
Broth: Also, feel free to substitute the beef or chicken broth with vegetable broth for this recipe. It will taste just as good.
Make it spicy: For a spicier chick, add some red pepper flakes, or chopped jalapeno.
What to Serve with Slow Cooker Pork Goulash?
Usually, I serve it with freshly baked bread or dinner rolls.
Another great way to serve this soup is with steamed rice, cauliflower rice, or brown rice.
Also, it goes well with roasted potatoes, corn on the cob, instant pot mashed potatoes, sweet potatoes, or mashed cauliflower.
How to freeze leftovers?
Firstly, make sure you let the goulash cool to room temperature.
Also, I recommend using quart bags for freezing the goulash.
After, use a cup to transfer the goulash from the pot into the bag.
Then, squeeze out excess air and seal the bags.
Store the bags in the freezer for up to 3 months.
When you decide to serve it, add it back to the slow cooker, or to a large pot on the stove for heating.
More delicious slow cooker recipes:
Recipe Tips:
Use quality meat. I like using organic pork because it tends to be extra tender, which is perfect in this recipe.
Also, try to use fresh garlic as the jarred garlic will not give the same flavor.
In addition, remember that when the goulash is warm, it is thinner and it resembles a soup. However, it will thicken out as it cools.
Feel free to add to it some extra veggies, such as bell peppers, mushrooms, carrots, etc.
Deliciousness to your inbox
Enjoy weekly hand picked recipes and recommendations