Slow Cooker Pork Goulash in the Instant Pot
A healthy and delicious, packed with flavor and tons of veggies slow cooker pork goulash that I made using my Instant Pot.
Let the fall comfort food begin. Yesterday was probably our last beach outing. We left the children home, packed the car (with far less stuff) picked up our friends and just spent the day in the sun, eating ice cream, swimming and taking naps of the beach. It was glorious, we were trying to soak the last bits of summer. For he next weekend we have planned a trip with the children to an organic farm, to pick up some goodies, and that is the official start of fall to me. I already started cooking warm comfort food, and the first one was this slow cooker pork goulash that is packed with so many veggies and all you need is some rain and a blanket to enjoy it.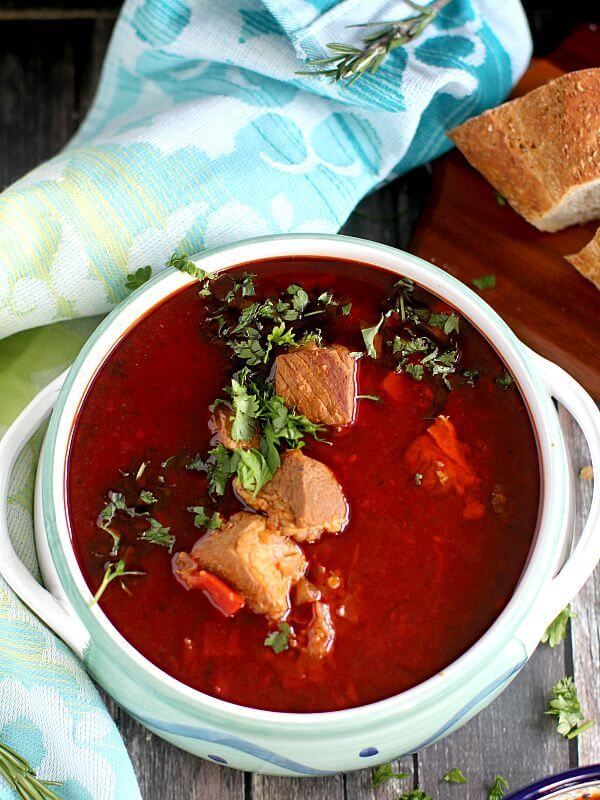 Comfort food at its best all cooked in my Instant Pot. I love my Instant Pot, all its functions, and the convenience of a home cooked dinner that its easy and delicious, I use it at least once a week during-fall and winter, and during summer I make pulled pork and smoked ribs into it. You have to add this recipe to you list of slow cooker must tries. This slow cooker pork goulash is so easy to make, also you can substitute the pork for chicken or beef, and if you want to go for a vegetarian version just substitute with beans and reduce the cooking time by 1/3.

As someone who loves tomatoes, this slow cooker pork goulash is the epitome of deliciousness for me as it packs a good chuck of tomatoes, also carrots and juicy bell peppers.
The slow cooker pork goulash has a subtle smoked flavor from the smoked paprika that is used in the recipe, also it ads a nice spicy kick, the pork gets very tender and it absorbs the delicious tomato sauce. The veggies are soft, but not mushy adding great texture and taste. The slow cooker pork goulash is better served over white rice or mashed white potatoes, garnished with fresh parsley.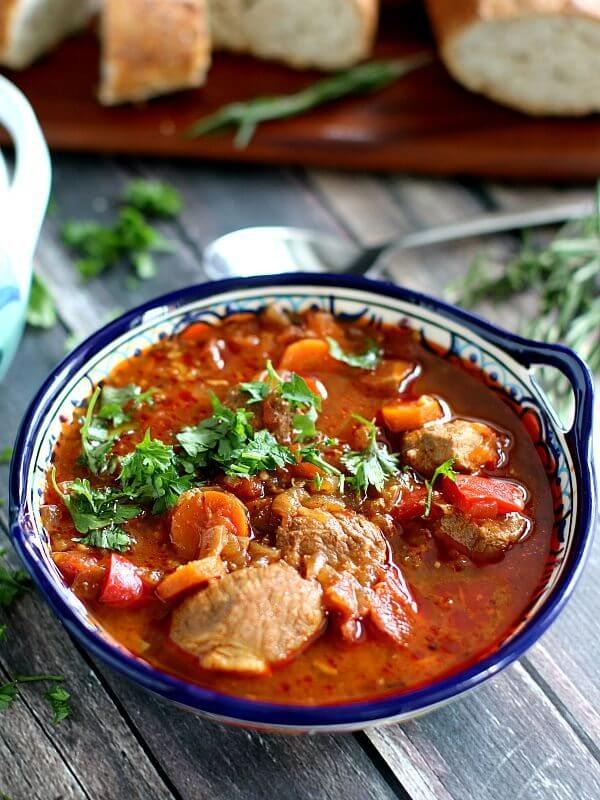 You don't have too wait for cold weather to make this easy, delicious, healthy and time-saver meal. Our family enjoyed it a lot, and I will surely make it again.
Slow Cooker Pork Goulash made in the Instant Pot
A healthy and delicious, packed with flavor and tons of veggies slow cooker pork goulash that I made using my Instant Pot.
Author:
Katalina Kastravet
Ingredients
1lb pork lion, chopped into 1 inch cubes
4 tablespoon canola oil
3 medium onions, chopped
8 garlic cloves, minced
1 tablespoon hot smoked paprika
1 tablespoon paprika
2 cups beef stock or chicken stock
1 cup cold water
1 can (14.5 oz) of diced tomatoes
2 tablespoons tomato paste
4 bay leaves
2 rosemary sticks
2 red bell peppers, chopped
5 medium carrots, cleaned and chopped
salt
ground black pepper
parsley for garnish
Instructions
I used and InstaPot.
From the menu of an InstaPot select the "Saute" function. When it reads "Hot" add the oil to the InstaPot sauce pan. After one minute, when the oil is hot, add the meat and cook until it starts to brown, and the chopped onions and minced garlic, stir and cook until onions just start to get tender. Add the tomato paste, regular and smoked paprika, stir and add the diced tomatoes and the rest of the ingredients: chopped carrot and belle peppers, the bay leaves, beef stock and water.
Add salt and pepper to taste. Give it a good stir, and top with bay leaves and rosemary.
Select the "Slow Cooker" function and input 4:30 hours, adjust temperature to MORE (High).
Serve with rice or mashed potatoes, garnish with fresh chopped parsley and lemon on the side.
Notes
For a vegetarian version use beans instead of meat, and use vegetable broth instead of the beef stock. The cooking time must be reduced to 3:30 hours.
The pork can also be substituted with chicken or beef.