Slow Cooker Pork Goulash in the Instant Pot
Slow Cooker Pork Goulash is tender with tons of veggies and packed with delicious flavors. It is made using the Instant Pot Slow Cooker function and is a perfect meal for a weeknight.
We love cooking with Instant Pot, and among our favorite dishes to make is pulled pork and smoked ribs in it.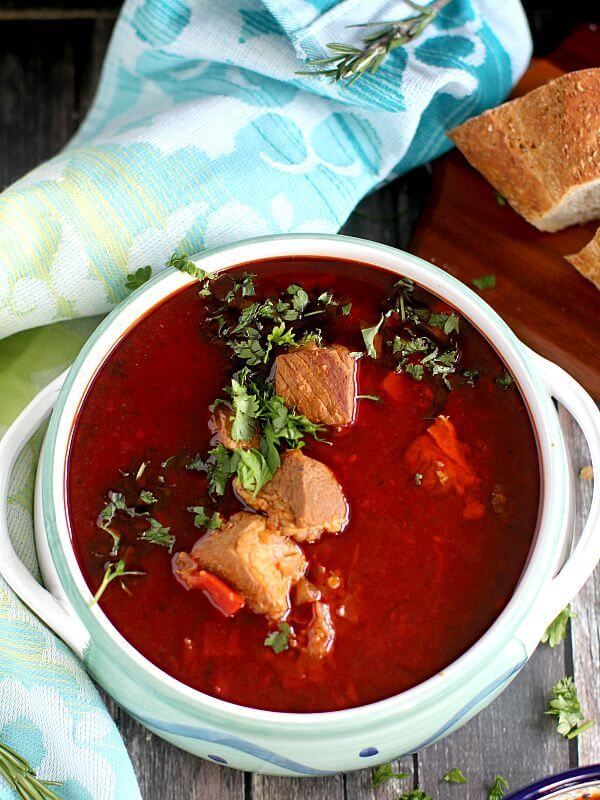 Slow Cooker Pork Goulash in the Instant Pot
I love my Instant Pot, all its functions, and the convenience of a home-cooked dinner that comes with it. This slow cooker pork goulash is very easy to make because the slow cooker does the heavy lifting for you. All you have to do is put the ingredients and wait patiently.
This slow cooker pork goulash is the epitome of deliciousness for me. First of all, it packs a good chuck of tomatoes, and also carrots and juicy bell peppers. Furthermore, it has a subtle smoked and spicy flavor from the smoked paprika used in the recipe. The pork gets very tender and it absorbs the delicious tomato sauce.
The veggies are soft, but not mushy, they have just the right amount of chewiness. The slow cooker pork goulash is better served over white rice or mashed white potatoes, garnished with fresh parsley. You don't have to wait for cold weather to make this easy, delicious, healthy and time-saver meal.
Why You'll Love This Slow Cooker Pork Goulash Recipe:
Firstly, it is very easy to make with minimal prep work.
In addition, its a hearty and delicious meal that can be served as a weeknight dinner.
The dish is packed with amazing flavors and protein. Hence, very nutritious.
Also, you will have delicious leftovers the next day.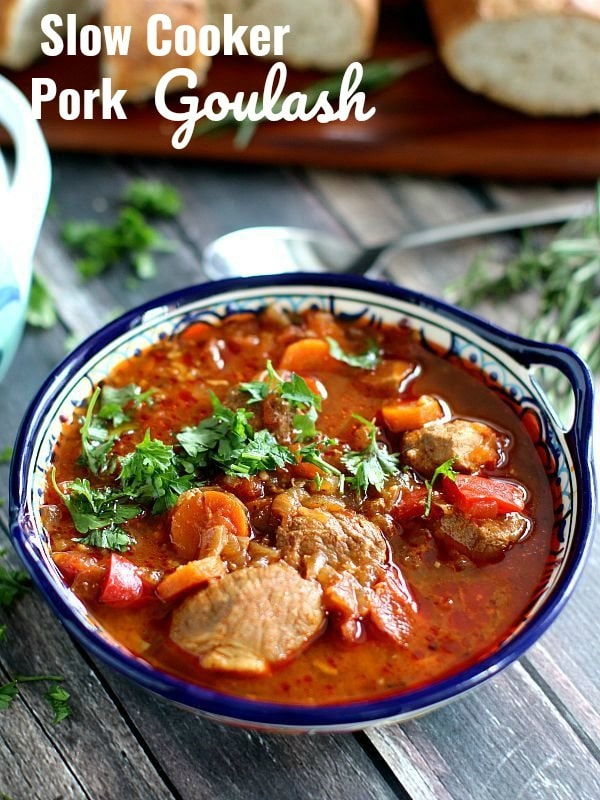 What dried herbs do you need to make Slow Cooker Pork Goulash?
Can I substitute the meat to make the Slow Cooker Pork Goulash?
Absolutely. You can substitute the pork for chicken or beef, it will come out just as delicious. If you want to go for a vegetarian, just substitute with beans and reduce the cooking time by 1/3.
Can I use vegetable broth to make Pork Goulash?
You can substitute the beef or chicken broth with vegetable broth for this recipe. It will taste just as good.
What side do dishes go well with Slow Cooker Pork Goulash?
I would recommend using some of the following side dishes:
How to freeze Slow Cooker Pork Goulash:
Firstly, make sure you let the goulash cool to room temperature.
Also, I recommend using quart bags for freezing the goulash.
After, use a cup to transfer the goulash from the pot into the bag.
Then, squeeze out excess air and seal the bags.
The bags can nicely be stored in the freezer for up to 3 months.
When you decide to serve it, add it back to the slow cooker, or to a large pot on the stove for heating.
Recipe Tips:
Use quality meat. I like using organic pork because it tends to be extra tender, which is perfect in this recipe.
Also, try to use fresh garlic as the jarred garlic will not give the same flavor.
Save Recipe
Author: Catalina Castravet
Serves: 6 servings
Prep time:

20

minutes
Cook time:

4

hours

30

minutes
Total time:

4

hrs

50

mins
Ingredients
1 lb pork loin (chopped into 2 inch cubes)
4 tablespoon canola oil
2 medium onions (chopped)
8 garlic cloves (minced)
1 tablespoon hot smoked paprika
1 tablespoon garlic powder
1 tablespoon onion powder
1 tablespoon dried thyme
1 tablespoon dried rosemary
3 cups beef broth or chicken broth
1 can diced tomatoes (14.5 oz)
2 tablespoons tomato paste
2 red bell peppers (chopped)
4 medium carrots (cleaned and chopped)
2 springs fresh rosemary
4 bay leaves
1/2 teaspoon salt
1/4 teaspoon ground black pepper
Garnish:
Instructions
You can use a slow cooker for this recipe or use the Slow Cooker function on the Instant Pot.
From the menu of an Instant Pot select the "Saute" function. When it reads "Hot" add the oil to the Instant Pot.
After one minute, when the oil is hot, add the meat in one layer and cook until it starts to brown. Stir and let it brown on the other side for 2-3 more minutes. If needed brown the beef in batches.
Add the chopped onions and minced garlic, stir and cook until onions just start to get tender.
Add the tomato paste, garlic powder, onion powder, smoked paprika, ground thyme, ground rosemary, salt and pepper. Stir to combine.
Add the diced tomatoes, chopped carrots and bell peppers and beef broth. Stir to combine.
Add salt and pepper to taste.
Give it a good stir, and top with bay leaves and rosemary.
Select the "Slow Cooker" function and input 4:30 hours, adjust temperature to MORE (High). This means the food will cook on High, you can cook it on Low for 7 hours.
Serve with rice or mashed potatoes, garnish with fresh chopped parsley and lemon on the side.
Notes:
For a vegetarian version use beans instead of meat, and use vegetable broth instead of the beef broth. The cooking time must be reduced to 3:30 hours.
0 Calories: 278 Carbohydrates: 18 Protein: 21 Fat: 13 Saturated Fat: 1 Cholesterol: 47 Sodium: 349 Potassium: 877 Fiber: 4 Sugar: 7 Vitamin A: 8235 Vitamin C: 65.3 Calcium: 85 Iron: 3
Save Recipe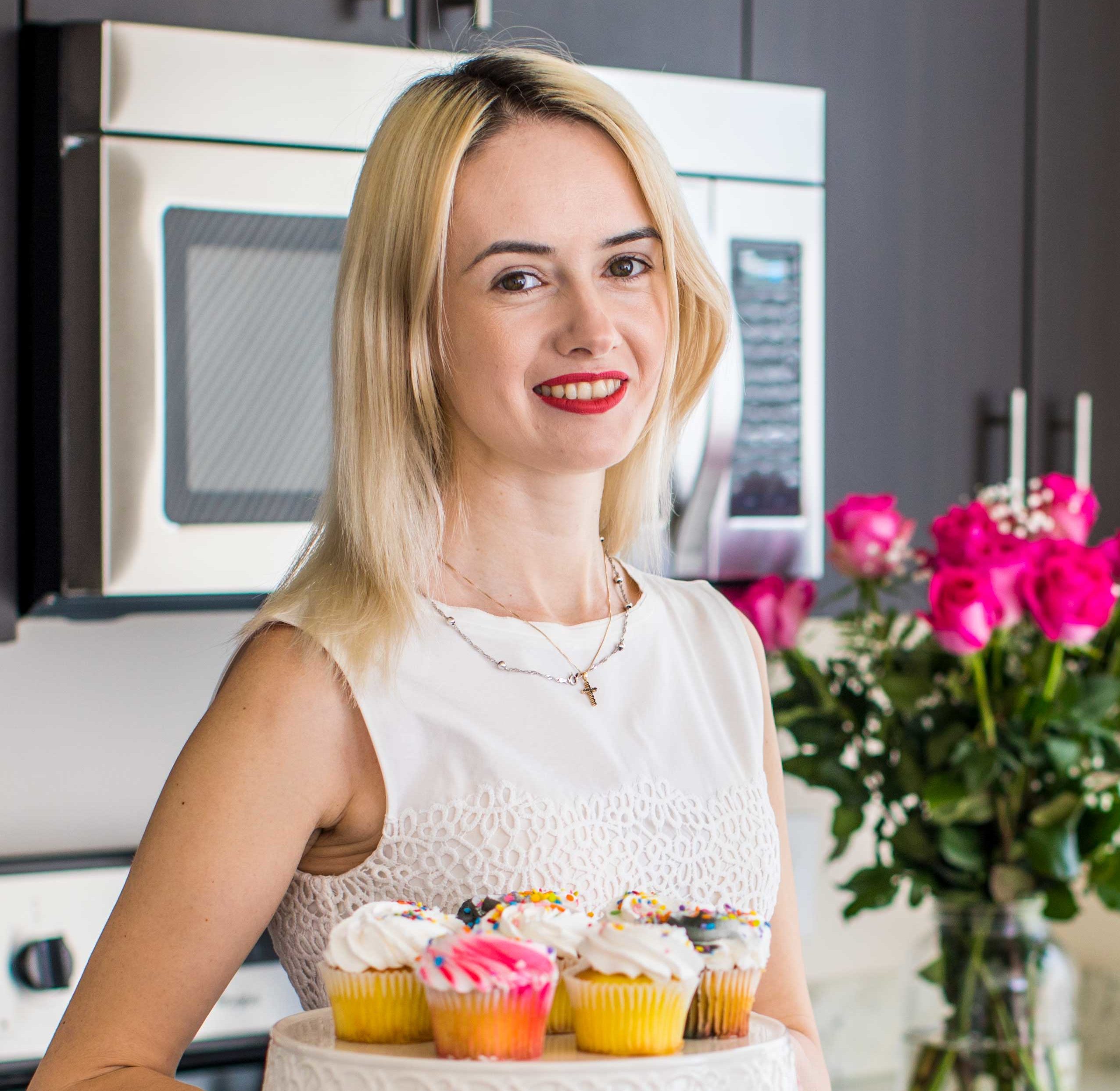 Follow us on Pinterest for more delicious recipes!
More recipes you might love