Instant Pot Apple Cider Pork Chops [Video]
Instant Pot Apple Cider Pork Chops are tender and delicious, easily made into a full meal with mashed potatoes and carrots cooked at the same time in the pressure cooker. Watch the recipe video tutorial below and see how simple and delicious this recipe is!
We love using the pressure cooker to make easy and delicious meals. Among our most popular once are Instant Pot Orange Chicken, General Tso, and Pressure Cooker Mongolian Chicken.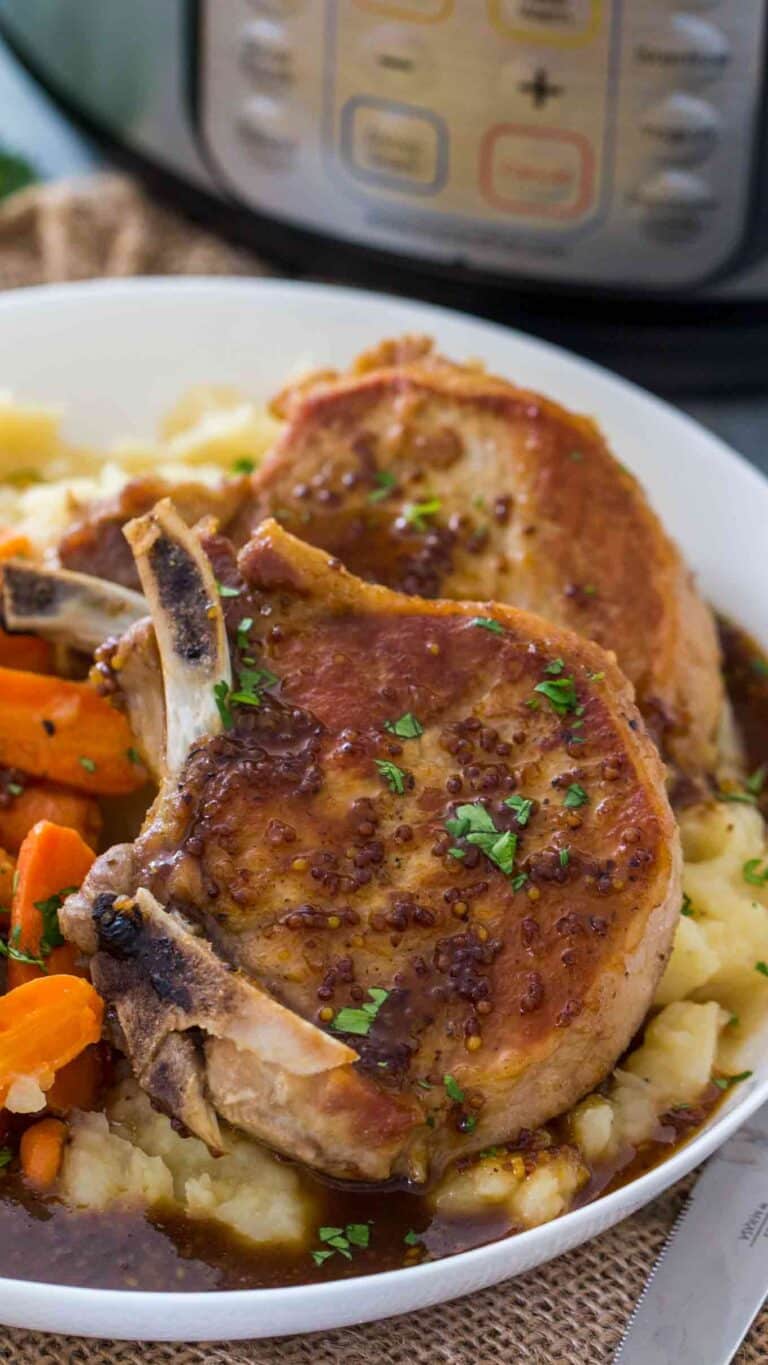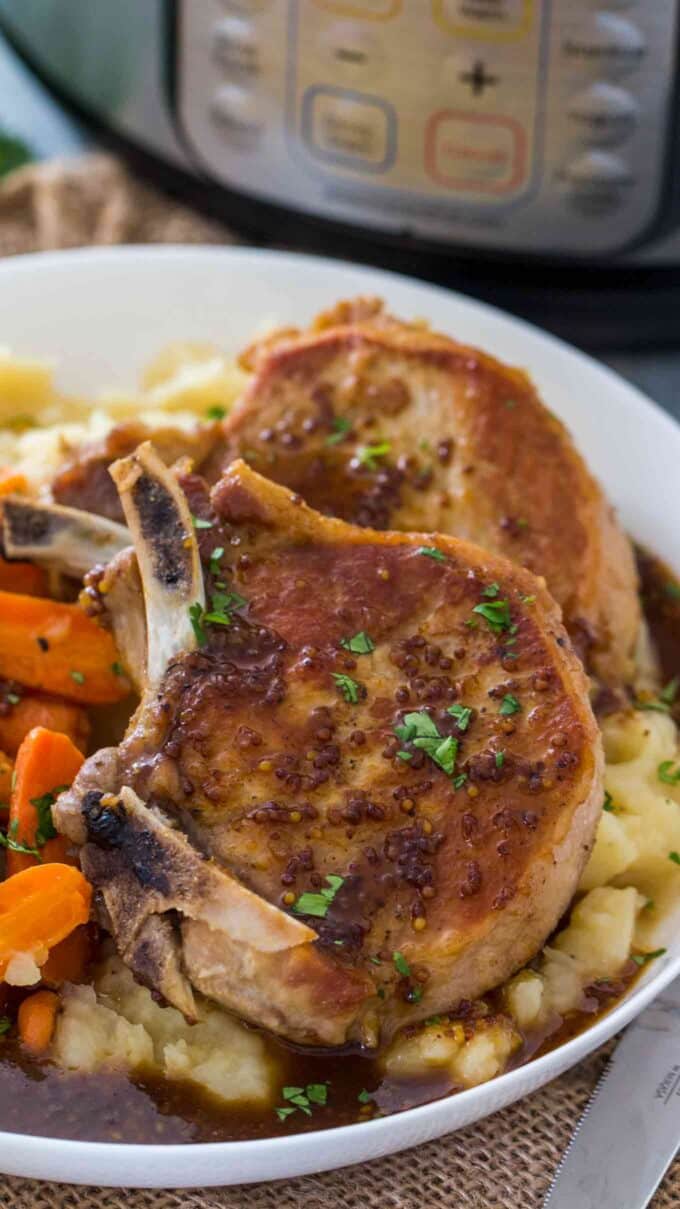 Juicy Instant Pot Pork Chops
Instant Pot Apple Cider Pork Chops are so soft, juicy and tender that this might become the only way you cook pork chops going forward. I love a good and easy recipe, and this one, guys, is a keeper.
The best part of this recipe is that you can put a full meal on the table with minimum effort and a fraction of the time. All this is possible while using only the Pressure Cooker!
The pork chops, potatoes, and carrots are cooked at the same time in the IP. Once everything is done, a flavorful and super easy apple cider sauce is made. This delicious homemade recipe is another great combo of sweet and savory, the apple cider mustard sauce has just the right amount of sweetness and slight tanginess to tie this meal together. Astonishingly delicious! Watch the video below with detailed steps on how to make this recipe.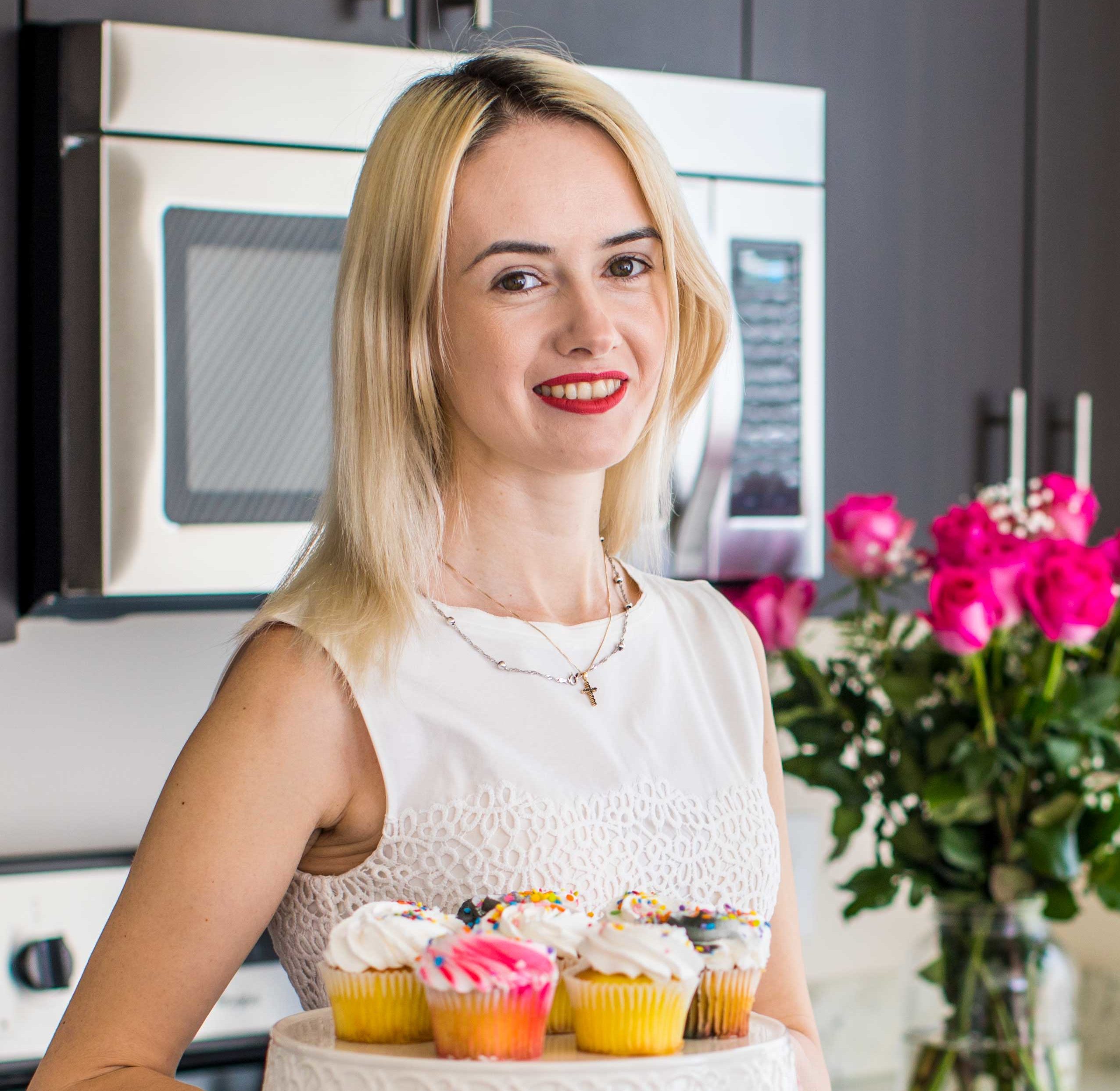 Follow us on Pinterest for more delicious recipes!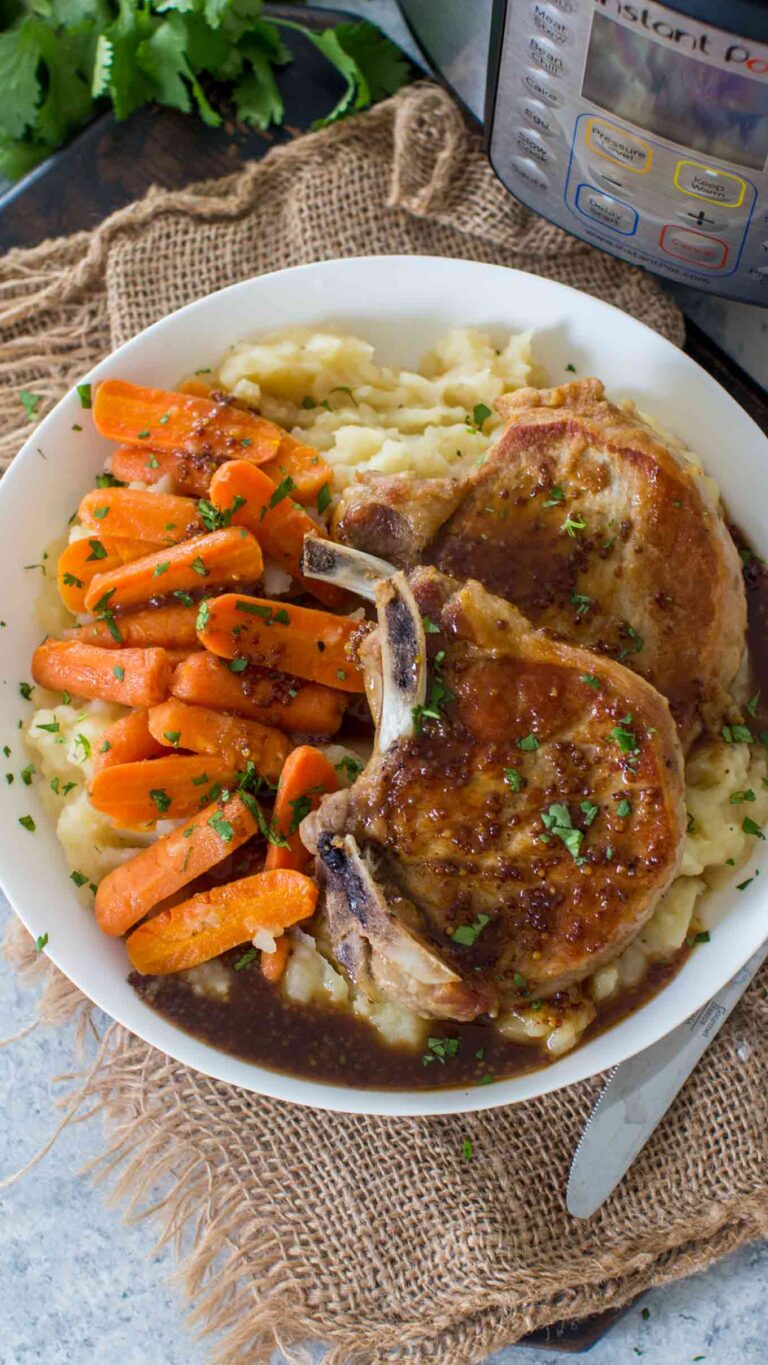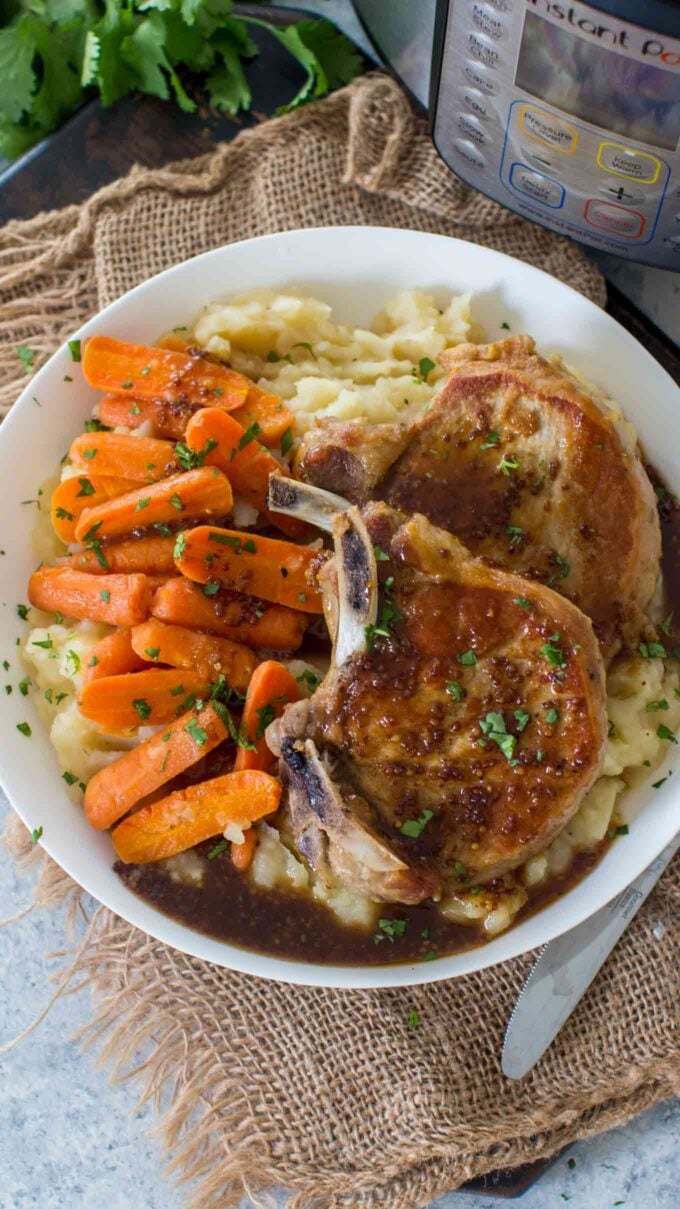 WHAT IS THE SECRET TO MAKE JUICY Instant Pot PORK CHOPS?
We have made this delicious recipe multiple times, and in our view, the secret starts with the meat. We recommend:
TRY NOT TO USE THIN CUT PORK CHOPS
Using thin cut pork chops can result in dry meat. Since the chops will be cooked under pressure, the meat tends to dry out if it is thin cut. Also, it might not have the best look to it.

The best alternative to cooking the thin cut pork chops would be cooking them on the stovetop.
USING BONELESS PORK CHOPS
If you prefer eating boneless pork chops, make sure to use thicker size cuts. Also, it will result in a tender and juicier meat.
It's important to note, that the meat is done when it reaches an internal temperature of 145 degrees F.
FOR THE BEST RESULTS USE THICKER, BONE-IN PORK CHOPS
This is what we usually use, and is what makes this dish so special and juicy.
Try to use bone-in pork chops, this results in a flavorful and tasty meal.
Similarly, the bone-in helps insulate the meat and keep the chops tender, juicy and very moist.
How Long To Cook Pork Chops In Instant Pot?
This usually depends on size and thickness. Also, if you decided to cook frozen pork chops in the instant pot, the time will increase as well. As a general guideline, I use bone-in chops about 3/4″ to 1″ thick.
Because the meat is cooked under pressure, you want to go with a thicked cut. This will result in a tender, juicy, and flavorful meal. The cooking time is as follows:
Bone-In Center Cut Chops: about 15-18 minutes.
Boneless Loin Chops: the cooking time should be set to 8-10 minutes.
Pork Steaks about 1″ thick: the cooking time should be about 18 to 20 minutes.
Frozen chops: when cooking frozen meat in the pressure cooker, the time will always increase by about 5-8 minutes. Also, if you decided to go with frozen meat, then skip the searing step.
What is the Safe Cooking Temperature for Pork Chops?
According to USDA, it is safe and recommended to consume them when the internal temperature reaches 145 degrees F with a 3 minutes rest time. Use a meat thermometer to check the temperature.
Also, if after cooking the meat the internal temperature is lower than desired, then add the chops back to the IP, and cook for a few more minutes.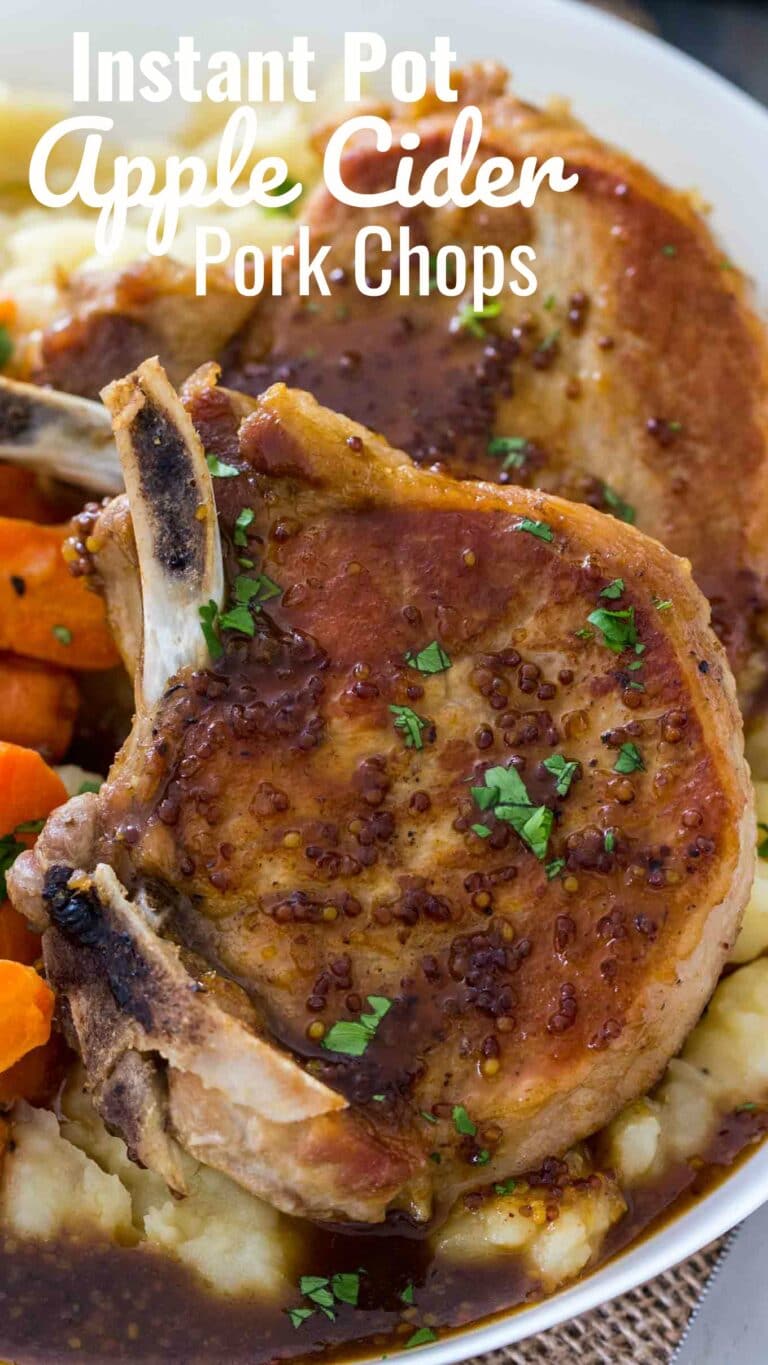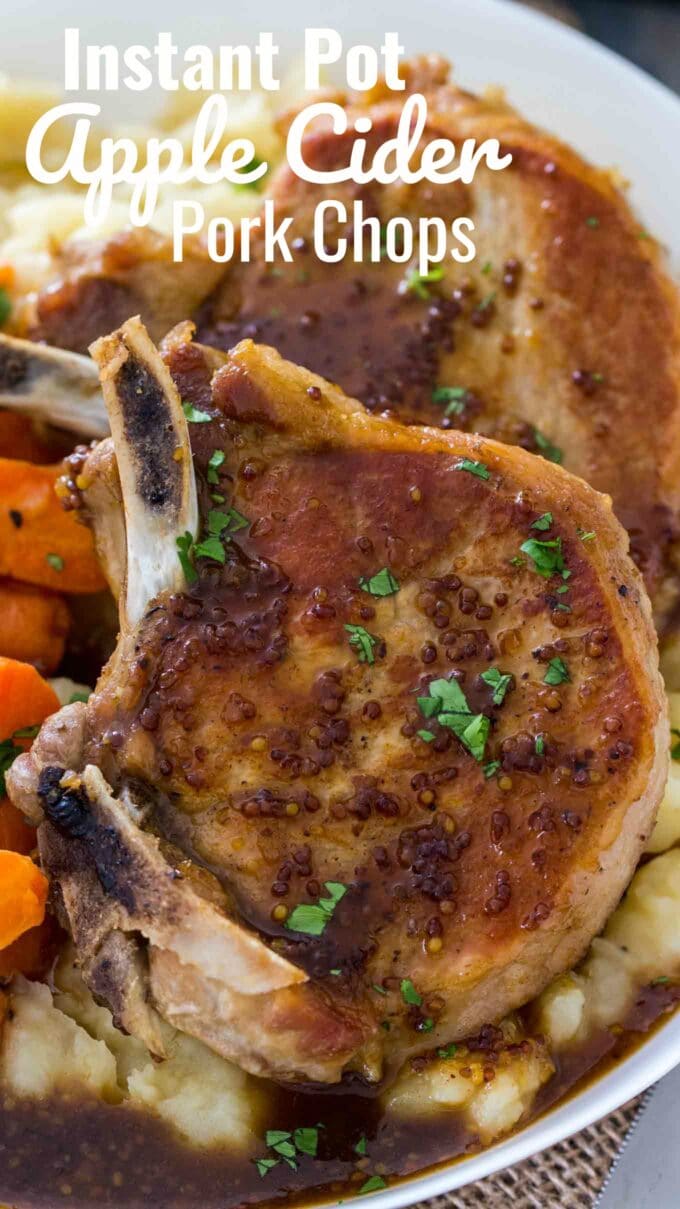 Why are My Instant Pot Pork Chops Tough & Dry?
The main reason you ended up with dry or tough meat would be because you have overcooked them. Also, remember that pork chops are usually lean, and does not require a lot of cooking time.
Therefore, for the best result, I would recommend using thicker cuts, and also bone-in chops that are well-marbled.
What to serve with Apple Cider Pork Chops?
This dish is super juicy and flavorful. You can serve it with the gravy and your favorite side dishes. We love this over:
What is a 10 Minutes Natural Pressure Release?
A Natural Pressure Release means that the pressure is released gradually. For a Natural Pressure Release, you click on Keep Warm, and wait 10 minutes, after which you open the valve and let any leftover pressure to release. Another option is to Turn Off/Unplug the pressure cooker, wait 10 minutes and after that open the valve.
A natural release is usually used when cooking soups, meat in a large amount of sauce, pasta or steel-cut oats. This method prevents any foam from the dish to shoot out through the valve, which can happen during a Quick Pressure Release.
CAN YOU FREEZE PORK CHOPS?
Absolutely! Just make sure, before freezing that the meat is completely cooled. Then, transfer it into freezer-safe containers or heavy-duty freezer bags. Lastly, label with the date, and freeze for up to 3 months, or longer if you use a deep freezer.
More delicious Pressure Cooker recipes:
Instant Pot Apple Cider Pork Chops Recipe Tips:
You always have to use at least the minimum liquid requirement for your pressure cooker.
Also, for maximum flavor, I highly recommend using bone on and marbled meat.
Similarly, you can make Instant Pot boneless pork chops using this same method, but adjust the time accordingly.
For this recipe, I used a 6 quart Instant Pot and I used about 1.5 lbs of bone-in, center-cut chops.
To make this a full meal, I cooked everything in layers. The first one was the potatoes, topped with a trivet on which I placed the carrots and the pork chops.
In addition, this recipe certainly can be made without the side dishes. You can only cook the pork chops. Make sure you brown them, after that cook in the minimum liquid requirement based on your pressure cooker size.
Once the chops are cooked and the IP beeps, make sure you do a Natural Release. Do Not do a Quick Release, it will toughen the meat. Also, once you remove the meat, you can add the sauce ingredients and reduce them on Sauté mode.
Definitely, use stone-ground mustard for the sauce, it will add amazing flavor.
I find 15 minutes to be enough cooking on High Pressure for 1.5 lbs of center cut chops, which comes down to about 3 pork chops, that measured about 1 inch in thickness. If you want the meat to be so tender that it falls off the bone, you can increase the cooking time to 20 minutes. I like 15 minutes on HP with a 15 minute NPR makes the perfectly tender meat.
Tools/Ingredients I used to make this Recipe:
Instant Pot – I use it all the time, I have the 6 quarts one. It makes weeknight meals so much easier.
Save Recipe
Instant Pot Apple Cider Pork Chops
Author: Catalina Castravet
Serves: 4 servings
Prep time:

10

minutes
Cook time:

40

minutes
Total time:

50

mins
Ingredients
6 medium-large russet potatoes (peeled and quartered)
2 cups carrots (cut into 2 inch pieces)
1 1/2 cups chicken broth
1/4 cup whole milk
salt and pepper (to taste)
For the Pork Chops:
1 1/2 lbs. / 3 bone in center cut pork chops
1/2 teaspoon salt
1/2 teaspoon ground black pepper
2 tablespoons canola oil
For the Apple Cider Mustard Sauce:
1 1/2 cups apple cider
1/4 cup packed brown sugar
1 tablespoon whole grain / stone ground mustard
Cornstarch Slurry
1 tablespoon cornstarch
2 tablespoons water
Instructions
Season the pork chops with salt and pepper on each side.
Turn on the Instant Pot and select Sauté. Once it reads Hot, add the canola oil, wait about 1 minute for the oil to heat up and add the pork chops to the bottom of the pot in one layer. If needed brown them in batches.
Cook the pork chops on each side for about 2-3 minutes, until golden brown. Remove to a dish and cover with foil to keep warm.
Turn off the Sauté mode.

Add the peeled and quartered potatoes to the bottom of the instant pot. Add the chicken broth.

Place the trivet that usually comes with the IP on top of the potatoes, a steamer basket will also work.

Add the carrots. You may add foil to the trivet, to prevent the carrots from falling through the spaces. Poke a few whole with a fork into the foil for steam to circulate.

Add the pork chops on top of the carrots.

Close the lid. Seal the valve. Select High Pressure and input 15 minutes. Do 20-22mins if the pork chops are very thick.

Once the Instant Pot beeps and the cooking time is zero let the pressure release naturally for 10-15 minutes.
Open the lid, remove the trivet with the pork chops and the carrots, add them to a plate and cover with foil to keep warm.
Drain the broth from the potatoes into a cup.
Transfer the potatoes to a bowl. Start mashing the potatoes and add broth little by little, until they are the consistency you desire. You can also add milk or cream instead of the broth. Just do it little by little. Season the potatoes with salt and pepper. Cover the bowl with foil and set aside.
Clean the Instant Pot bowl and select Sauté.
Once it reads Hot add the apple cider, brown sugar and stone ground mustard. You can also stir in the mustard at the end.
Cook to a thick, syrupy glaze, stirring occasionally and until reduced by about half.
Stir the stone ground mustard now if you didn't at the beginning; season with salt and pepper.
Cornstarch Mix Optional:
To thicken the sauce quicker, mix in a cup cornstarch and water until fully dissolved, and add the mixture to the sauce. Stir to combine and simmer.

Serve the pork chops with mashed potatoes, carrots and top the meat with the glaze.
Garnish with parsley.
0 Calories: 711 Carbohydrates: 88 Protein: 45 Fat: 20 Saturated Fat: 5 Cholesterol: 115 Sodium: 769 Potassium: 2369 Fiber: 6 Sugar: 27 Vitamin A: 10715 Vitamin C: 29 Calcium: 116 Iron: 4.2
Save Recipe
More recipes you might love