Easy Slow Cooker Apple Cider
Slow Cooker Apple Cider made easy by your slow cooker, packs beautiful fall flavors and will make your house smell amazing. Made in the Instant Pot.
To make your fall flavors more joyful, you can pair the Apple Cider with Apple Pie Danish, Pumpkin Cheesecake Pancakes and Apple Butter Cake.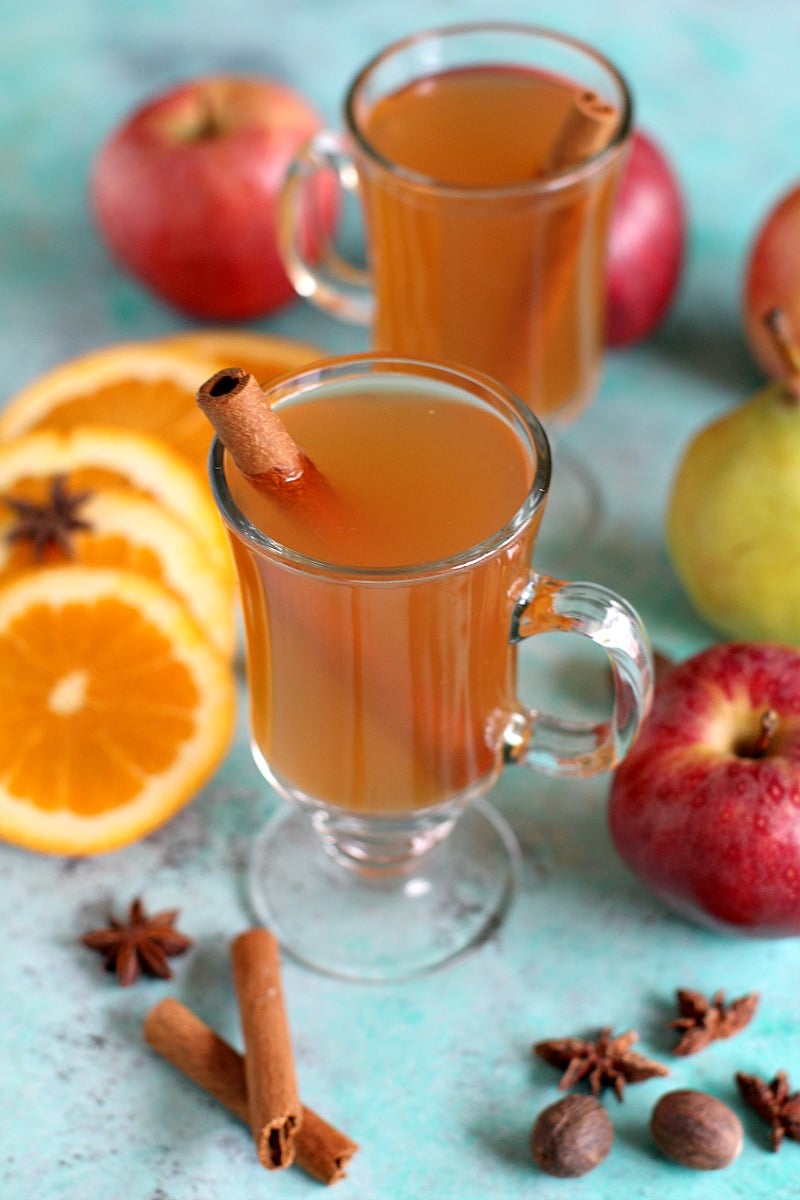 Slow Cooker Apple Cider Recipe Tips
Slow Cooker Apple Cider is what you should make this fall! It will make your house smell amazing and there is nothing better than a cup of warm, spiced apple cider during cold, windy days! There is nothing more comforting during cold fall and winter days, then a cup of homemade apple cider.
This Crockpot Apple Cider is very flavorful and it's so easy to make, that you will never go back to store-bought. Fresh, crisp delicious apples, a few pears, and comforting fall flavors like cinnamon, cloves and star anise are added to the slow cooker to create the most comforting drink ever!
Why You'll Love This Slow Cooker Apple Cider:
Incredibly easy to make, you can make it in your Crockpot or Instant Pot
Flavorful and delicious, you will never buy store-bought after you make your own
No artificial sweeteners and made with real fruits and spices
Kids and adults love it
Perfect to warm you up during the cold, holiday days
Pin This Slow Cooker Apple Cider Recipe to your Favorite Board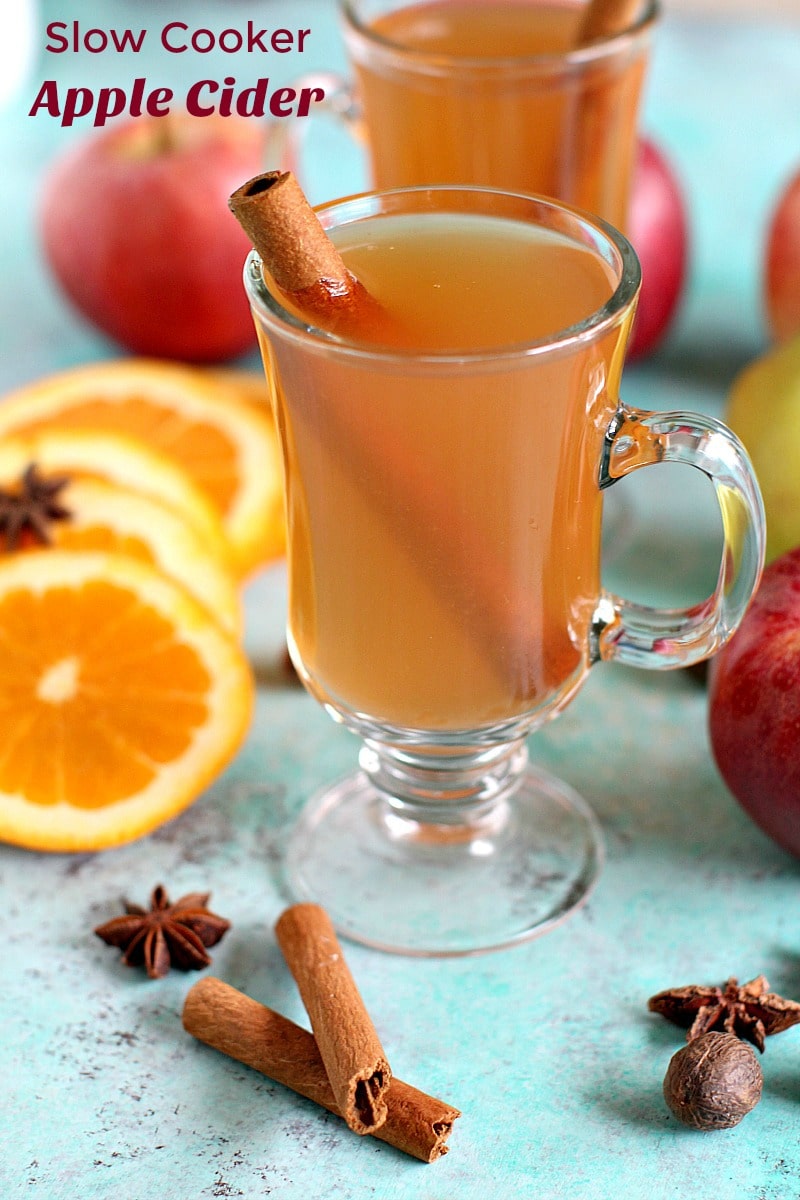 Slow Cooker Apple Cider Recipe Guidelines:
Pick flavorful apples, I like to use gala and fuji.
Adding one or two pears will add extra flavor and natural sweetness.
The orange and orange peel will add a punch of citrusy flavor that works amazingly in this warm drink.
Adding spices will take this drink to the next level and will warm your heart.
If there are some spices that you don't like just skip them.
If you prefer your Apple Cider with even more spices feel free to add more.
You can control the sweetness level, just taste and adjust.
If you would prefer not to use white sugar you can replace it instead with honey or maple syrup, just taste and adjust.
Stevia would also work in this recipe. Just make sure to add a little, taste and see if more is needed.
Also, you can use this cider as a base to create adult drinks. Simply mix it with vodka, brandy or rum and serve it over ice.
You can make Apple Cider Martini by mixing in a little vodka. Then, pour into a martini glass, garnish with fresh whipped cream and cinnamon and you are ready to party!
How do you make Apple Cider on the stove?
To make apple cider on the stove, place apples and pears in a stockpot and add water to cover the fruits by at least 2 inches. Stir in sugar, cinnamon sticks, star anise, and allspice. When the mixture starts to boil, uncover it for 1 hour. Cover the pot, reduce heat, and simmer for 2 hours.
Can you make Apple Cider with apple juice?
Absolutely! The best hard cider is made from sweet apple cider. However, a great alternative would be to use apple juice. Since apple juice has extra sugar, it's best to reduce the sugar by adding something acidic, such as lemon juice or apple cider vinegar to the mixture.
What is the difference between Apple Cider and juice?
The main difference between the two is how the apple is processed. Both fruit beverages are made from apples. However, apple cider is a raw apple juice that was not filtered during the process to remove coarse particles of pulp or sediment.
Is Apple Cider served hot or cold?
Apple cider can be enjoyed both ways – hot or cold. During cold seasons of the year, hot apple cider will warm your soul, while during hot months of the year, cold apple cider will refresh and re-energize your body. If you are a huge fan of apple cider like I am, then both ways should satisfy you to the maximum!
Can you can apple cider?
Canning your own apple cider is easy. Simply bring the apple cider to a boil and pour in cleaned jars. Add on new lids before canning and you are ready to go!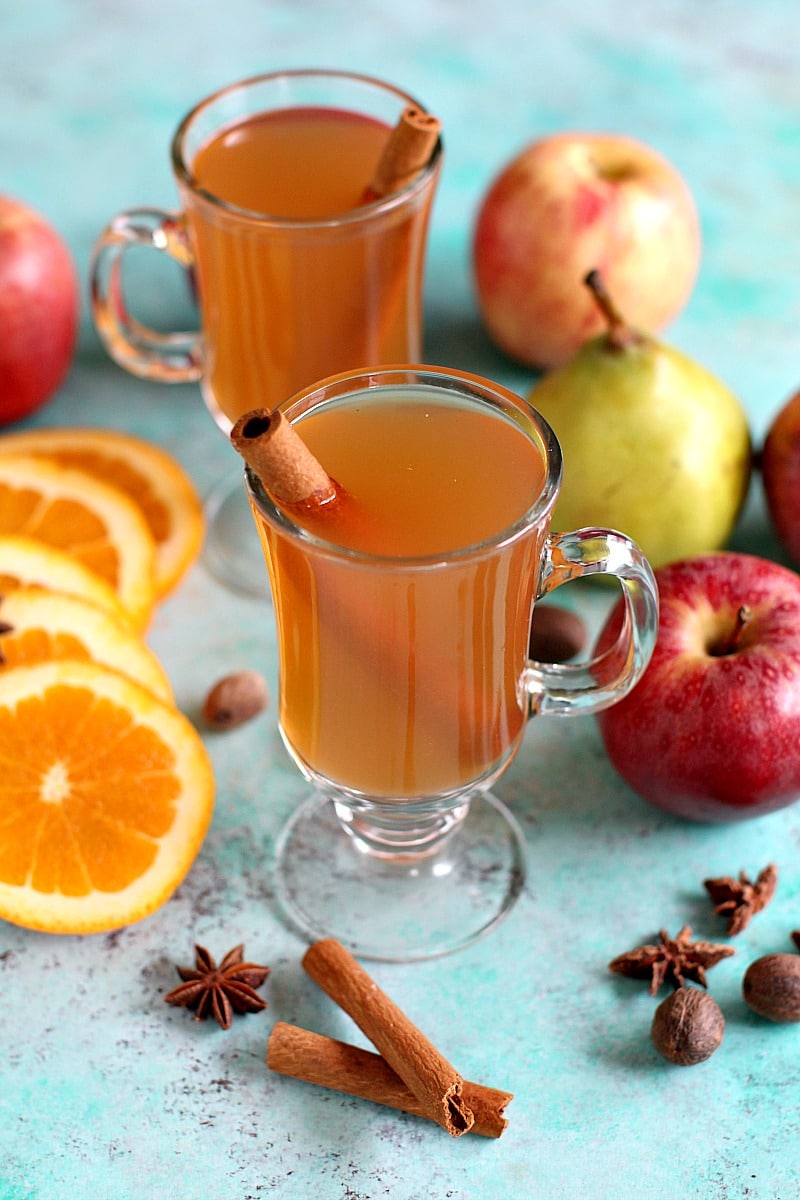 Tools/Ingredients I used to make this Slow Cooker Apple Cider:
Easy Slow Cooker Apple Cider
Slow Cooker Apple Cider made easy by your slow cooker, packs beautiful fall flavors and will make your house smell amazing. Made in the Instant Pot.
Save
Share
Print
Pin
Rate
Ingredients
7

medium

apples

(I used gala and fuji apples, washed)

2

pears

1

orange

(washed and not peeled)

1

orange

(peeled)

3

cinnamon sticks

1

whole nutmeg

1

teaspoon

whole cloves

1

star anise

12

cups

water

1/2 - 1

cup

brown sugar

(or other sweeter of choice)
Instructions
Wash well the fruits, do not peel the apples and pears, the skin adds more flavor.

Cut apples, pears and both oranges into quarters. Don't worry about removing seeds or stems.

Add the fruits to the slow cooker (I used an InstantPot).

Add the cinnamon sticks, nutmeg, cloves, extra orange peel and star anise. Cover with water, filling the slow cooker until it is almost full.

If you have an InstantPot select the Slow Cooker function and program it for 4 hours.

If you have a regular slow cooker, cook it on high for 4 hours or low for 7-8 hours.

In both options, after 4 hours of cooking, open the slow cooker, mash the fruits, stir well and return to cooking for one extra hour on high or 2 hours on low.

Once cooked, using a fine mesh strainer, strain out the apple cider juice and transfer into a pitcher. Stir in your desired amount of sugar until it is dissolved while the cider is still hot, taste and adjust the amount of sweetness based on your preference.

Serve hot.

The cider should be stored in a closed container and can be refrigerated for up to 5 days.

Rewarm the cider before serving.
Nutrition
Calories:
73
kcal
|
Carbohydrates:
19
g
|
Protein:
0
g
|
Fat:
0
g
|
Saturated Fat:
0
g
|
Cholesterol:
0
mg
|
Sodium:
12
mg
|
Potassium:
163
mg
|
Fiber:
3
g
|
Sugar:
13
g
|
Vitamin A:
100
IU
|
Vitamin C:
15.3
mg
|
Calcium:
29
mg
|
Iron:
0.3
mg
More recipes you might love