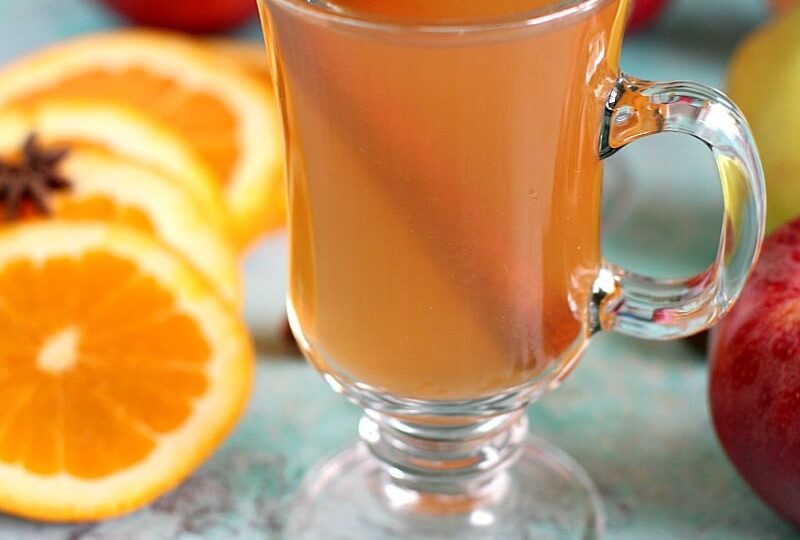 Slow Cooker Apple Cider With Cinnamon
Slow Cooker Apple Cider is infused with citrus flavors, brown sugar, and cinnamon sticks. It packs beautiful fall flavors and will make your house smell amazing.
We have plenty of easy and delicious beverages to serve during the holiday season. To make your fall flavors more joyful, you can pair this cider with Apple Pie Danish, Pumpkin Cheesecake Pancakes, and Apple Butter Cake.
Apple picking season is already upon us. It is actually my favorite time of the year, and making this Easy Apple Cider Crockpot Recipe is a must during this fall season!
First, it is a super easy recipe to make and takes only minutes of prep time. You simply add the apple slices to the bottom of the crock pot, along with the rest of the ingredients, and cook on low. Also, this will make your whole house smell amazing!
Combined with orange slices, brown sugar, and cinnamon sticks, there is nothing better than a cup of warm, spiced apple cider during a cool fall day or winter day!
Second, you can use the here warm setting of your slow cooker to keep this cozy drink warm during the whole day. Trust me, there is nothing more comforting during a cold day than a cup of spiced homemade apple cider.
This Easy Apple Cider recipe is also very flavorful and can be made ahead. In addition, you can easily freeze it and enjoy it the whole winter long! Once you try it, you will never go back to the store-bought version. This is the most comforting drink ever!
Why You'll Love This Slow Cooker Apple Cider:
First, it is incredibly easy to make, you can make it in your Crockpot or Instant Pot
Also, the drink is flavorful and delicious and the whole house will smell amazing!
No artificial sweeteners are added, and it is made with real fruits and spices.
In addition, it is a one-pot recipe, which makes it easy to clean.
Perfect to warm you up during the cold, holiday days.
A great drink to serve during holiday parties.
Key ingredients:
Fresh apples: Feel free to use your favorite type. I usually go with sweet apples such as gala, or fuji. However, anything will work here.
Pears: This is optional but I love adding 1-2 pears. They add a nice tone to the whole drink.
Orange
Whole cinnamon sticks
Nutmeg
Whole cloves
Star anise
Water
Brown sugar: You can also use regular sugar, coconut sugar, or even maple syrup.
How to make slow cooker apple cider?
Wash the fruits: First, wash the fruits to remove any dirt. Also, I cook them with the skin on them as it adds more flavor. Then, cut them into smaller slices and add them to the bottom of the crockpot.
Add the rest of the ingredients: Next, add the rest of the ingredients to ti. Then, fill with water.
Cook: Cover and cook on low heat for 4-6 hours, or high setting for about 3 hours.
Mash: During the last hour of cooking, open the lid and mash the apples using a potato masher. Add more brown sugar to taste. Cover and cook for an additional 1 hour.
Strain: Lastly, using a fine mesh strainer, strain the cider and transfer it to a pitcher. Serve warm.
Possible flavor variations:
Add alcohol: To make it an adult beverage, feel free to add some rum, bourbon, or whiskey, or your preferred liquor. Just make sure to drink responsibly!
Other spices: Apart from cinnamon, you could use a vanilla bean, orange zest, fresh ginger, allspice berries, etc.
Orange juice, cranberry juice, or apple juice: The best hard cider is made from sweet apple cider. However, a great alternative would be to use apple juice or orange juice. Since apple juice has extra sugar, it's best to reduce the sugar by adding something acidic, such as lemon juice or apple vinegar to the mixture.
Apple cider mimosas: Turn it into a mimosa by using champagne.
Apple cider martini: Turn it into martini by mixing in a little vodka. Then, pour into a martini glass, garnish with fresh whipped cream and cinnamon and you are ready to party!
Best apples to use:
We love sweet cider, and we mostly use Gala, Fuji, or red delicious apples. However, you can use any type of apples you desire. Here are some great choices:
Jonathon
Mcintosh
Pink lady
Jonagold
Cotland
Braeburn
Granny smith
Red delicious
Golden delicious
How to strain cider?
The best way to strain out the spices is by using a fine-mesh strainer or cheesecloth.
What is the difference between Apple Cider and juice?
The main difference between the two is how the apple is processed. Both fruit beverages are made from apples. However, apple cider is a raw apple juice that was not filtered during the process to remove coarse particles of pulp or sediment.
Stovetop apple cider:
To make it on the stovetop, place apples and pears in a stockpot and add water to cover the fruits by at least 2 inches.
Next, stir in sugar, cinnamon sticks, star anise, and allspice.
When the mixture starts to boil, uncover it for 1 hour.
Lastly, cover the pot, reduce heat, and simmer for 2 hours.
Check out the full stovetop apple cider recipe here.
Is Apple Cider served hot or cold?
This is the perfect drink that can be enjoyed both ways – hot or cold. During cold seasons of the year, hot cider will warm your soul, while during hot months of the year, cold apple cider will refresh and re-energize your body.
How do I make canned apple cider?
Simply bring the mixture to a boil.
Then, pour it into cleaned jars.
Next, add on new lids before canning and you are ready to go!
More delicious drinks:
Recipe tips:
For the best flavor, I recommend picking flavorful apples, I like to use gala and fuji.
Adding one or two pears will add extra flavor and natural sweetness. However, this is optional and you can skip the pears.
Also, the orange and orange peel will add a punch of citrusy flavor that works amazingly in this warm drink.
Adding spices will take this drink to the next level and will warm your heart.
In addition, feel free to use white sugar instead of brown sugar. Also, replace it with honey or maple syrup, just taste and adjust.
Stevia would also work in this recipe. Just make sure to add a little, taste, and see if more is needed.
It is best to use whole spices and let them slowly infuse the juice as it slowly cooks in the crockpot.
Tools/Ingredients I used to make this recipe:
Deliciousness to your inbox
Enjoy weekly hand picked recipes and recommendations