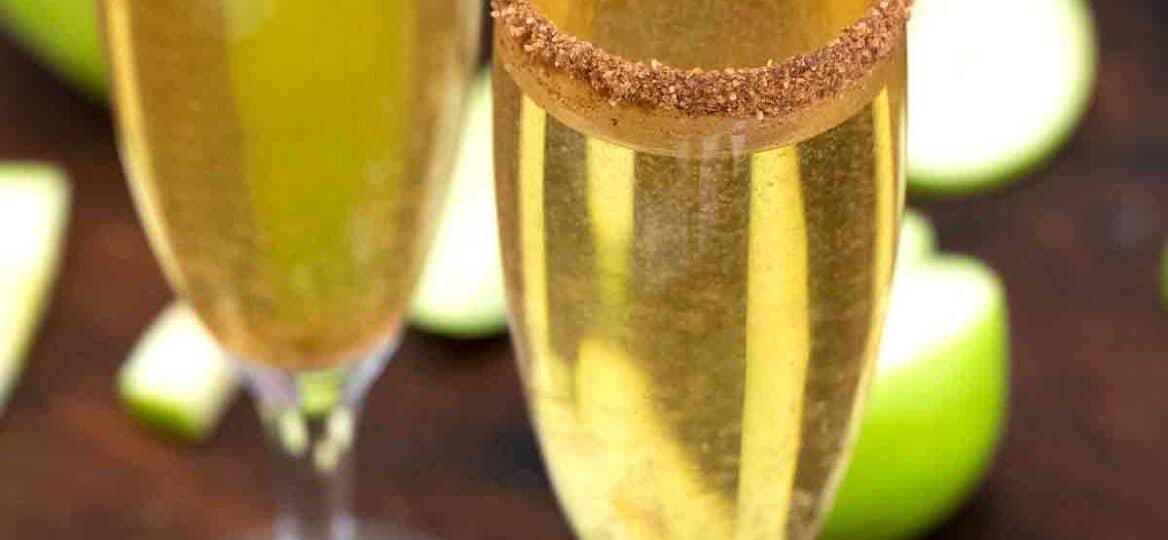 Apple Cider Mimosa Recipe [Video]
Apple Cider Mimosa is the ultimate fall drink! Apple cider and champagne come together for a fizzy and refreshing cocktail bursting with fruity flavors and warm autumn spices.
This cocktail is absolutely perfect for Sunday brunch! To make it a full spread, serve it with this savory Ham and Cheese Quiche or these indulgent French Crepes if you're in the mood for something sweet. Or, make this Rosemary Berry Baked Brie to share with your favorite crackers!
Best Apple Cider Mimosa
This Apple Cider Mimosa is my fall-themed twist to the classic brunch drink. Between you and me, I could never say no to a little bubbly. Add some fresh fruit juice to that, and it's impossible to have just one glass. I don't even try— bottomless it is!
This drink is a celebration of autumn. I use fall spices like cinnamon, nutmeg, and cloves to add complexity to the usual mimosa. The cider adds a crisp sweetness that complements the sparkling wine beautifully.
An incredible beverage for brunch, but why stop there? Swap your usual Thursday wine for a mimosa, serve it during game day, or just anytime you want a delicious drink!
What is mimosa?
The basic mimosa is a cocktail of champagne and orange juice. However, you can use any sparkling wine or chilled citrus juice if you prefer. They are usually served in tall champagne flutes.
Ingredients for Apple Cider Mimosa:
This recipe requires only two key ingredients: apple cider and champagne. The rest, I'm sure you already have in your pantry. Here's what you'll need to make it:
Champagne
Apple Cider
Ground Cloves
Nutmeg
Ground Cinnamon
Sugar
Of course, make sure you have your tall glasses ready!
How to make the best Apple Cider Mimosa?
Make the cinnamon sugar – Combine sugar, cloves, nutmeg, and cinnamon on a small plate.
Prepare your glasses – Wet your champagne flutes by dipping the rim in the water. Coat the rims in cinnamon sugar.
Make the mimosa – Next, fill the flutes ¼ of the way with cider, then finish with champagne.
Serve – Garnish with apple slices and serve.
Apple Cider Mimosa Recipe Variations:
Once you've mastered this recipe, I encourage you to play with it! Below are some equally-tasty mimosa variations:
Use other juices – some great juice substitutes are pomegranate, pineapple juice, grapefruit juice, lemonade, cranberry juice, and watermelon juice.
Make a mimosa sangria – infuse even more flavor by adding fresh fruits like pineapple, raspberries, and strawberries in your cocktail.
Create a sunrise mimosa – mimic the pretty red-to-orange gradient of Tequila Sunrise by using grenadine syrup.
Add more kick – substitute orange liqueur for the juice if you'd like more alcohol.
Give Buck's Fizz a try – very similar to the classic mimosa, except you use the amount of champagne is twice the juice.
Make it fruitier – add some strawberry or peach puree to the bottom of the flute.
Go the way of the French – for a French-inspired twist, add a splash of Chambord or Grand Marnier.
Switch up the alcohol – use whiskey or brandy.
What is the best champagne for a mimosa?
Mimosas taste luxe, but don't break the bank buying top-shelf champagne (unless you prefer to, of course).
Aside from champagne, some extra-dry Prosecco, Cava, sparkling Moscato, dry or semi-dry sparkling wine be really good for this fall cocktail. Also, if you really want champagne, I recommend Brut.
The bottom line is, feel free to tweak this mimosa as you see fit, and that includes the alcohol. If it tastes good to you, then it's the right choice!
More easy and delicious cocktail recipes:
Can you make Apple Cider Mimosa ahead?
Yes! In a pitcher, mix up the champagne and apple cider. Chill until ready to serve. No matter what, always serve your mimosas cold!
Recipe Tips:
Avoid stirring the mimosa too much so the champagne won't go flat.
You can make it ahead, but not too far in advance because some carbonation will escape. We want the fizziest drink possible!
Serving a crowd? Then, chill the cider and champagne separately.
Since you'll be mixing the champagne with the juice, a mid-range bottle is fine.
Also, treat the apple in some lemon juice so it doesn't go brown when you use it as a garnish.
If you've got a local apple orchard, I highly recommend getting some unfiltered and fresh cider for maximum flavor!