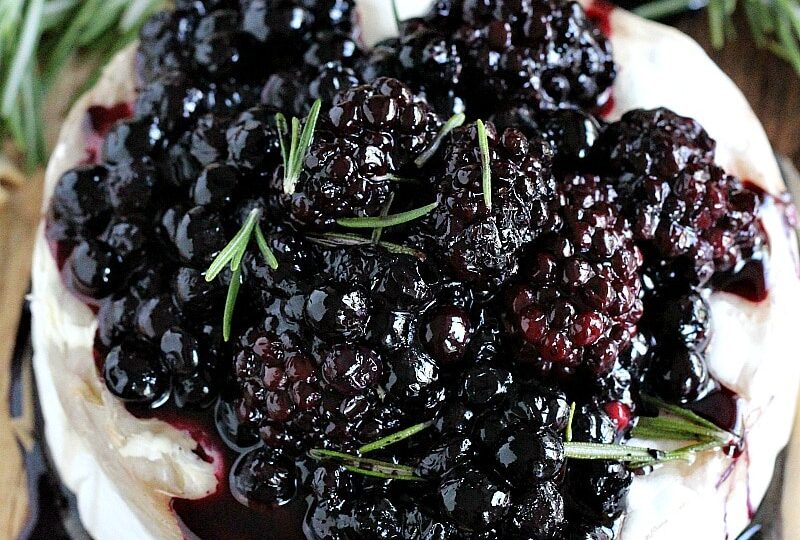 Rosemary Berry Baked Brie
Rosemary Berry Baked Brie is a creamy and flavorful showstopper appetizer. Topped with coconut oil roasted berries and fresh rosemary for maximum flavor.
Rosemary Berry Baked Brie
Rosemary Berry Baked Brie is what cheese dreams are made off especially when served with wine. Thank you very jam to JamCellars for sponsoring this post. I am excited to tell you more about their wine and how to pair it with a killer cheesy appetizer.
This Baked Brie would be a gorgeous centerpiece to any cheese or appetizer spread. Also, it involves minimal effort, but it's packed with outstanding flavors. You can also use other berries, a combination of raspberry and walnuts would be delicious.
Baked Brie Topping Ideas:
Based on the season, occasion or just your own preference, you can use different toppings to make the most delicious baked brie. Here are a few suggestions that I love:
Cranberry Pecan Brie
Raspberry, Walnuts, and Honey
Cherry, Vanilla, Maple Syrup Brie
Roasted Pears and Prosciutto Brie
Caramelized Bacon and Maple Syrup Brie
Honey, Apple, Pecans
Cranberry Pistachio
Sun-dried Tomatoes and Pesto
Sautéed Mushrooms and Thyme
I choose berries for my Baked Brie to complement the wine and also because they are in season now. The blackberries and blueberries are roasted in coconut oil, brown sugar, and fresh rosemary. After roasting, the berries produce a sauce that is out of this world good, especially when combined with the creamy baked brie. The berry mixture shines and complements the cheese in so many ways. The rosemary flavor is a bit unexpected but refreshing. Looking for more wine and cheese inspiration? Check this post!
This Rosemary Berry Baked Brie is perfect for a fun and easy-going party. The brie is a crowd pleaser and it looks stunning part of a cheese spread. To my cheese board, I added banana chips and crackers to be dipped into the melted cheese. I included another not-baked creamy cheese option, fresh berries, and prosciutto. Served with the JaM Cabernet wine.
What wine goes well with brie cheese?
Fruity reds such as Pinot Noir or Merlot
A fruity dry rosé
A creamy Chardonnay
Champagne or sparkling wine
Is the Brie rind edible?
The rind of Brie cheese, as well as other soft cheeses like Camembert and Boursault are generally edible. The rinds are simply dried, hardened outer layers of cheese that have come in contact with mold, they are safe to eat.
Do you remove the rind from brie before baking?
For this recipe I prefer to NOT remove it, it will maintain the shape of the brie. If you plan on baking it in a puff pastry shell, its better to remove the rind, so the cheese stays with the crust when served.
How to make Baked Brie with puff pastry:
On a lined baking sheet, lay out the puff pastry, place the brie round on top of the puff pastry. Coat the fresh berries in coconut oil and brown sugar. Top the brie with half of the berry mixture. Add the other half to a baking dish and bake.
Fold dough over top, cutting off excess dough. Sprinkle brown sugar on top. Bake at 350ºF (175°C) for 30 minutes, the pastry should be golden brown. Let cool for 10 minutes before serving. Garnish with fresh rosemary and serve with the baked berry mixture.
Deliciousness to your inbox
Enjoy weekly hand picked recipes and recommendations