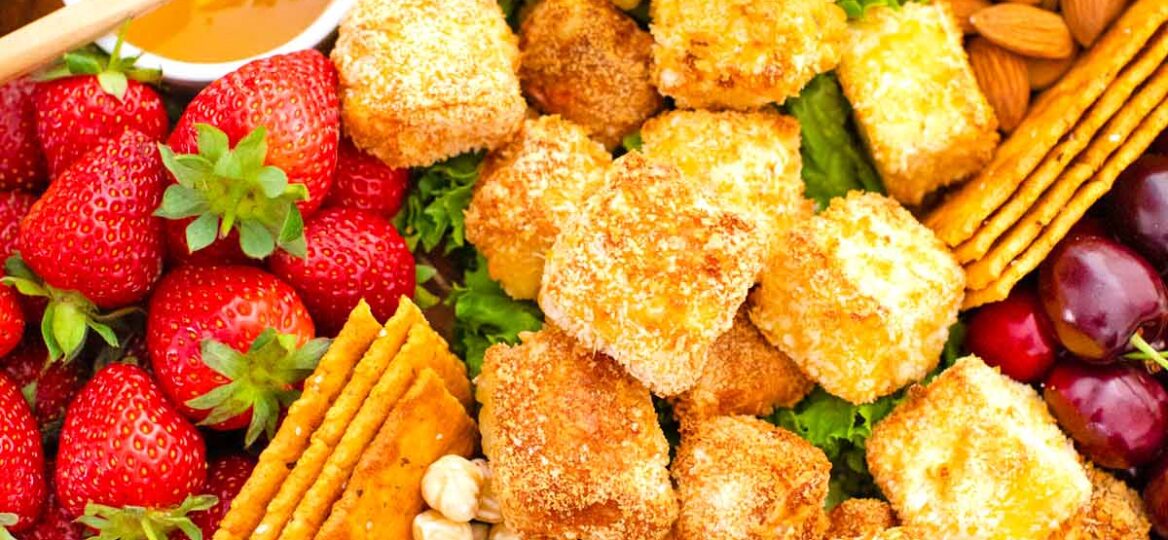 Crispy Air Fried Brie Recipe
Air Fried Brie Cheese is like baked brie only 10 times better, creamy and cheesy on the inside and crispy on the outside. The melty brie cheese is mildly sweet and creamy, making it a great appetizer on a serving plate with other cheeses, baguette slices, crackers, and fresh fruit and veggies.
According to historians, brie cheese dates back to the Middle Ages when monks living at the Monastery of Brie in Paris made it in the 7th century. It was made famous when a French emperor named Charlemagne tasted the delicious cheese in 774 during a visit to the Priory. He liked it so much that he had it delivered to him at his castle regularly.
Making baked brie in the air fryer is fast and easy too. Much faster than when you bake brie in the oven, and you get a crispy coating that you cannot get from your oven either.
\Air fryer-baked brie cubes are incredible as an appetizer, snack, or a unique side dish. And all you need for this recipe is cheese, an egg, breadcrumbs, milk, and flour. Air frying instead of baking brie cheese gives it a nice crispy crust that tastes amazing dipped in some type of sauce or fruit like strawberry or fig jam.
Ingredients needed:
Here are the basic ingredients you need for this delicious brie cheese air fryer recipe. After you gather these few items, scroll down to our recipe card for step-by-step instructions and measurements.
Brie cheese wheel
Large egg
Panko breadcrumbs
Milk
All-purpose flour
How to make air fryer baked brie from scratch?
Freeze your cheese: First, place a piece of parchment paper on a baking tray. Then, cut the brie wheel into cubes, put them in a single layer on the tray, and freeze for at least one hour.
Preheat your air fryer: While you wait, preheat the air fryer to 400 degrees F. Then, put flour in one bowl, panko breadcrumbs in another, and mix the egg and milk in another bowl.
Coat the cubes: Now, toss each cube in flour, coat in egg mixture, and then roll in the breadcrumbs until completely coated.
Cook brie in an air fryer: After, place brie bites in the air fryer basket and air fry brie for six minutes or until golden brown.
Serve baked brie: Finally, serve with a dip or on top of lettuce topped with berries and salad dressing.
Recipe variations:
Chopped nuts: Add a cup of finely chopped pecans to your breadcrumbs for a nutty flavor.
Extra crunchy: If you want your brie cubes to be extra crunchy, add an extra coat of egg and breadcrumbs.

Different cheese: This recipe will also work with other cheeses like camembert, mozzarella, cheddar, and even Swiss. But you would not have to freeze cheddar or Swiss as long because they are harder.

Sweeten your cheese: Add a thin layer of strawberry jam on top of your cheese before freezing it to give it a sweet and tangy flavor.

Other toppings: Be creative. Instead of panko breadcrumbs, you can use Italian style or some other flavor.

Spicy brie cheese: If you like spicy food, add a pinch of red pepper flakes to your breadcrumbs.
How to serve:
This easy recipe makes an ooey-gooey cheesy snack or appetizer in minutes. Whether you need something different for a party or just want something new to snack on, these soft cheese cubes with a crunchy topping are great. Try one of our ideas here or share some of your own in the comments section at the bottom of the page.
This is the perfect appetizer served with some kind of dip or sauce like cranberry sauce, cheese dip, or some other fruity spread. We have a delicious recipe for a sweet and tangy strawberry sauce that is perfect for this.

You could also serve your fried brie cheese with fresh fruit like apple slices, diced pears, or dried cranberries.

Instead of a sweet sauce, try dipping these little cheese cubes into something more savory like horseradish, chipotle, or honey mustard sauce.

Another tasty way to enjoy these little cubes of cheese is to drizzle honey or maple syrup on top.

Add a few of these yummy air fryer-baked brie cubes to a salad with romaine lettuce, cherry tomatoes, and sliced red onions for a nice refreshing lunch. Or add some to this delicious pear salad recipe.

Cheese bites can also be eaten alone as a snack anytime.
Frequently asked questions
Is making air fryer brie healthier than using a deep fryer?
Yes, making anything in the air fryer is healthier than deep frying because you use less oil. In fact, with most recipes, such as this one, you do not need to use any oil at all. Too much oil can increase body fat, cause heart disease, and raise your levels of cholesterol.
Can you eat the brie rind?
Absolutely. The rind is safe to eat and helps hold your cheese wheel stay together when you make baked brie. Air fryer baked brie is the same way but since we are cutting these into cubes, only some of them will have the rind. If you do not like the flavor or texture, use a sharp knife to trim off the rind from the top layer of the wheel of brie before slicing.
Why does some brie come in a wooden box?
Some wheels of brie cheese and other soft cheeses come in a small box that has been used since the late 1800s to ship it from Europe. Being in a wooden box allowed sellers to ship their cheese over longer distances. It was an engineer named Ridel who invented this lightweight box that also let the cheese breathe.
What are the nutrition facts in this recipe?
If you are worried about nutrition, calories, and fat, here are some approximate numbers to help you out. Each serving has 540 calories, 40 grams of fat, and 13 grams of saturated fat as well as 145 mg cholesterol, 22 carbs, 488 mg sodium, and 7 grams of sugar. But, on the good side, you also get 165 mg of potassium, 2 mg iron, 170 mg calcium, 20 grams protein, 2 mg vitamin D, 1 gram fiber, and 851 units of vitamin A.
More air fryer recipes to try:
How to store leftovers:
Store: After your leftover brie cools to room temperature, you can store it in an airtight container or gallon-size zip baggie for up to four days in the fridge.
Freeze: It is also safe to freeze your air fryer-baked brie for up to one month. First, wrap it in plastic wrap and put it in a freezer bag or another freezer-safe container.

Thaw: To thaw, place leftover brie in the fridge overnight.

Reheat: To reheat, place the air fryer baked brie bites in the microwave for 30 seconds.
Recipe tips:
For shorter prep time, put flour in one baggie and panko breadcrumbs in another. Then, you can shake all the cubes in the flour at the same time, dip them into the egg mixture, and then shake them all in the panko breadcrumbs together.
Another way to speed things up and make it easier is to use puff pastry dough instead of all that dipping and shaking.

Cooking time may vary depending on the size and brand of your air fryer. Different brands may have a faster or slower cooking time so keep an eye on your cheese. You do not want it to bust and let all that melted cheese get out.

Also, the cooking time will be shorter or longer depending on what size you cut the cubes. We used one-inch cubes.
Be sure to use a sharp knife to cut the cheese wheel of brie.
Are you looking for other air fryer recipes? We have lots of ways to use your air fryer on our food blog.

Use cook mode to prevent your screen from going dark. Instructions are easier to read if you do not have to keep pressing the buttons on your phone.
Air Fried Brie Cheese
Ingredients
1

large brie round

or you can use two rounds

1/2

cup

all-purpose flour

or gluten-free

1

egg

1

tablespoon

milk

1

cup

Panko breadcrumbs

or gluten-free Panko
Serve with:
Honey

or maple syrup

fruits

berries

nuts

crackers

jam
Instructions
Cut the brie into 1-inch cubes.

Arrange on a cutting board and freeze for 1-2 hours.

Next, add flour to a shallow bowl, mix egg and milk together in a second shallow bowl, and add breadcrumbs in a third shallow bowl.

After that, toss each brie cube in flour, then drench in the egg mixture and toss in breadcrumbs. Repeat with all the cubes.

Arrange the cubes in the air fryer basket, not touching each other, and air fry at 400 degrees Fahrenheit for 6-7 minutes or until golden and crispy.

Serve with nuts, crackers, berries, jam, and honey.
Deliciousness to your inbox
Enjoy weekly hand picked recipes and recommendations