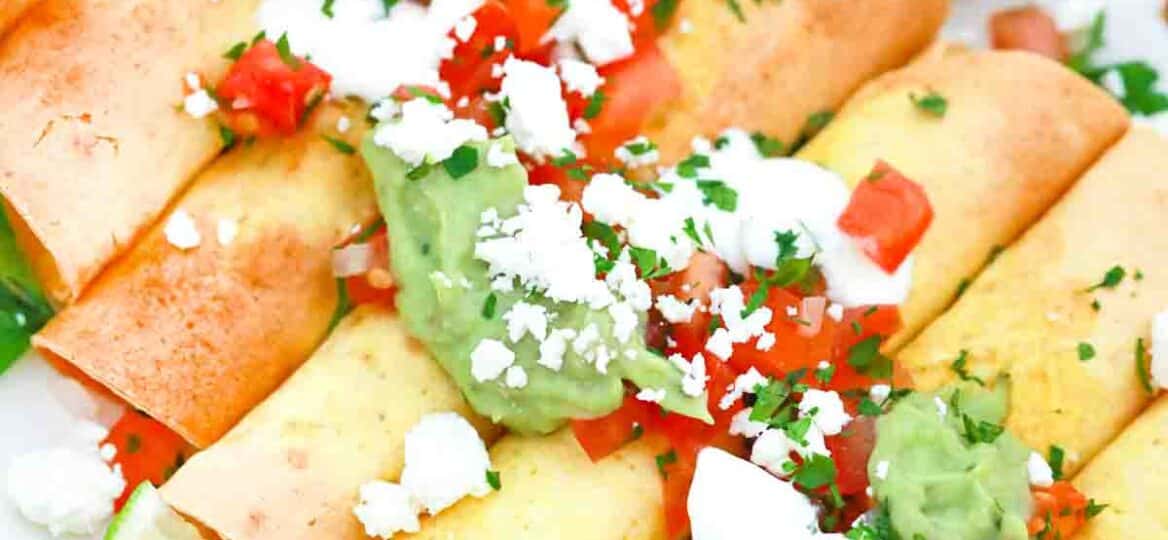 Air Fryer Chicken Taquitos
Air Fryer Chicken Taquitos are a delicious blend of shredded chicken, three kinds of melty cheeses, chili powder, green chiles, and chipotle sauce. If you like Mexican food, you will love these rolled tacos. These make a great party appetizer or just an after-school snack for the kids.
Are you looking for more easy Mexican recipes? Try our Cheesy BBQ Chicken Taquitos with Sweet Corn deep-fried and crispy. These Mexican Street Corn Chicken Tacos are also popular, made with juicy chicken and homemade avocado cream.
If you want to know who invented taquitos, you may not be able to get a clear answer. Some say it was mentioned as a small, rolled taco in the Glossary of New Mexico Spanish in 1917. Others say it was from a Mexican storybook in 1929 where it was mentioned as a rolled tortilla dish. Then there was Cielito Lindo Restaurant which served them in 1934 and El Indio Mexican Restaurant which sold them in the 1940s.
These air fryer chicken taquitos are easy to make with an air fryer, tortillas, and a handful of simple ingredients. They only take a few minutes to cook and can be made with corn or flour tortillas, different kinds of cheese, and your favorite toppings.
You can even substitute the chicken for a different meat or make it vegetarian. Also, you can serve them for dinner, or as a fun and yummy appetizer. The whole family will love these yummy chicken taquitos.
If you are looking for other air fryer recipes, we have plenty! This air fryer corn is an easy and fast side dish seasoned with parmesan cheese, butter, and cilantro. You may also enjoy this air fryer coconut shrimp dipped in sweet chili sauce and sriracha.
Ingredients needed:
These are the simple ingredients for this homemade taquitos recipe. When you are ready, scroll down to our recipe card for complete instructions and exact measurements.
Corn tortillas
Shredded chicken
Shredded Mexican blend cheese
Pepper jack cheese
Softened cream cheese
Canned green chiles
Chipotle sauce
Garlic powder
Smoked paprika
Chili powder
Cumin
Kosher salt
Cooking spray
Optional toppings:
Queso fresco
Salsa: We used tomatillo avocado salsa.
Mexican crema
Guacamole
Homemade Pico de Gallo: Try our delicious homemade Pico de Gallo recipe.
How to make air fryer chicken taquitos from scratch?
Preheat the air fryer: First, preheat air fryer to 400 degrees F.
Make the chicken filling: Next, mix the green chiles, chipotle sauce, cream cheese, cooked chicken, garlic powder, smoked paprika, chili powder, cumin, and salt in a medium bowl until completely combined.
Heat tortillas: Then, heat the tortillas in the microwave covered with a damp paper towel for 30 seconds or until they are warm and pliable. If tortillas are not ready, keep heating them for 10 seconds at a time.
Place taquitos in air fryer: Using one tortilla at a time, scoop two tablespoons of the chicken mixture with two tablespoons of shredded cheese before rolling the tortilla tightly. Place the filled softened tortillas seam-side down in your air fryer basket and continue until all of the tortillas are filled.
Cook taquitos: Next, spray the taquitos with cooking spray and bake at 400 degrees F for five minutes. Then flip them over and spray again before cooking for another two minutes. They should be golden brown and crispy. If they are not crispy enough, put them back in for another minute or two. Continue with the remaining taquitos.
Serve immediately: Finally, serve with your favorite toppings. They will get soggy if you wait too long to serve them. If that happens, just reheat them in the air fryer for another minute or two.
How to make baked chicken taquitos from scratch?
Preheat the oven: To begin, preheat your oven to 400 degrees F and prepare a sheet pan with parchment paper or non-stick cooking spray.
Make the filling: Then, in a medium bowl, mix the chicken, cream cheese, chipotle sauce, chiles, and seasonings with a hand mixer or a wooden spoon.
Heat them up: Next, you need to heat up the tortillas, so they are easy to fill. You want them warm enough to roll without cracking. Cover them with a damp paper towel and heat for 30 seconds in the microwave. If they are not ready, simply keep heating them for 10 seconds at a time until they are.
Place taquitos on the pan: In each tortilla, scoop two tablespoons of the chicken mixture with two tablespoons of shredded cheese before rolling it up tightly. Place the tortillas with the seam side down on your prepared pan until all of them are filled.
Bake taquitos: Next, spray the taquitos with cooking spray and bake at 400 degrees F for five minutes. Then flip them over and spray again before cooking for another five minutes until they are crispy and golden brown.
Serve chicken taquitos: Lastly, serve your taquitos immediately so they stay crispy. If you wait too long, they will get soggy, and you will have to reheat them in the oven or your air fryer.
Recipe variations:
Shredded cheese: We used Mexican blend and pepper jack cheeses, but you can use your favorites.
Shredded rotisserie chicken: Instead of making your own, just use store-bought shredded chicken to save time.
Other meat: Feel free to use different meat like ground beef, shredded pork, or ground turkey.
Corn or flour tortillas: Instead of corn tortillas, you can use flour tortillas.
Adobo sauce: Add a tablespoon of adobo sauce for a spicier flavor.
Taco seasoning: You could also use taco seasoning instead of chili powder.
More substance: For a more substantial taquito, add black beans, corn, and rice.
Spicier: You can make this dish even spicier with chopped jalapeno peppers or red pepper flakes.
How to serve:
Our easy and fast chicken taquitos are delicious, healthy, and perfect for a snack, appetizer, or side dish. You could even make them a meal if you like. Try one of these serving ideas or share one of your own in the comments below.
Place taquitos on a serving tray and set out different toppings like those mentioned in the ingredients. You could also include other toppings like shredded lettuce, cotija cheese, chopped tomatoes, sour cream, and minced onions.
These are also delicious served on a bed of rice. Try our recipe for buttery white rice.
Feel free to top your air fryer chicken taquitos with more shredded cheese to make them extra cheesy. Shredded Monterey jack is a delicious choice.
Serve these air-fried taquitos with your favorite sauces like tangy homemade barbecue, creamy ranch dressing, or whatever you like.
You can also top these yummy taquitos with your own favorites like guacamole, chili, or refried beans.
If you have leftover chicken, why not use it to make chicken quesadillas?
Chop up leftover taquitos and make a Mexican casserole or salad.
Make it a Mexican food night by adding other dishes like tacos, burritos, and nachos.
Frequently asked questions
Is it healthier to air fry these chicken taquitos?
Yes, these air fryer taquitos are much healthier than traditional taquitos that are deep-fried. Making chicken taquitos in an air fryer uses less oil which means less fat and fewer calories. Air fryers use hot air instead of hot oil to cook, getting your chicken taquitos crispy without all that frying.
Why are my tortillas cracking?
To be able to roll tortillas, they have to be warm and soft. Especially with corn tortillas. Using a moist paper towel on top of them when heating in the microwave will make them moist and malleable enough to fill and roll without worrying about cracks. But if they do crack, just cover them with sauce or cheese. They will still be delicious.
Can I make these in a slow cooker?
Although it would be fine to use a slow cooker or crockpot to make your chicken, you cannot get crispy chicken taquitos that way. Because the crockpot cooks so slowly and holds in moisture, the outside of your taquitos will never get crispy. You will have to take them out and put them in the air fryer to crisp them up, which means you would be cooking them twice.
What are the nutrition facts in this recipe?
Each serving of these yummy chicken taquitos has 150 calories, 33 mg of cholesterol, and 7 grams of fat with 1 gram of saturated fat. It also has 10 grams of carbs, 8 grams of sugar, and 620 mg of sodium. But you also get 1 mg of iron, 108 mg of calcium, 8 mg of vitamin C, 220 units of vitamin A, and 15 grams of protein as well as 300 mg of potassium, 2 grams of monounsaturated fat, and 1 gram of polyunsaturated fat.
How to store leftovers:
Store: You can store your leftover air fryer chicken taquitos in an airtight container in the refrigerator for five days.
Freeze: It is also fine to freeze your air fryer chicken taquitos. First, wrap them individually in plastic wrap so they do not stick together. Then place them in a freezer bag and store them for up to 120 days.
Thaw: Remember to put your frozen taquitos in the fridge overnight to thaw out for the best results.
Reheat: You could actually reheat your frozen taquitos in an air fryer for two to three minutes. If they are thawed, just cook them for one to two minutes.
More Mexican Recipes:
Cooking tips:
You can use a hand mixer to make mixing the ingredients easier.
To save prep time, use store-bought rotisserie chicken or leftover chicken.
Use a cooking spray that is 100% olive oil or avocado oil for the best results.
If you have a tortilla warmer, this would be perfect to heat up your tortillas. If not, put your tortillas on a microwave-safe plate and cover them with a bowl or just use a paper towel as in the directions.
Some find it easier to roll all of the taquitos first before you start air frying. You can do it whichever way you prefer.
Be sure you do not let the tortillas touch, or they will not get crispy on all sides. You may have to work in batches depending on the size of your air fryer.
If you do not have cooking spray, just lightly brush oil onto your taquitos after placing them in the air fryer.
You can add a little hot sauce to your shredded chicken but not too much or the outside will be too soggy.
Air Fryer Chicken Taquitos
Ingredients
3

cups

shredded cooked chicken

8

oz

cream cheese

softened

1

tablespoon

canned green chiles

1

tablespoon

chipotle sauce

add less or more, based on how spicy you prefer the food

1/2

teaspoon

salt

or to taste

1/2

teaspoon

chili powder

1

teaspoon

cumin

1

teaspoon

smoked paprika

1

teaspoon

garlic powder

15

corn tortillas

1

cup

Mexican blend cheese

shredded

1

cup

pepper jack cheese

shredded

Cooking spray
Toppings:
Guacamole

Queso fresco

Salsa

Mexican crema

Pico De Gallo

Chopped cilantro
Instructions
In a large mixing bowl, combine the shredded chicken, cream cheese, chipotle sauce, green chiles, salt, cumin, chili powder, smoked paprika, and garlic powder. Stir well until fully incorporated.

Place the tortillas on a microwave-safe plate and cover them with a towel. Heat in the microwave for 30 seconds. They should be warm and pliable. If need heat for 10-15 seconds more.

Preheat the air fryer to 400°F.

Add 2-3 tablespoons of the chicken filling along the edge of one tortilla, sprinkle a heaping tablespoon of each of the shredded cheeses, then roll the tortilla up tight.

Place the filled tortilla seam-side-down in the air fryer basket. Repeat with the remaining tortillas.

Arrange them in the air fryer basket not touching, in one layer. If needed cook in batches. Spray with cooking spray on top.

Air fry taquitos for 5 minutes. Then flip the taquitos, spray again with cooking spray, and air fry for more than 2 minutes, or until crispy.

Remove and repeat with any remaining taquitos.

Arrange the taquitos on a serving plate and garnish them with the desired toppings. Serve immediately.