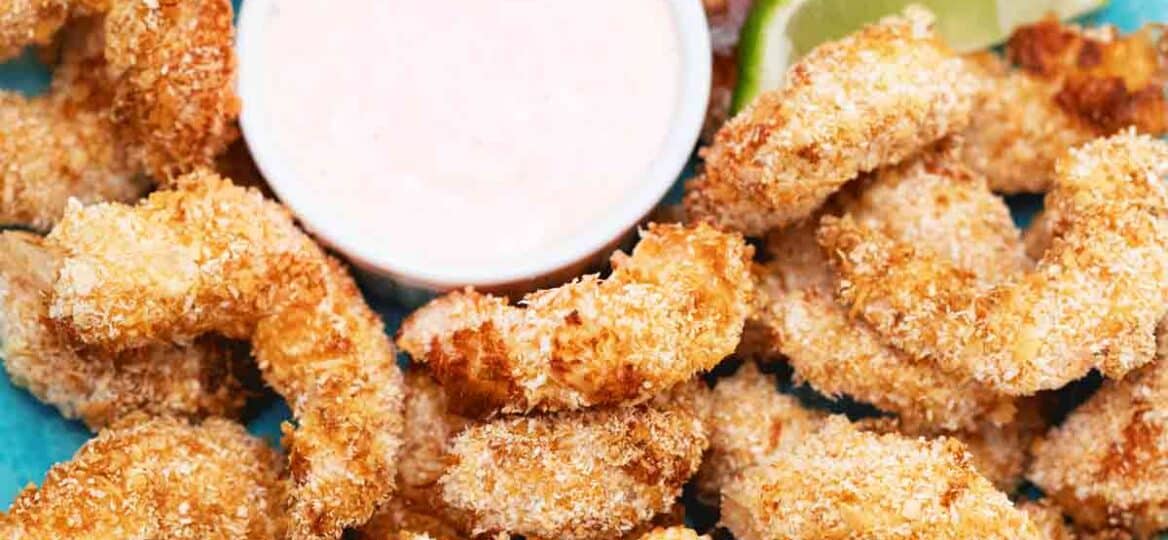 Crispy Air Fryer Coconut Shrimp [Video]
Air Fryer Coconut Shrimp is a healthy and flavorful appetizer resulting in crispy-coated shrimp on the outside and juicy inside. An easy recipe covered in the most delicious shredded coconut and lime coating, that is ready in less than 10 minutes! Dip it in the most delicious homemade Thai chili sauce for the perfect finish!
Every time we crave something crunchy and crispy but at the same time healthy, we turn on the Air Fryer! Check out our Air Fryer Recipes for more inspiration along with our Homemade Sauces. This way, you can pair and enjoy them together!
This Crispy Air fryer Coconut Shrimp recipe is a delicious appetizer that is a favorite in our family. First, this dish is healthy compared to the deep frying method because less oil is used. The shrimp is loaded with tropical flavors without the extra unhealthy calories.
Also, I use a bit of flour and panko bread crumbs. This is what makes the crispy shrimp coating! Adding some lime zest make it even more delicious, so I would definitely recommend not skipping it!
In addition, the garlic and the smoked paprika add some savory twist to the whole recipe! If you would prefer it without the smokiness, just skip the smoked paprika and use regular cayenne pepper instead.
Lastly, the Thai chili sauce is the perfect finish here and is incredibly easy to make. All you need is mayonnaise, yogurt, lime, sriracha, and chili sauce. Another option is to make an Orange Yogurt Sauce, just mix some plain green yogurt with a bit of orange juice, lemon juice, orange zest, and season it to your liking.
Follow this recipe and learn how to make this restaurant-quality appetizer easily and comfortably in your own kitchen.
Ingredients list:
Raw Shrimp: Go with large shrimp. Also, if you are using frozen, ensure to fully thaw them prior to cooking. Peel and devein them.
Flour: For coating. It also adds crispiness to them.
Seasoning: Garlic powder, smoked paprika, salt, and black pepper.
Breadcrumbs: I love using panko bread crumbs as they add a really nice crunch to them.
Shredded coconut
Lime zest
Sweet chili sauce: Mayonnaise, yogurt, lime juice, sriracha, Thai sweet chili.
How to make Air Fryer Coconut Shrimp?
Prepare the flour mixture: First, mix flour with salt, pepper, garlic powder, and smoked paprika in a large bowl.
Make the coconut mixture: Then, in a different bowl mix the Panko bread crumbs with shredded coconut and lime zest.
Make the egg mixture: Next, add the beaten egg to yet another bowl.
Coat: Dip the shrimp in the flour mixture, after that in the egg mixture, and finally in the panko mixture.
Cook: Place shrimp in a single layer in the air fryer basket. Also, DO NOT overcrowd them. Then, air-fry for 10 to 12 minutes at 400 degrees Fahrenheit, until golden brown.
Make the Sauce and serve: Combine the sauce ingredients in a small bowl, mix and serve.
Variations:
Change the Coating: You can make the coating to your liking. We added lime zest, but you can add lemon zest or orange zest. Use regular or smoked paprika. Alternatively, add shredded lemongrass.
Add cheese: In the coconut mixture, add some finely shredded parmesan cheese for a change.
Make them Spicy: Feel free to add a hefty amount of cayenne pepper or red pepper flakes.
Play with the Dipping Sauce: The dipping sauce can be adapted to your liking. Make it spicy, or go for an Asian Teriyaki Sauce.
How long does it take for shrimp to cook in an air fryer?
First, remember not to cook frozen shrimp in the air fryer. If you are using frozen, then quickly thaw them under warm water prior to cooking.
Also, the key is to NOT to overcrowd them so the hot air can freely circulate.
With that said, the cooking time for shrimp in the air fryer takes between 10 to 12 minutes to fully cook. This also depends on the shrimp size. In addition, flip them halfway through the cooking process to make them evenly crispy on both sides.
How to defrost frozen shrimp?
Defrost frozen shrimp in the fridge overnight.
Alternatively, if you need them fast, then place them in a bowl of cold water for 5-10 minutes. If you want them even faster, place them in a bowl of hot water for 3-5 minutes.
Prior to breading them, use paper towels to dry them out.
Serving suggestions:
For the best results, feel free to serve these appetizers right away as the coating will be the crispiest right after cooking.
I love serving them with a dipping sauce for an appetizer or make it a full meal by adding a side salad, like this easy Cucumber salad and some Chipotle Lime Rice.
Favorite dipping sauces:
Apart from the sweet chili sauce, I like to dip shrimp in the following sauces:
How to store leftovers?
The best way is to layer leftover coconut shrimp in an airtight container and between each layer to have parchment paper. This way you protect the coating from sticking together.
Reheat in the oven or in the air fryer. If you use the microwave, the coating will get a bit soggier.
More Shrimp Recipes:
Recipe Tips:
Make sure the coating is well seasoned! Also, go with your favorite seasoning that you like.
Also, use fresh shrimp that a larger in size. However, if you have frozen ones, then simply defrost them prior to coating and air-frying them.
Preheat the Air Fryer and ensure that it is not overcrowded!
Don't skip the dipping sauce!
For a sweeter version, use sweetened coconut flakes!
In addition, turn shrimp halfway through the cooking process to ensure that both sides get evenly crispy coating!
To make this recipe gluten-free, swap the regular flour with coconut flour.
Deliciousness to your inbox
Enjoy weekly hand picked recipes and recommendations