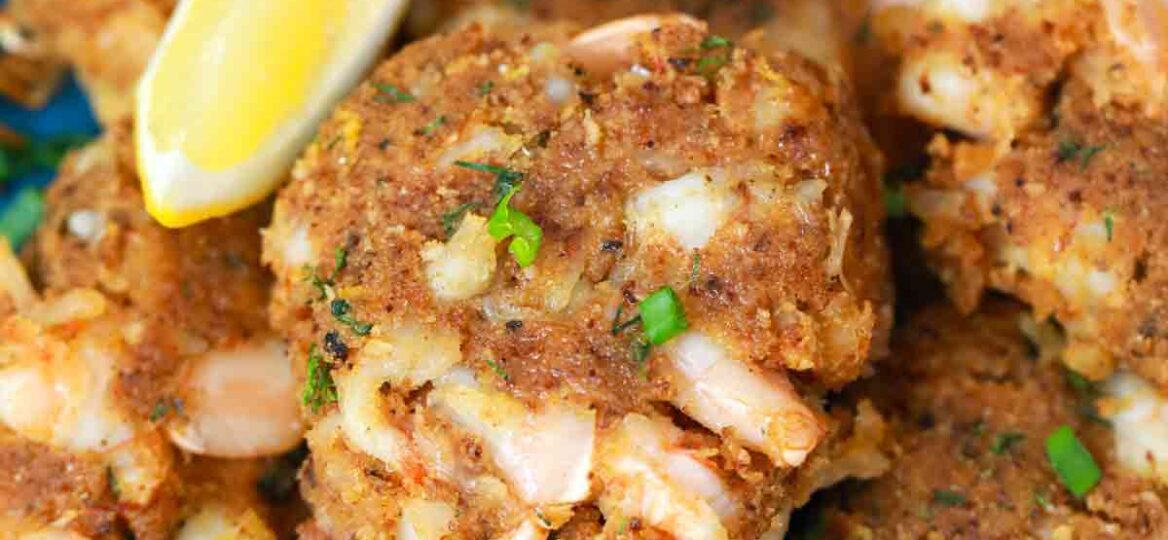 Air Fryer Shrimp Cakes [Video]
Air Fryer Shrimp Cakes are packed with juicy shrimp and seasoned with herbs, spices, hot sauce, lemon, plus garlic and green onion. Then, they're quickly shaped into hearty patties and air-fried until golden and crisp! You're going to love this fantastic side dish, salad topper, or delicious seafood snack!
These are one of our favorite savory fritters! If you enjoy these, then you'll definitely love our equally popular Bacon Cheddar Corn Fritters, Easy Crab Cakes, and Zucchini Fritters!
Air Fryer Shrimp Cakes Recipe
Air Fryer Shrimp Cakes are the ultimate seafood patties! Chopped, juicy shrimp are mixed with fresh green onions, egg, garlic, plus lots of herbs and spices with a splash of lemon juice and hot sauce.
Then, they're gently shaped into thick patties before going into the air fryer. So easy, delicious, and much less oily than frying them up!
We like adding all sorts of delicious things into the mix, too. For instance, cheese and bacon are always a winning combo. You can also add veggies, mix in some crab, or switch up the flavor with different herbs and spices. Simple and fast enough for weeknights, but perfect for parties, too!
What goes into homemade Air Fryer Shrimp Cakes
Shrimp: Use cooked ones that are already shelled and with the vein taken out.
Binder: To bring our patties together, we're binding them with bread crumbs and a couple of fresh eggs.
Seasonings: These patties are PACKED with flavor! We're mixing in fresh green onions and garlic, Italian herbs, and fresh dill, plus spices like smoked paprika and onion powder. A dash of lemon and the hot sauce give our shrimp cakes a delicious kick! Of course, don't forget your salt and fresh pepper.
How to make homemade Air-Fryer Shrimp Cakes
Slice. Cube the cooked seafood into bite-sized pieces.
Mix. Place these in a bowl along with all other ingredients. Gently mix them together.
Shape. Divide and form into round patties.
Cook. On a piece of parchment inside the air fryer, arrange the patties. Them, spritz, or brush with oil. Finally, air-fry at 370F for about 8-10 mins. until turning golden and crispy, then flip and continue air-frying for about 5 minutes more.
Serve. Enjoy immediately with your dip of choice and more lemon.
Recipe Variations and substitutions:
Try other seasonings: Explore different flavor combos! We love adding some Old Bay, Cajun spice, Taco seasoning, and chili pepper for a Tex-Mex taste, and some soy sauce and ginger for an Asian twist.
Spicy: Love spicy food? Add chili pepper flakes, more Sriracha, or jalapenos! For serious heat, try Fresno peppers, Anaheim peppers, serrano peppers, or poblano peppers.
Cheesy: Mix in some shredded cheddar, Pepper jack, parmesan, and other cheeses. We also like placing a small cube of mozzarella in the middle for a cheesy surprise!
Herbs: Fresh or dried herbs can completely transform the flavor of these cakes. For instance, try it with cilantro or fresh basil.
Include veggies: Make a healthier version of these savory cakes by adding all sorts of veggies! For instance, blanch and finely chop some carrots, mushrooms, cauliflower, broccoli, or bell pepper. Corn kernels are great additions, too!
Add meat: For heartier patties, try mixing in some chopped bacon, diced sausage, or ham bits into the mixture.
Skillet-fry: Don't have an air-fryer? Cook these on the stove instead.
Bake: You can use your oven, too! Bake this at 400F for about 15 to 20 mins. until crisp outside and golden.
Frequently Asked Questions
What goes well with homemade shrimp cakes?
Delicious dipping sauces are a must, and we highly recommend creamy ones like tzatziki sauce or tartar sauce.
These shrimp cakes are also amazing served with polenta, green salads, roasted vegetables, corn salads, pasta, colorful slaws, herbed potatoes, grilled avocados, and more.
More shrimp recipes to try:
Best sauce to use as a dip for air-fried shrimp patties?
Definitely go with light and creamy sauces. This way, it won't overpower the delicate shrimp flavors in the dish. We recommend:
How to store leftovers?
Cool them completely first, so they don't lose too much of that crispy crust in storage (condensation can make the surface soggy). Then, place in air-tight storage and keep chilled for up to 3 days.
To reheat, air-fry at 400F for about 5 mins. until hot. You can also bake them in a 400F oven for a few minutes to crisp them up again.
Deliciousness to your inbox
Enjoy weekly hand picked recipes and recommendations