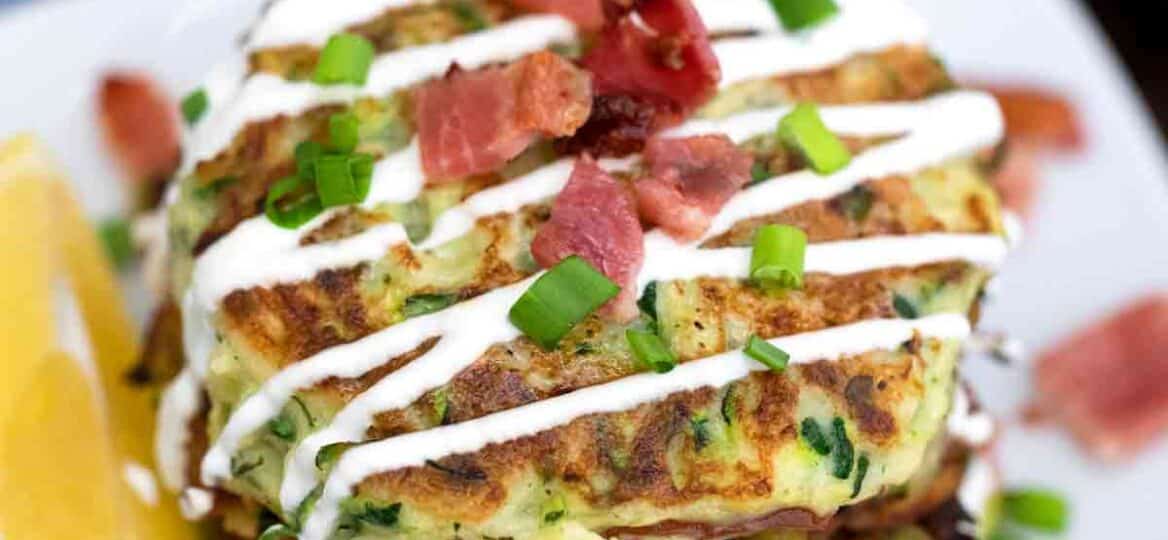 Zucchini Fritters Recipe [Video]
Zucchini Fritters are studded with bacon and fried until perfectly golden and crispy. Served with sour cream and lemon wedges, they are the ideal healthy snack or appetizer.
Got a surplus of these versatile vegetables in your pantry? Use them for a pan of healthy Zucchini Lasagna, Zucchini Noodles with Avocado Sauce, and Blueberry Zucchini Poke Cake!
Crispy Zucchini Fritters
Zucchini Fritters are impossible to resist, especially when they're crispy, seasoned perfectly, and hot off the skillet like these! They're also a clever way to get picky eaters to snack on veggies. Place a stack of these on the table, and watch them disappear!
Aside from being a low-calory and healthy snack, they're fantastic as sides and appetizers as well. Once you've tried this original recipe, put your own twist to your next batch of fritters— make it keto, add sausage bits and more veggies, or cheese!
What are zucchini fritters?
They're shredded zucchini mixed with seasoned batter, then shallow-fried until crispy and golden. A really easy and tasty snack or appetizer, our version has bacon bits for extra flavor.
What makes a fritter a fritter?
It has two non-negotiable components. First, the batter. That's what binds everything together and makes each piece so beautifully crispy after being fried.
To that batter, you can add any ingredient you wish like chopped vegetables, cheese, seafood or meat, seasonings, or fruit. You have to try one of our most popular combinations: Bacon Cheddar Corn!
What do you need to make Zucchini Fritters?
Zucchini: Shredded, then tossed with a half teaspoon of kosher salt.
Bacon: Fried and finely chopped.
Flour and eggs: Give structure to the patties.
Baking powder: Creates a lighter batter.
Seasonings: Aside from salt and pepper, we're flavoring these delicious patties with dried Italian herbs, onion powder, minced fresh garlic, diced green onions, and chopped deal (very fine). For sharpness, a little lemon zest plus a splash of apple cider vinegar.
Oil: A quarter cup for frying.
How do you make Zucchini Fritters from scratch?
Squeeze out your vegetables. After 15 minutes, the salt will draw out a lot of water from the shredded zucchini. Squeeze this out with your hands, or with a cheesecloth. Pat them dry after.
Combine. To the veggies, add all the flour, baking powder, seasonings, and eggs to create a batter.
Fry. Next, drop mounds of batter into the hot oil, about a tablespoon each. Flatten, and fry until both sides are golden brown and crispy.
Serve. Enjoy hot with lemons and your favorite toppings!
Recipe variations:
Add meat: Aside from bacon, feel free to make heartier patties by adding diced sausages or ham.
Add cheese: Skip the salt and add lots of finely-grated parmesan cheese to the batter instead. Cheddar would work too if you want it cheesier
Gluten-free: Use gluten-free breadcrumbs or flour.
Keto: Sub the regular flour with almond flour.
Spicy: Add a dash of chili powder or dried chili flakes.
Include other veggies: Add thinly-sliced carrots, fresh spinach, corn kernels, and other vegetables, preferably with a low-moisture content.
Try other seasonings: Add scallions, Cajun seasoning for a Southern flair, Taco seasoning, and cilantro plus lime zest, or some lemon pepper if you want it extra tangy!
More Zucchini Recipes:
Why are my zucchini fritters soggy?
Did you salt, then squeeze the water out of the shredded pieces? This is absolutely essential. Zucchini is a very watery vegetable, and if you don't squeeze out most of that moisture, it simply won't get crispy.
Next, check your oil. It should be really hot, so the batter crisps up the moment it hits the oil instead of floating there and absorbing it.
In addition, flatten each mound well, so that as much of the surface comes in contact with the oil as possible. Finally, don't flip too early. You want one side to be brown with a nice crust before you do the other one.
How do you keep zucchini fritters crispy?
It begins with the batter— make sure it's not too runny, so you won't end up with limp patties! Again, squeeze out as much water as you can out of the veggies. Just these two steps alone will give you really crispy results.
As for the fried pieces, we recommend laying them on paper towels or a wire rack to drain the oil as you finish the recipe.
What can I serve with Zucchini Fritters?
Classic toppings are yogurt or sour cream, but we also recommend pairing it with other dips! Try Horseradish sauce for a nice kick, honey mustard, Chipotle sauce, cool and refreshing tzatziki, and blue cheese dressing.
More Appetizers:
How to store leftovers?
Once they're cool, place them in an air-tight container. We like packing it with a piece of parchment in between to absorb any excess oil that's still in there. In the fridge, these will stay good for up to 3 days. They can last for 3 months frozen.
When you're ready to enjoy them, defrost. Then, toast in a 450F oven or air-fryer until hot and crisp.
Recipe tips:
We cannot stress this enough, but it VERY IMPORTANT to squeeze out as much water as you can from the veggies to achieve maximum crispiness.
Try oven-baking your bacon instead of frying them. Crunchy results with the splatters!
Ran out of apple cider vinegar? Then, swap it with a tbsp of white wine, red wine vinegar, or rice wine vinegar.