Fudgy Chocolate Zucchini Bread [VIDEO]
Chocolate Zucchini Bread is moist, tender and very fudgy. You can't taste the zucchini, but they make the texture of this bread super moist, and irresistible.
We love Chocolate Bread that is moist and tender like Chocolate Banana Bread, Chocolate Brownie Cake, and Chocolate Coffee Bread.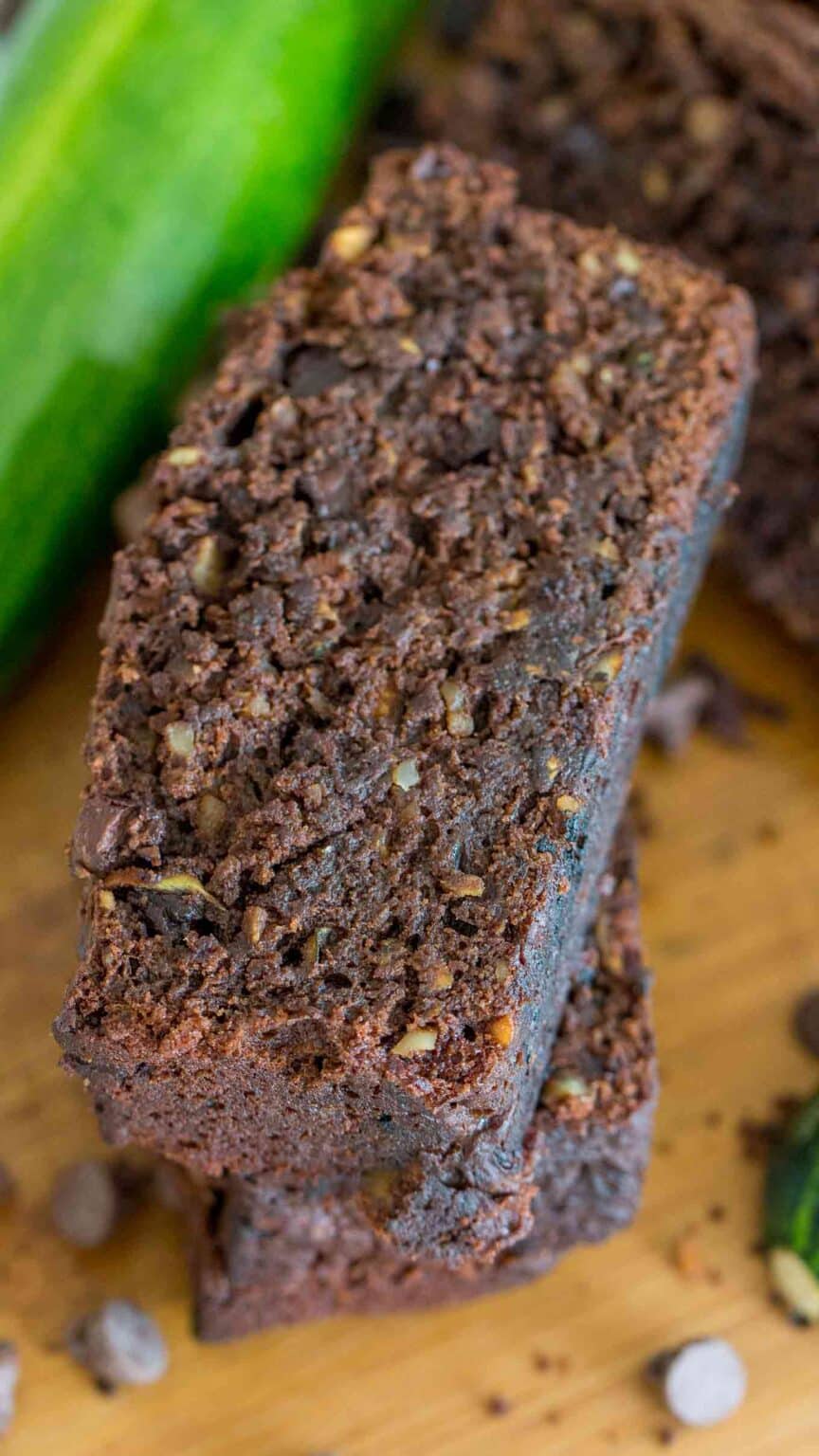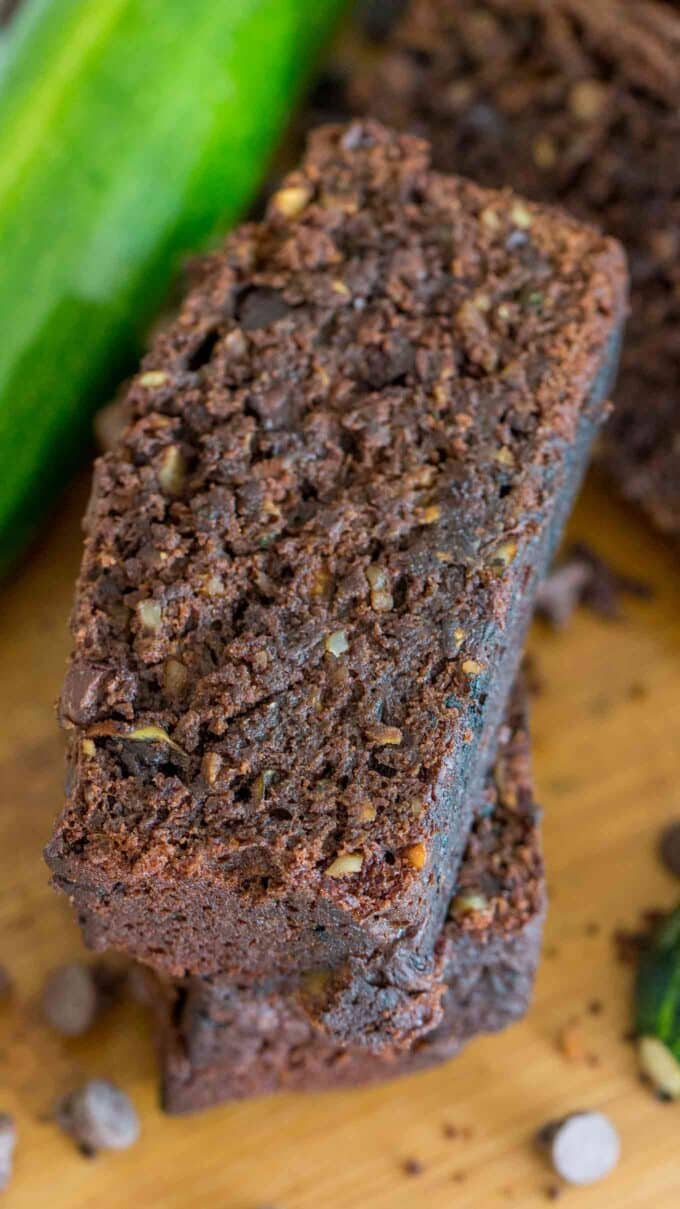 Best Chocolate Zucchini Bread
If you are trying to add more vegetables to your diet and failing, mixing them with chocolate may be the solution. This Chocolate Zucchini Bread will trick even the worst picky eaters into eating it and even ask for seconds.
The bread is irresistibly fudgy and very chocolaty, almost like biting into a brownie, so dense and rich. The best part is that you can't taste the zucchini, but it gives the bread the most amazing, tender and moist crumb.
I like to add lots of chocolate chips to my Chocolate Zucchini Bread and also some walnuts, for a nice crunch. This bread is the perfect coffee snack, and the best excuse to have chocolate for breakfast. I love that it freezes well, so if I need to hide it from myself, into the freezer it goes. Also, this is a great recipe to make for Thanksgiving!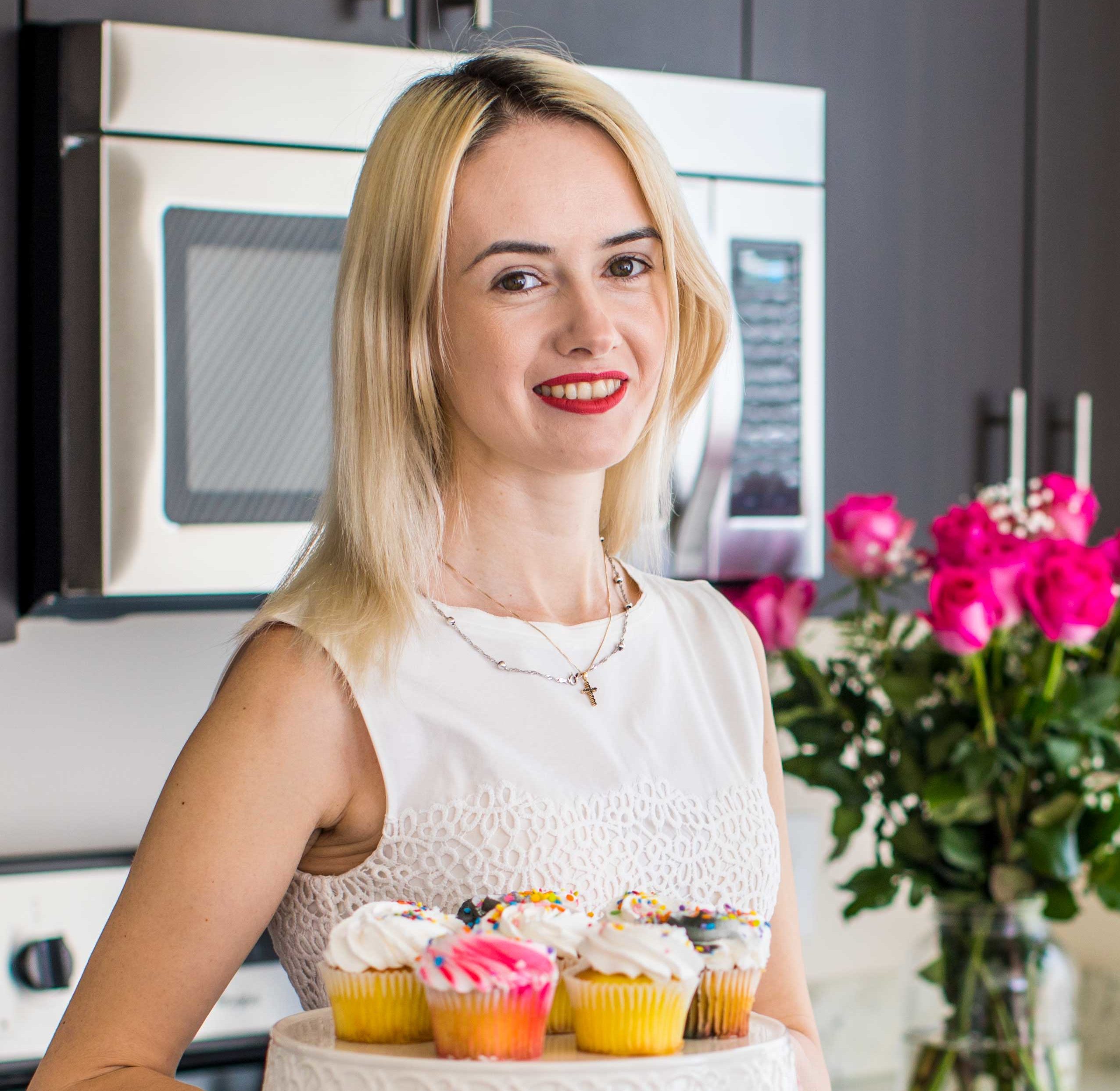 Follow us on Pinterest for more delicious recipes!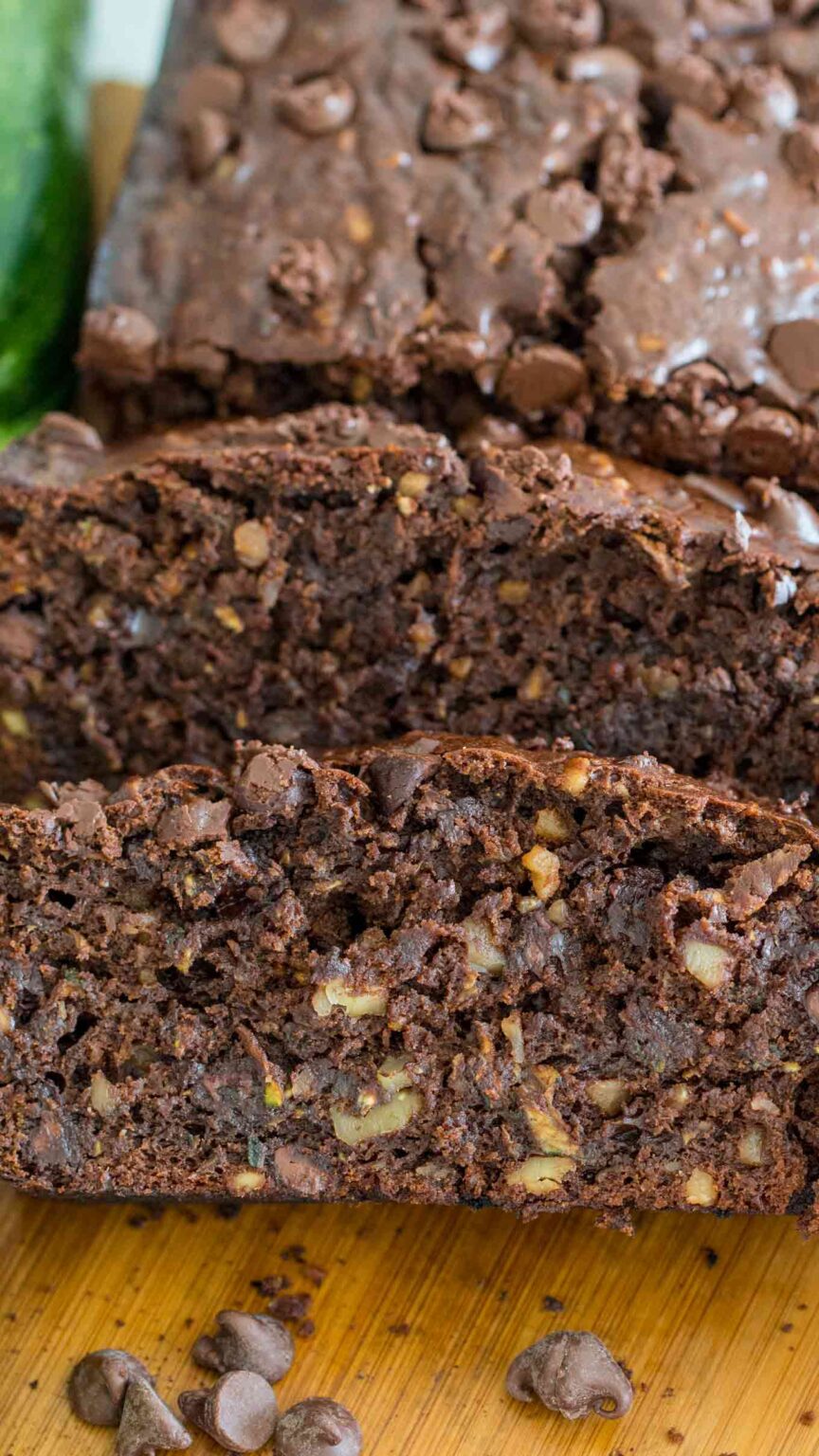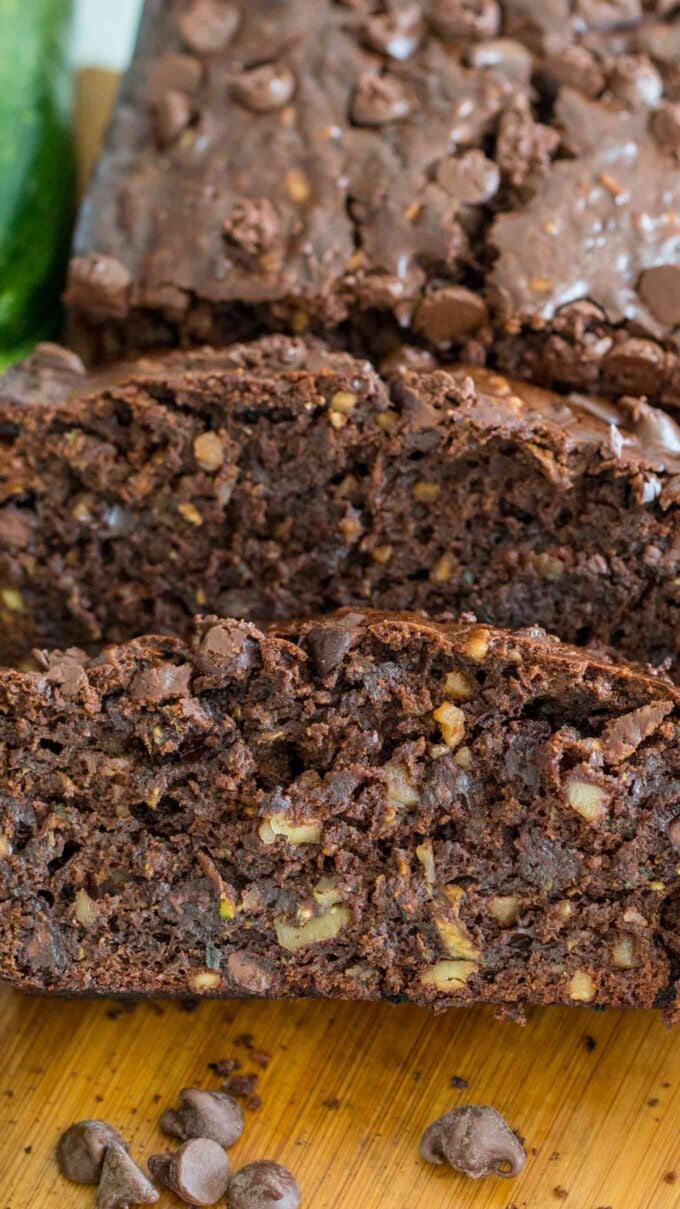 Chocolate Zucchini Bread Recipe Tips:
Chocolate is one of the main ingredients here, so make sure you use quality cocoa powder, as this is basically how the bread will taste. The same applies to the chocolate chips, use high-quality ones.
I also like to use larger chocolate chips, as they don't fully melt when baked and are amazing when you bite into them!
Always measure the zucchini, I usually use 2 medium zucchini, but after you drain the water, measure two cups packed.
Choose smaller zucchini, larger ones tend to be dry, tougher and have a bitter taste.
The chopped walnuts are optional, you can skip them if you don't like walnuts or just prefer not to use them.
You can use canola oil, vegetable oil or even olive oil! Also, you can use melted coconut oil.
This bread also tastes amazing with peanut butter chocolate chips!
The Chocolate Zucchini Bread is very dense, so it will not rise a lot in the oven, that is ok.
Watch the bread closely after 45-50 minutes of baking, to make sure you won't over bake it. I like to check on it at the 50-minute mark and if it still needs more baking, check on it every 5-7 minutes until done. A toothpick inserted in the center should come out clean or just with some melted chocolate on, but not raw batter.
Serve the bread warm or room temperature, you can also warm up slices in the microwave and it tastes delicious with some butter.
The bread can be stored wrapped in plastic wrap at room temperature for 4 days.
Loaf Pan – a huge fan of their products, always great quality!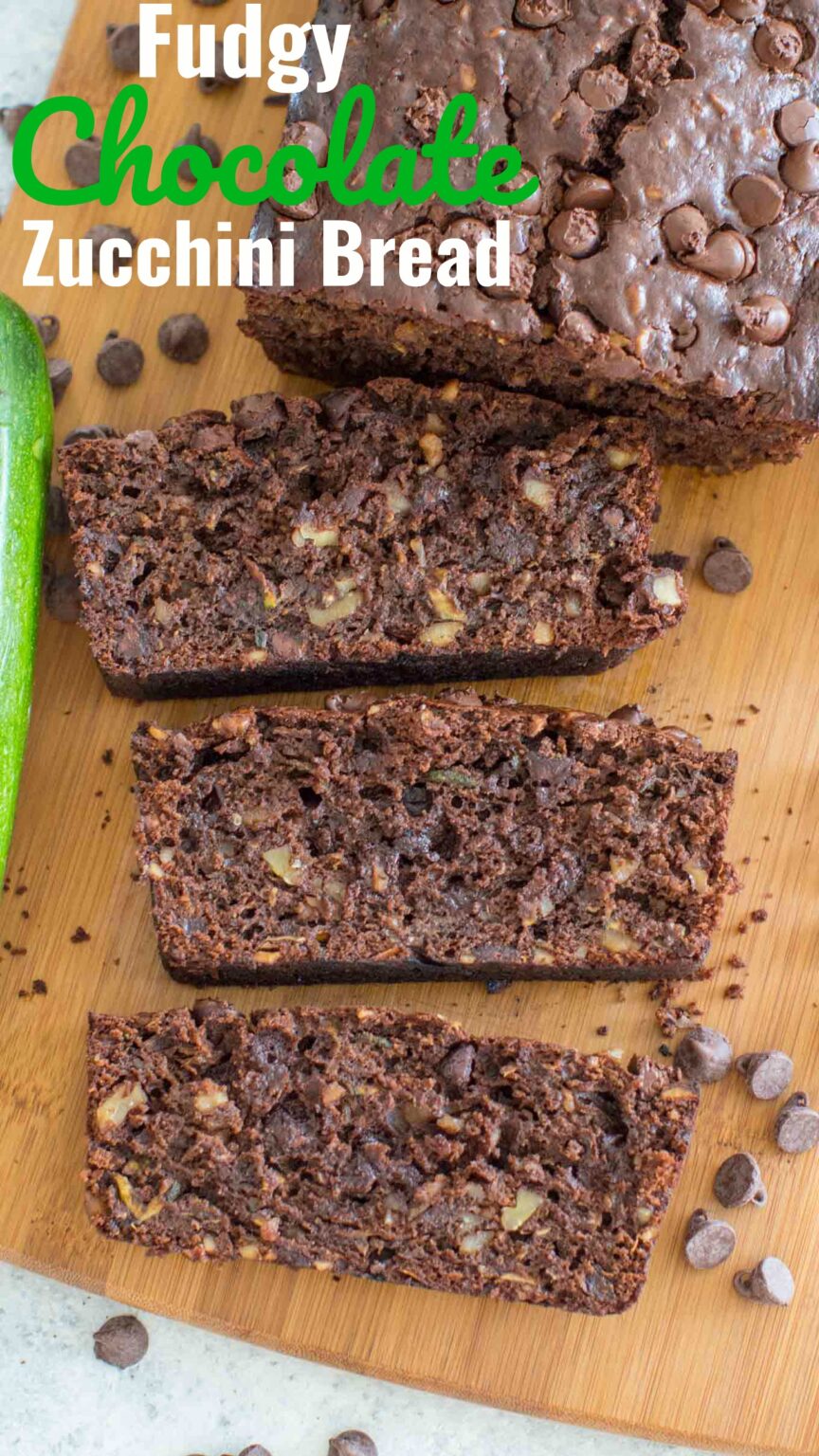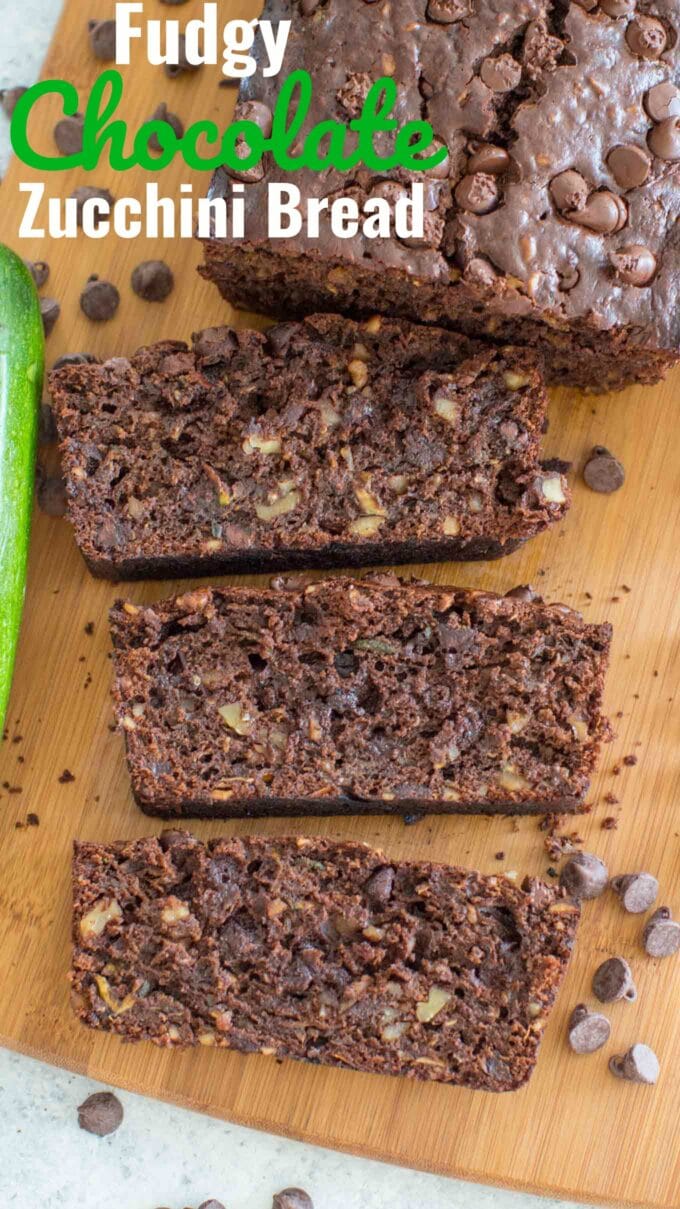 How to Freeze Chocolate Zucchini Bread?
Yes, you can. Cool the bread completely and fully wrap it in plastic wrap, tightly. After that wrap in aluminum foil. Freeze for up to 1 month. Defrost before slicing. You can also freeze individual slices.
How do You Grate Zucchini for Bread?
Don't peel the zucchini, it melts into the bread, so peeling is just unnecessary.
Wash the zucchini well under warm water, use a vegetable brush to remove dirt.
Cut both ends off of the zucchini.
Set a standup box grater on a plate or cutting board on the counter and shred the zucchini by continuously running it over the large holes of the grater.
Can You Taste the Zucchini in desserts?
No, you don't. The Zucchini packs a lot of moisture, so it will make the cake very tender, and you should not worry, your cake will not taste like a veggie.
Looking for more sweet bread recipes? Check these out:
Watch Recipe Video:
Save Recipe
Best Chocolate Zucchini Bread
Chocolate Zucchini Bread is moist, tender and very fudgy. You can't taste the zucchini, but they make the texture of this bread irresistible.
Author: Catalina Castravet
Serves: 10 slices
Prep time:

15

minutes
Cook time:

1

hour
Total time:

1

hr

15

mins
Nutrition information
0 Calories: 326 Carbohydrates: 49 Protein: 5 Fat: 13 Saturated Fat: 7 Cholesterol: 34 Sodium: 86 Potassium: 402 Fiber: 4 Sugar: 33 Vitamin A: 135 Vitamin C: 3.3 Calcium: 90 Iron: 3.7
Save Recipe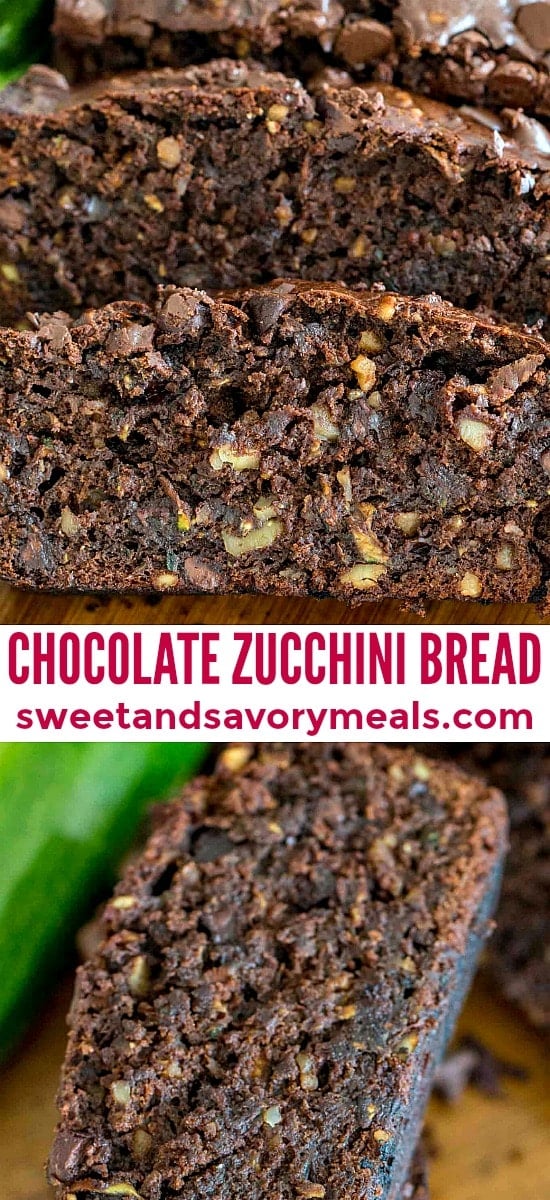 More recipes you might love
Categories: