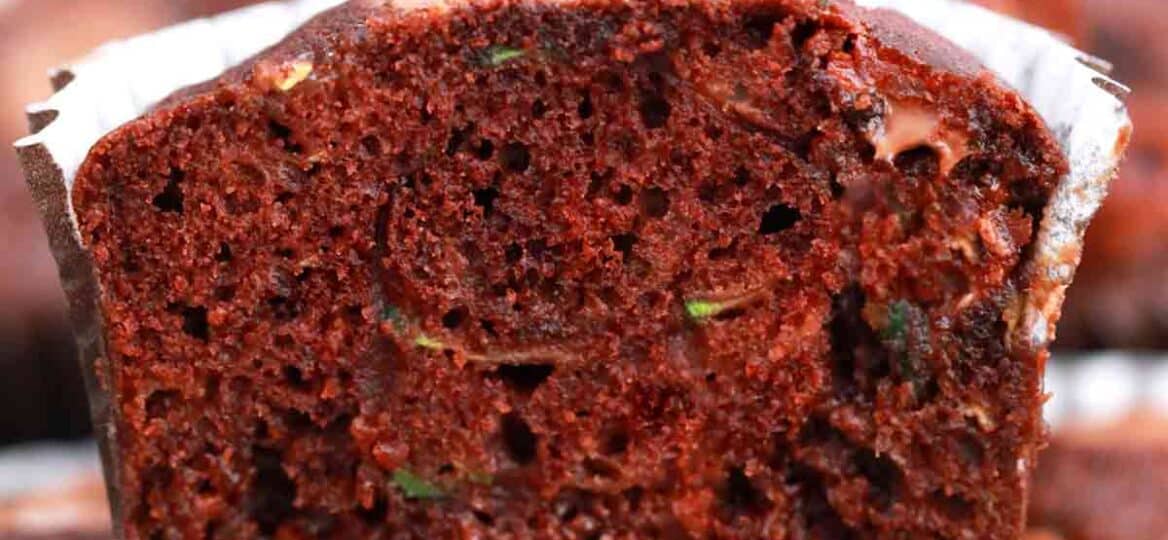 Chocolate Zucchini Muffins [Video]
Chocolate Zucchini Muffins are soft, loaded with chocolate chips, and filled with nutritious and fiber-rich zucchini. A healthier way to enjoy these crowd favorites!
Enjoy vegetables the sweet way! Treat your family to these purple Ube Muffins, Vegan Butternut Squash Stuffed Pinwheels, and Carrot Cake Poke Cake for dessert!
Moist Zucchini Muffins Recipe
Chocolate Zucchini Muffins are extra moist, irresistibly chocolatey, and bursting with chocolate chips! But they hide a healthy secret inside: shredded zucchini!
We use two full cups of veggies to make these sweet treats, and you can't even taste them in there. You can also level them up with all sorts of yummy mix-ins, like nuts and mint chocolate. A fun and delicious way to sneak veggies into a dessert that everyone will go crazy for!
Should I peel zucchini for Chocolate Zucchini Muffins?
No need! This veggie's peel is really thin, which means you'll barely notice it in these treats. Just makes sure to scrub the skin well before preparing it so it's clean enough to eat. The shredded veggies melt into the muffins, so peeling is just an unnecessary step you can totally skip.
How do you make shredded zucchini for Zucchini Muffins?
After cleaning them, slice off both ends. Then rub it firmly against your box grater, using your food processor's shredder attachment, or a regular grater.
How many zucchinis do you need?
We need about a couple of cups, which equals a medium one or two small pieces.
What do you need to make Chocolate Zucchini Muffins?
Zucchini: Scrubbed clean and shredded. Don't worry about any strong vegetable taste in this dessert, because the shreds will "disappear" into the batter. All you can taste is the healthy chocolatey goodness!
Brown and white sugar: The molasses in the brown sugar keeps the baked goods tender moist while both add sweetness.
Vegetable oil: Gives our muffins extra moisture, so they're soft and tender inside!
Melted butter: Adds richness to the recipe.
Eggs: Essential for structure.
Buttermilk: Another key ingredient for moist baked goods.
Baking soda: Gives lift and fluffiness to our recipe.
Unsweetened cocoa powder: Our main chocolate flavor.
Liquid espresso: Coffee intensifies the flavor of chocolate!
Salt: Critical to best taste – without salt, baked treats will taste flat.
All-purpose flour: Like eggs, they give structure to the recipe.
Chocolate chips: We're adding lots: two whole cups of chips!
How do you make Chocolate Zucchini Muffins from scratch?
Combine. Stir together the butter with the oil and sugars.
Finish the batter. Stir in the rest of your ingredients, including the shredded vegetables plus a cup of chips.

Bake. Spoon into your mini muffin pans, and top each with the remaining chips. Bake at 350 for 10 to 12 mins. Stick a toothpick into one to see if it's done. They're ready when no more crumbs stick when you take the pick out. Take them out, and leave them for 5 minutes to cool a bit. Remove and cool on a wire rack completely.
Serve. Enjoy with coffee, tea, or ice cream on the side!
Recipe variations:
Nutty: Stir in your favorite chopped nuts, plus more on top.
Peanut butter: Add a scoop or two of peanut butter and peanut butter chips into the batter.
Mocha: Add a teaspoon of instant espresso powder.
Carrots: Shred very finely and stir into the mix.
Choco chip mint: Stir in chopped Andes mint chocolate into the batter, plus more on top.
Regular-sized: Bake in a regular muffin pan for 15 to 20 mins.
More Muffins Recipes:
How do you keep Chocolate Zucchini Muffins from getting soggy?
Squeeze the veggies after shredding to remove excess moisture. Don't keep them too long in the pan after baking as well – 5 mins is enough, otherwise, they'll get soggy as they cool down in there.
How to avoid overbaking muffins?
First, make sure your oven is at the correct temp. Also, do the toothpick test about 5 mins before they're supposed to be done, so you know when to pull them out.
Why my muffins didn't rise?
Your baking soda may be old, which means it won't have enough power lift to make the baked good rise. To check, drop it in hot water. If it's still potent, it'll fizz and bubble immediately.
How to store leftovers:
Make sure they're completely cool before storing, or they'll create condensation in the container as they continue cooling down inside, leading to soggy muffins. You can keep them for 2 days on the counter, or about a week in the refrigerator.
These taste delicious straight from the fridge, but we definitely recommend warming them up by zapping for a few minutes in the microwave— they'll taste freshly-baked that way!
How to freeze and defrost Chocolate Zucchini Muffins:
Either placed the cooled treats in a freezer bag or wrap them in cling and foil individually before placing them in the bag. Freeze up to a month.
To defrost, leave them on the countertop or overnight inside the fridge. Warm them up for a few seconds in the microwave and enjoy!
More Zucchini Reecipes:
Recipe tips:
Don't overmix! A few small spots of flour are fine.

Squeeze out the excess water from the shredded vegetables to prevent sogginess.
You can use cupcake holders or just bake them bare in the pan. The later gives them crispier edges!
Deliciousness to your inbox
Enjoy weekly hand picked recipes and recommendations