Chocolate Zucchini Cake Recipe [Video]
Last updated on November 18th, 2021 at 02:47 pm
Chocolate Zucchini Cake is super rich and moist and you won't even be able to taste the vegetables in this chocolaty dessert. Made with fresh zucchini, buttermilk, cocoa powder, and lots of chocolate chips. The cake is finished with a light and airy whipped cream topping and chocolate shavings.
If you love chocolate you will love this dessert. It has been loaded with high-quality cocoa powder, melted chocolate, and also lots of semi-sweet chocolate chips. Have a slice for breakfast to sweeten your day, or serve it for dessert. This recipe for Chocolate Zucchini Bread is similar but less sweet. Or if you are not a fan of chocolate, this Zucchini Bread recipe is perfect. For a fruity treat or breakfast bread, make Zucchini Banana Bread that everyone will love. The best part is that you can freeze leftovers and enjoy some when a craving strikes.
Homemade Chocolate Zucchini Cake
Many people hear the name of this recipe and think it cannot possibly be good with zucchini in it. But you will be surprised at how delicious this cake really is. You will not even notice the veggies in it, but you will benefit from the vitamins and fiber anyway. Cook this on Monday and have a slice every day for a snack and you will want to make that a new weekly tradition.
Make single-serve cakes by using this chocolate zucchini muffin recipe instead. If you have extra zucchini, make zucchini lasagna to go with it. Or have it for dessert with any meal with one of these mouthwatering main dishes recipes. It is easy to make in less than an hour with eggs, oil, buttermilk, vanilla, zucchini, flour, cocoa powder, chocolate chips, sugar, and a few other spices.
This is a fantastic homemade dessert you can make whenever you want something sweet or if you are having a party with friends and family.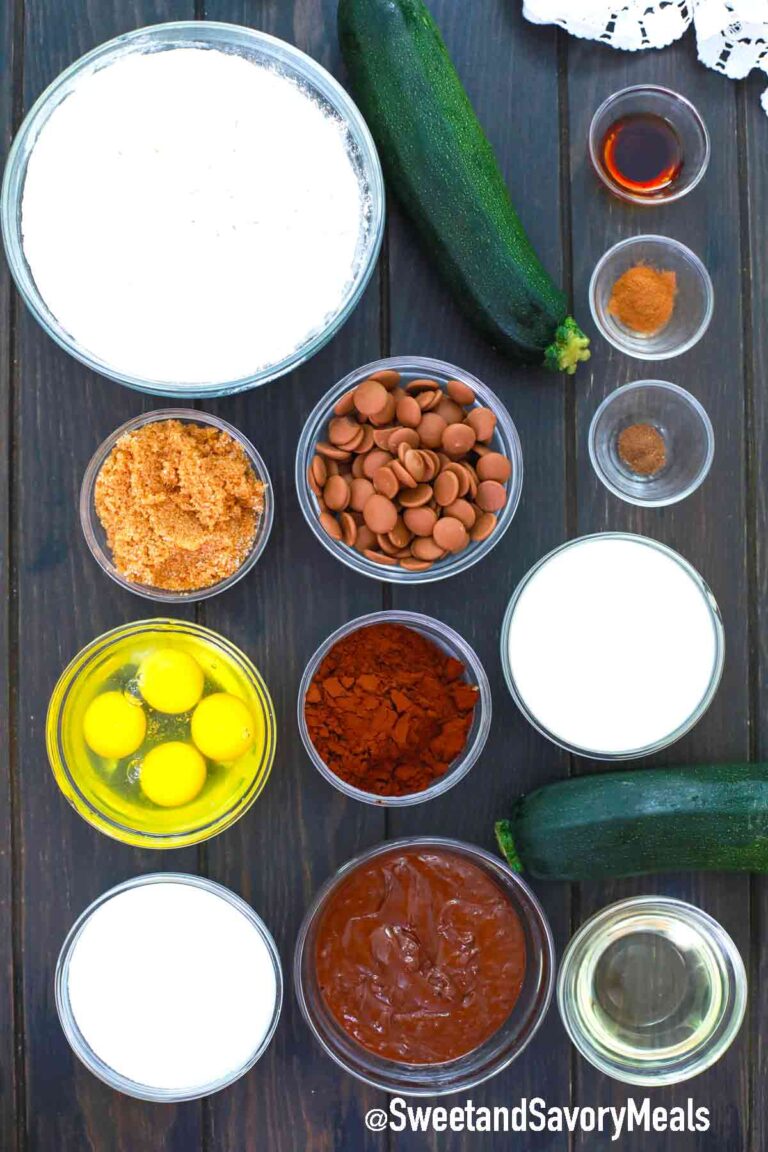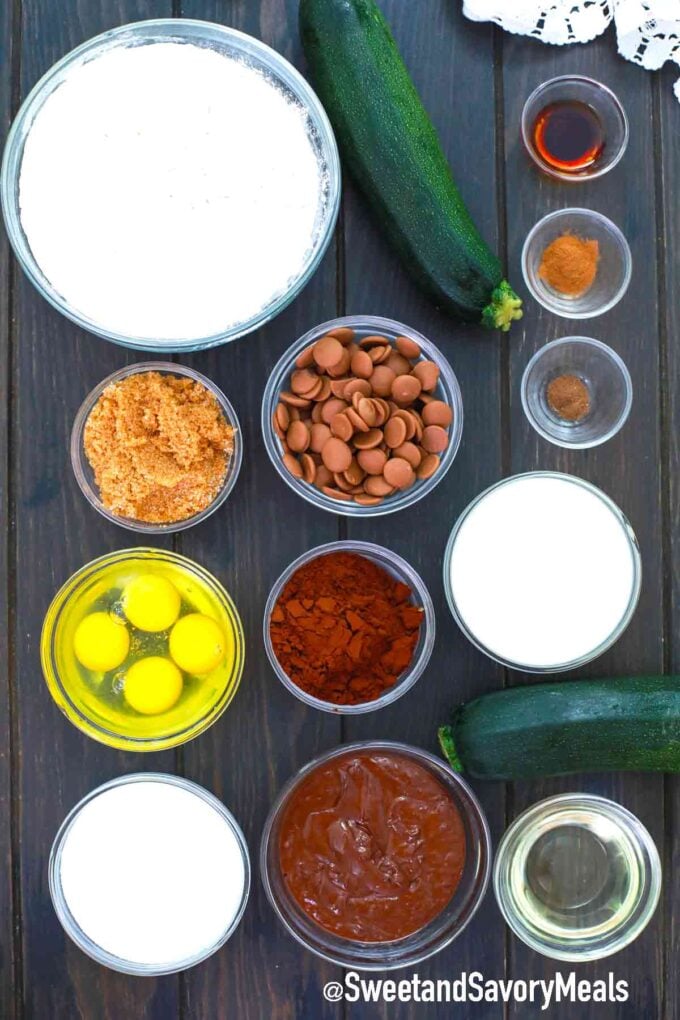 Ingredients needed:
For precise measurements, check out the recipe card below. But here is a basic list of what you will need:
Eggs: We use large, but you can use medium or jumbo. Make sure they are room temperature first.
Vegetable oil: Try canola oil for a less fattening treat.
Buttermilk: Fresh is always best to use.
Vanilla extract: Pure vanilla is preferred.

Shredded zucchini: This is a great way to use up those extra ones from the garden.

Flour: Use all-purpose flour that is spooned and leveled for best results.

Dark cocoa powder: You can use regular cocoa powder if that is all you have.

Granulated sugar: Any brand will do.

Brown sugar: Use light or dark.
Melted chocolate: Use baking chocolate melted in the microwave or on the stove in a saucepan.

Chocolate chips: Semisweet or milk chocolate preferably.
Baking soda and powder: You will need both of these for the best lift.
Spices: Salt, cinnamon, and nutmeg are what we used. Actually, the cinnamon and nutmeg are very subtle but pair nicely with the chocolate flavor.
How to make chocolate zucchini cake from scratch?
Preheat: First, turn the oven to 350 degrees F to preheat.

Prepare: Then, use cooking spray and a dusting of flour in a 9×13 cake pan.

Beat: After, stir the eggs with a whisk in a large bowl.
Add: Mix in the vanilla, melted chocolate, buttermilk, and oil until it is combined.

Add dry ingredients: Then, add the seasonings, baking soda and powder, cocoa, and sugars, stirring it until it is combined.

Zucchini time: Next, add the shredded zucchini and chocolate chips and stir until just mixed in. Do not over stir.
Pour: Finally, pour the batter into the prepared pan, making sure you scrape the sides of the bowl to get every tasty drop.
Bake: It typically takes between 30 and 40 minutes depending on your oven. It is done when a toothpick comes out clean when inserted in the center of the cake.

Cool: Remove from oven and place the pan on a wire rack, fully cool before frosting.
Frost: It is important to let the cake cool completely before adding the frosting on top.
Store: First, fully cool it, and after that store in a sealed container in the fridge for up to 4 days.
Freeze: Keep in mind that you can freeze it while frosted or not. First, wrap it in plastic wrap and after that in foil and place in a freezer-safe Ziploc bag. Freeze for up to 3 months.
Defrost: To thaw leave it in the fridge overnight and serve the next day.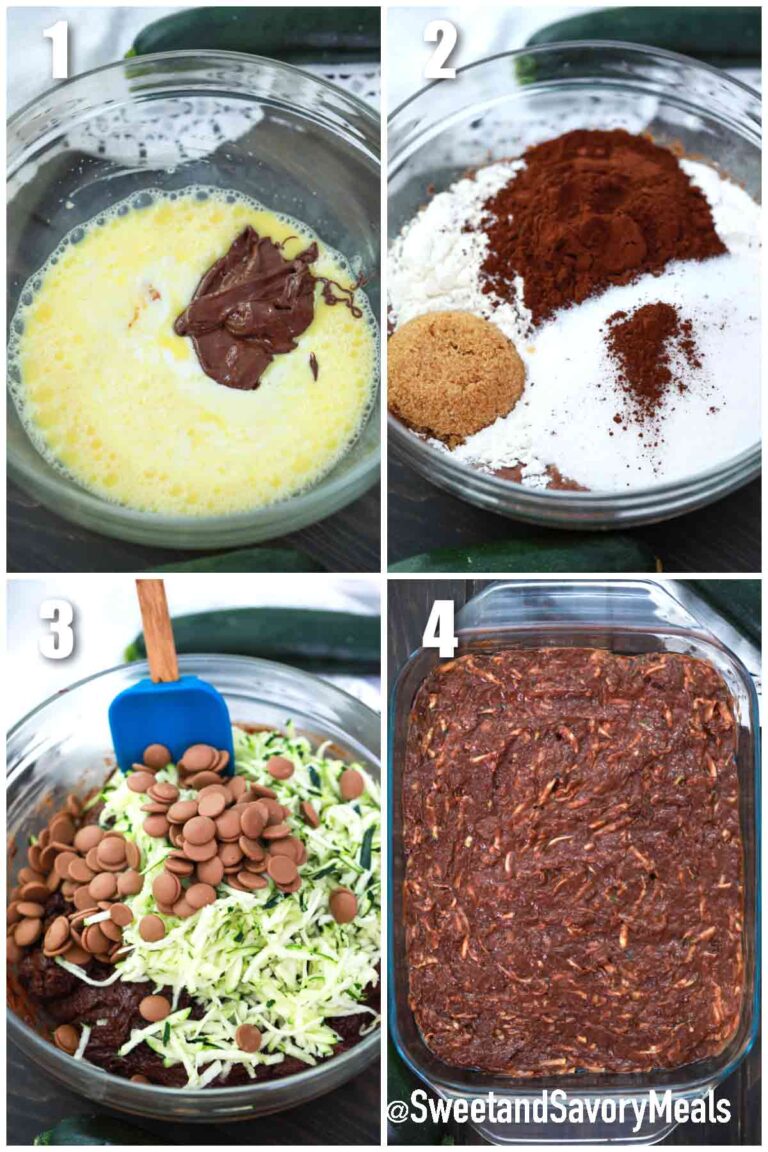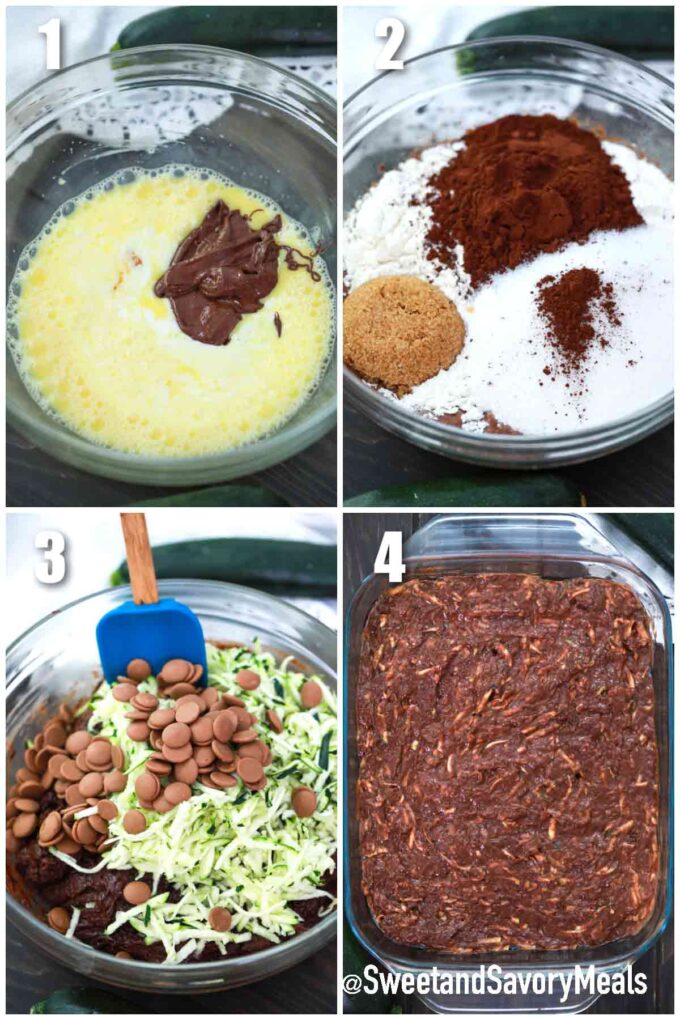 Recipe variations:
Sugar switch: Try using all brown sugar instead of white for an even moister cake.

Layer it: Alternatively, try using two round cake pans for a layered cake.

Add sour cream: Another alternative is to add sour cream or vanilla Greek yogurt instead of the oil.

Berries: Mix in some fresh or frozen berries like blueberries, raspberries, or blackberries. First, toss them in one tablespoon of cornstarch before adding.
Nuts: Also, stir in some chopped nuts like peanuts, almonds, pecans or walnuts, for a nice crunch.
Try some espresso: In addition, using espresso in the mix can give your cake an even more chocolaty flavor.

Make it your own: Don't forget, you can add any of your favorite flavors into the cake by adding a different flavor of extract such as orange or lemon.

Baking chips: Either skip them or add more and will work in this great recipe.
Peanut butter: For a change, stir in baking peanut butter chips or microwave a cup of creamy peanut butter and stir it into the cake.
Chocolate frosting: Make this cake extra decadent by topping it with a chocolaty frosting instead of whipped cream.
Skip the frosting: However, to save calories and make this healthier, skip the frosting altogether. Also, you can just dust some confectioner's sugar on top.
Gluten-Free: Actually, easily make this dessert gluten-free by using gluten-free flour.
Chopped Fruit: Also, for some texture mixed in some chopped fruits like apples, pears, or peaches.
Sugar substitute: Another option is to use low glycemic sugar, honey, agave, and maple syrup will also work.
Oreos: Also, to make it extra indulgent, stir in some chopped Oreos.
Bundt Pan: For a change, make it into a bundt pan.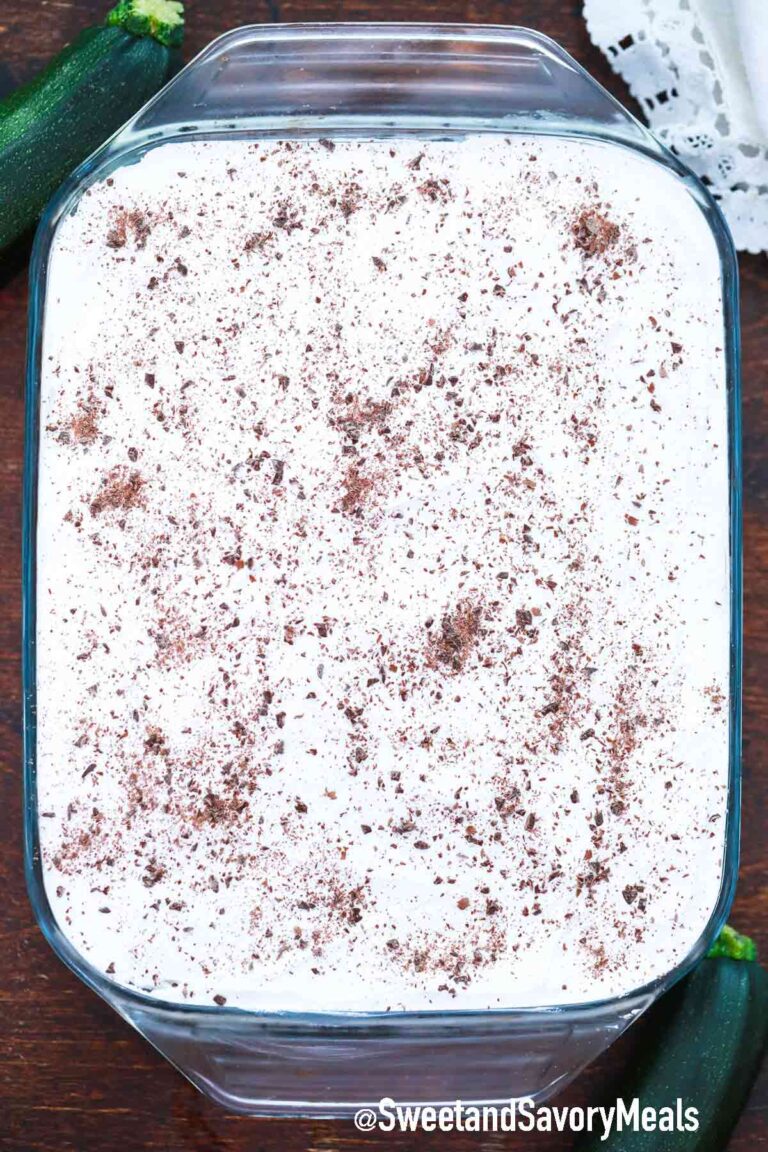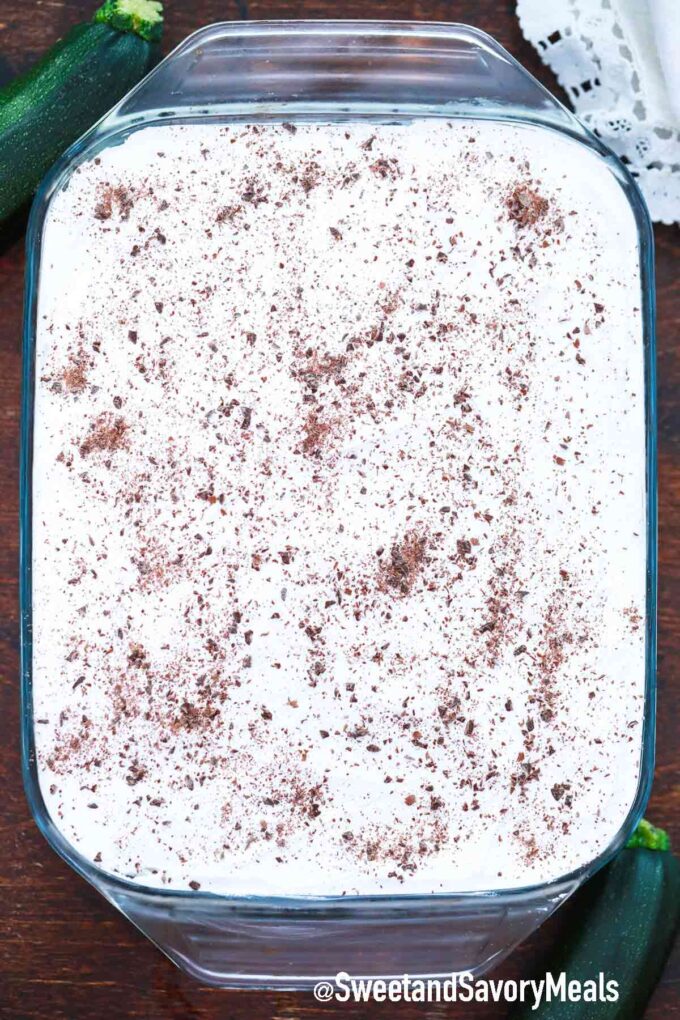 How to serve:
We recommend serving with whipped cream frosting and shavings of fresh chocolate. But everyone loves this cake warm fresh out of the oven without frosting. Here are some other variations of how to serve this delicious dessert:
Try this moist and delicious cream cheese frosting on top for even more creaminess and flavor.
Alternatively, use this fruit filling like this strawberry sauce on top for a fruity addition.

Another fantastic topping idea is to add powdered sugar, sprinkles, or chocolate chips.
Serve it with this homemade strawberry ice cream for a double-sweet dessert.
Make this Oreo buttercream for a splendid topping or filling.
More Cake Recipes:
Frequently asked questions
Why put zucchini into a cake?
Zucchinis may not seem like the ideal addition to a dessert, but the truth is, you cannot taste it or see it. Because zucchinis are mostly water, if you shred it before using it, the heat from baking will dissolve the zucchini but leave the moisture. This adds moistness to your dessert without having to add any other fats or oils and even gives you some vitamins.
What can I substitute for zucchini?
If you do not have any zucchini and cannot find any at the grocers or farmers market, don't stress out. There are several things you can easily use instead. Squash is the best choice and is similar in texture and taste. Pumpkin is another fantastic replacement. Eggplant could also work in a pinch. Or try cucumber, carrots, or apples.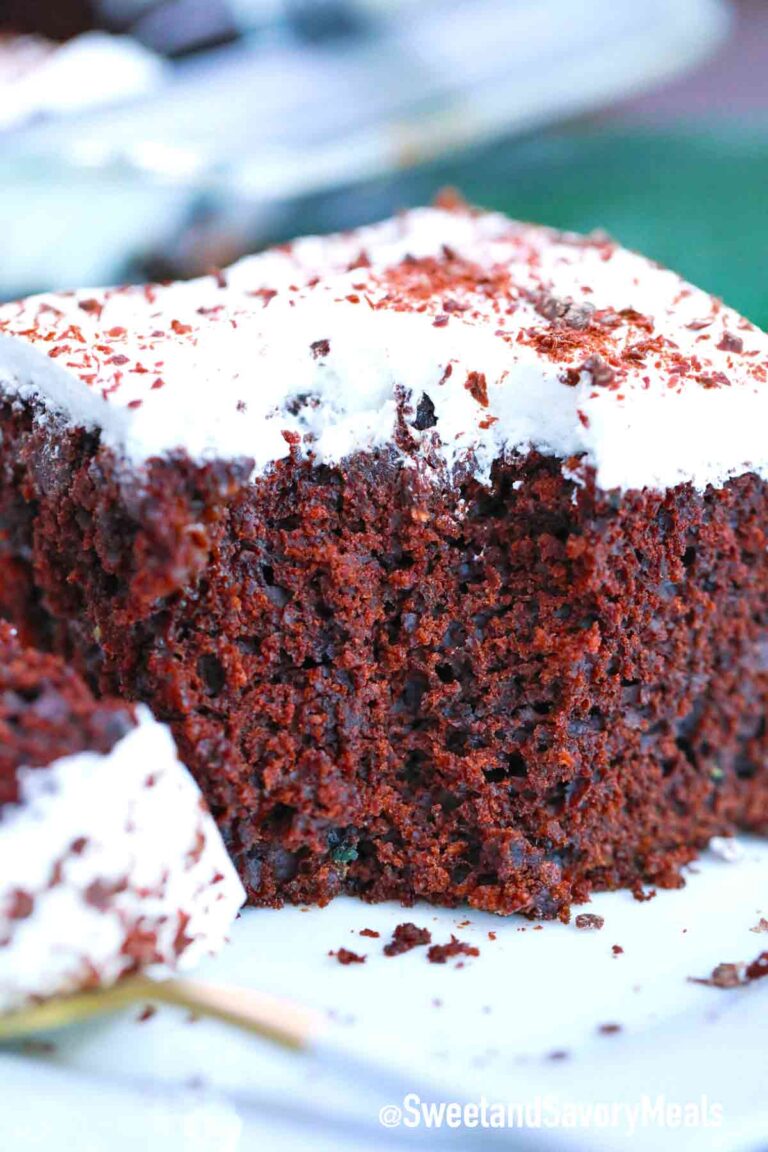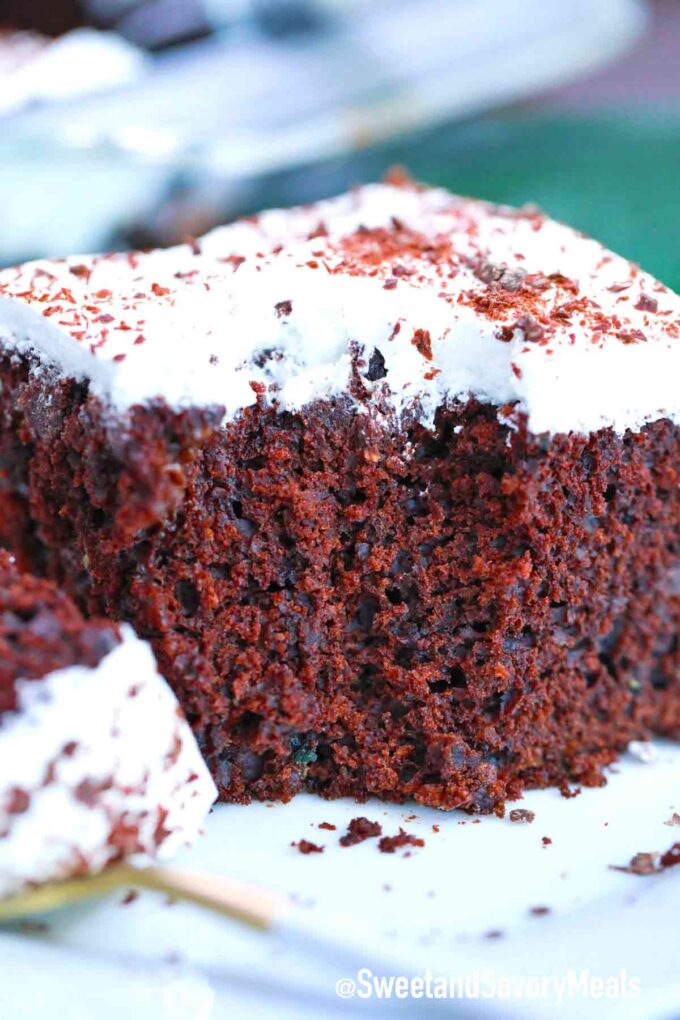 Recipe tips:
Make sure the buttermilk and eggs are at room temperature before use.

Use applesauce instead of oil for an even healthier cake.
Do not mix the cake too much or it will be too runny.

You can store the cake in a covered container on the counter for three days.

Alternatively, keep the cake longer in the refrigerator in a covered container for up to five days.

If you want to freeze it, first put it in the freezer for about an hour to make the frosting hard. Then carefully wrap it with plastic wrap. If you wrap it well enough, it will still be amazing after two months. Just put it in the refrigerator overnight to thaw before serving.

Use high-quality cocoa powder and chocolate.
Chocolate Zucchini Cake
Chocolate Zucchini Cake is super rich and moist and you won't even be able to taste the vegetables in this chocolaty dessert.
Save
Share
Print
Pin
Rate
Ingredients
4

large eggs

1/2

cup

vegetable oil

3/4

cup

buttermilk

2

teaspoons

vanilla extract

3

cups

shredded zucchini

3

cups

all-purpose flour

(spooned and leveled)

1/2

cup

dark cocoa powder

1

cup

granulated sugar

1/2

cup

brown sugar

1 1/2

teaspoons

baking soda

1

teaspoon

baking powder

1

teaspoon

salt

1

tablespoon

ground cinnamon

1/4

teaspoon

ground nutmeg

12

ounces

melted chocolate

1

cup

chocolate chips
Topping:
4

cups

whipped topping

1/4

cup

chocolate shavings
Instructions
Preheat oven to 350 F.

Grease and flour a 9x13-inch baking pan and set it aside.
Make Cake Batter:
In a large bowl, beat eggs and add vegetable oil, buttermilk, melted chocolate, and vanilla, whisk until well-combined.

Add flour, cocoa powder, both sugars, baking soda, baking powder, salt, cinnamon, and nutmeg. Stir in until just combined. The batter will be thick.

Add the shredded zucchini, and stir until just combined.

Stir in chocolate chips.

Pour the batter into the prepared pan.
Bake:
Bake for about 30-40 minutes, or until a wooden toothpick inserted into the center of the cake comes out clean.
Cool:
Remove from the oven, and let the cake cool in the pan before frosting with whipped cream and chocolate shavings.
Nutrition
Calories:
574
kcal
|
Carbohydrates:
82
g
|
Protein:
10
g
|
Fat:
29
g
|
Saturated Fat:
19
g
|
Polyunsaturated Fat:
1
g
|
Monounsaturated Fat:
6
g
|
Trans Fat:
1
g
|
Cholesterol:
57
mg
|
Sodium:
400
mg
|
Potassium:
546
mg
|
Fiber:
8
g
|
Sugar:
50
g
|
Vitamin A:
250
IU
|
Vitamin C:
6
mg
|
Calcium:
140
mg
|
Iron:
5
mg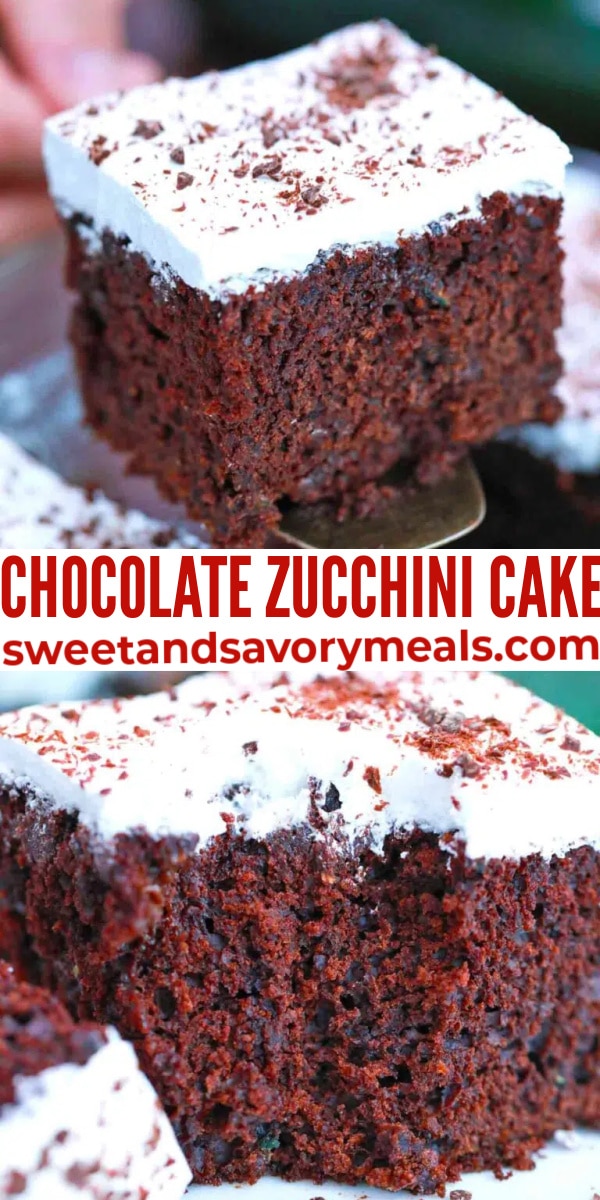 More recipes you might love