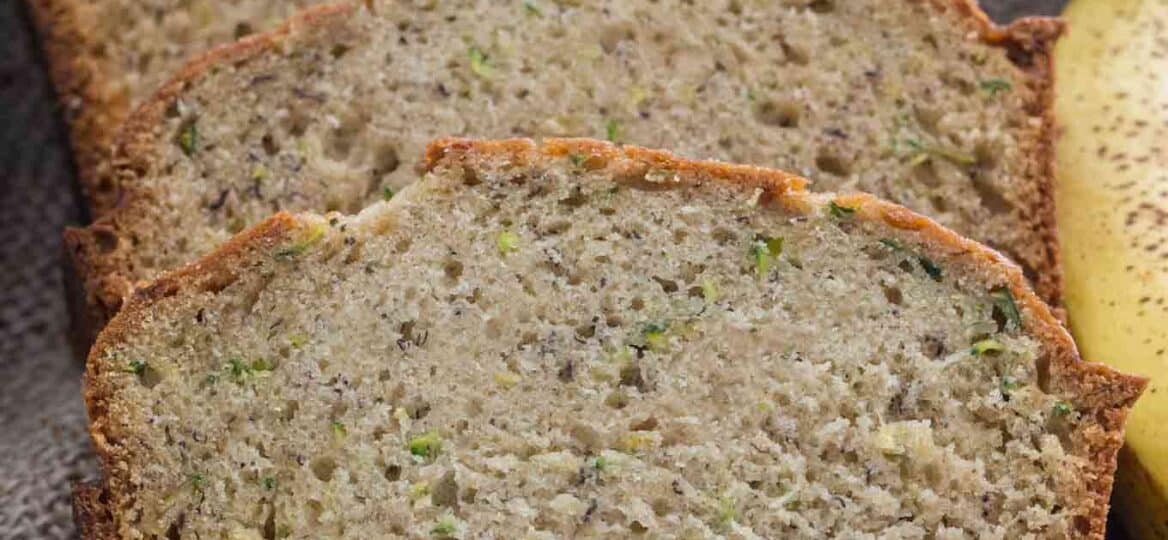 Zucchini Banana Bread [VIDEO]
Zucchini Banana Bread is incredibly tender and easy to make, with delicious hints of banana and vanilla flavor, and pretty zucchini specs through it. Check out the full recipe video below.
We love delicious and easy bread. Some of our most popular ones are gluten-free banana bread, keto bread with coconut flour, and the best chocolate banana bread.
Easy Zucchini Banana Bread
When zucchini is in season, I just can't contain myself, multiple zucchini recipes are rotating in my house. I love them grilled, spiraled, and even in soup, but baking with zucchini is my favorite part.
This Zucchini Banana Bread is so amazing, it's so tender and soft that it basically melts in your mouth. Seriously, this dish just disappears once I put it on the counter. The bread is full of banana flavor, the crumb is so moist from the olive oil, mashed bananas, and zucchini, with just the slightest hint of lemon.
This Zucchini Banana Bread is such a tasty snack, breakfast, or light dessert. It's so good on the go, I love wrapping a few slices in plastic wrap and pack them for lunch. Everyone in my house loves it, it literally disappears from the kitchen, even my five-year-old boy can't get enough.
Try it for yourself and you will see what all the fuss is about! Also, this recipe is so easy to make, that basically there is no way to mess it up!
Looking for more sweet bread recipes? Check these out:
Zucchini Banana Bread Recipe Tips:
Always measure the zucchini, I usually use 2 medium zucchini, but after you drain the water, measure two cups packed.
Choose smaller zucchini, larger ones tend to be dry, tougher, and have a bitter taste.
You can also add chocolate chips to this sweet bread. I like using larger chocolate chips, as they add some chewiness!
You can also add chopped walnuts or pecans, they would add a nice crunch.
You can use canola oil, vegetable oil, olive oil, or melted coconut oil.
Bananas must be brown, very ripe, and easy to mush. Obviously, don't wait for the bananas to turn completely brown, that is overdoing it.
Watch it closely after 45-50 minutes of baking, to make sure not to over bake it. I like to check on it at the 50-minute mark and if it still needs more baking, check on it every 5-7 minutes until done. A toothpick inserted in the center of the cake should come out clean. To avoid burnt edges, if the bread is still not done, but the top and edges are already golden-brown, cover the bread with aluminum foil and continue baking. Make sure you check on it, to avoid over-baking.
Serve the bread warm or room temperature, you can also warm up slices in the microwave and it tastes delicious with some butter.
It can be stored wrapped in plastic wrap at room temperature for 2 days and up to 5 days in the fridge.
Loaf Pan – a huge fan of their products, always great quality!
Can You Freeze the Zucchini Banana Bread?
Yes, you can. Cool the bread completely and fully wrap it in plastic wrap, tightly. After that wrap in aluminum foil. Freeze for up to 1 month. Defrost before slicing. You can also freeze individual slices.
More delicious bread recipes:
How do You Grate Zucchini for Bread?
Don't peel the zucchini, it melts into the bread, so peeling is just unnecessary.
Wash the zucchini well under warm water, use a vegetable brush to remove dirt.
Cut both ends off of the zucchini.
Set a standup box grater on a plate or cutting board on the counter and shred the zucchini by continuously running it over the large holes of the grater.
Deliciousness to your inbox
Enjoy weekly hand picked recipes and recommendations