Keto Bread with Coconut Flour [VIDEO]
Last updated on June 18th, 2021 at 07:12 pm
Keto Bread with Coconut Flour is a delicious way for those on a low carb or keto diet to enjoy bread, guilt-free! This is an almond flour bread recipe that uses coconut flour, adding stability and a soft texture to it.
Keto recipes are becoming more and more popular on the blog as more people jump on the Keto Diet bandwagon. Regardless if you follow the diet or not, it is worth trying some delicious Keto recipes, like this perfect Low-Carb Keto Cheesecake and this Dill Pickle Dip. The recipes are low carb and gluten-free, but full of flavor! Another keto-friendly comfort food recipe to make is Instant Pot Mashed Cauliflower. Try that mashed cauliflower and you may never want mashed potatoes again!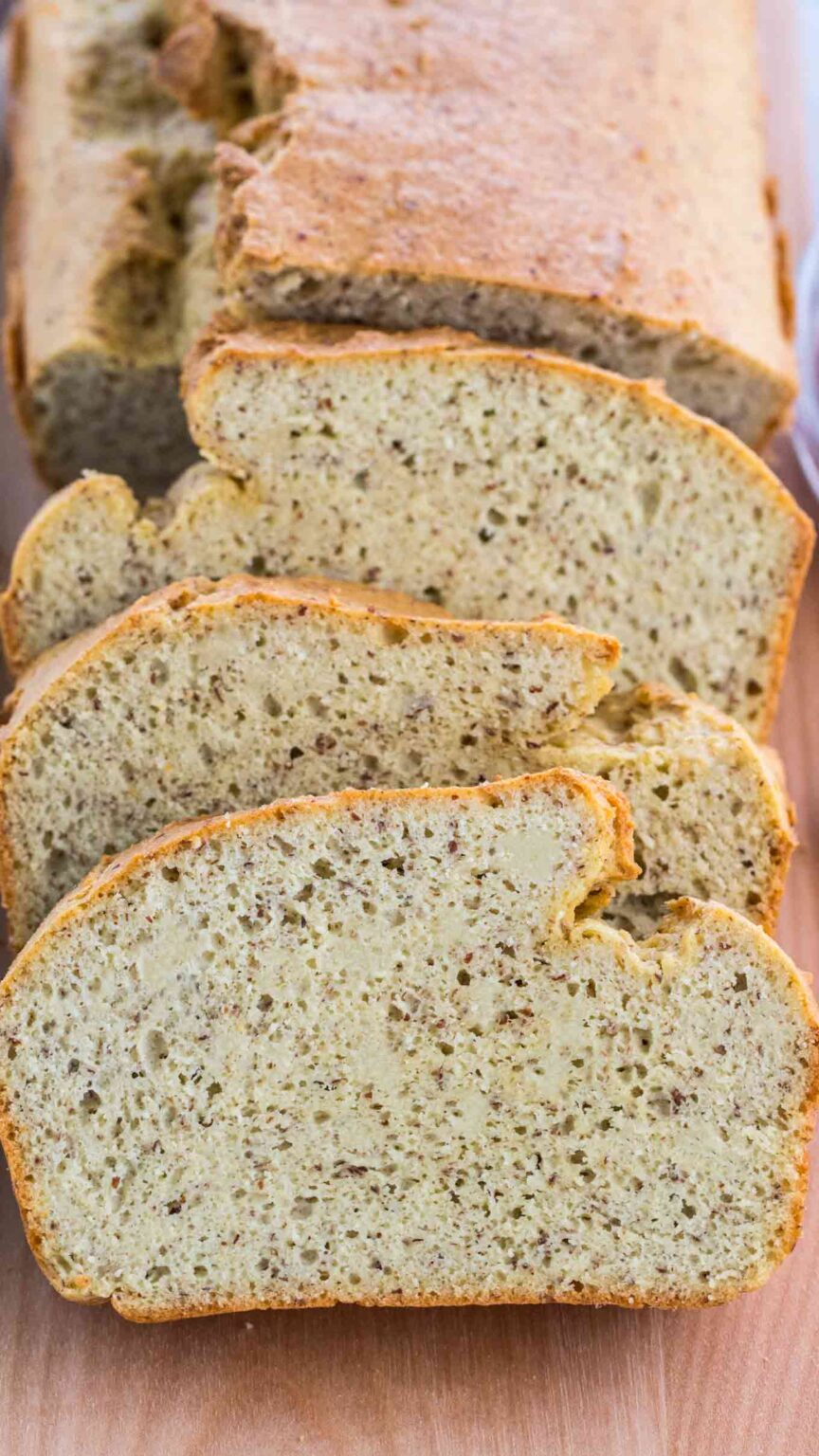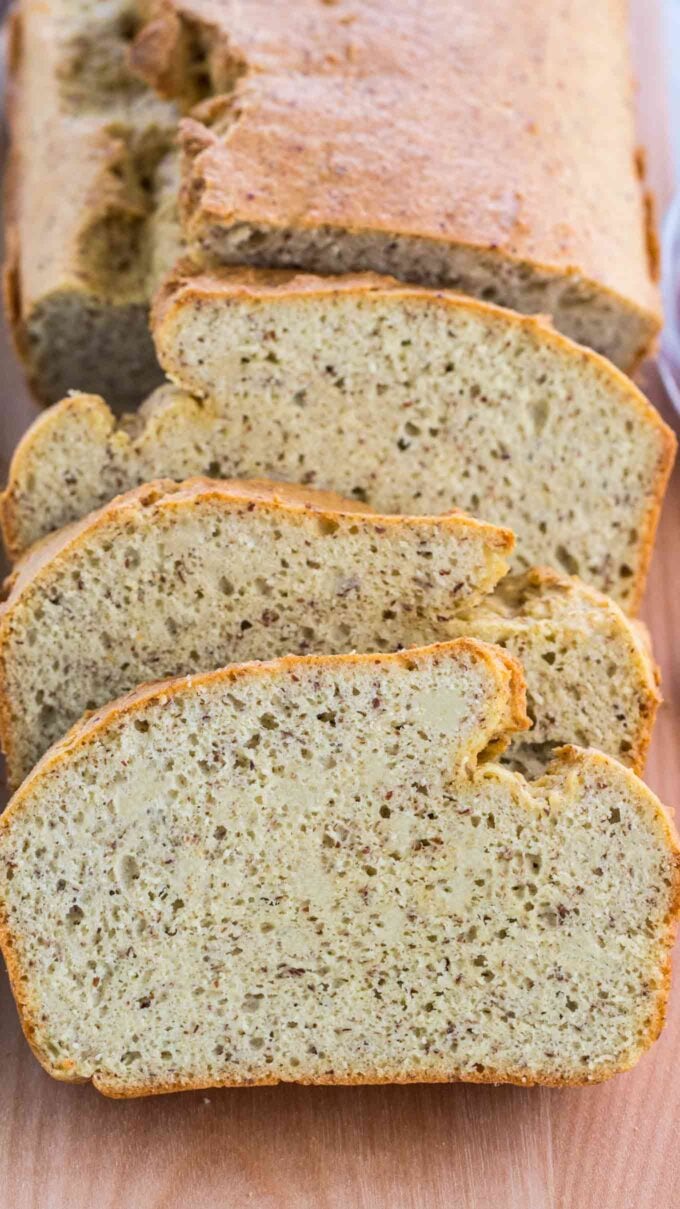 Easy Keto Bread with Coconut Flour
Keto Bread made with almond and coconut flour is pure perfection. When I started my adventure with the Keto Diet in order to gain more muscles and lose this stubborn last few pounds, the food that I missed most was bread. While the famous cloud bread made with just eggs and cream cheese is delicious, for me that is more of a fluffy omelet.
Bread should be fluffy, tender, with the perfect crumb, that doesn't fall apart the minute you slice into it. This Keto Bread is pure perfection, it tastes like a healthier bread, it has the right texture and it will hold its shape when you make sandwiches or even toast. Our favorite way is to have some toasted with butter and sugar-free raspberry jam, or topped with some mashed avocado and sea salt.
We also added some protein powder, which makes the bread even more filling and a touch of Xanthan Gum to give the bread that chewy texture.
What do you need to make Keto Bread?
You will need the following ingredients for it. For exact measures, please follow the recipe card below. Also, I have included a step-by-step recipe video to help with the process.
Eggs
Unsalted butter
Coconut and almond flour
Some protein powder
A pinch of salt
Baking soda
A little xanthan gum – it helps to keep the texture together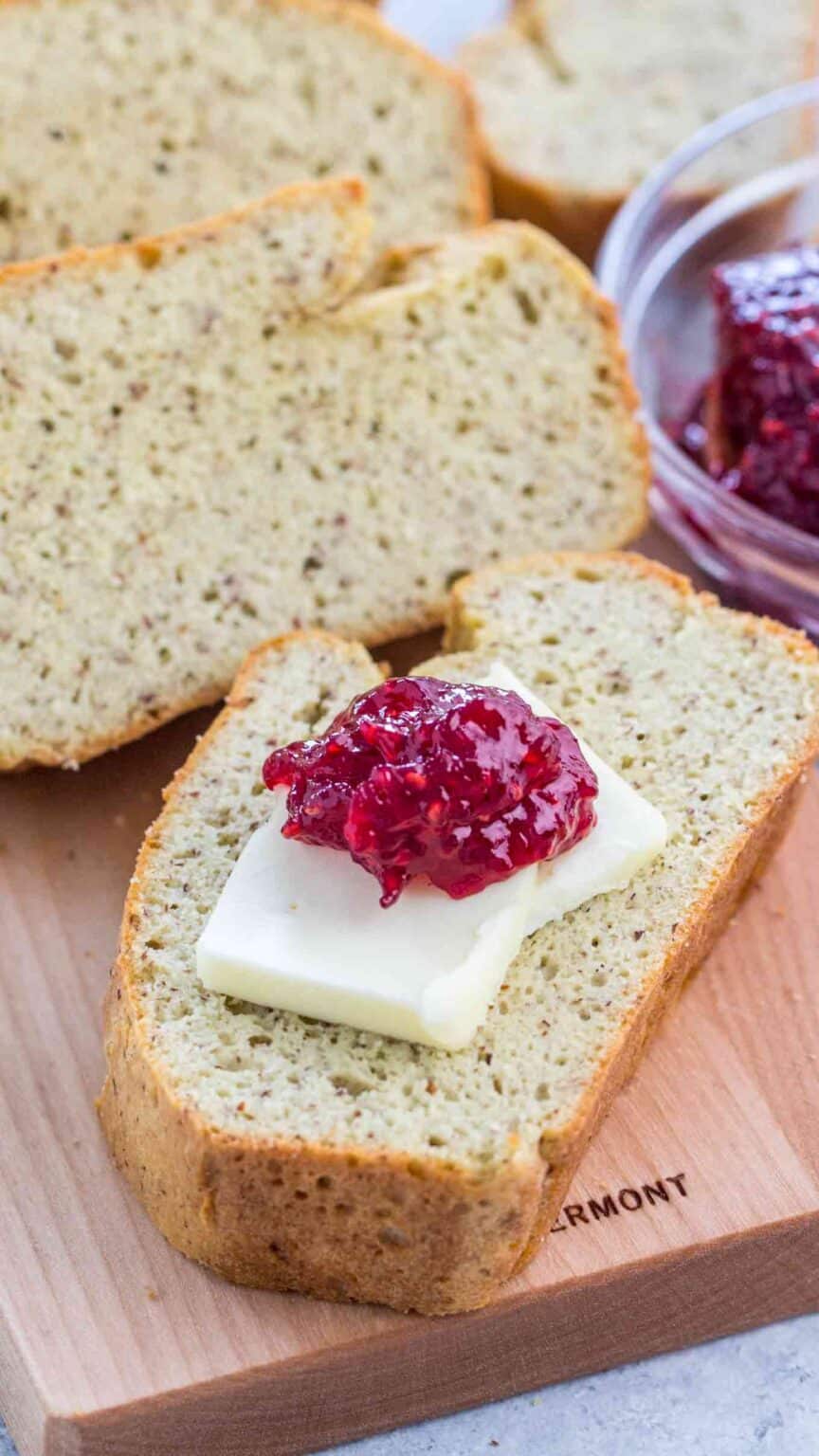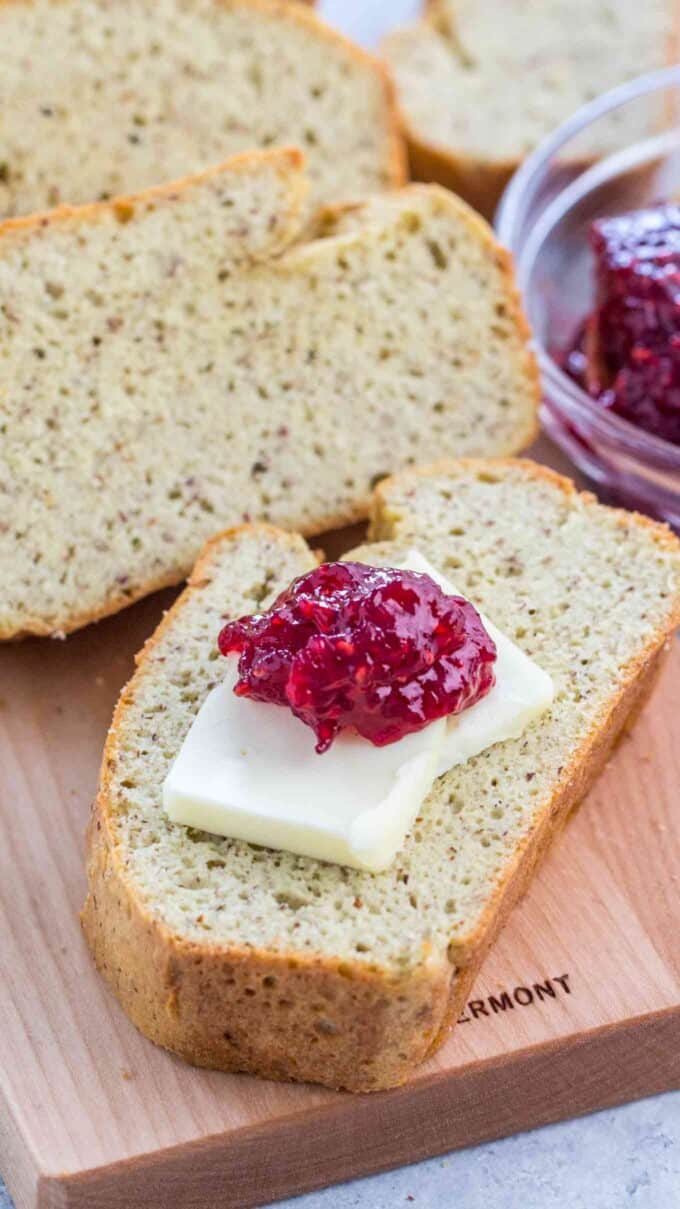 Is coconut flour OK for a ketogenic diet?
If you are eating low carb or are on a keto diet, coconut flour is one of your best options. The net carbs in it are amazingly low, with just 6 net grams of carbs in ¼ cup. Another benefit to it is that it is nut-free. This makes it the best allergy-friendly option for low carb eaters.
Another low carb flour option is almond flour, with just 10 grams of net carbs per cup.
Can coconut flour be substituted for all-purpose flour?
Recipes for low carb baked goods like this one, often require using a combination of almond and coconut flours. The reason for this is, coconut flour absorbs a lot of moisture, so it cannot be measured cup-for-cup to all-purpose flour.
When converting a regular bread recipe to make it keto-friendly, it is impossible to do with coconut flour alone. Using it in combination with almond flour or another low carb flour will produce the results you are looking for.
If you are just starting keto, learning to track macronutrients may seem difficult. To make things easy for yourself, it is best to use tested recipes like this one. With practice, you'll have a better understanding of how gluten-free ingredients work together. Then it will be easier to create your own keto recipes!
Our Keto Bread doesn't taste exactly like regular bread, but it's close! We think this is a great recipe for fluffy soft bread. It's a delicious low carb substitute for what is traditionally a high carb food.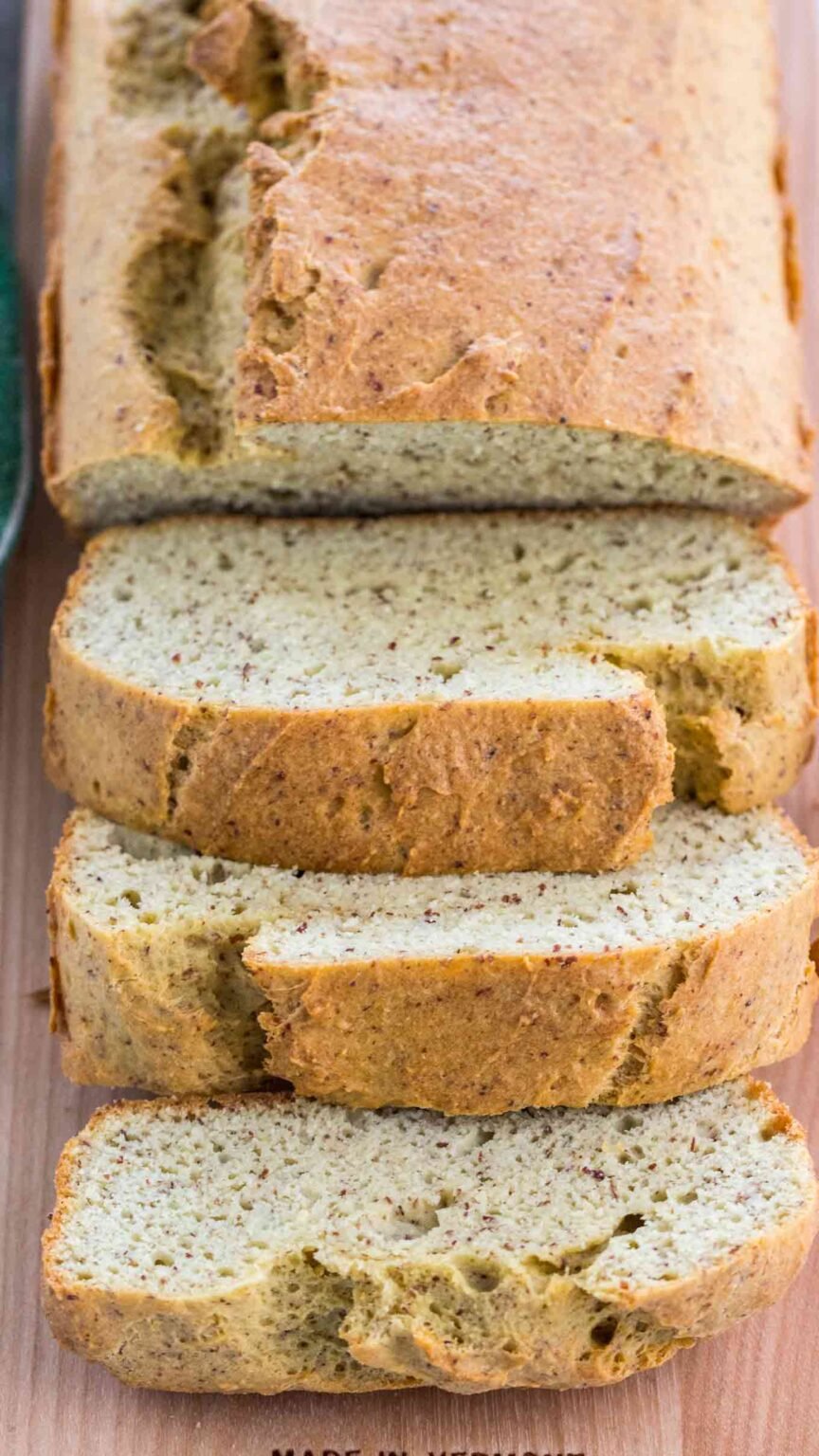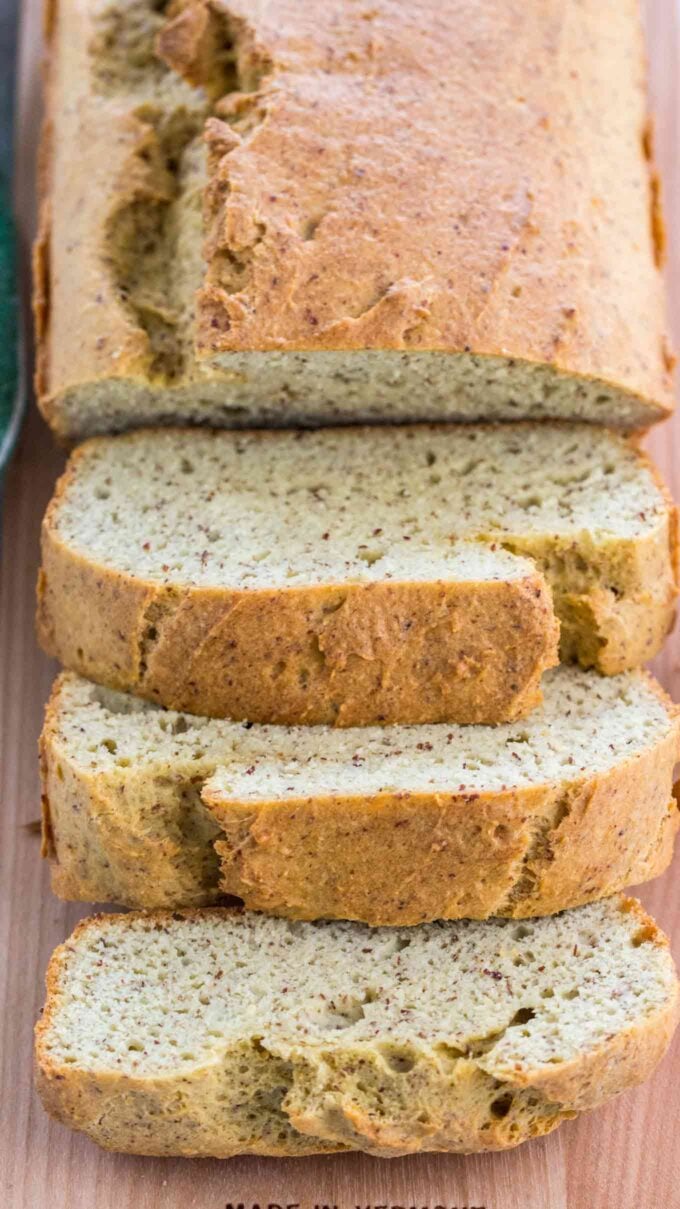 Does keto bread have an eggy taste?
This recipe requires 7 eggs, its what helps it be so fluffy, airy and holds its great texture. But since we use a mix of gluten-free flours and also some protein powder, it masks the taste of the eggs! We don't think this keto bread tastes eggy at all.
Uses for Keto Bread
This bread is fantastic for sandwiches as well as French toast. Just use zero-calorie sugar to make the egg mixture and you will be enjoying a heavenly French Toast in no time!
Watch Keto Bread Recipe Video: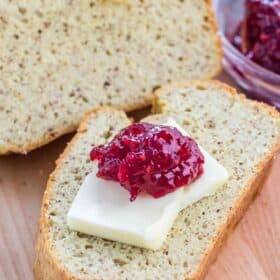 Keto Bread - No Eggy Taste!
Keto Bread with Coconut Flour is a delicious way for those on a low carb or keto diet to enjoy bread, guilt-free!
Save
Share
Print
Pin
Rate
Ingredients
7

large eggs

(room temperature)

1/2

cup

unsalted butter

(or 1/2 cup coconut oil)

1/2

cup

coconut flour

1/4

cup

almond flour

1/4

cup

protein powder

1/2

teaspoon

salt

1

teaspoon

baking soda

1/2

teaspoon

xanthan gum
Instructions
Preheat oven to 350 degrees F.

Line a 9"x6" loaf pan with baking paper so it has two handles on the side to lift the bread after baking. Spray will baking spray and set aside.

Combine in a large bowl all the ingredients except eggs and butter, whisk to combine.

Add the eggs to a bowl a large bowl and beat for 1-2 mins on high until light and fluffy. The eggs should more than double in size.

Melt the butter.

Add the beaten eggs and melted butter to the dry ingredients and beat until combined. Stop to scrape the sides and bottom of the bowl.

Transfer the batter into the prepared pan.

Bake for 45-50 minutes. A skewer inserted into the center of the bread should come out clean.
Nutrition
Calories:
167
kcal
|
Carbohydrates:
4
g
|
Protein:
5
g
|
Fat:
14
g
|
Saturated Fat:
7
g
|
Cholesterol:
138
mg
|
Sodium:
367
mg
|
Potassium:
42
mg
|
Fiber:
2
g
|
Sugar:
0
g
|
Vitamin A:
450
IU
|
Calcium:
26
mg
|
Iron:
0.8
mg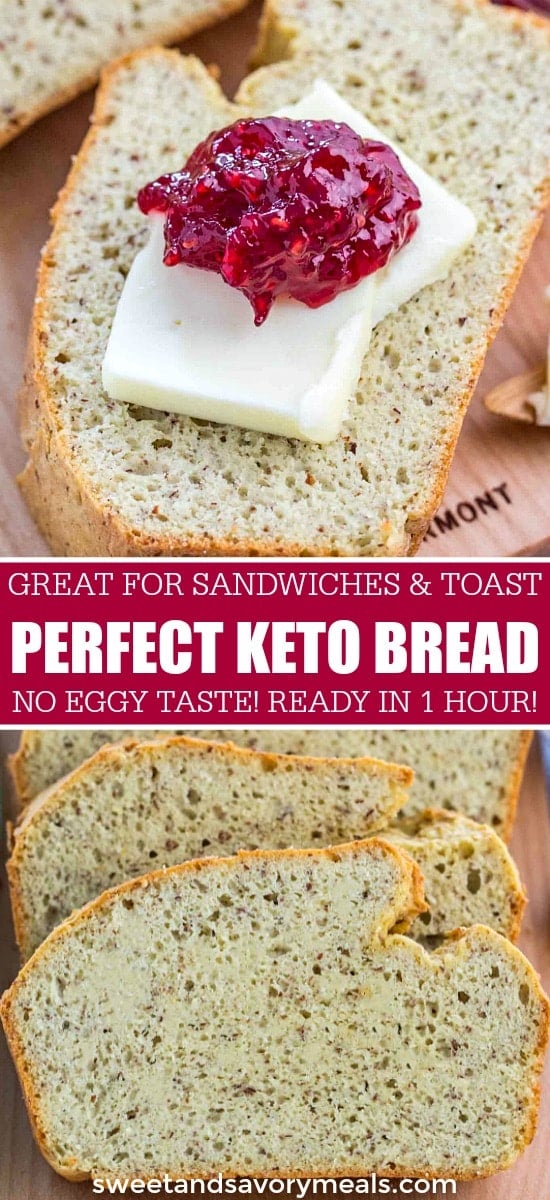 More recipes you might love