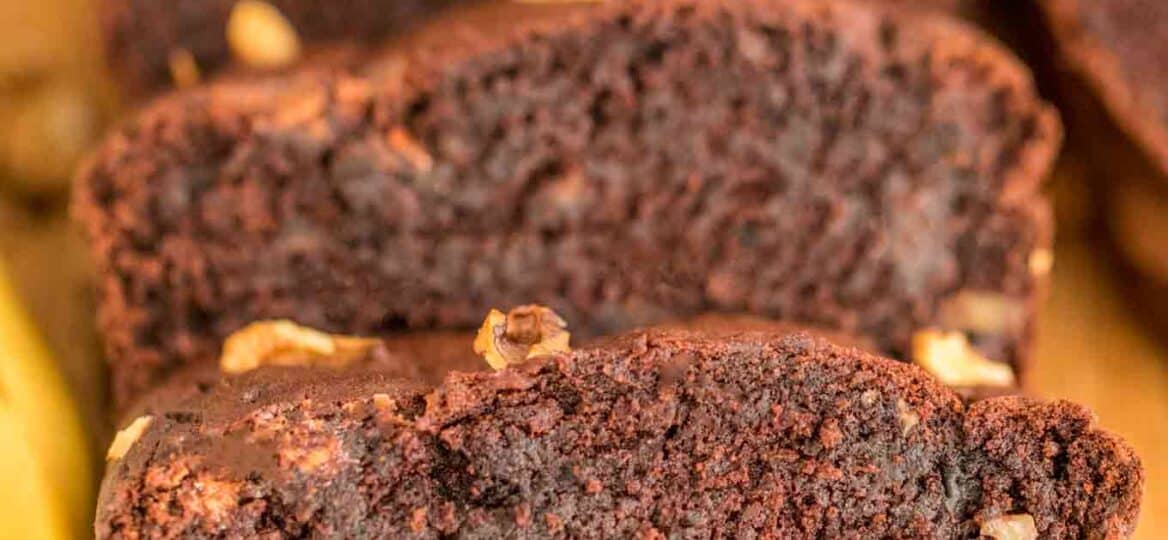 Best Gluten Free Banana Bread
Gluten Free Banana Bread is super moist with perfect texture and delicious flavor. Once you try it, it will be your go-to gluten-free dessert!
We love making easy, delicious, and comfort desserts. We already have the best chocolate banana bread which has great reviews from our readers. For low carb desserts, you can also check out keto pancakes, and our low carb keto cheesecake.
Gluten Free Banana Bread
Gluten-Free Banana Bread is what we crave for an easy and rich sweet tooth satisfaction. This is one of our favorite desserts to make, because it is super simple to prepare, and is very satisfying. Also, the ingredients for this scrumptious, hearty bread begin with three overripe bananas. Then, you add some eggs, vanilla and the secret ingredient is es[resso powder, which brings out the amazing chocolate flavor.
To sweeten things up a bit we use brown sugar for a deep caramel flavor. To make it healthier you can use honey, maple syrup, or a mix of both. Also, brown sugar works well here and gives this dish a nice flavor and texture. Instead of regular flour, we go with gluten-free flour. Similarly, you could use coconut or almond flour, or a mix of both.
This recipe is super delicious and will fit everyone, not just those that are trying to eat gluten-free. It is moist, dense, and loaded with banana. When taken out of the oven, your room will be filled with an amazing banana aroma. Just give it a try, it is truly delicious comfort food at its best!
If you are looking for a berry-filled dessert, try this lemon blueberry banana bread and make it with gluten-free flour.
Is the gluten-free banana bread texture different from the regular one?
The short answer is not. This bread is just as moist and delicious as the regular one because the use of banana gives it a nice and tender texture. Just because you are using gluten-free flour, it doe not mean the recipe will change much.
Also, you can use a mixture of coconut or almond flour, as they result in a super moist dessert with a chewy texture. You lose nothing by using these special ingredients. However, you gain fiber, protein, and a bit of healthy fat without having to think about the sugar content.
How To Make Gluten-Free Banana Bread?
This recipe is a one-bowl wonder that is super easy to make, even if you don't have a mixer, using just a fork.
Start by using 3 ripe bananas. You want them ripe but not overly mushy.
Then, peel them, and place them in a bowl. Using a fork, mash till smooth.
Add all the other ingredients together and stir.
Next, pour the mixed batter into a baking loaf and place it in the oven.
Bake at 350 degrees F for about 45-50 minutes.
Enjoy, it's that easy!
Some good mix-ins that go well in this recipe:
Chocolate chips
White chocolate chips
Raisens
Chopped walnuts
Chopped pecans
Blueberries
Coconut
HOW to store Gluten Free Banana Bread?
To preserve it better, cover it with foil or plastic wrap or place it in a plastic bag. This will prevent the bread from drying out and keep it fresh for a longer time. At normal room temperature, it will last for about 3 days.
HOW TO FREEZE it?
Let the bread cool completely prior to freezing. Then, wrap it tightly in plastic wrap or foil. Freeze for up to 3 months. Thaw in the fridge overnight, before serving.
More bread recipes to try:
Best Gluten Free Banana Bread
Ingredients
3

medium very ripe bananas

(about 1 1/2 cups mashed)

6

tablespoons

unsalted butter

softened

1

cup

light brown sugar

packed

1

teaspoon

vanilla extract

1

large egg

room temperature

1/4

cup

sour cream

room temperature

2

teaspoons

espresso powder

1

teaspoon

ground ginger

1 1/3

cups

Gluten-Free Flour

I used 1:1 GF flour

1/4

cup

cocoa powder

unsweetened

1

teaspoon

baking soda

1/4

teaspoon

salt

1/2

cup

chocolate chips

plus extra for topping
Instructions
Preheat oven to 350 degrees F.

Line an 8x5-inch or 9x5-inch loaf pan with parchment paper in a way so it has handles to lift the bread later. Lightly grease it using baking spray or a little butter.

Mash bananas in a small bowl and set aside.

In a medium bowl, whisk together dry ingredients: flour, cocoa powder, baking soda, and salt. Set aside.

In a large bowl, beat together butter, brown sugar and vanilla.

Add in the egg and beat until well incorporated. Next, mix in sour cream, espresso powder, and ground ginger. Stop to scrape the sides and bottom of the bowl.

Add dry ingredients to the wet ingredients and combine. Add mashed bananas and stir to combine just until incorporated.

Lastly, stir in chocolate chips using a spatula. Do not over-mix.

Transfer batter into the prepared loaf pan and add more chocolate chips on top.

Bake 45-50 minutes or until a skewer inserted in the center comes out mostly clean. Transfer to a wire rack to cool for 10 minutes in the loaf pan, after which, lift the bread using the paper handles and place on a cooling rack to cook further.

Slice and enjoy!
Deliciousness to your inbox
Enjoy weekly hand picked recipes and recommendations