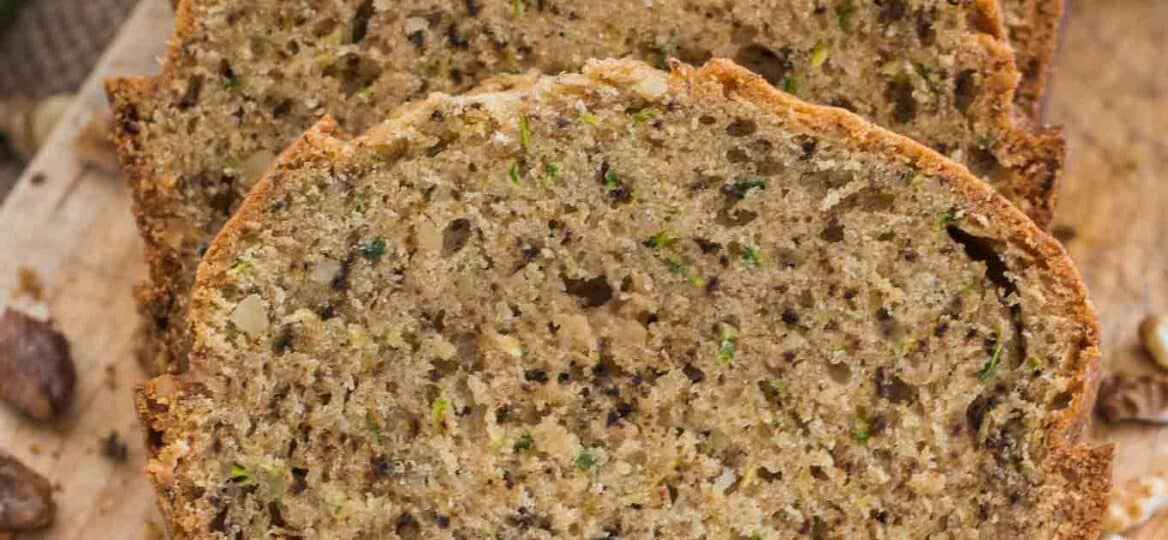 Easy Zucchini Bread Recipe [Video]
Zucchini Bread is the best zucchini bread you will ever have! Incredibly moist and sweet, with crunchy walnuts mixed in. Watch the video tutorial below and see how simple and delicious this recipe is!
I love making delicious bread that can feed a crowd including Chocolate Banana Bread, Pumpkin Bread, and Chocolate Coffee Bread.
Zucchini Bread
I am the type of person that will have a sweet breakfast over savory any day of the week. This Zucchini Bread is so amazing, its incredibly easy to make and impossible to mess-up. Anyone can make it, even if you haven't baked anything in your life.
The bread is so soft and delicious, moist and flavorful. It makes a perfect breakfast or tasty snack on the go. I love seeing the green zucchini specs through the slices. The zucchini and oil is what makes this bread so moist and fabulous, while the walnuts add a different texture, a nice crunchy.
My secret, which is not a secret anymore, is using a mix of white and brown sugar. The brown sugar is denser and adds a nice caramel undertone. You can only use white sugar if you prefer, but I encourage you to try the recipe with the brown sugar as well, you will love it. I also love, love using olive oil in this recipe, it adds such a nice flavor. A little lemon zest will also add some freshness to it.
Pin This Zucchini Bread Recipe to your Favorite Board
Zucchini Bread Recipe Tips
Always measure the zucchini. I usually use 2 medium zucchini, but after you drain the water, measure two cups packed.
In addition, choose smaller zucchini, as larger zucchini tend to be drier, tougher and has a bitter taste.
Also, you can add chocolate chips. I like to add larger chocolate chips as they don't fully melt when baked. Similarly, they are amazing when you bite into them, adding some chewiness!
I like the brown sugar in this recipe, it combines well with the flavors. At the same time, it locks in moisture, which gives the zucchini bread that irresistible crumb.
The chopped walnuts are optional, you can skip them if you don't like walnuts.
The sugar can be reduced from 1 cup to 3/4 cups.
Watch the bread closely after 45-50 minutes of baking, to make sure not to over bake it. I like to check on it at the 50-minute mark and if it still needs more baking, check on it every 5-7 minutes until done. A toothpick inserted in the center of the cake should come out clean. To avoid burnt edges, if the bread is still not done, but the top and edges are already golden browns, cover the bread with aluminum foil and continue baking. Make sure you check on it, to avoid over-baking.
Serve the bread warm or room temperature. Additionally, you can also warm up slices in the microwave and it tastes delicious with some butter.
The bread can be stored wrapped in plastic wrap at room temperature for 2 days and up to 5 days in the fridge.
Loaf Pan – huge fan of their products, always great quality!
How do You Grate Zucchini for Bread?
Don't peel the zucchini, it melts into the bread, so peeling is just unnecessary.
Wash the zucchini well under warm water, use a vegetable brush to remove dirt.
Cut both ends off of the zucchini.
Set a standup box grater on a plate or cutting board on the counter and shred the zucchini by continuously running it over the large holes of the grater.
Can You Use a Food Processor to Grate the Zucchini?
Don't peel the zucchini, it melts into the bread, so peeling is just unnecessary.
Wash the zucchini well under warm water, use a vegetable brush to remove dirt.
Cut each zucchini into several smaller pieces for easier grating.
Fix the food processor with the grating attachment.
Add the zucchini to the food processor in batches if needed and grate.
Can You Freeze the Zucchini Bread?
This bread also freezes well. Cool the bread completely and fully wrap it in plastic wrap, tightly. After that wrap in aluminum foil. Freeze for up to 1 month. Defrost before slicing. You can also freeze individual slices.
Zucchini Bread Recipe
Ingredients
3

cups

all-purpose flour

1

teaspoon

salt

1

teaspoon

baking soda

1

teaspoon

baking powder

1

tablespoon

ground cinnamon

1

teaspoon

nutmeg

optional

3

eggs,

room temperature

1 1/4

cup

vegetable oil or olive oil

1

cup

white granulated sugar

1

cup

brown sugar,

packed

1

tablespoon

vanilla extract

2

cups

grated zucchini,

drain of water

1

cup

walnuts

finely chopped
Instructions
Preheat oven to 325 degrees F.

Grease a 9-by-5-inch loaf pan with nonstick cooking spray or butter and some flour, set aside. You can also make two smaller loafs, for that grease and flour two 8 x 4 inch pans.

Sift flour, salt, baking powder, baking soda, cinnamon and nutmeg (if using) together in a large bowl.

Beat eggs, oil, vanilla extract, white sugar and brown sugar together in a large bowl, until creamy and fully combined.

Add the sifted ingredients to the egg mixture, little by little and beat well until fully combined.

Stir in the grated zucchini and chopped nuts (if using) until well combined. Pour batter into the prepared pan(s).

Bake for 55 to 65 minutes, or until tester inserted in the center comes out clean if using a larger pan and 40-60 minutes if using two smaller pans. If the edges and top brown before the center is settled, cover the bread with aluminum foil and continue baking. Make sure you check on the bread to avoid burning.

Cool in pan on rack for about 20 minutes.

Remove bread from pan, and completely cool before storing or freezing.

The bread can be served warm or cold.
Deliciousness to your inbox
Enjoy weekly hand picked recipes and recommendations