Chocolate Chunks Strawberry Ice Cream
This post may contain affiliate links. Please read my disclosure policy.
Easy to make, 5 ingredients only, sweet and flavorful strawberry ice cream with chocolate chunks that tastes like summer.
The farmers markets will soon start to burst with aromatic organic strawberries, and thats when you know that summer is very, very close. I found some ripe and flavorful strawberries on sale at whole foods and the first things that came to my mind were: enjoy them fresh, dip them in chocolate, make another strawberry tart or a strawberry milkshake, or even better make ice cream, or maybe cut them and feed them to my always hungry toddler. I decided better, to make this sweet and creamy strawberry ice cream with chocolate chunks that the whole family loved.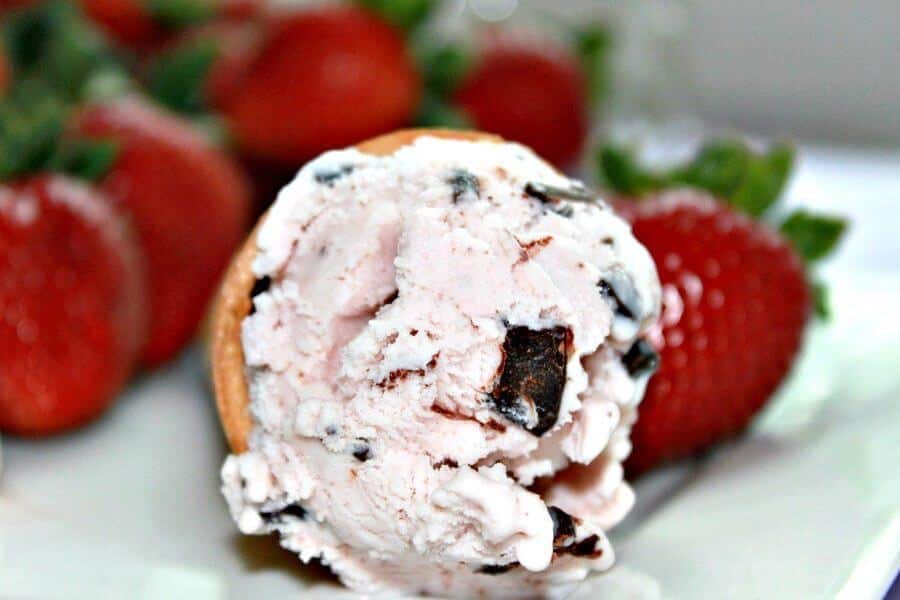 I pictured myself eating a sugar cone with homemade strawberry ice cream with chocolate chunks, oh yeah, a lot of chocolate chunks! A few hours later my dream came true, just look at that picture to get an idea of how decadent and rich this ice cream is. As you can assume it turned out delicious, creamy, with a prominent strawberry flavor and loaded with sweet, big chunks of dark chocolate, all this goodness stuffed into a crispy sugar cone.
And you can feel good about it, its fruits, its strawberry after wall, full of vitamin C and so many good for you antioxidants from all that dark chocolate. I love eating healthy like this.

Strawberry Ice Cream with Chocolate Chunks
Easy to make, 5 ingredients only, sweet and flavorful strawberry ice cream with dark chocolate chunks that tastes like summer.
Author:
Recipe adapted form FoodNetwork.com.
Ingredients
1 quart fresh organic strawberries, washed, stemmed and quartered
2½ cups organic granulated sugar
4 cups organic heavy cream
1 tbsp. vanilla extract
5 organic egg yolks
1 cup dark chocolate chunks
Instructions
In a blender, combine strawberries with ½ cup of the sugar and process until smooth.
In a saucepan, over medium heat, combine heavy cream with the rest of sugar. Bring to a simmer.
In a mixing bowl, whisk egg yolks until smooth. Add 1 cup of the hot liquid to the egg yolks and whisk until smooth.
Add the yolk mixture to the saucepan of liquid and whisk until well incorporated. Bring the liquid back to simmer and continue to cook for 4 to 6 minutes or until the mixture coats the back of a spoon. Remove from the heat and stir in the strawberries. Whisk until smooth.
Pour the mixture into a glass bowl and place a piece of plastic wrap on top of the mixture. This will prevent a skin from forming while cooling. Cool the mixture completely. Fold in the chocolate chunks.
Process the mixture according the ice cream machine instructions.
Peas and Peonies, LLC. owns the copyright on all images and text and does not allow for its original recipes and pictures to be reproduced anywhere other than at this site unless authorization is given. If you enjoyed the recipe and would like to publish it on your own site, please re-write it in your own words, and link back to my site and recipe page. Copying and/or pasting full recipes to social media or personal blogs is strictly prohibited. Sharing this recipe is very much appreciated and encouraged. Read my disclosure and privacy policy. This post may contain affiliate links.