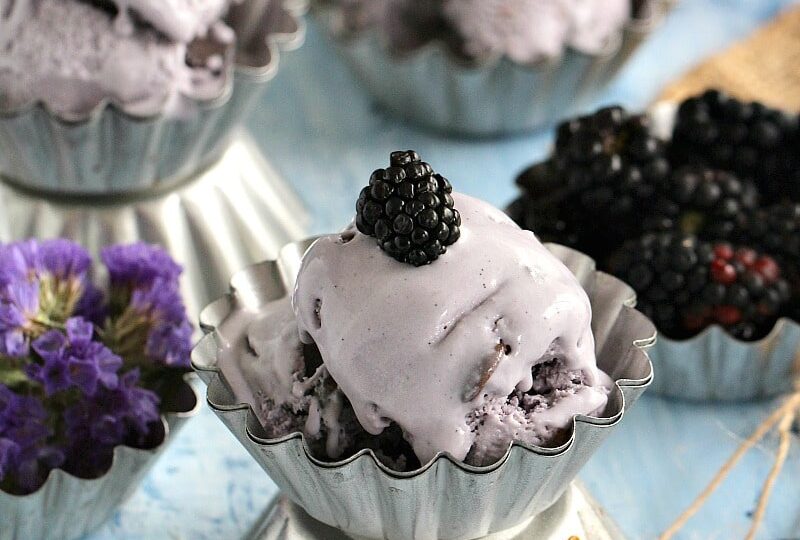 Blackberry Ice Cream with fragrant vanilla bean seeds and loaded with crunchy mini chocolate chips, such a perfect summer snack.
Making fresh and quality Ice Cream at home can be very exiting and rewarding. I have tried a few, and my favorite once are Mint Chocolate Chip Avocado Ice Cream and Strawberry Ice Cream.
Blackberry Ice Cream
While No Churn ice cream is good and is super easy to make, nothing beats the real deal! I was lucky enough to borrow my friend's Kitchen Aid ice cream maker, and now I want to buy my own. This Chocolate Chip Blackberry Ice Cream turned out perfect. Creamy, delicious and with a gorgeous purple color!
The Blackberry Ice Cream has been the perfect snack on hot summer days, and I love the crunchiness of the mini chocolate chips. Take my advice, and use mini chocolate chips, because the regular ones will not taste as good after freezing the ice cream. Better yet, if time allows, I would recommend shaving some chocolate into the ice cream.
WHY YOU WILL ENJOY THIS Blackberry ICE CREAM:
Firstly, it's creamy and rich in blackberry which makes it a show stopper dessert.
Also, it's very easy to make with few ingredients.
Making it at home is cheaper than buying at the store.
It can be made days or weeks in advance and store in the freezer for days to come.
In addition, you can use variation of fruits as the combination is endless.
Follow Sweet and Savory Meals on Pinterest for more great recipes!
Pin This Blackberry Ice Cream Recipe to your Favorite Board
What ingredients do I need for a delicious Ice Cream?
Fresh blackberries
Lemon Juice
Sugar
Half-and-half
Egg yolks
Whipping cream
Vanilla beans
Mini chocolate chips
Can I store Ice Cream in the fridge?
To serve ice cream more easily, transfer the container from the freezer to the fridge 10 to 20 minutes before serving. For the best taste, home made ice cream should be eaten within a day or two.
How do you keep ice cream from getting freezer burn?
To prevent the ice cream from taking on the odor of that fish or other products from your freezer, use a container with a tight-fitting lid. For extra security, place a layer of plastic wrap between your ice cream and the lid. Air is also responsible for freezer burn, which desiccates and crystallizes the surface of ice cream.
How do you freeze melted ice cream?
To refreeze thawed ice cream, is recommended only it is slightly melted, and has been kept under proper refrigeration. It is also important that it was not exposed to the outside environment. However, if it was almost melted outside the freezer, then you probably risk your health by eating it.