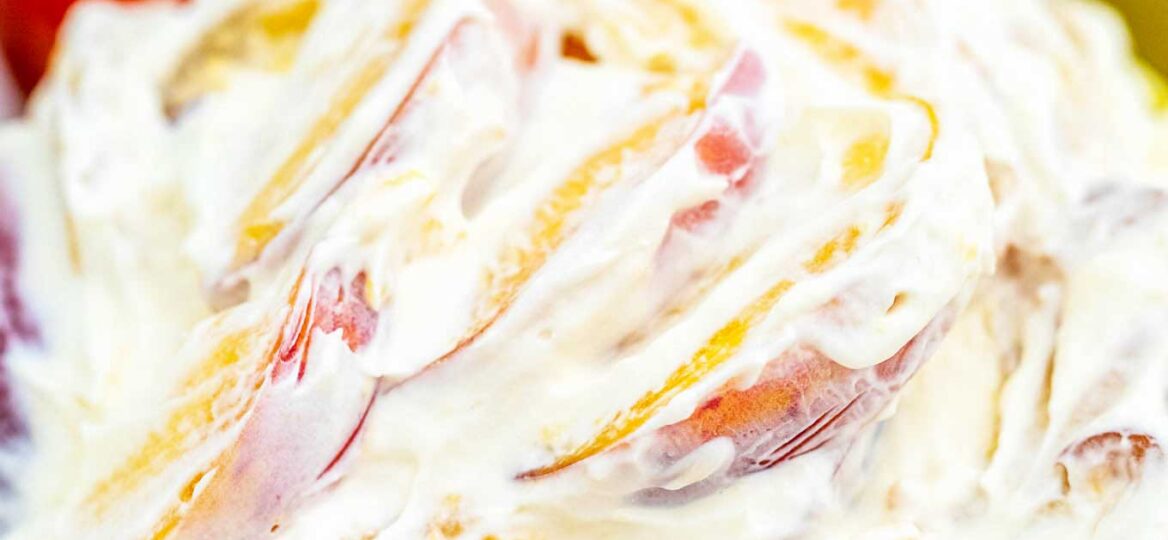 Peach Cheesecake Salad [video]
Peach Cheesecake Salad is a delicious way to enjoy peaches this season! Experience the fruit's tart-sweet taste complemented with a creamy dressing with this recipe!
If you are looking for fruit-based desserts, then, this dish is perfect for you! You can also check out my other recipes like the Apple Crumble, Lemon Pound Cake, and Strawberry Pie!
Peach Cheesecake Salad
Peach Cheesecake Salad is a dish that you can make out of fruit other than a cobbler, a pie, or preserves. With this fruit in season until August, now is the time to make this dessert to ensure optimum quality!
If you buy fresh peaches now, then, you can be sure that they are tree-ripened, individually inspected, and of the sweetest kind. Pretty sure, they are at their cheapest, too!
The fruit has a lot of health benefits. It is loaded with vitamins and nutrients, fiber, and cancer-fighting antioxidants. With this recipe, not only are you getting a healthier and delightful dessert, but you are also saving time as this is really easy to make! The hardest part is the preparation of the peaches, that's all!
What is a peach cheesecake salad?
It is creamy dessert sporting slices of peaches coated with a dressing that is essentially a cheesecake filling. The fruit and the dressing are deliciously tart and sweet separately, and they taste even better combined!
What do you need to make a peach cheesecake salad:
For this dessert, you will need fresh peaches. For the dressing, here are the ingredients:
cheesecake pudding mix
cream cheese
whipped topping
peach yogurt
vanilla extract
No special tools or techniques required in this recipe; all can be done even if you are not a culinary expert!
How do you make a peach cheesecake salad:
This easy recipe requires just a few simple steps described below. Also, feel free to watch the video tutorial attached.
Prep the cream mixture: In a bowl, simply mix all the ingredients except for the fruit. Then, chill the creamy mixture in the fridge for about an hour.
Slice: Wash the fruits and pat dry. Cut into half, then, remove the pit. Then, slice.
Combine: Remove the creamy mixture from the fridge, then, fold in the slices. Serve at once.
Can you make peach cheesecake salad in advance?
Absolutely! What you can do is to keep the creamy mixture tightly covered in the fridge.
Then, when you need to serve this, just prepare a fresh batch of the fruit slices. Fold them in just in time for the serving.
Can you use fresh or canned peaches?
You can use both. Just slice the pieces according to your needs and drain the juice very well. Any excess moisture may make the dessert runny.
The canned ones are preserved in syrup, so, its sugar content is higher than fresh ones. But if you are reluctant to use the canned version thinking they are less healthy, then, this study comparing fresh and canned peaches will help assure you.
In this study, the researchers concluded that canned ones are not better nor worse than fresh ones. Even the canned version retained most of the key nutrients and vitamins.
With that said, enjoy this dish all year round!
How to store it:
Keep this chilled so that it does not become runny. You can separately refrigerate the fruits and the creamy mixture. Then, simply combine when ready to serve.
More salad recipes:
Recipe Tips:
For added texture, you can add something crunchy like chopped walnuts or pecan nuts. Any other nuts are good, too; just make sure that they are not toasted with salt.
You can add variety by adding raspberry and marshmallows.
Watching your diet? Opt for low-fat cream cheese.
When using cream cheese, make sure that it is at room temperature. To ensure this, take it out of the refrigerator hours ahead before the preparation. This is to avoid a lumpy mixture.