Slow Cooker Peach Upside Down Cake
Last updated on December 1st, 2021 at 06:42 pm
Slow Cooker Peach Upside Down Cake made with caramelized peaches in brown sugar, added to the bottom of the slow cooker. The cake is slowly cooked to tender perfection. The best way to serve it is warm and topped with vanilla ice cream.
Crockpot recipes are perfect for when you don't want to turn on the oven. During the summertime, beat the heat in your own home and make these easy recipes to enjoy: Jambalaya, Beef Brisket, and melt in your mouth Coffee Cake.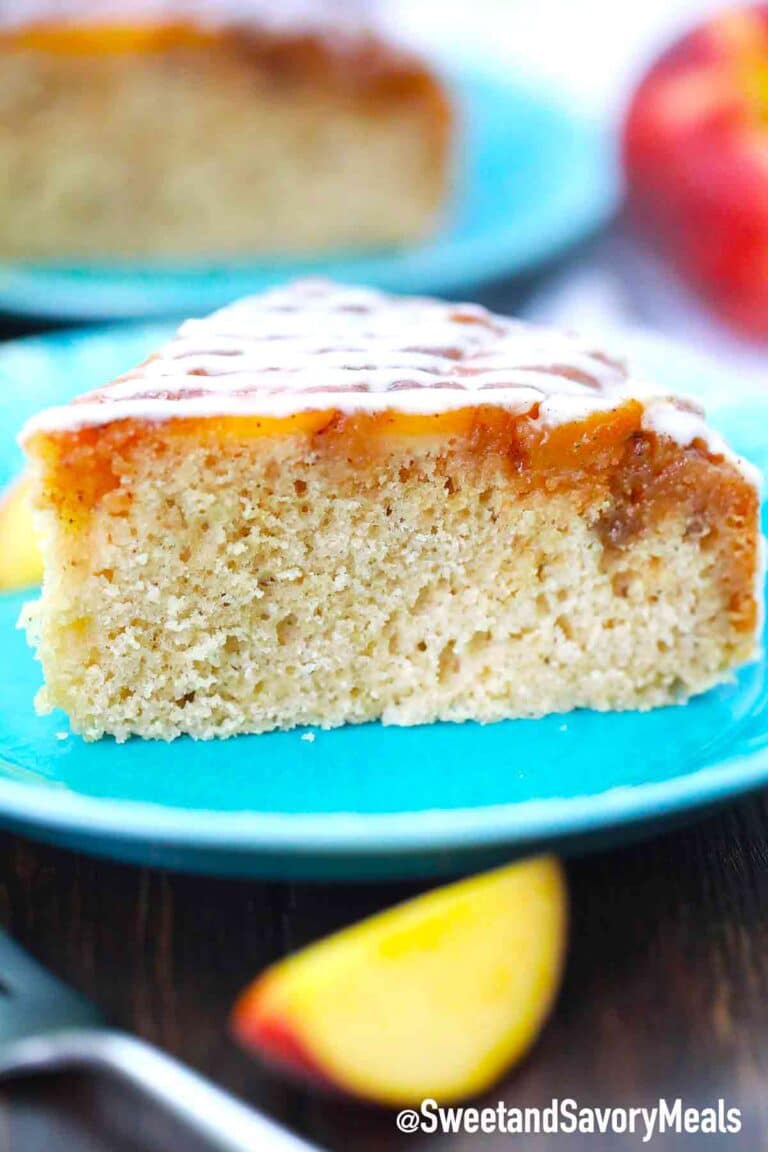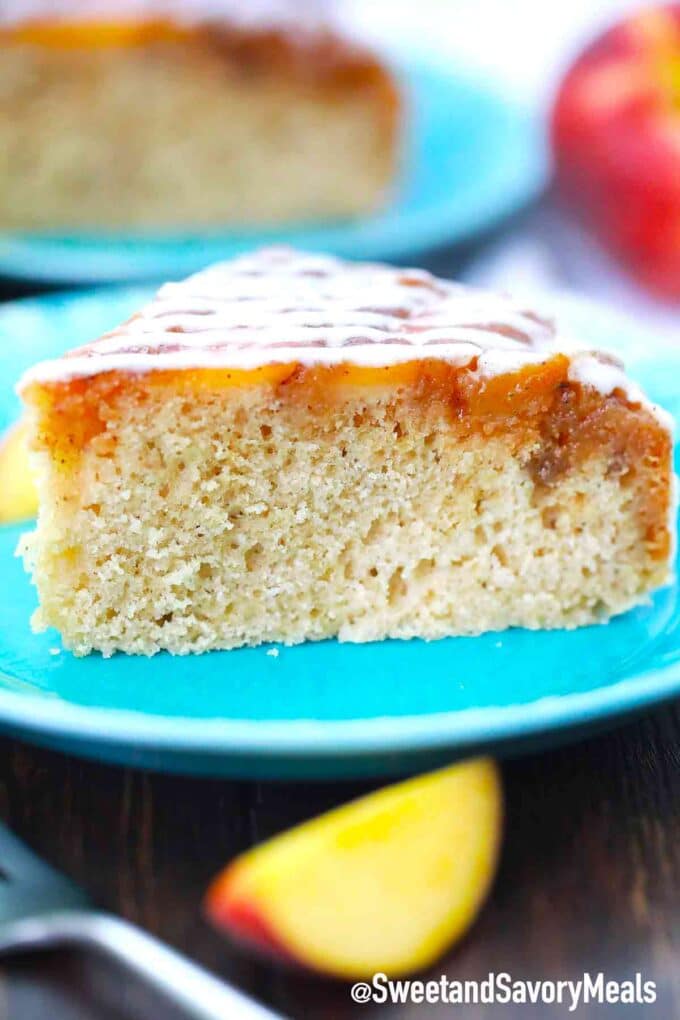 Crockpot Peach Upside Down Cake Recipe
Turning your oven during hot summer days is such a hassle. That's why we are always looking for easy desserts, that can be made in the Crockpot, Air Fryer, or Instant Pot. Learn how to easily make this delicious treat without melting your house.
This Slow Cooker Peach Upside Down Cake is made with sliced peaches and brown sugar sauce. The brown sugar is definitely the star here when it melts in caramelizes the fruit in an outstanding, sweet, and flavorful sauce.
The end result is a moist, tender, and soft cake, topped with sweet and juicy peaches. Also, this dish is best served warm, with a big dollop of vanilla ice cream and some caramel sauce on top.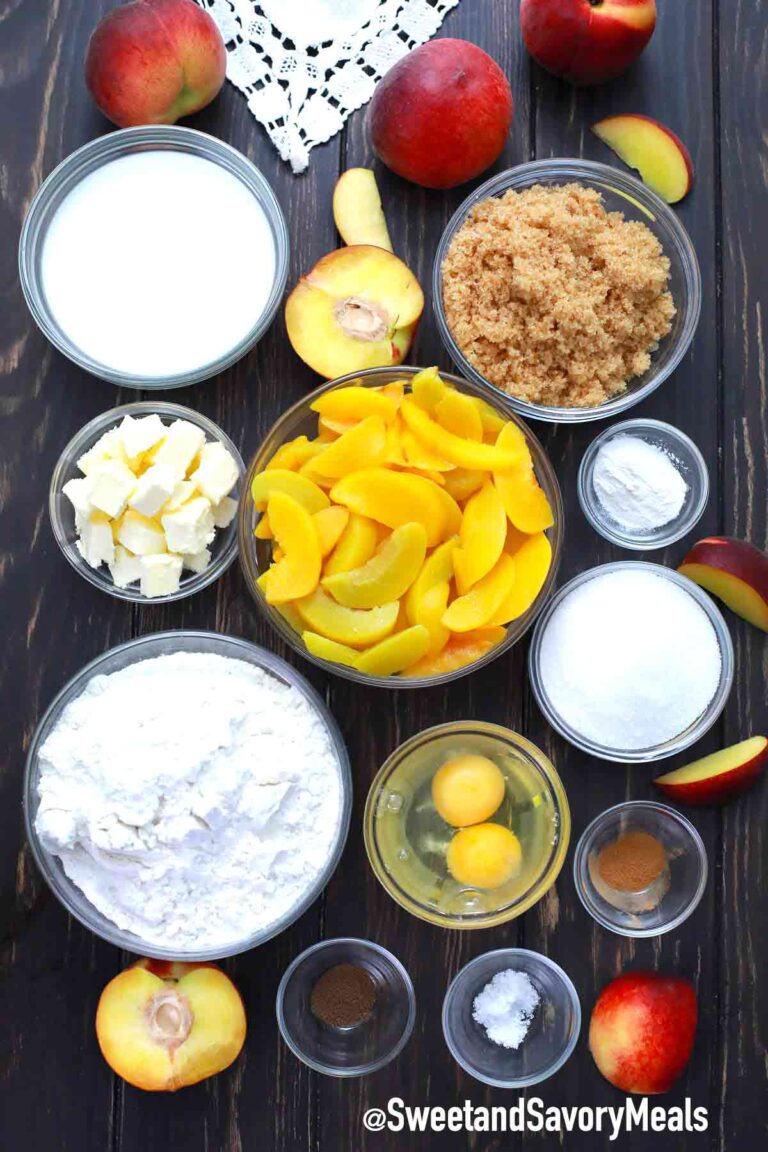 Ingredients You Will Need:
Peaches – you can use fresh or from a can, both work well in this recipe.
Butter – once melted with the brown sugar will add a delicious caramel flavor.
Sugars – we use a mix of white and brown sugar.
Spices – a mix of cinnamon and nutmeg adds some warmth to the cake and enhances other flavors.
Eggs
All-purpose flour – this recipe can also be made with gluten-free flour.
Baking powder
Milk – makes the cake tender.
Almond extract – the subtle flavor is a great addition to the more prominent cinnamon nutmeg and peaches.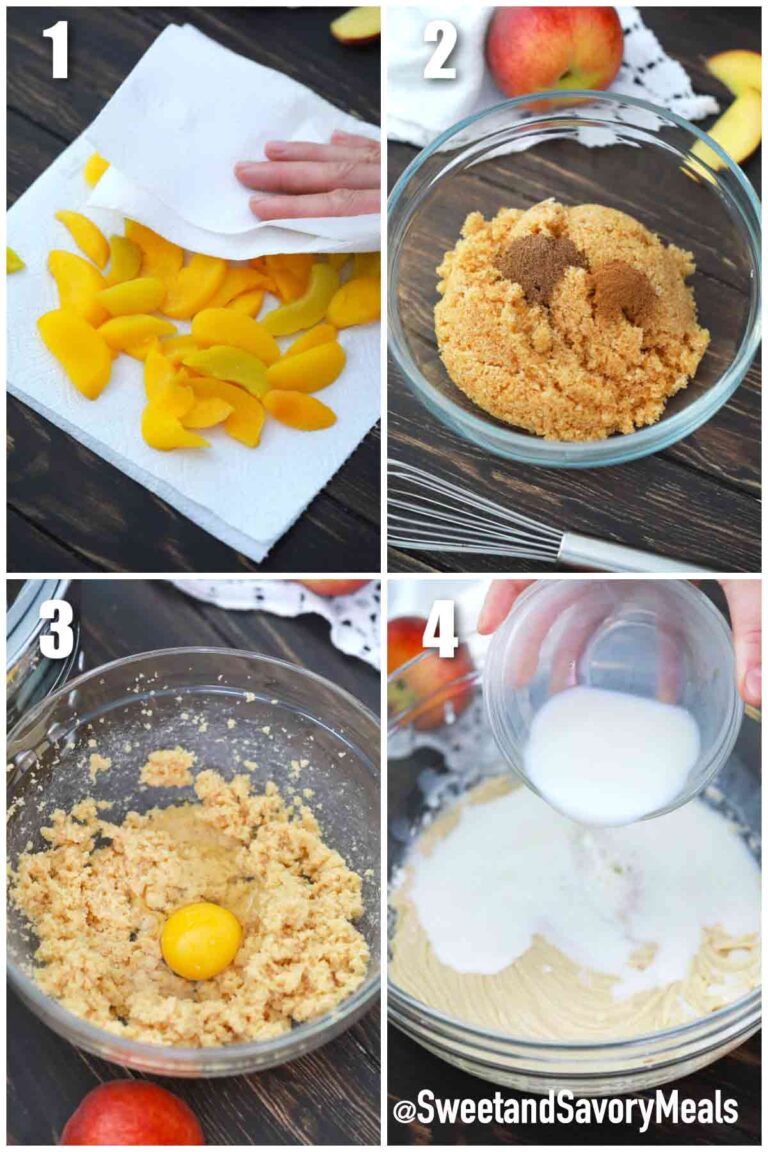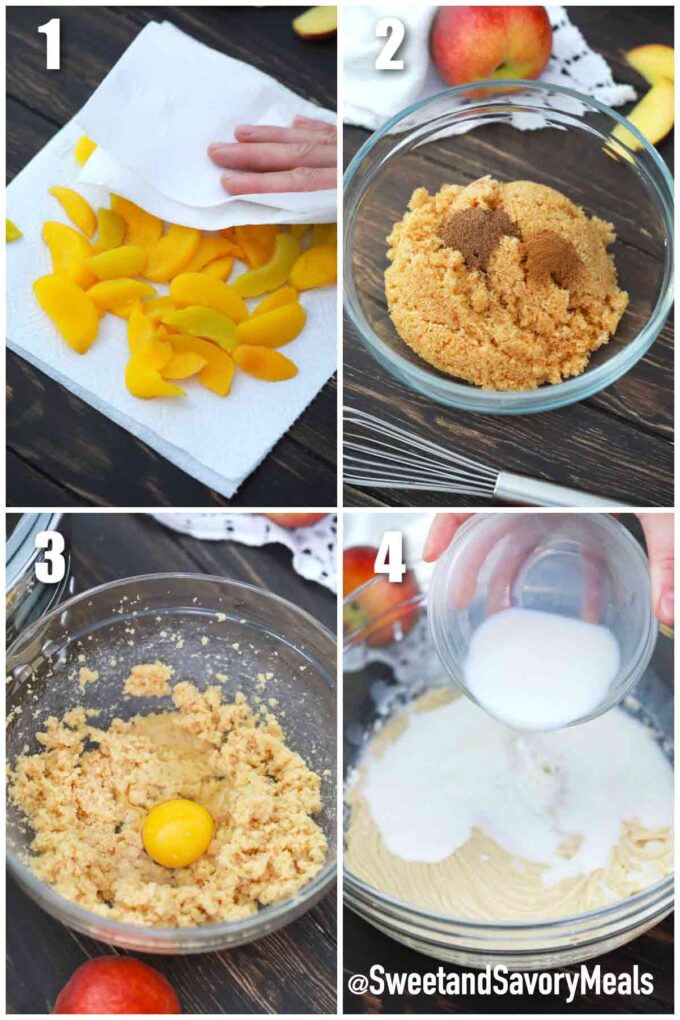 How to make Slow Cooker Peach Upside Down Cake from scratch:
Parchment Paper Sling: First, take a long piece of parchment paper and fold it together into 3-4 pieces make sure it's 3-4 inches wide. Next, add it to the bottom of the slow cooker, up the sides, creating a sling. You will use this to easily lift the cake from the ceramic insert.
Sauce: Then, in a bowl combine brown sugar with cinnamon and nutmeg. Next, add melted butter to the bottom of the slow cooker and sprinkle the brown sugar mixture on top.
Peaches: If you use peaches from a can, make sure you dry them with paper towels. After that, arrange the peach slices in one single layer on top of the brown sugar mixture.
Cake Batter: Combine the ingredients for the cake and make sure the mixture is smooth, without any lumps. After that, add the batter on top of the peach slices and level the top with a spatula.
Cook: Finally, add a clean dish towel between the crockpot and the lid, to absorb the condensation. Slow Cook the cake for 2 1/1 hours on High, or until a toothpick inserted in the center comes out clean.
Serve: Once cooked, make sure you let the dessert cool in the ceramic insert for 20-30 minutes. After that, carefully lift using the parchment paper sling and place onto a plate. Cover with another plate and invert. Slice and serve.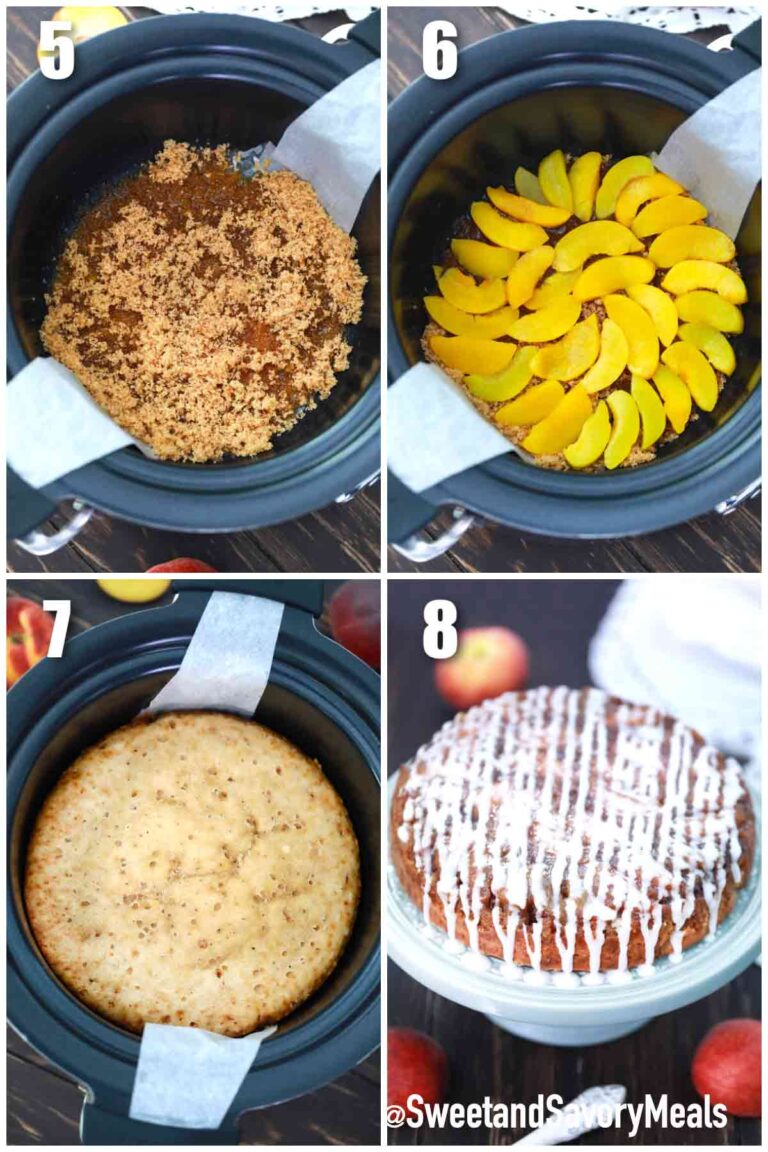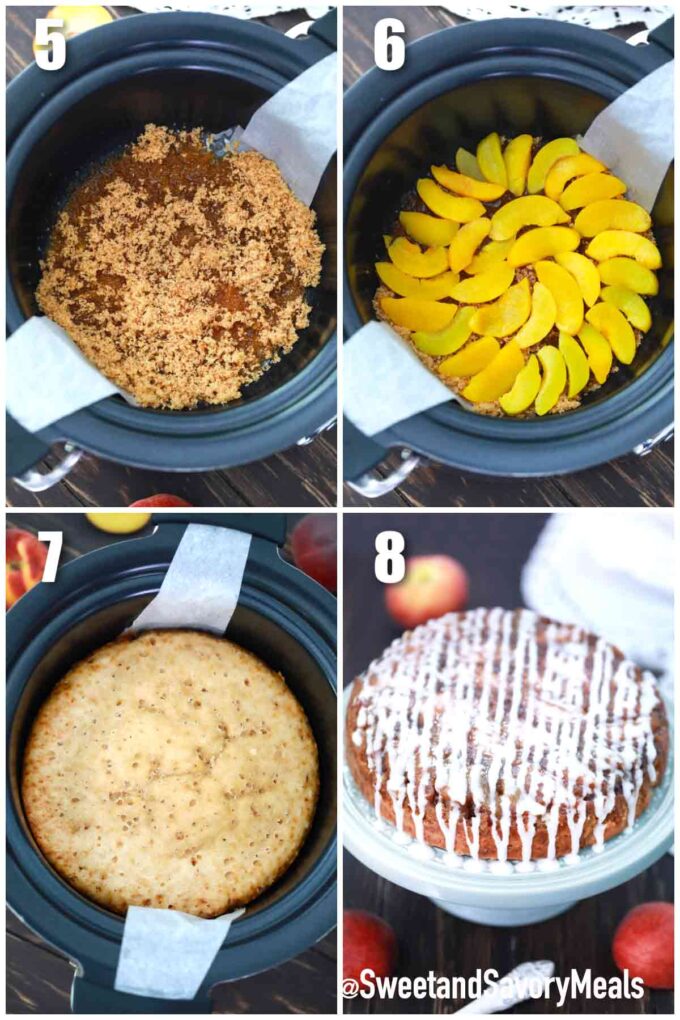 Recipe Variations:
Fruits: Try this dessert with other fruits, such as sliced apples, pears, plums, or pineapple.
Cake-Mix: Save some time and change the flavors by using your favorite Cake Mix. Make the topping per the recipe and for the cake, part uses Yellow Cake Mix, White, Lemon. Chocolate or Funfetti.
Berries: Mix in some berries, like blueberries, raspberries, or blackberries through the batter.
Chocolate: Add white, dark, or milk chocolate chips to the batter.
Cherries: Also, feel free to add a handful of Maraschino cherries to the topping and also to the batter.
Rum: Replace the almond extract with rum extract and add 1/4 cup of rum to the topping as well. For a more pronounced flavor, soak the peaches in rum for 2 hours.
Citrus: Replace the cinnamon and nutmeg with a refreshing citrus flavor, by adding lemon zest, orange jest, or lime zest to the batter.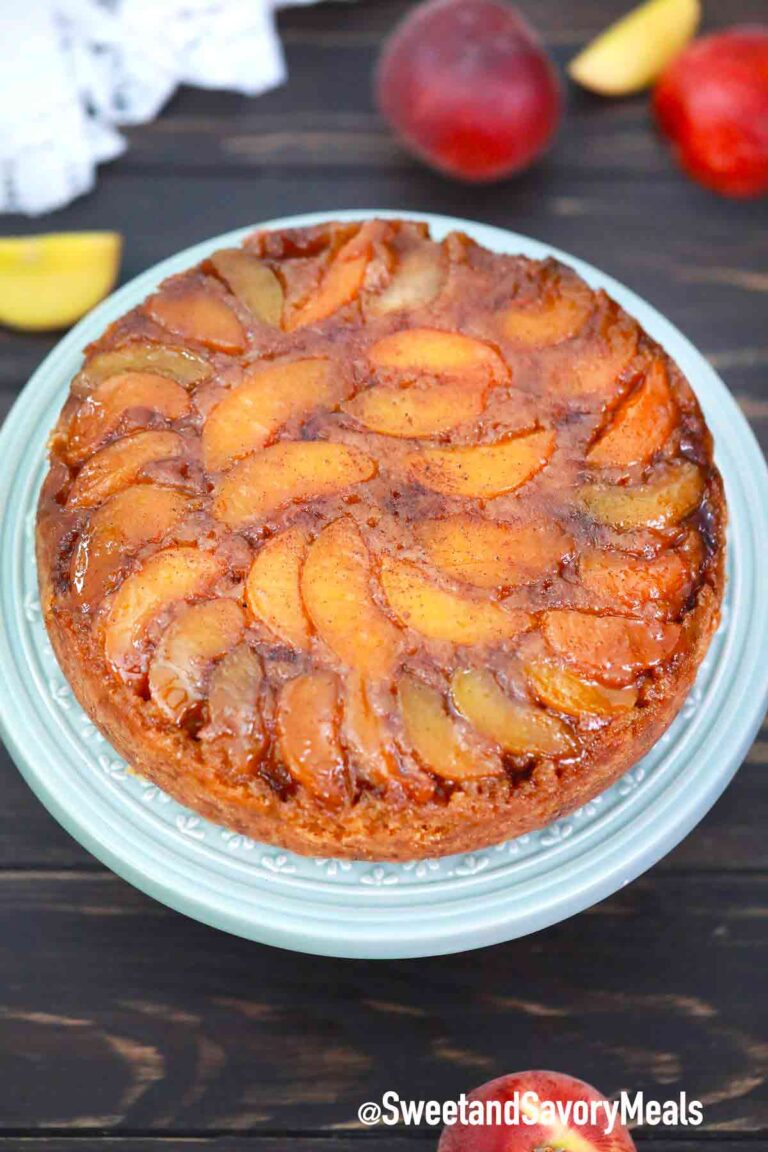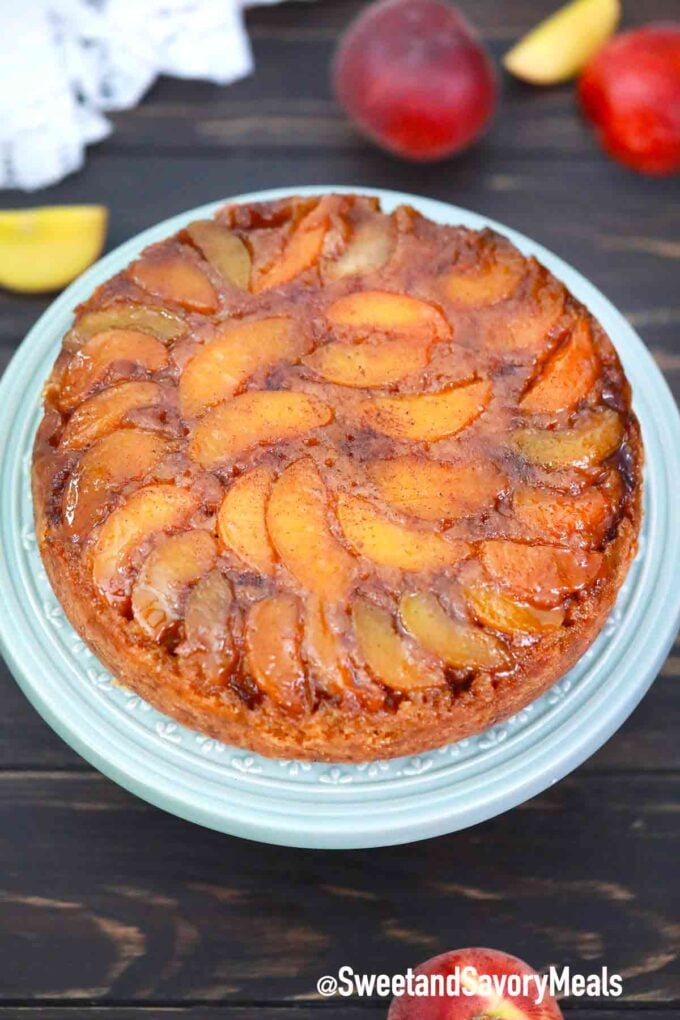 Frequently Asked Questions:
How to serve Crockpot Peach Upside Down Cake?
First, we recommend serving this dessert slightly warm. Top it with some vanilla ice cream and caramel sauce.
Another option is to add a dollop of whipped cream on the side and sprinkle chopped fresh mint leaves on top.
If you have some butter rum sauce on your hands, drizzle it on the sliced cake!
How to store:
Remove it from the ceramic insert and let the sweet treat fully cool before adding it to an airtight container.
Store it at room temperature for one day or in the fridge for 4-5 days.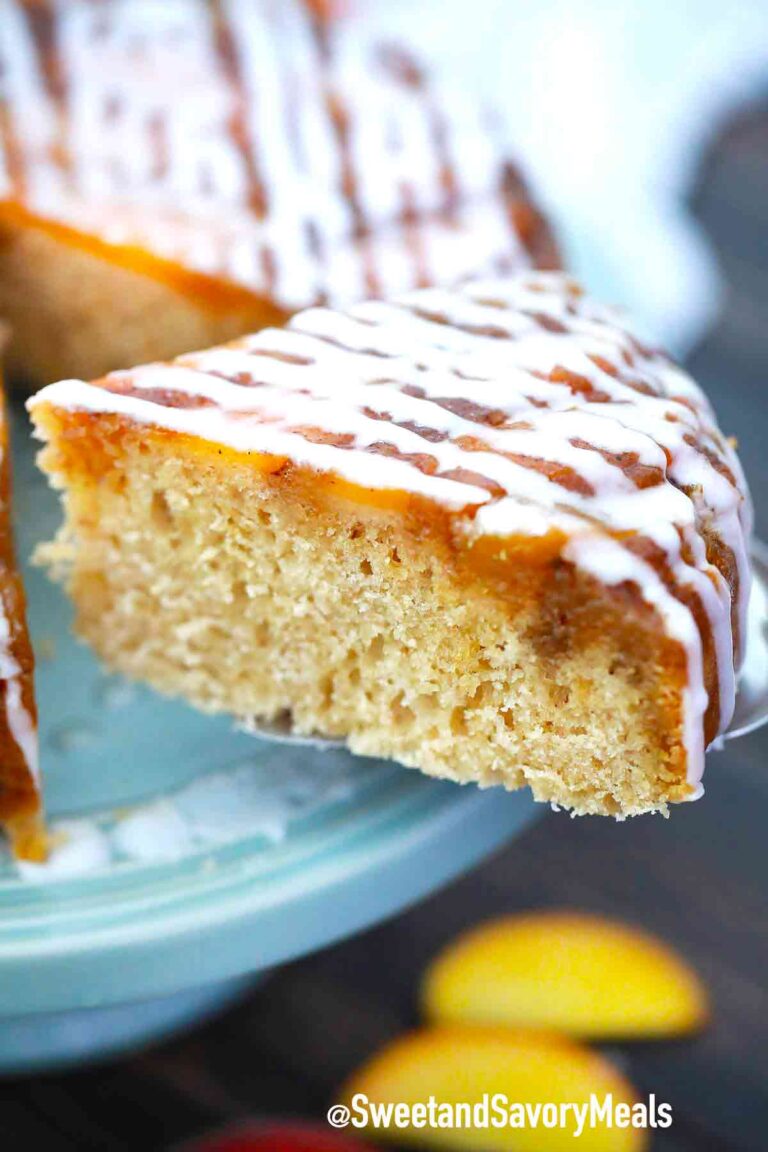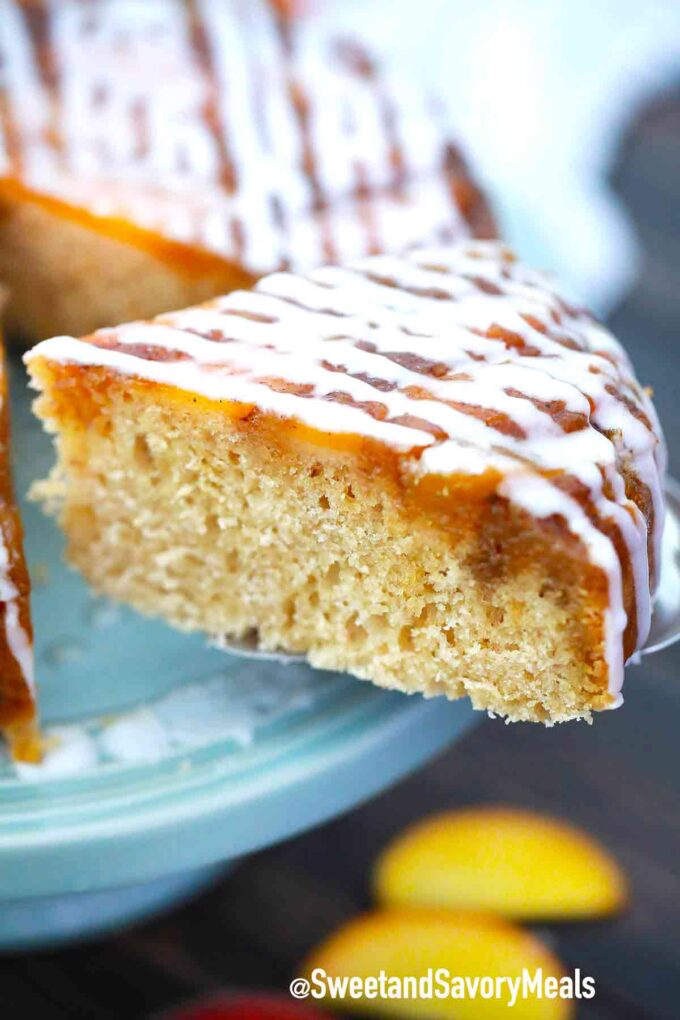 How to freeze it?
First, let the dessert fully cool to room temperature and after that refrigerate it for a few hours, this way it will hold its shape better.
Next, either freezer individual slices or the whole dessert. The same rules apply to both cases.
To freeze, wrap the cake tightly in foil, and after that wither add it to freezer-safe Ziploc bags, freezer-safe airtight containers, or wrap in freezer-safe plastic wrap.
Freeze for up to 3 months. To defrost, leave the cake overnight in the fridge the day before you want to serve it.
More Peach Recipes:
Recipe Tips:
If you decide to use canned peaches, then it is better to use the ones that have been canned in juice not in syrup as the latest may be too sweet.
In case you want to use fresh peaches, make sure you peel and remove the pit and cut them into equal slices.
Also, keep in mind that you can still overcook a cake in the crockpot. Keep an eye on it and use a toothpick to check for doneness.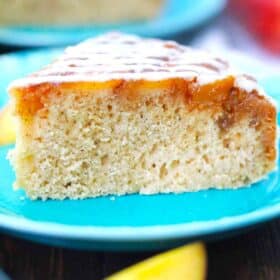 Slow Cooker Peach Upside Down Cake
Slow Cooker Peach Upside Down Cake made with caramelized peaches in brown sugar, added to the bottom of the slow cooker.
Save
Share
Print
Pin
Rate
Ingredients
Topping:
2

15 ounce

cans sliced peaches, drained well - use more if the slow cooker is larger

6

tablespoons

unsalted butter

(melted)

1

cup

packed dark brown sugar

1

teaspoon

cinnamon

1/2

teaspoon

nutmeg
Cake:
1 1/2

sticks butter

(softened)

1/2

cup

white sugar

1/2

cup

brown sugar

2

large eggs

1/2

teaspoon

pure almond extract

2

cups

all-purpose flour

2

teaspoons

baking powder

1/2

teaspoon

salt

1

cup

whole milk
Instructions
Place the peach slices between several layers of paper towels and pat dry them.

In a small bowl combine 1 cup of brown sugar with cinnamon and nutmeg, stir.

Fold the parchment paper in 3-4 layers, making a sling that is 3-4 inches wide. Make two if the slow cooker is over, not round.

Spray the ceramic insert of the slow cooker with cooking spray. Arrange the prepared parchment paper sling, placing it criss-cross on the bottom of a 6-quart oval/or round slow cooker, make sure its long enough to later lift the cake.

Next, add melted butter to the bottom. Sprinkle the brown sugar mixture on top.

Arrange peaches in a tight layer over brown sugar.

In a large bowl, beat softened butter with white and brown sugar until light and fluffy, about 3 minutes. Beat in eggs, 1 at a time, beating well after each addition. Beat in almond extract.

In a different bowl, whisk together flour, baking powder, and salt. Working in batches, stir in the flour mixture into the butter mixture alternating with milk, beginning and ending with the flour mixture. Mix batter until well combined, scraping the side and bottom of the bowl.

Spoon over the peaches and spread evenly.

Add a clean kitchen towel on top of the slow cooker and cover with the lid, the towel will absorb any condensation during baking.

Cook on High for 2 - 2 1/2 hours or until a wooden skewer inserted into the center of the cake comes out clean.

Once done, using oven mitts, remove the ceramic liner from the slow cooker and let the cake cool for 20 minutes. Run a knife around the edges of the cake and carefully lift with the parchment paper sling, or turn out onto a serving platter.

If desired top with simple powdered sugar and milk glaze.

Serve warm with vanilla ice cream.
Nutrition
Calories:
431
kcal
|
Carbohydrates:
81
g
|
Protein:
6
g
|
Fat:
11
g
|
Saturated Fat:
6
g
|
Polyunsaturated Fat:
1
g
|
Monounsaturated Fat:
3
g
|
Trans Fat:
1
g
|
Cholesterol:
65
mg
|
Sodium:
264
mg
|
Potassium:
366
mg
|
Fiber:
3
g
|
Sugar:
57
g
|
Vitamin A:
564
IU
|
Vitamin C:
2
mg
|
Calcium:
167
mg
|
Iron:
3
mg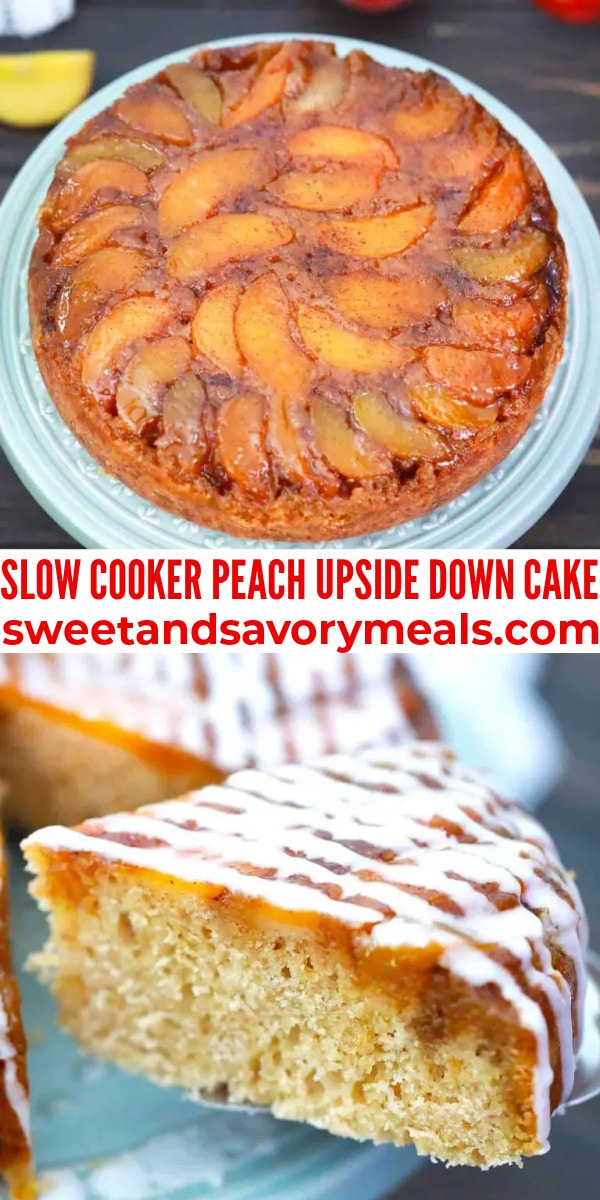 More recipes you might love