Slow Cooker Beef Brisket [Video]
Last updated on June 18th, 2021 at 11:34 pm
Slow Cooker Beef Brisket is rubbed with spices then braised for hours in BBQ sauce. Better than anything you can get at the deli or a restaurant, this will get everyone raving at the table!
Chuck is another tough cut we absolutely love. Discover how slow cooking can turn it meltingly-tender meat in Beer Pot Roast, French Dip Sandwiches, and Beef Bourguignon!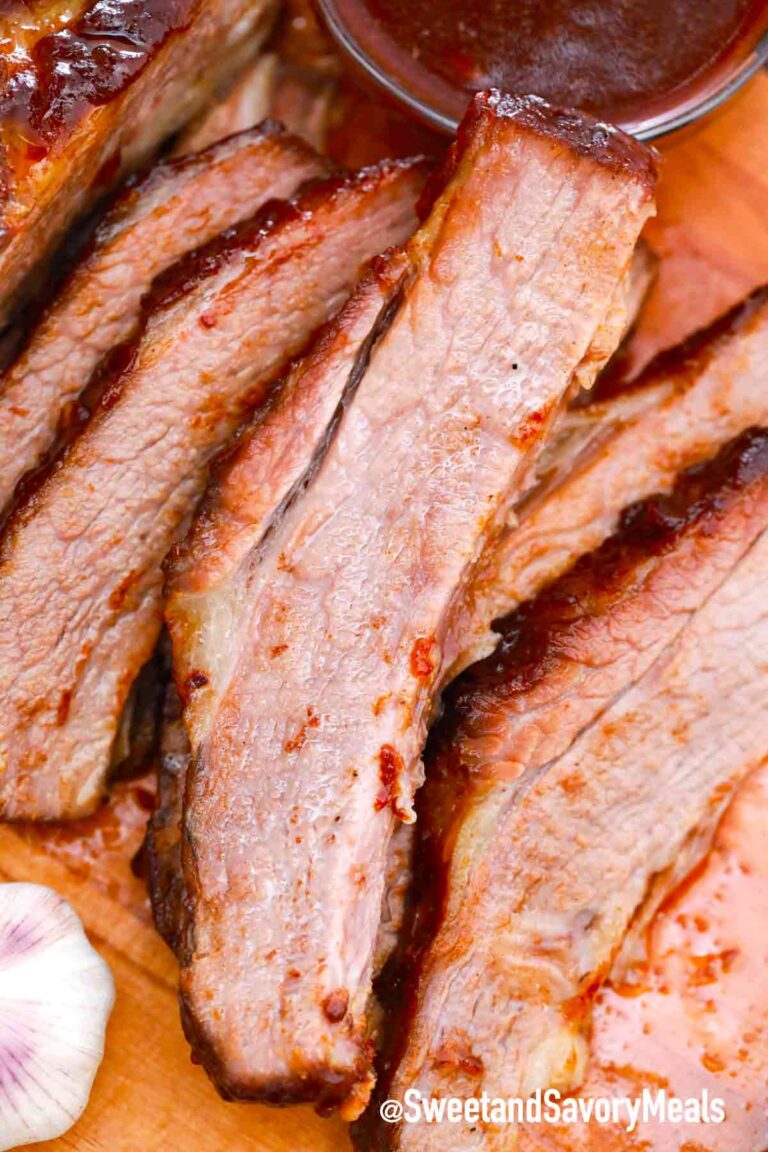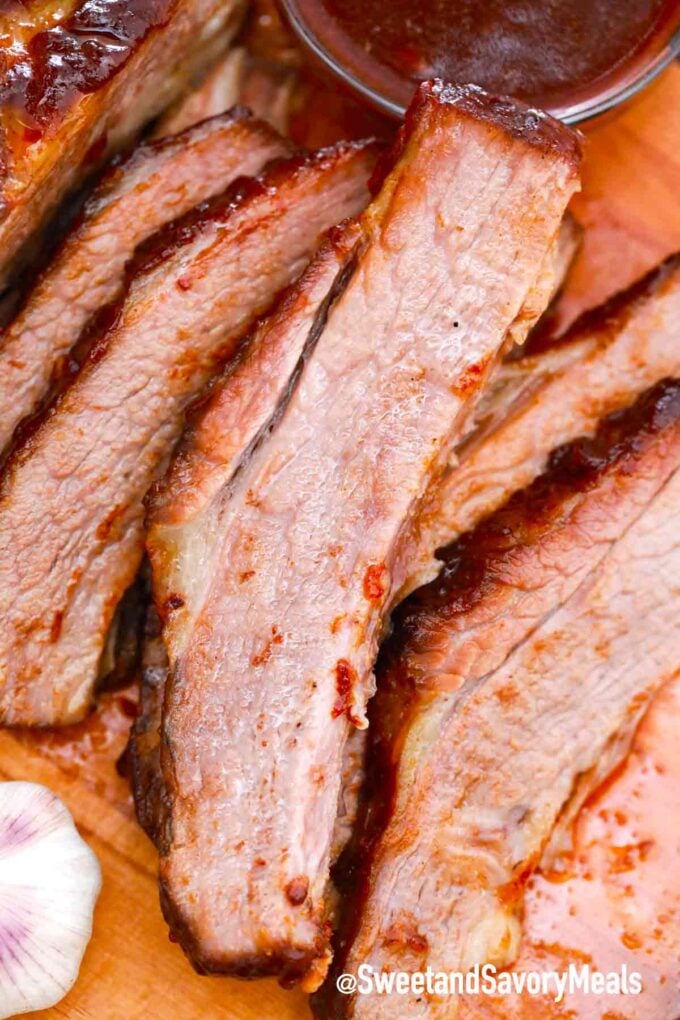 Crockpot Beef Brisket Recipe
Slow Cooker Beef Brisket shows off how a tough cut can become something amazing when you cook it right. Our brisket gets two layers of flavor— the spice mix and our leveled-up BBQ sauce. Then, we slow-braise it for several hours until every inch is infused with those awesome flavors and the meat is tender.
For the finale, we brush more sauce on top and caramelize it in a hot oven until the brisket has a beautiful char. It's seriously incredible, and you're going to fall in love with this cut— guaranteed!
What is Brisket?
It's a beef cut that's one of the best choices for slow cooking. It's one of the toughest cuts out there, full of connective tissues, and without the high amount of marbling, you'll find in a rib-eye. But cook it low and slow, and it will rival even the juiciest steak in terms of tenderness.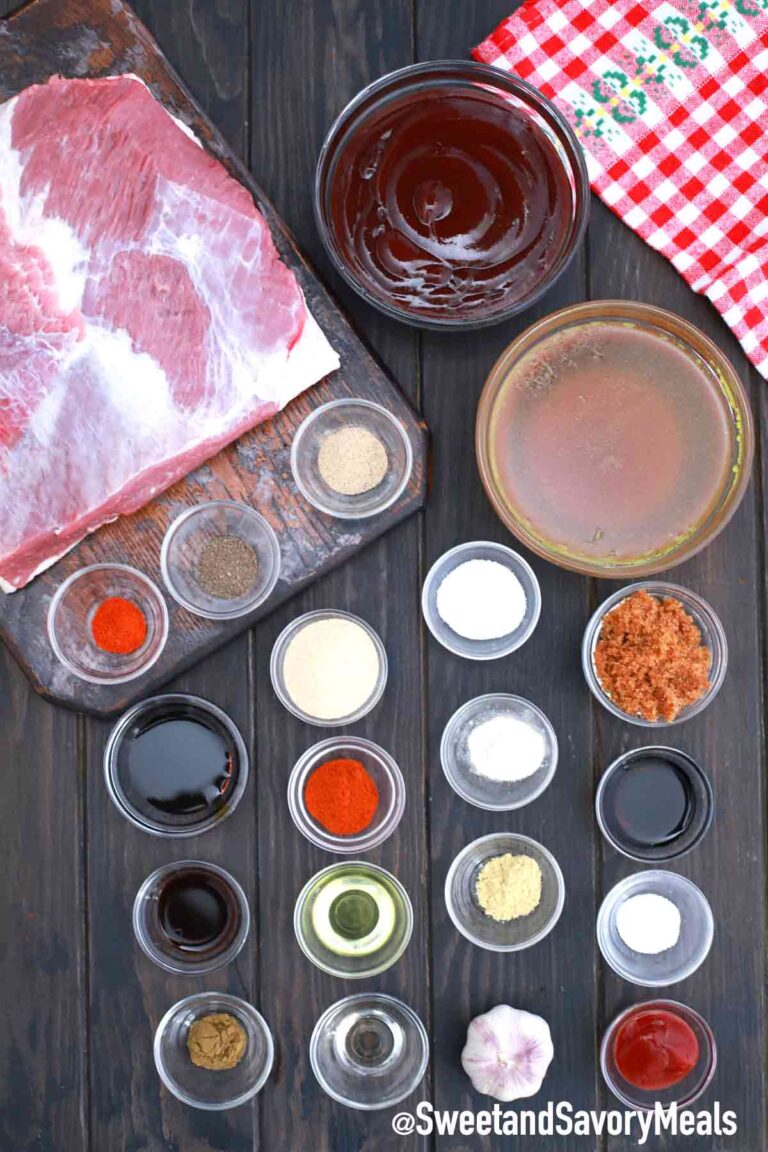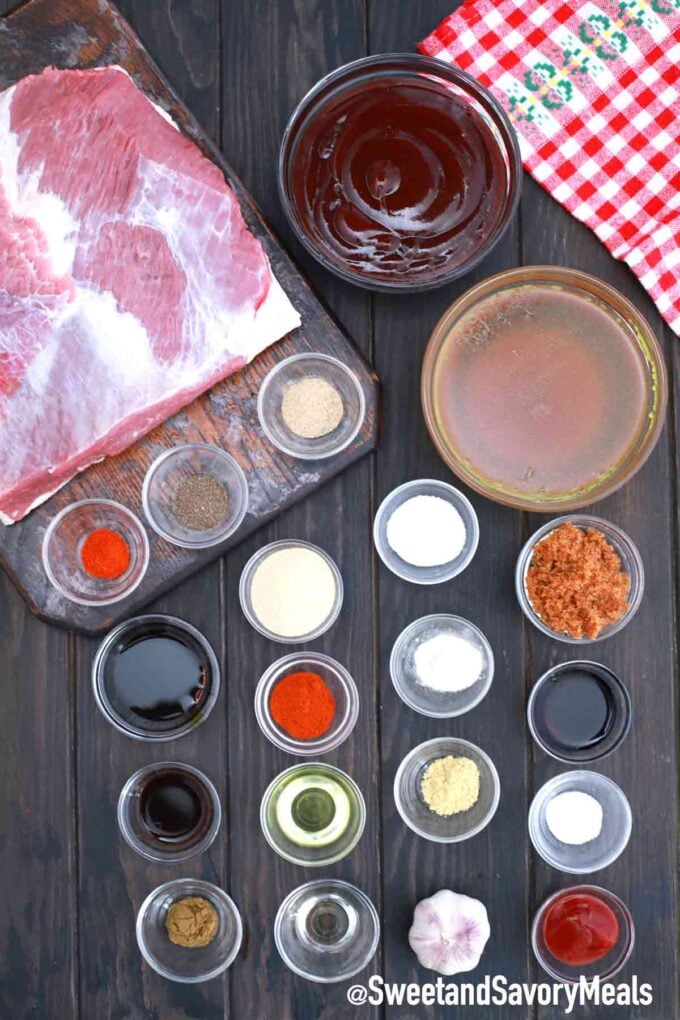 What size brisket should I buy?
For this slow cooker beef brisket recipe, we're going with 4 pounds, which is roughly equal to 2 kilograms. It fits perfectly in a 6-quart slow cooker, and it can withstand extended cooking time.
How to make Slow Cooker Beef Brisket?
Season
Cover the surface of the brisket using the dry rub, then place it in the pot. Whisk the sauce, then use half of it to cover the meat.
Cook
Cover the pot, then slow cook on high (4 to 5 hrs.) or on low (8 to 10 hrs.) until tender. Once it's done, take it out and place it on a baking tray.
Broil
Take the last half of the sauce and brush it all over the meat. Then, broil it inside a 400F oven for 10 mins., or until it starts charring. Repeat then broil again until the sauce is sticky and caramelized, and the edges are crispy and charred.
Serve
After resting for 10 mins., slice and enjoy.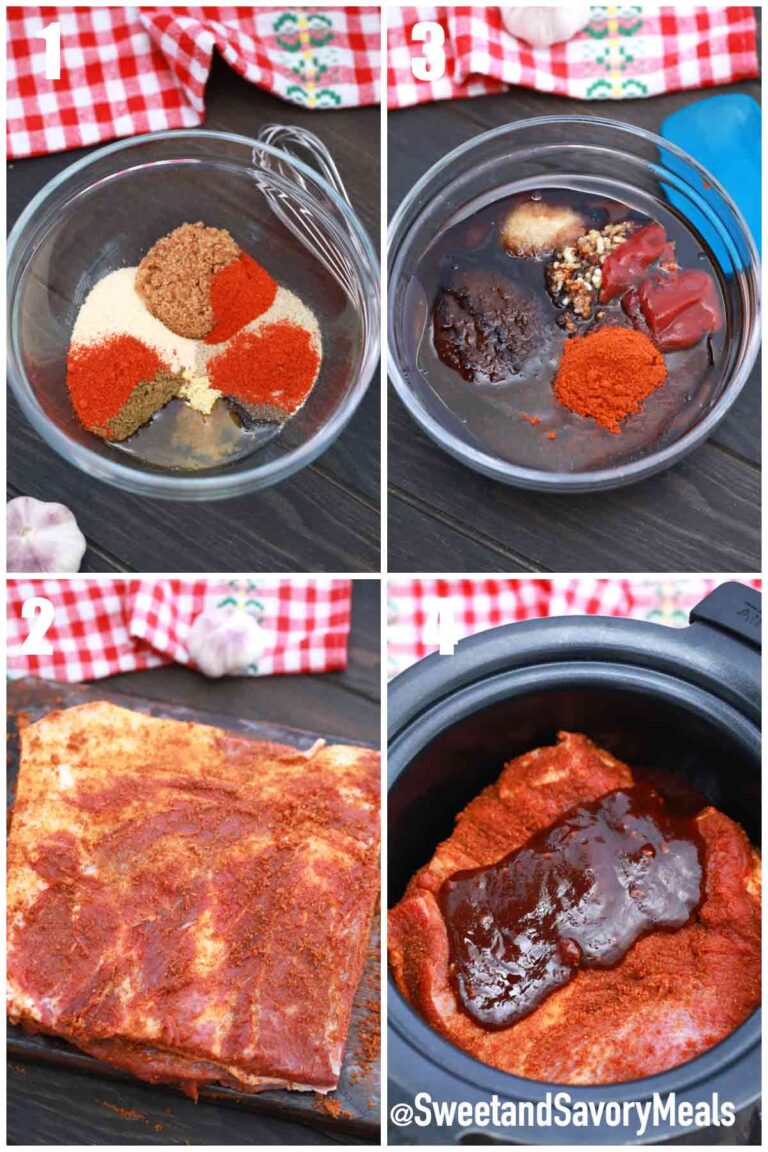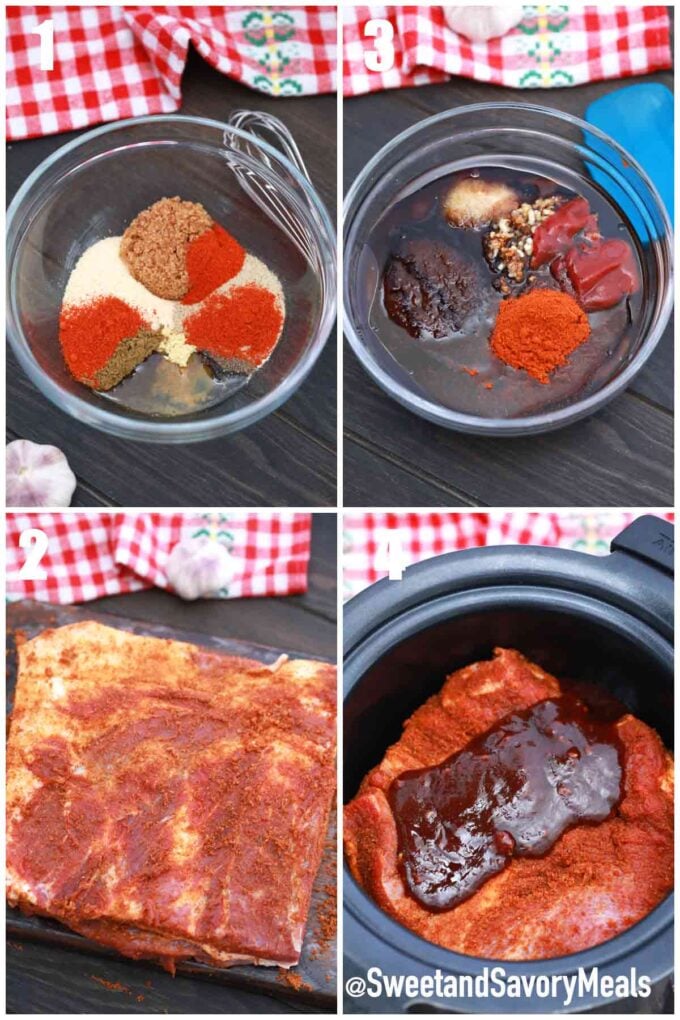 3 Recipe Variations and Substitutions:
Use other cuts
The second-best option if you can't find brisket is rolled and tied chuck roast.
Try other BBQ sauce flavors
We're using our homemade BBQ sauce, but feel free to use your favorites! Some delicious flavors are hickory smoked, smoked bacon BBQ sauce, sweet pineapple BBQ sauce, and spicy varieties.
Finish it on the grill
You can also broil this on a hot grill instead of inside the oven.
What other cuts can be used aside from brisket?
Chuck roast (ideally rolled and tied). Make sure it's similar in weight.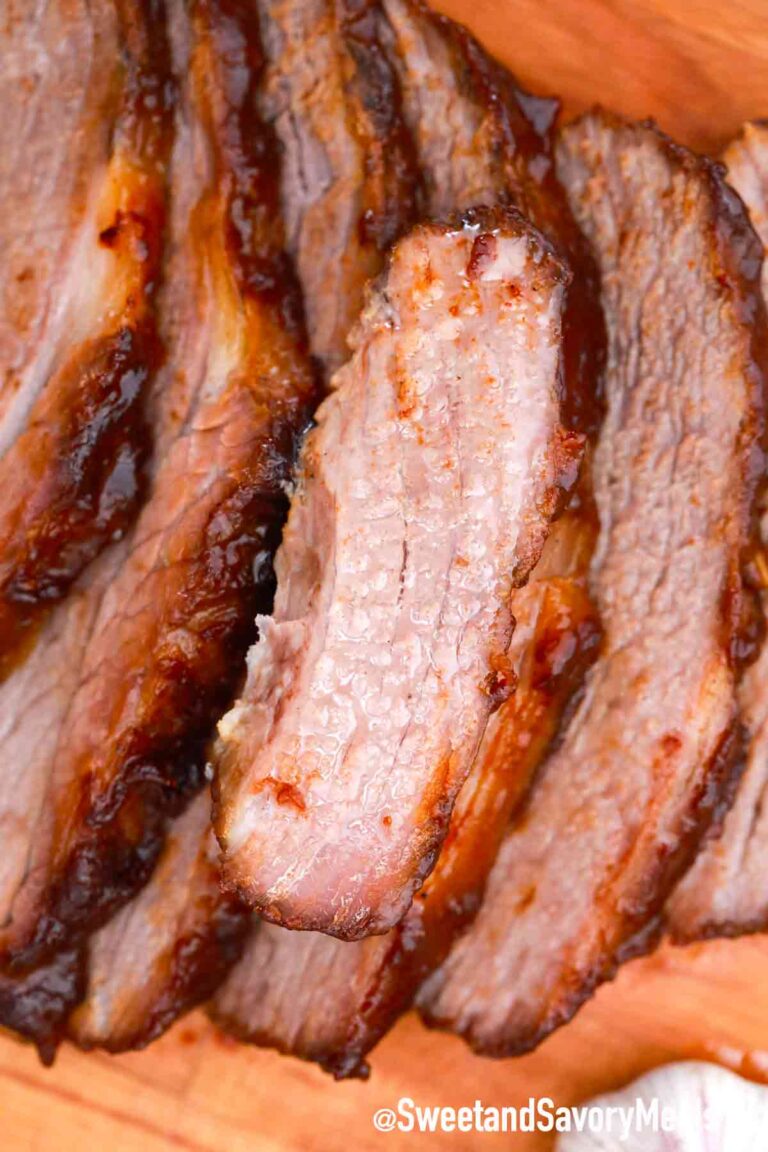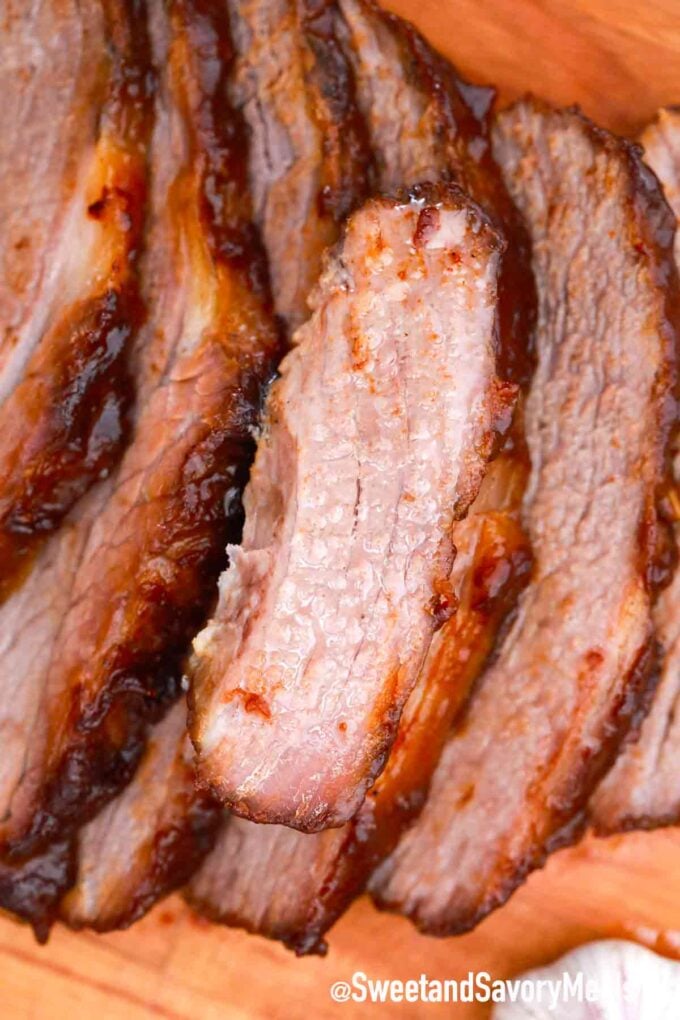 What to serve with slow cooker beef brisket?
For a true BBQ feast, serve it with fresh-baked Southern cornbread, mac and cheese, and corn on the cob. We also love slicing it, piling it high on fresh rolls, and topping with coleslaw for fantastic sliders!
How to store leftovers?
Make sure all the leftovers are completely cool before storing them in a large container. In the refrigerator, this will last for up to 8 days. For longer storage, arrange in freezer bags and store frozen for up to 12 months. Cover all leftovers as well as you can with the remaining sauce so they don't dry out.
To reheat, thaw first. Then, arrange them on a baking tray with the sauce, then cover with foil. Bake them for 20 mins in a 325F oven until hot.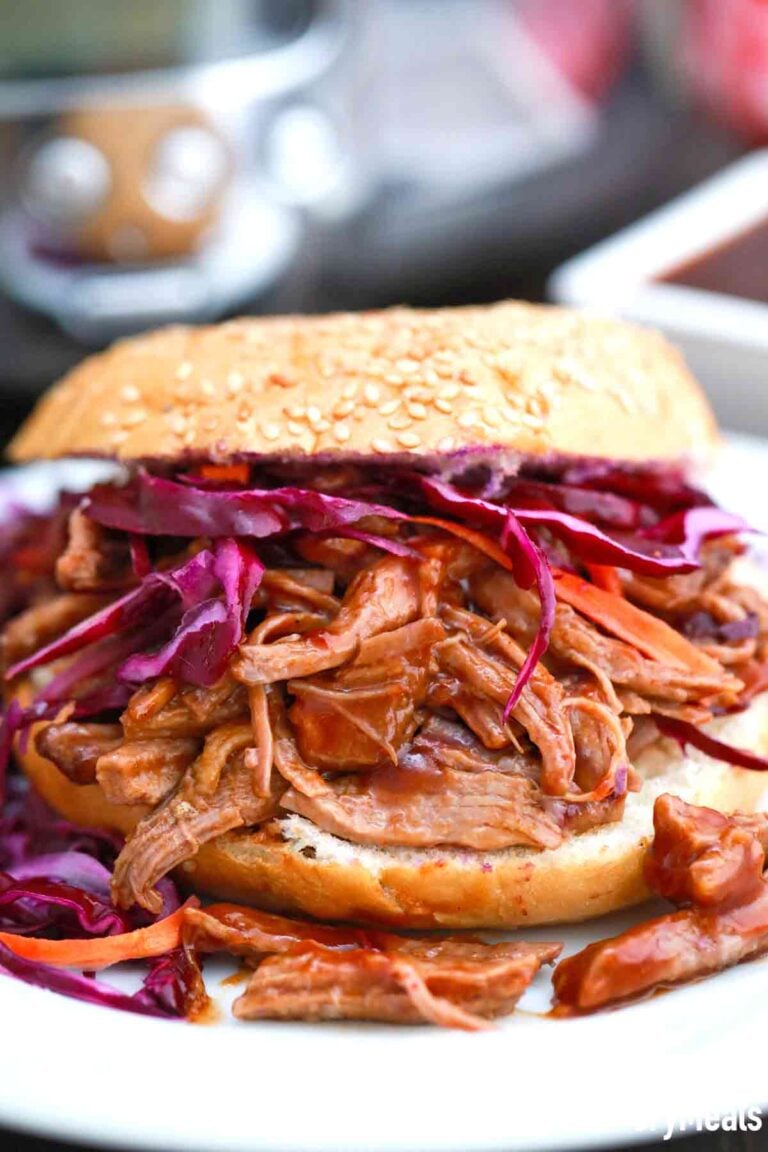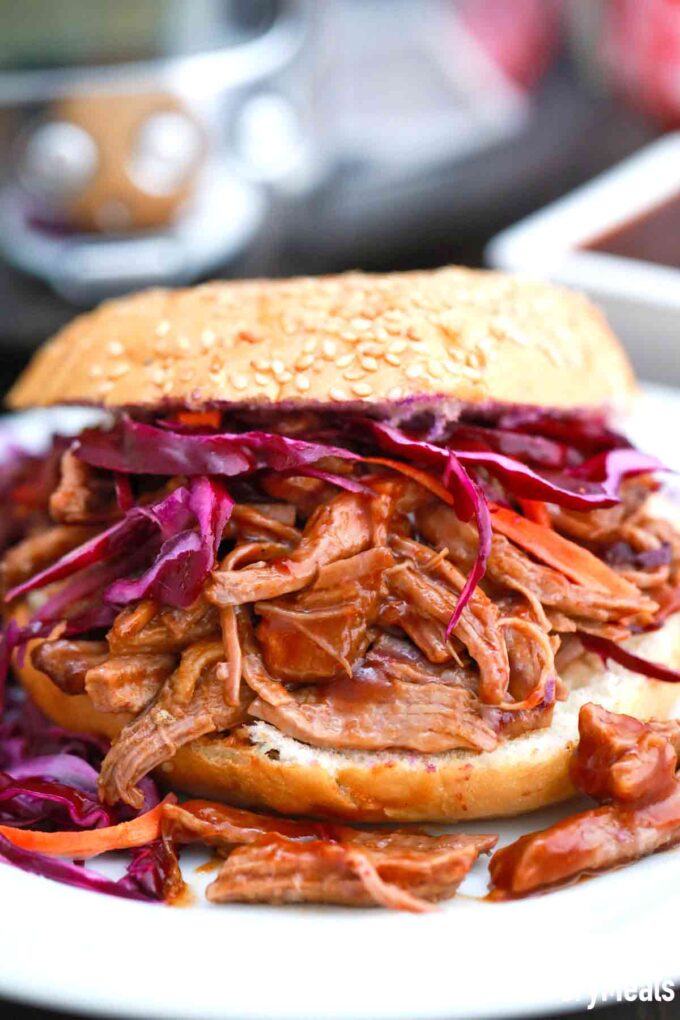 More slow cooker recipes to try:
Helpful recipe tips:
Brisket SHOULD NOT be pink or rare. It should be well-done inside. If it's still pink when you take it out, give it more time to cook.
You can also shred this if you enjoy the texture more than sliced pieces.
We highly recommend adding some cayenne or chili flakes in the sauce for some heat. It's so tasty with a bit of a kick!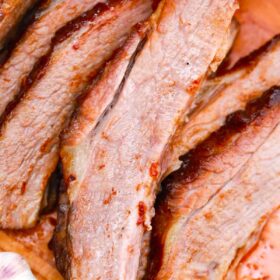 Slow Cooker Beef Brisket
Slow Cooker Beef Brisket is rubbed with spices then braised for hours in BBQ sauce.
Save
Share
Print
Pin
Rate
Ingredients
Seasoning:
2

tablespoons

garlic powder

1

teaspoon

onion powder

2

tablespoon

brown sugar

1

teaspoon

mustard powder

1

tablespoon

smoked paprika

2

teaspoons

salt

1/2

teaspoon

cracked black pepper

1/2

teaspoon

cracked white pepper

1/2

teaspoon

cracked red pepper

1/2

teaspoon

cumin

1

teaspoon

chili or Cayenne powder

2

tablespoons

olive oil
Sauce:
3

cups

barbecue sauce

6

garlic cloves

(minced)

2

tablespoons

brown sugar

1

tablespoon

molasses

2

tablespoon

ketchup

2

tablespoons

olive oil

2

teaspoons

soy sauce

1/4

cup

apple cider vinegar

2

tablespoon

Worcestershire sauce

1/2

cayenne pepper

(if you like it spicy)

1

teaspoon

salt
Instructions
Spray the inside of a 6-quart slow cooker with cooking spray.

Combine seasoning ingredients into a bowl. Pat dry the beef brisket and rub well the seasoning all over it.

Mix the sauce ingredients in a bowl until combined.

Add the beef brisket to the slow cooker and completely cover it with half of the sauce.

Refrigerate the remaining sauce to use later.

Cover slow cooker with the lid and cook on low for 8-10 hours, or high setting for 4-5 hours, or until fork-tender.

Preheat oven to 400 degrees F.

When done, transfer the brisket onto a baking sheet lined with foil.

Pour 1/2 cup of the slow cooker juices into the remaining sauce.

Baste brisket with the sauce and broil (or grill) for about 10-15 minutes or until it begins to char and crisp on the edges. Baste again and broil (or grill) until sticky on top and charred on the edges.

Let it rest for 10 minutes before serving.

To serve, slice the brisket thinly across the grain and serve with the remaining sauce.
Nutrition
Calories:
652
kcal
|
Carbohydrates:
56
g
|
Protein:
49
g
|
Fat:
25
g
|
Saturated Fat:
7
g
|
Cholesterol:
141
mg
|
Sodium:
2318
mg
|
Potassium:
1152
mg
|
Fiber:
2
g
|
Sugar:
45
g
|
Vitamin A:
722
IU
|
Vitamin C:
2
mg
|
Calcium:
73
mg
|
Iron:
6
mg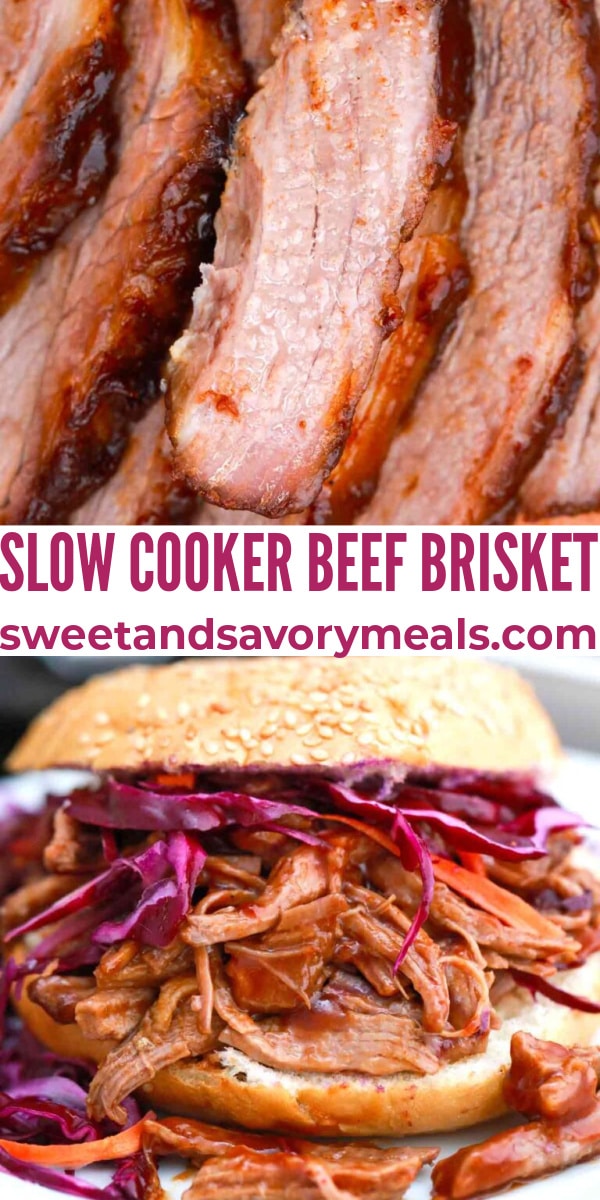 More recipes you might love