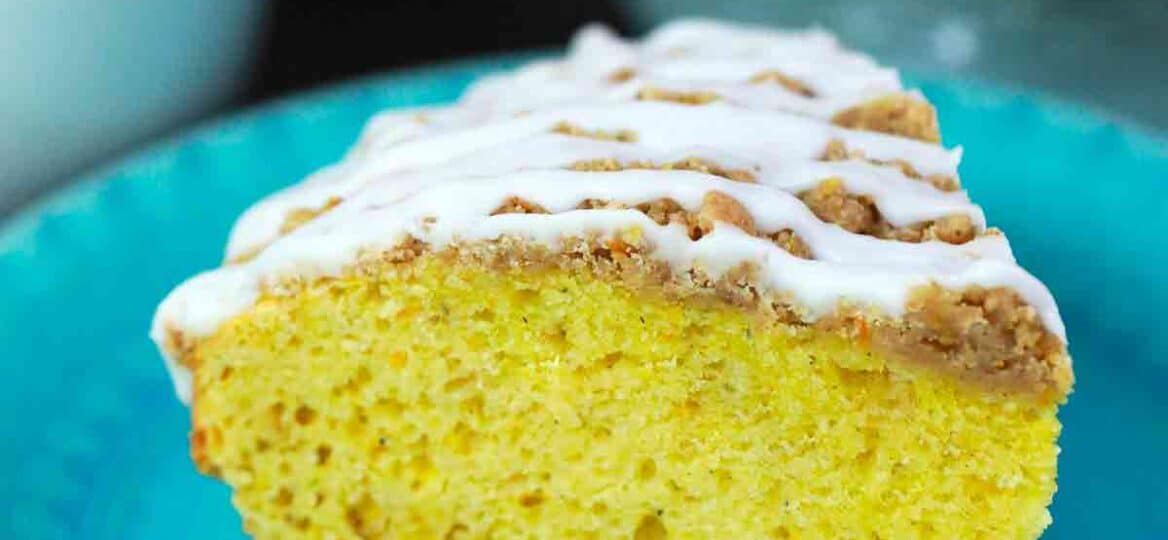 Slow Cooker Coffee Cake is a decadent, moist, and tender cake, topped with a cinnamon streusel topping and entirely cooked in the crockpot. This is a great recipe for a scrumptious brunch or tasty dessert.
Crockpot recipes are always delicious, moist, and full of flavor. Making dessert in the slow cooker may sound unusual, but they are so delicious, we highly recommend you try our Crockpot Pumpkin Pie Pudding, Apple Cider, and delicious Baked Apples!
Crockpot Coffee Cake with Cinnamon Streusel
This Slow Cooker Coffee Cake is such a fantastic dessert. It features a moist and soft cake, cooked to perfection in the crockpot. The dessert is covered with a cinnamon topping and a simple vanilla glaze.
In addition it is made with yellow cake mix, sour cream, and butter, creating the perfect crumb and texture. Also, it is flavored with cinnamon nutmeg and orange zest. The citrus and the warm spices create a very comforting and tasty treat.
Ingredients You Need:
Cake:
Yellow Cake Mix – since we are trying to save time and effort, using a cake mix is so fitting.
Sour Cream – add moisture to the batter.
Butter – for the perfect rich crumb, that is so characteristic of coffee cakes.
Eggs
Spices: We use a mix of cinnamon, nutmeg, and orange zest.
Topping:
All-Purpose Flour
Butter
Brown Sugar – we prefer to use brown sugar instead of white sugar, it adds more flavor.
Spices – here again, we use cinnamon, nutmeg, and orange zest.
Vanilla Glaze:
Milk
Vanilla Extract
Powdered sugar
How do you make Slow Cooker Coffee Cake from scratch?
Cake ingredients: First, cover the bottom of the crockpot with parchment paper and spray the bottom and sides with cooking spray. After that, in a bowl combine the cake ingredients until well mixed. Then add the batter to the slow cooker.
Slow Cook: Once the batter has been added, level the top with a spatula. Next, place a clean dishtowel on top of the SC and cover add the lid on top. This is done to avoid condensation dripping on the cake. Cook on High for 1 hour.
Topping: Next, in a different bowl, combine the Topping ingredients, stir and set aside. After, sprinkle the topping on top, cover again and cook for 30 more minutes, or until a toothpick inserted in the center comes out clean.
Cool: Transfer the ceramic insert from the SC onto a cooling rack. After 15 minutes, with the help of the parchment paper lift the cake and place it on the cooling rack to fully cool.
Glaze: Finally, combine the glaze ingredients until smooth, and drizzle on top of the cake. Let the glaze settle, slice, and enjoy.
Recipe Variations:
Cake-Mixes: Use different cake mixes, we enjoy this recipe with yellow mix. But for a chocolate twist ,go with Chocolate Cake Mix, or for something fresher, we recommend Lemon Mix.
Citrus: If you decide to use a Lemon Cake Mix, we suggest you also add fresh lemon zest. For a tropical twist, try this recipe with lime zest and grapefruit zest.
Spices: Cinnamon and nutmeg are very classic spices used in this recipe. For a warmer, more powerful flavor, you can add also some star anise, ground cloves, and five spices.
Fruit: Make it richer, tastier and more fun by adding some chopped apples or pears. We also enjoy the slow cooker coffee cake with blueberries or raspberries.
Gluten-Free: Use a gluten-free cake mix and also gluten-free flour.
Chocolate: Try adding some dark or milk chocolate chips and drizzle it with some melted chocolate instead of the vanilla glaze.
Frequently Asked Questions
Can you put a cake tin in the slow cooker?
Yes, you can add a metal cake tin in the cropckpot. In case you have a round crockpot, it is easier to add a springform pan or other type of metal pan to it.
What is the difference between crumb cake and coffee cake?
The main difference is in the topping, a crumb is much thicker and has topping, while coffee cake has a streusel topping that is not as thick.
How to serve:
Funny enough that this dessert do not contain any coffee! Therefore, it isintendeted to be served with a cup of coffee.
Also, you can serve with with a cup of tea, hot chocolate or any other warm beverage. Enjoy it warmed up or at room temperature.
If you decide to serve wit warm, we reccomend adding some vanilla ice cream in top and some berries on the side, for an extravagant dessert.
More Dessert Recipes:
How to store and freeze:
For the best results , keep it in an airtight container ,and refrigerate it for up to 4-5 days.
To freeze: First, make sure it is is fully cooled. After that either wrap the entire cake or individual slices into tin foil and add to freezer-safe Ziplock bags or freezer-safe airtight container.
To defrost, place it in the fridge overnight.
Recipe tips:
Use a cake mix to cut the prep time.
Also ,make sure you line the bottom of the slow cooker with parchement paper, otherwise you won't be able to remove the cake from it.
Equally important is to add a towel between the lid and the crockpot, the towel will absorb the created condensation.
Deliciousness to your inbox
Enjoy weekly hand picked recipes and recommendations