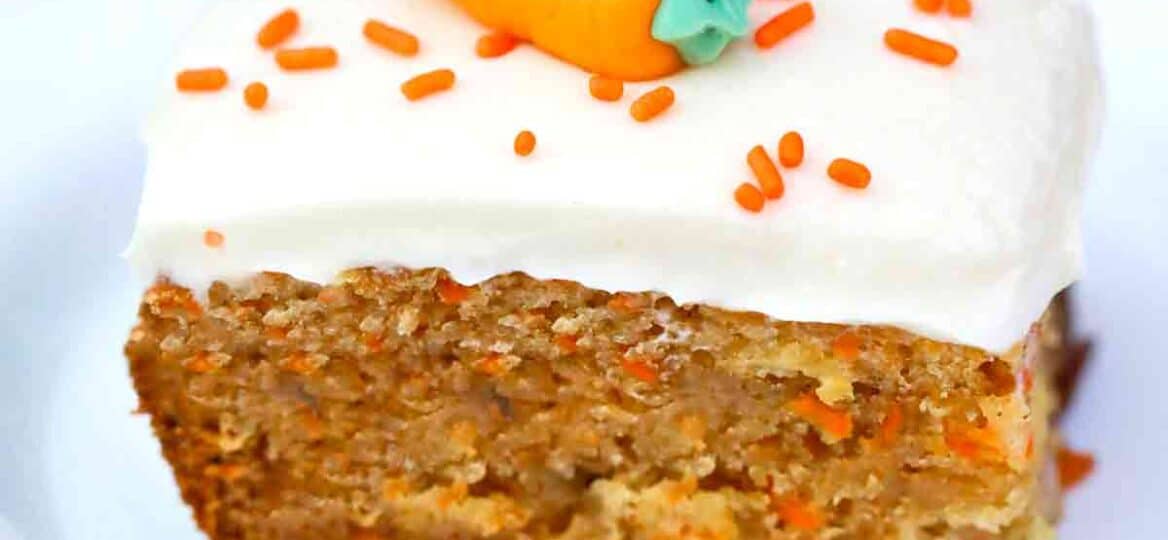 Carrot Cake Bars are perfectly soft and moist, studded with a ton of fresh carrots, and loaded with delicious mix-ins like pecans and pineapple. The silky cream cheese frosting takes them over the top!
Crazy about desserts with cream cheese? Enjoy more of it in these Red Velvet Cheesecake Bites, Cinnamon Cream Cheese Cookies, Pumpkin Bread with Cream Cheese Filling!
Carrot Cake Bars with Cream Cheese Frosting
Carrot Cake Bars are the easy, bar version of everyone's favorite Carrot Cake! Instead of baking several layers, we only bake one and stuff it with carrots, fruits, and nuts, and shredded coconut before covering it with sweet and creamy frosting.
The original recipe is AMAZING as is, but you can dress it up with chocolate, more nuts, a cozy spiced frosting, and more. Bonus: this will fill up your home with mouthwatering smells!
What are carrot cake bars?
They're the classic, crowd-favorite Carrot Cake, except in super convenient bar form! For those days when you want some of these good ol' treats but don't want to scoop batter into muffin tins or make a full cake, these bars are the answer.
Everything is in there— from the carrot-packed cake down to the cream cheese frosting – but far easier to make!
What ingredients go into carrot cake bars?
Dry: Prepare some pantry basics like flour, active baking soda, and powder, plus your spices and salt.
Wet: We're using two types of sugar (brown and white), plus 3 large room temp eggs and coconut oil.
Mix-Ins: Taking this treat to the next level are two full cups of carrots, sweet and juicy raisins, pineapples, sweetened coconut, and pecans! A dash of vanilla rounds out all our flavors.
Cream cheese frosting: For the perfect sweet-and-tangy frosting, get some softened cream cheese ready along with room-temp butter, plus sugar (powdered) and more vanilla.
How to make carrot cake bars from scratch?
Whip up the batter first. Whisk the wet together, then add in all of your flour and all other dry ingredients. Stir in shredded carrots and the rest of the mix-ins.
Bake. In a 350F oven, bake for about 25 to 30 mins. Cool.
Frost. Beat together the butter and cheese until they get really fluffy and light mix. Add your sugar followed by the vanilla, then continue beating until it's smooth. Spread all over the cake's surface. Refrigerate for at least an hour.
Serve. Slice into bars and enjoy!
Recipe variations:
Mix in other nuts: Chop up some almonds, pistachios, macadamia, and whatever your favorite nuts are!
Chocolate: We love adding dark chocolate (milk or dark) to this dessert!
Plain: It's okay to skip the raisins, pineapples, and coconut if you wish.
Other spices: You can also add powdered clove.
Other dried fruits: Aside from raisins, try dried cherries, oranges, and pineapples.
More Easter Reecipes:
Why is the oil used in carrot cake bars?
With so many mix-ins like the shredded vegetables and nuts, this type of baked good needs more structure than the usual. Since butter creates a fluffy yet delicate crumb, oil works better. It gives us an even crumb and stays soft and moist for longer than those with butter.
What oil goes into carrot cake bars?
Use mild-flavored oils here so they don't upstage the rest of the flavor. Aside from coconut oil, vegetable or canola will work.
Can the oil be replaced by melted butter in this recipe?
Sure, but we suggest sticking with oil. Like we mentioned above, oil gives us the structure this dessert needs. However, yes you can sub with melted butter, but it may not be as moist.
What makes carrot cake bars sink in the center?
A common culprit is opening the oven door halfway through baking or overmixing the batter. Mix only until combined, and it's fine if there are still a few dry spots in there.
More Easter Desserts:
Cream cheese frosting instructions:
It's really easy! We have a full recipe here, so go check it out for a detailed breakdown. But in general, you simply whip it together until it becomes fluffier and nicer. The key is using them only when at room temperature— if not, your frosting can end up with bits of unmixed cheese and butter in there.
How to store leftovers:
Because of the cream cheese, refrigerate any leftovers. Keep them in a completely air-tight container to keep the slices moist. Store up to 5 days.
How to freeze:
It's best to freeze this unfrosted, but you can also freeze the frosted slices. Flash-freeze for about 2-3 hours on a baking sheet. Then, in an air-tight container, and store frozen for up to 3 months.
To enjoy, defrost overnight or on the counter, and serve once it thaws out to room temp.
Recipe tips:
For convenience, feel free to buy veggies already pre-shredded.
Don't use pineapples in syrup, because the extra sugar makes it overly sweet. Use the fruit IN JUICE.
Also, don't overmix! Stir only until combined. A few spots of flour are fine.