Instant Pot Carrot Cake Cheesecake
Instant Pot Carrot Cake Cheesecake is a delicious combination of the classic carrot cake and creamy cheesecake. This moist and fool-proof dessert is guaranteed to satisfy everyone!
Having a pressure cooker is extremely convenient as it saves a lot of time. Not to mention, it does so many things that you really won't need to buy a lot of kitchen appliances. If you have one, you might want to test a variety of instant pot recipes, like our Chicken Tikka Masala, Pork Stew, and Cheeseburger Macaroni.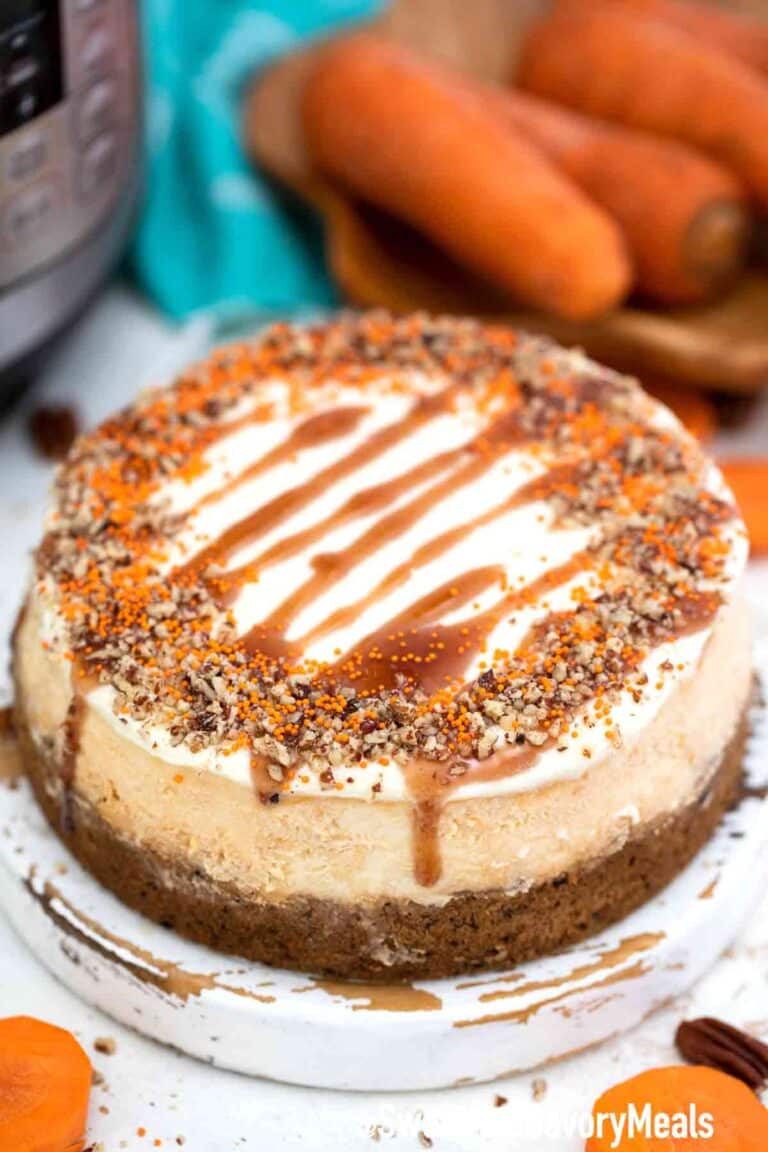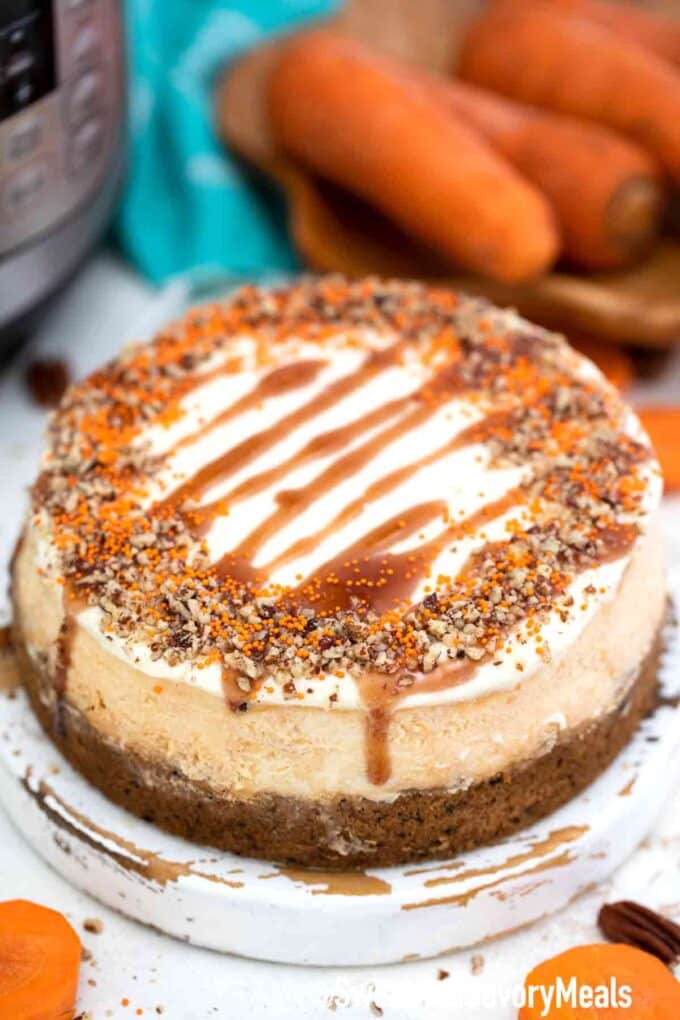 Pressure Cooker Carrot Cake Cheesecake
Instant Pot Carrot Cake Cheesecake is a great go-to recipe for a hassle-free dessert. Every slice tastes so delicious that it feels like it is melting in your mouth.
For starters, I love both carrot cake and cheesecake individually, but when I tried to combine them, it became much more heavenly. I usually make this dessert for birthdays, dinners with friends, and when going out for a picnic as well.
In addition, this recipe uses instant pot instead of the usual oven method. It is much more convenient since having a pressure cooker can allow you to make dishes ranging from meals to desserts.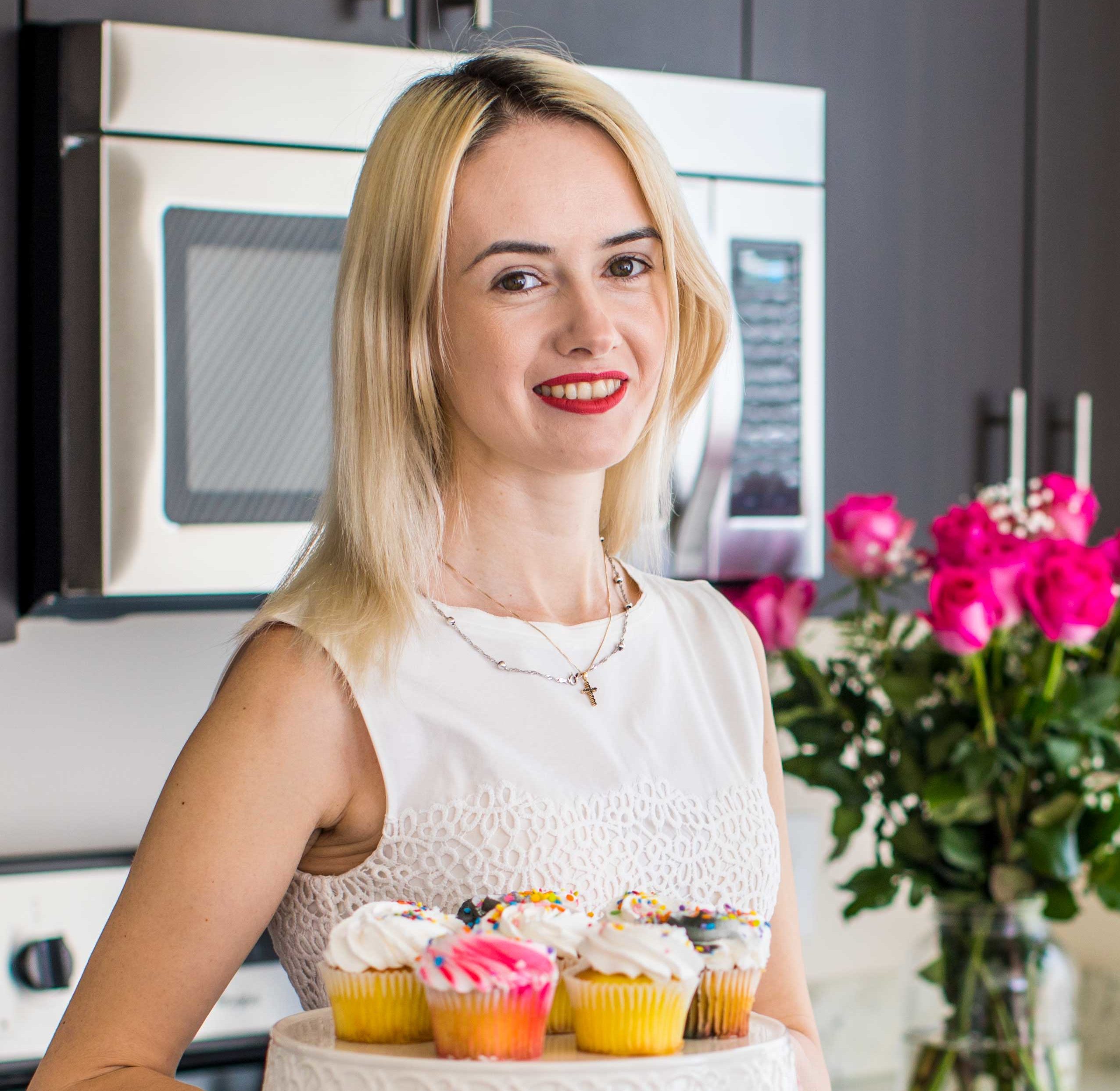 Follow us on Pinterest for more delicious recipes!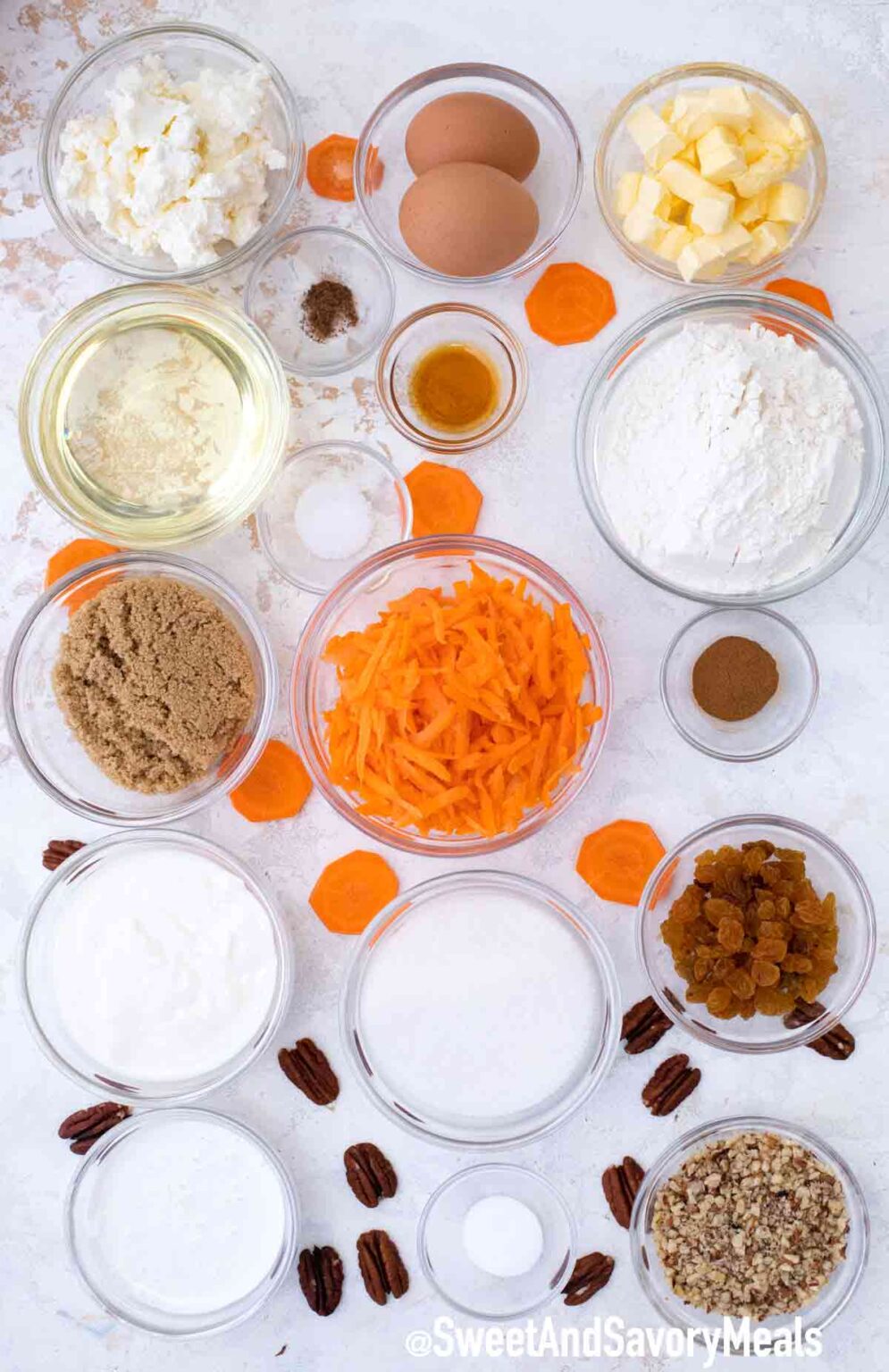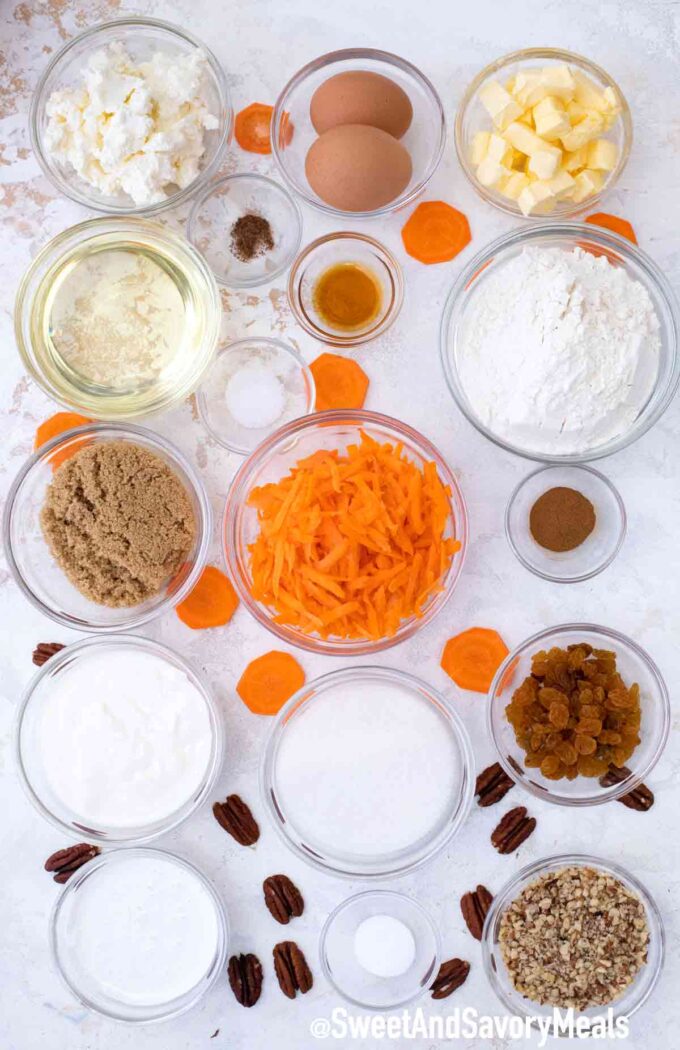 You can just pop it in the IP while you make dinner on the stove, grill, or in the slow cooker.
Since the cake is small and so easy to prepare, it is perfect to make it when you crave something sweet. The recipe is fool-proof and the pressure cooker ensures a smooth texture and absolute uniform cooking.
Who says you can't have two good things at once? This dish just proves that there is beauty in trying to mix two great things together. Also, this unique combo is very fun to make and your friends and family will truly be in for a surprise.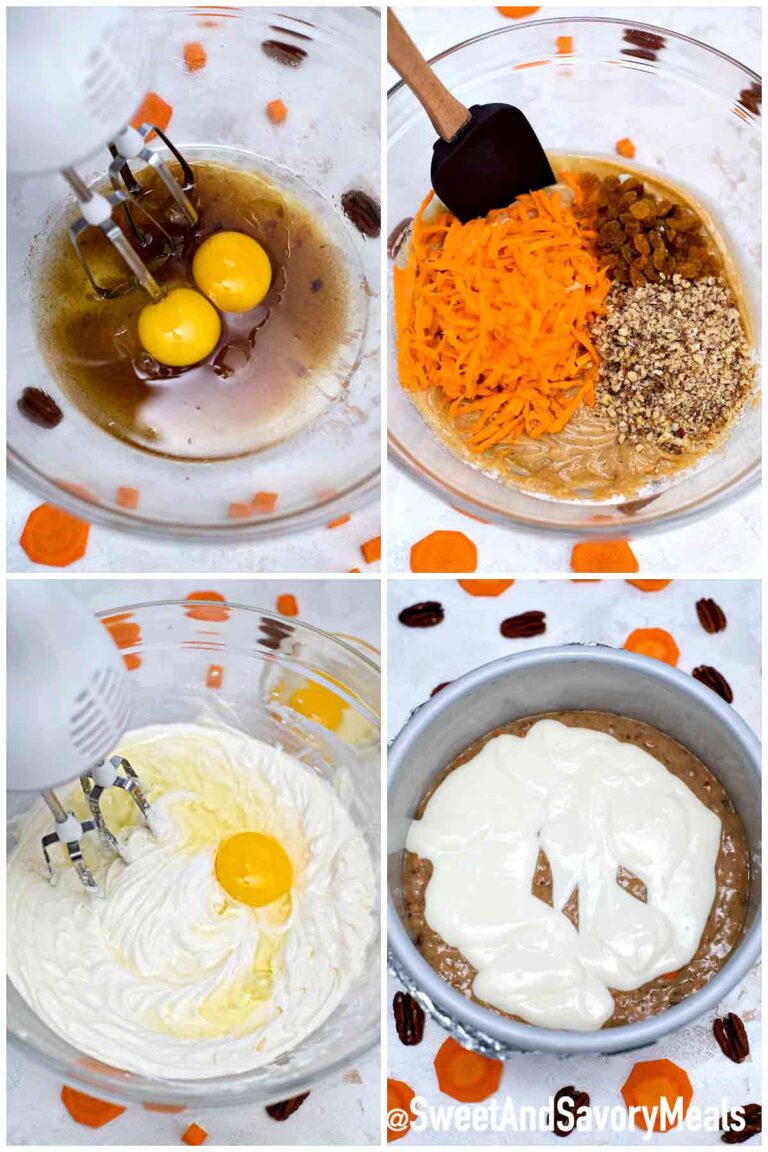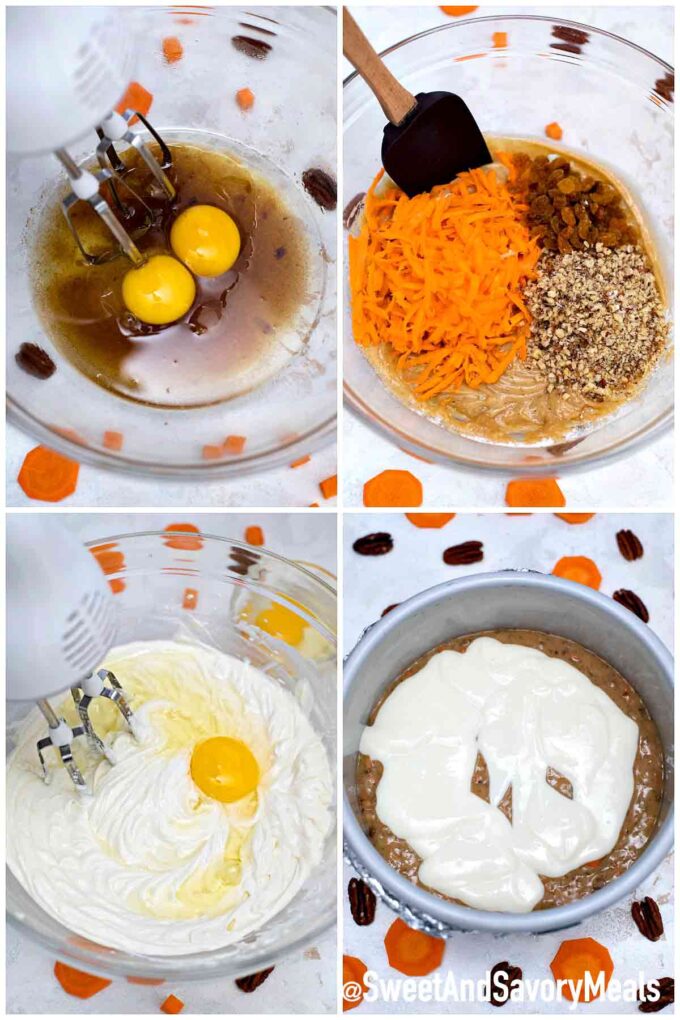 How to make Instant Pot Carrot Cake Cheesecake?
Prepare carrot cake batter. Using an electric mixer, whisk oil, and sugar. Add the eggs and vanilla extract. For your dry ingredients, prepare another bowl and toss in flour, baking soda, and salt. Also, you may want to add, depending on how much of a kick you want, some cinnamon and nutmeg for additional flavor. Mix well and then combine them together. Afterward, add your carrots, raisins, and nuts.
Make cream cheese batter. In another bowl, whip cream cheese for 3 minutes until lumps disappear before adding sugar, flour, sour cream, and vanilla extract. Afterward, add the eggs one by one.
Prepare for baking. Pour the carrot cake mixture into a 7-inch springform pan. Make sure that it is even since it is your base. Afterward, top it off by layering it with the cream cheese batter.
Arrange in the instant pot. Wrap the pan with aluminum foil. Just like for an oven water bath, but in this case, also cover the top with foil. Get a trivet and place it inside the pot. Afterward, add in a cup of water. Then, gently, place the pan on the trivet. Set for high and leave for 45 minutes, followed by Natural Pressure Release.
Chill. Once done, let it chill on the counter. Store it in the refrigerator overnight or for at least a good four hours.
Serve. Finish with cream cheese frosting on top and some caramel glaze. Serve.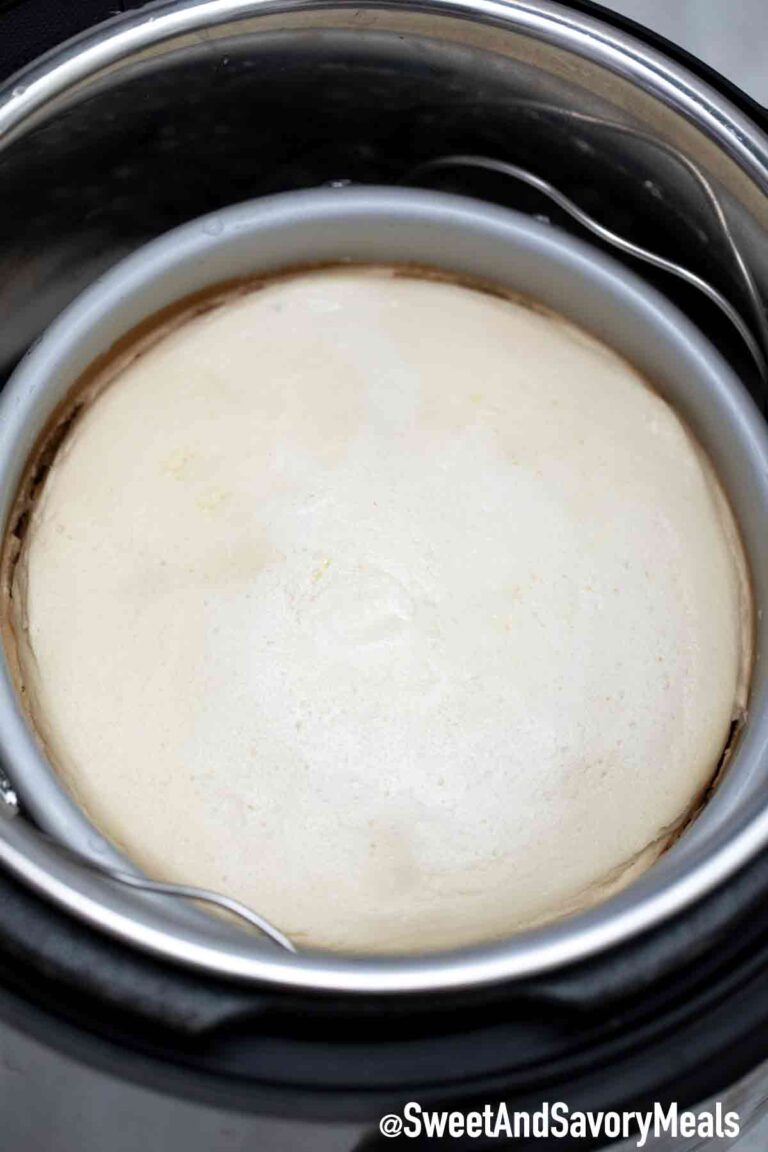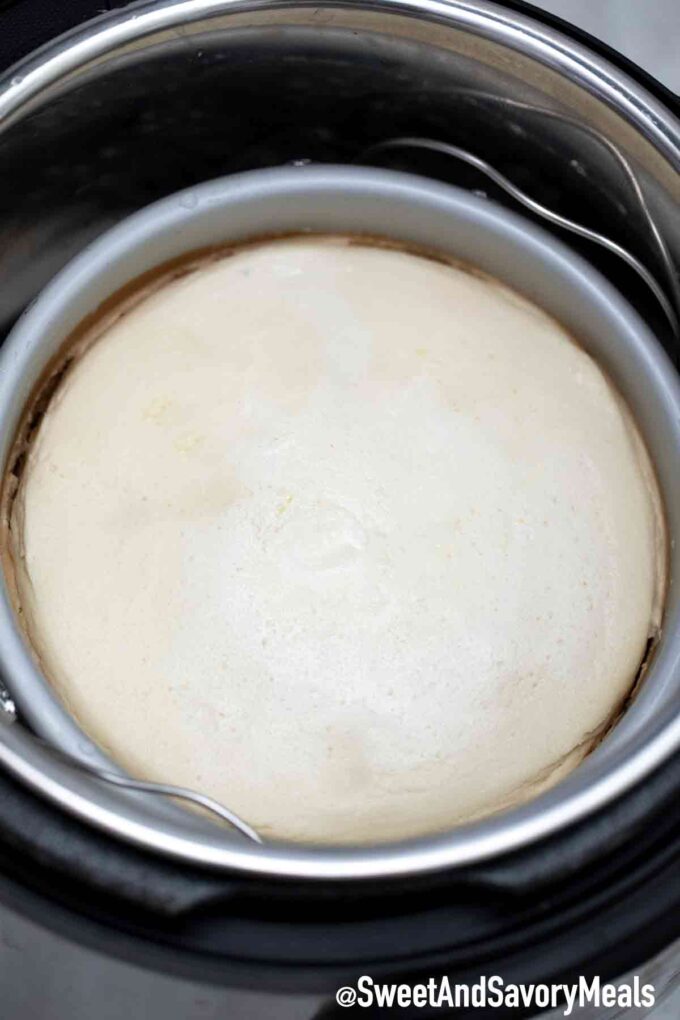 Recipe Variations:
Baked. If you only have an oven, you can still enjoy this recipe by making a water bath inside the oven. Try our baked version of this recipe so that you and your family can enjoy a slice regardless if you have an IP or not.
You can also make the Instant Pot Carrot Cake Cheesecake look more fun by swirling the mixtures. After layering the carrot mixture as the base, alternate with dollops of each mixture on top.
In addition, you can skip the raisins if you don't like them.
Add some pecans or walnuts to garnish it.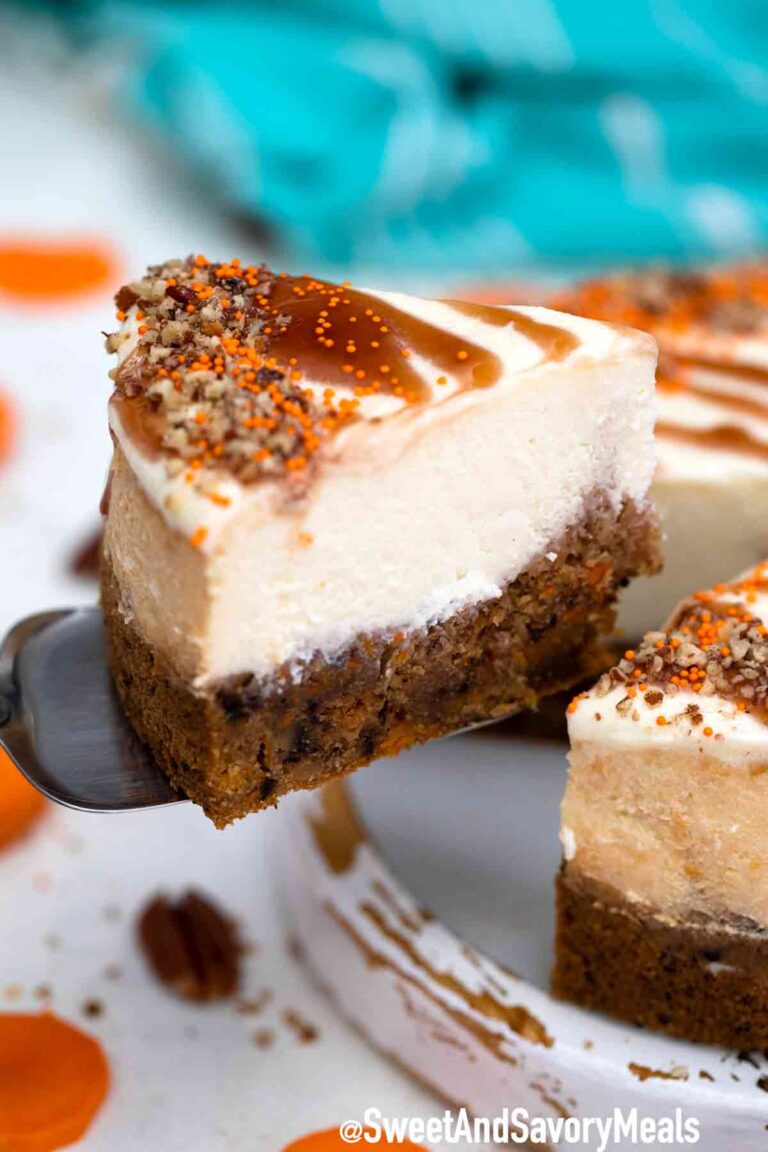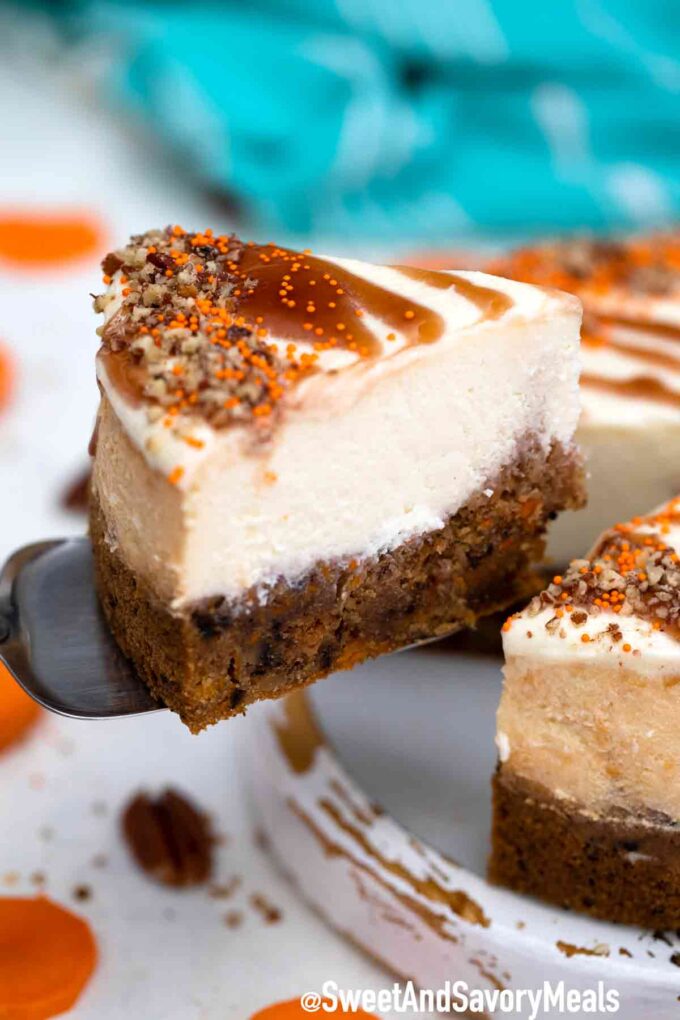 How to store Instant Pot Carrot Cake Cheesecake?
If you plan to just keep the dessert for a day or two, you can just refrigerate it by wrapping it in a plastic wrap or foil.
To store for at least 2 months, you have to wrap it tightly with an aluminum foil or put it inside a heavy-duty freezer bag. Keep in the freezer preferably away from any raw meat. Thaw before serving.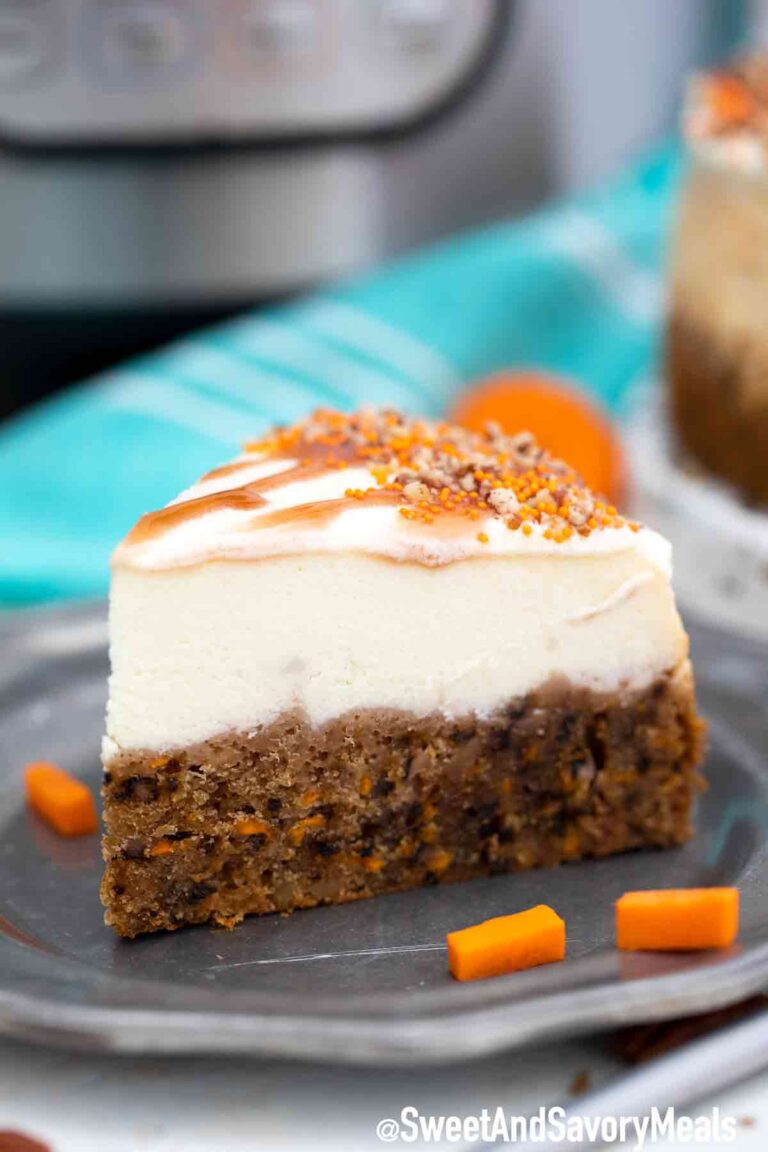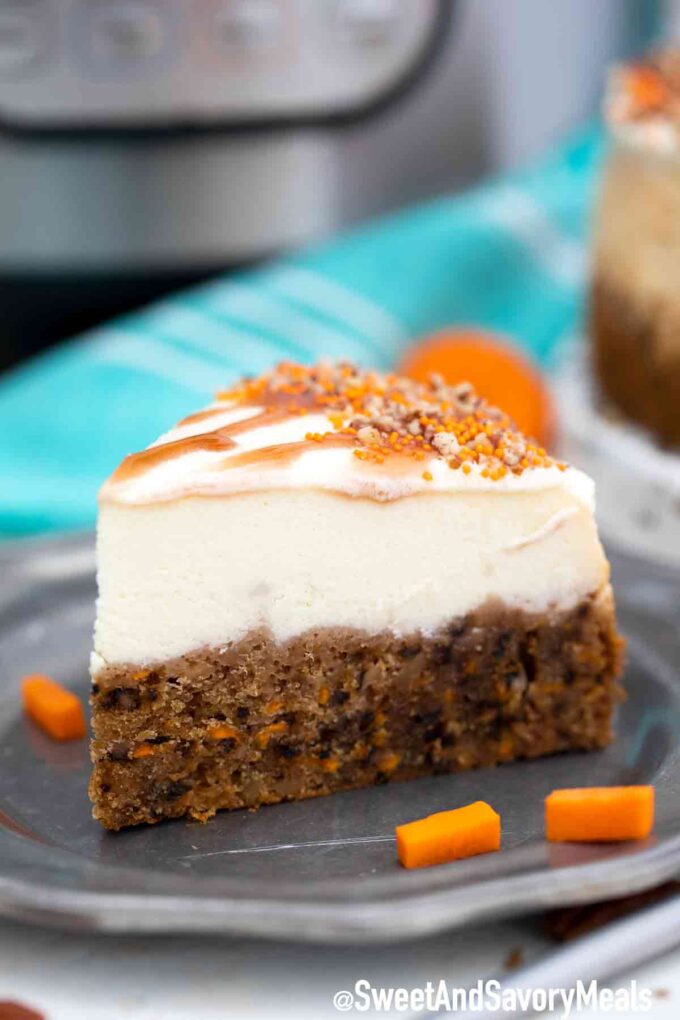 More delicious IP Cake recipes:
When it comes to dessert, cakes have always been at the top of the list for me. There are so many variations to make it and here are four of my personal favorites: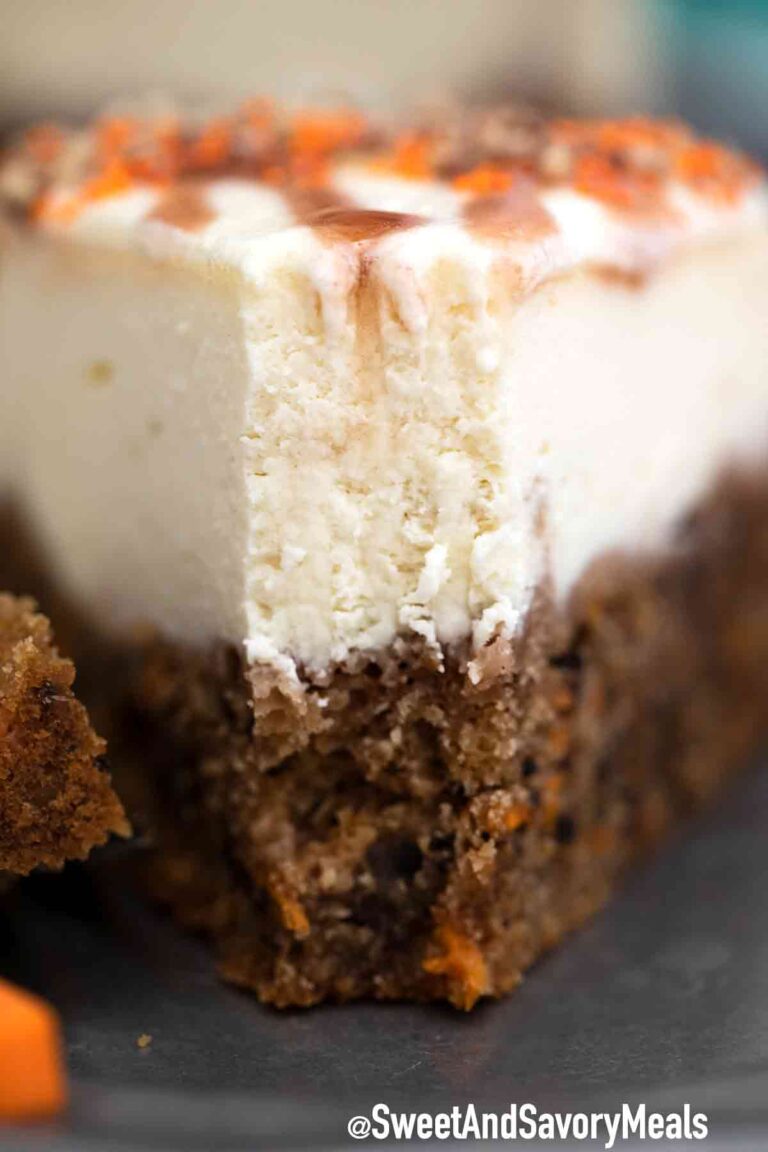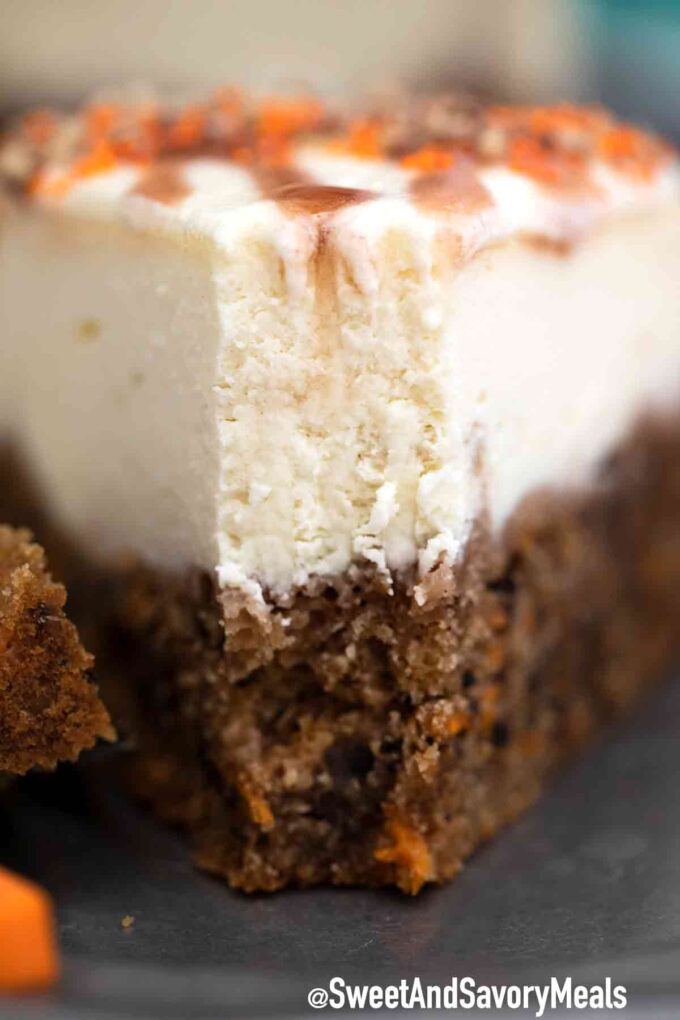 Recipe Tips:
Ensure that all the ingredients are at room temperature prior to getting started. This is quite important when baking the cheesecake.
When making the cream cheese mixture, always scrape the sides and bottom of the bowl to make sure the batter is evenly mixed and the flavor is well distributed. This also prevents air bubbles from forming.
For the toppings, you can also use pecan nuts for additional crunch.
If your cheesecake cracked for some reason, make sure to check THIS POST for very helpful tips on how to fix it.
In addition, allow the cake to cool on the counter for about 30 minutes prior to refrigerating. This will prevent it from cracking.
Save Recipe
Instant Pot Carrot Cake Cheesecake
Author: Catalina Castravet
Serves: 6 slices
Prep time:

30

minutes
Cook time:

45

minutes
Total time:

9

hrs

15

mins
Ingredients
Carrot Cake Layer:
Cheesecake Filling:
Topping (optional):
Instructions
Carrot Cake Layer:
Cheesecake Filling:
Topping:
Carbohydrates: 99 Protein: 16 Fat: 71 Saturated Fat: 46 Cholesterol: 221 Sodium: 850 Potassium: 552 Fiber: 3 Sugar: 71 Vitamin A: 4966 Vitamin C: 2 Calcium: 258 Iron: 3 Calories: 871
Save Recipe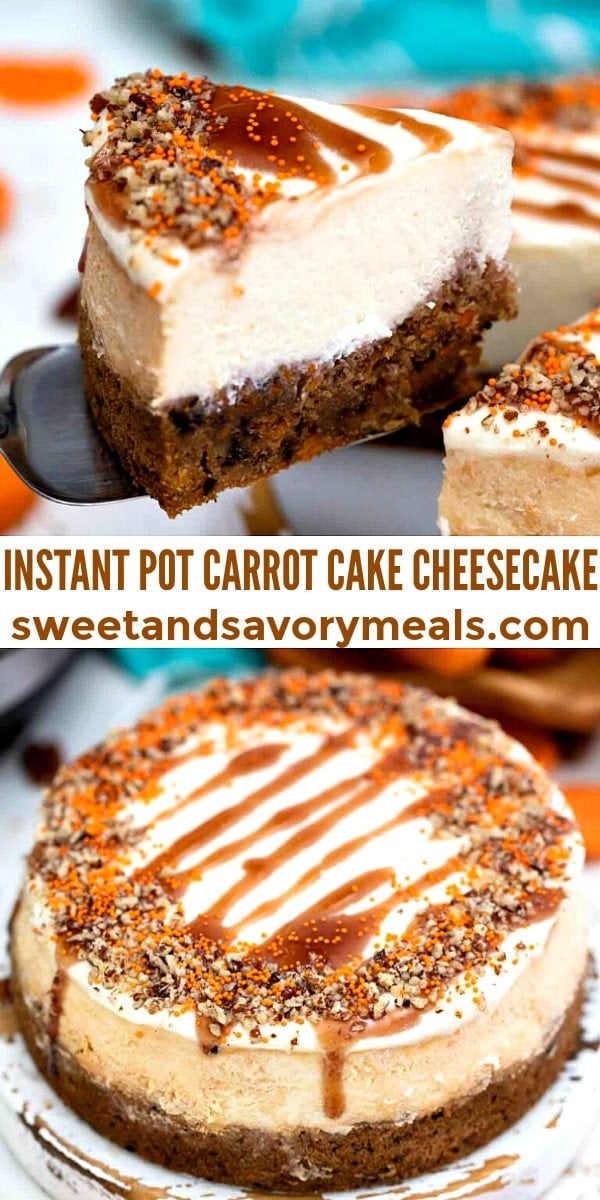 More recipes you might love