Instant Pot Key Lime Cheesecake [Video]
Instant Pot Key Lime Cheesecake is creamy, refreshing, sweet but tangy, and so easy to prepare using the pressure cooker! Watch the bonus recipe video tutorial below for easy step by step guidelines.
This is just one dish that you can make using the IP! You can also try our other easy recipes like the Cinnamon Apples, Chicken Breasts, and Black Beans!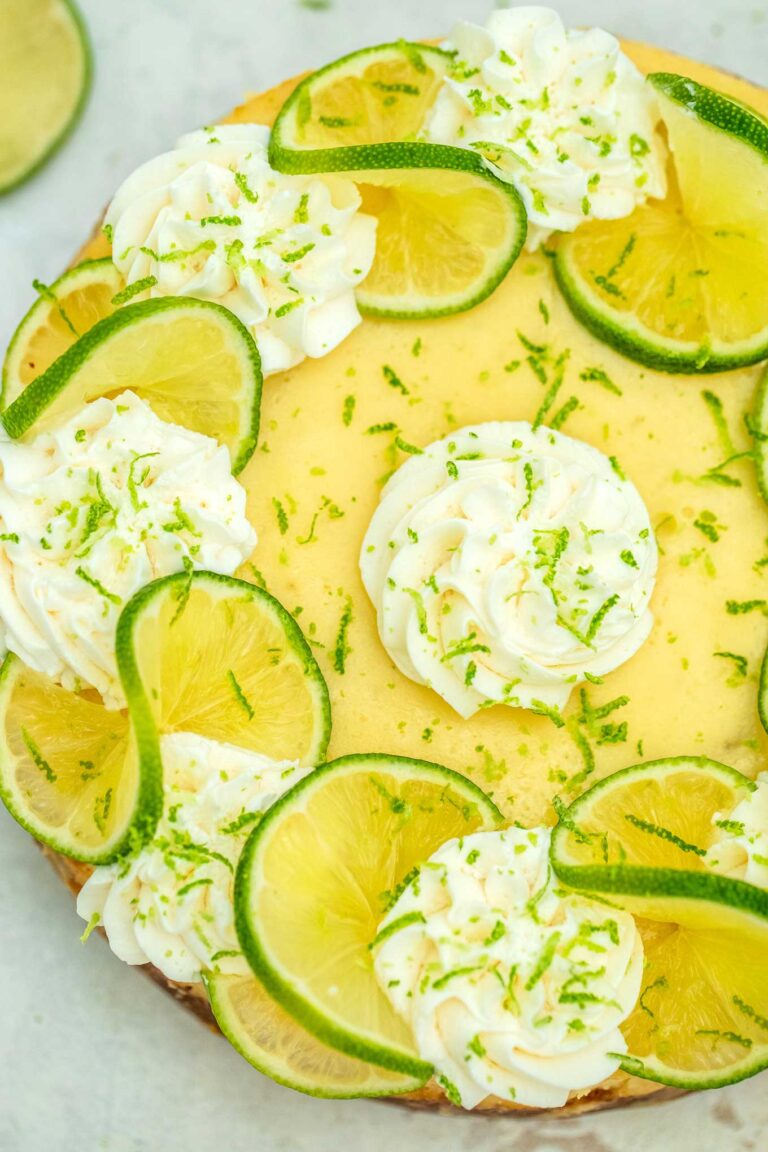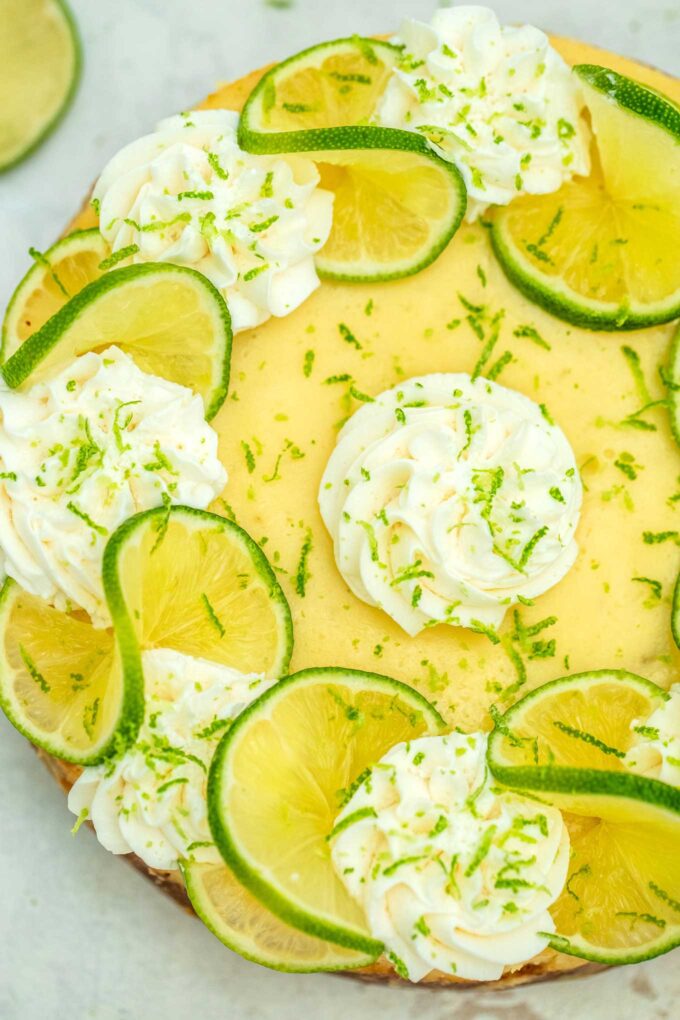 Instant Pot Key Lime Cheesecake
This Instant Pot Key Lime Cheesecake recipe results in a moist, crack-free dessert that is a perfect perk-me-up! The IP provides the much-needed water bath effect.
I am fond of citrus fruits and this is just one of the many recipes that we have for lemons and limes. In savory dishes, these fruits simply provide the balance that the dish needs and makes anything so refreshing!
Needless to say, they make perfect desserts, too, just like this recipe. The tang is a welcome balance for the tartness and the sweetness of the cheesecake itself.
The toppings prettify this dessert making it perfect for a party! Make one now and indulge!
What can you use instead on Key Lime juice?
If you can't find this kind of citrus, then, you can simply combine half a cup of fresh lime juice and a quarter of a cup of fresh lemon juice.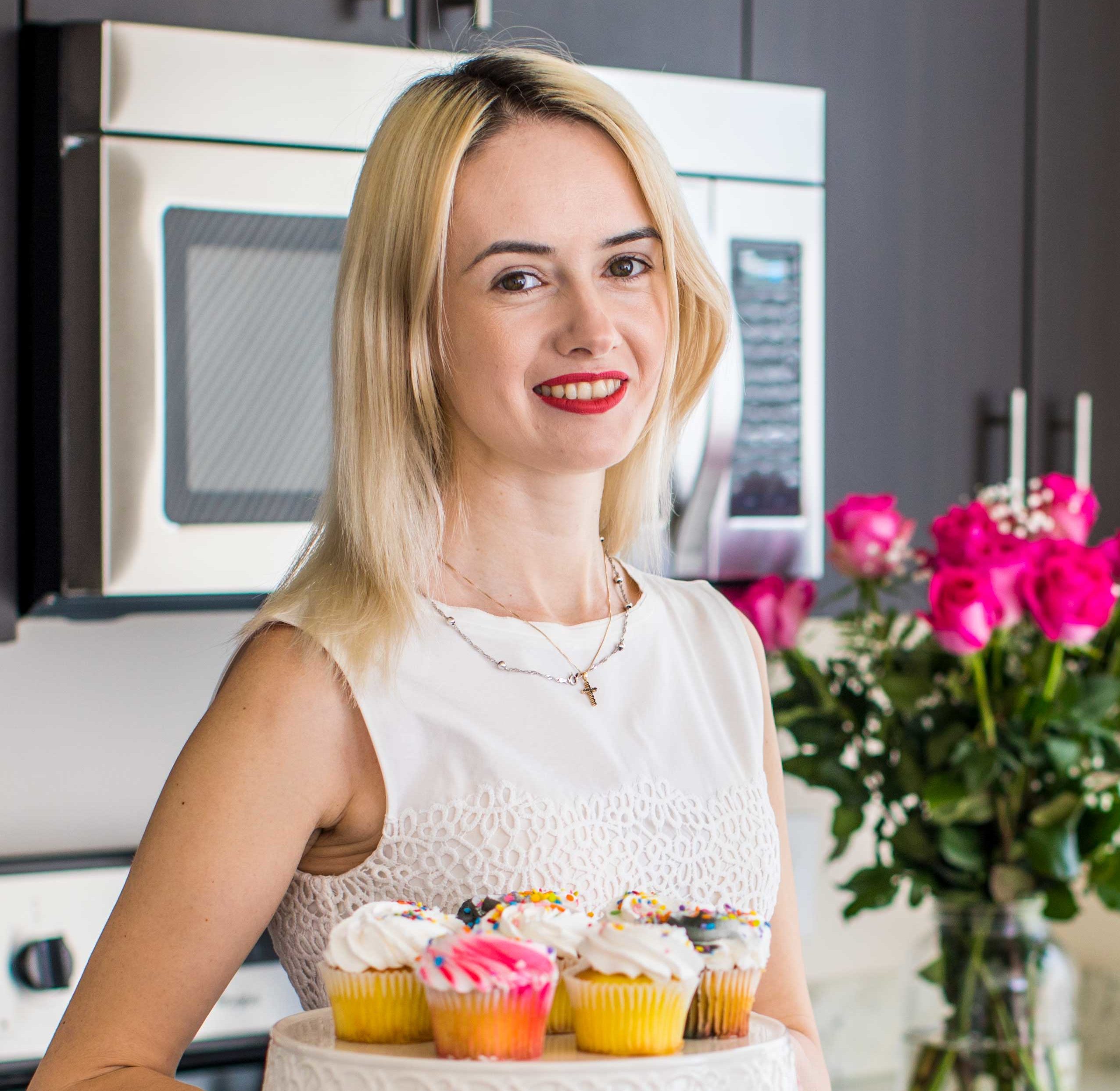 Follow us on Pinterest for more delicious recipes!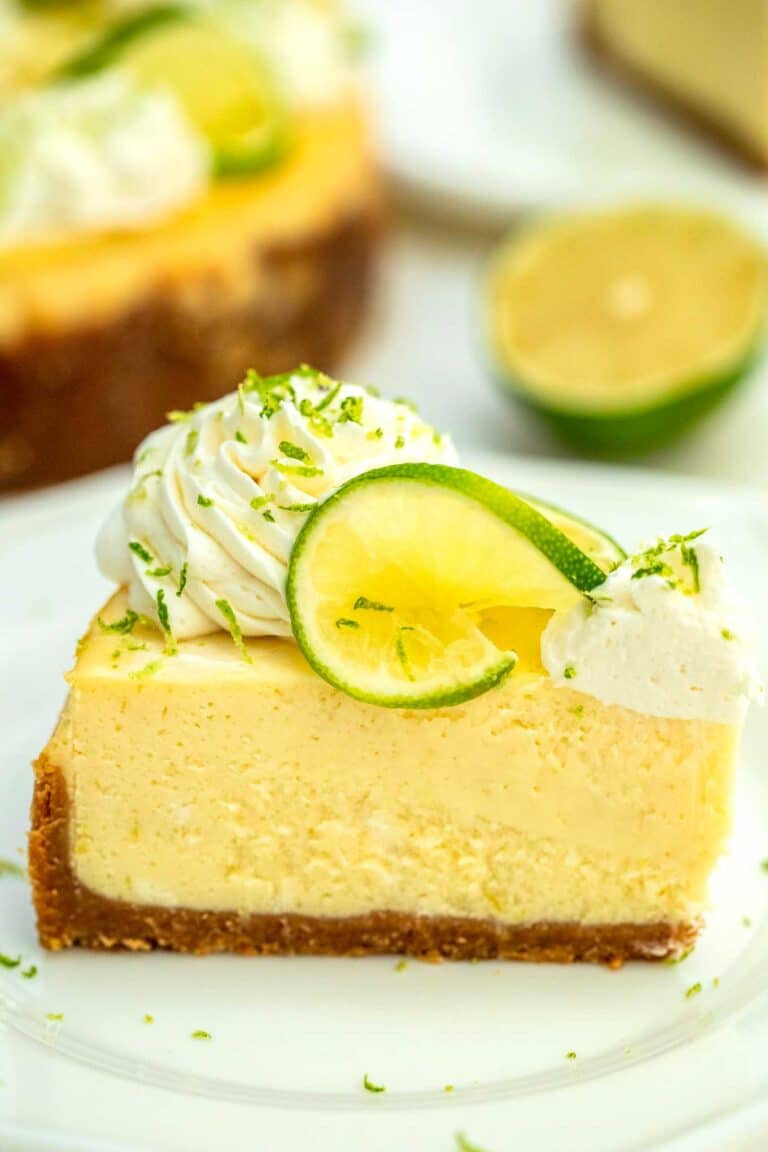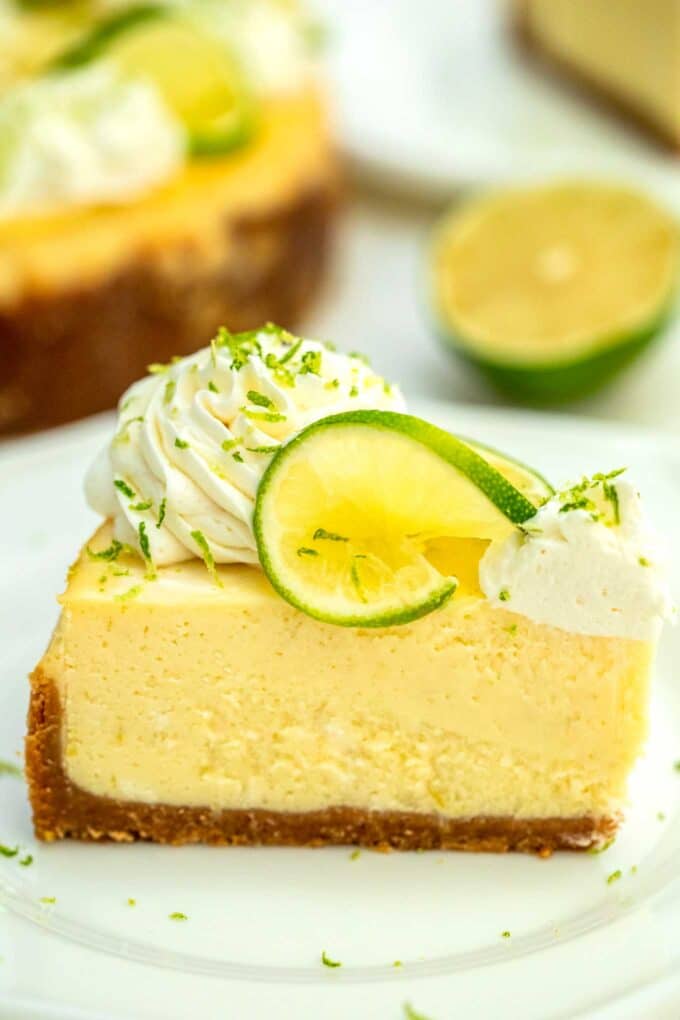 How do you make a creamy cheesecake?
To make a creamy one, the important thing to consider is to not overbake it. Keep it dense and creamy by not drying it out by overbaking. The center must still be jiggly when you finish baking.
Do not overbeat the eggs, too. If you do, too much air pockets will be created during cooking which will make the center collapse after. Hence, beat the cream cheese very well even before you start adding in the eggs.
At the same time, keep that water bath in check. But since we are using the IP in this one, then, the water bath effect comes instantly.
How do you make a Key Lime Cheesecake in the Instant Pot:
Prepare the crust: Lightly grease the pan with spray. Turn the crackers into crumbs. Then, combine all the crust ingredients in a bowl. Use a measuring cup to press down the crust into the pan firmly then, freeze.
Make the batter: Using a hand mixer, beat the cream cheese then, mix in the sugar and cornstarch. Mix in the eggs one at a time. Add the rest of the batter ingredients.
Assemble: Take out the crust from the fridge, then, pour the batter in. Put foil on top.
Cook: Place the trivet in the IP and 1 1/2 cup of water. Put the pan on top of the trivet. Manually set the pressure to high and the cooking time to 30 minutes (or add 5 minutes for if you wish to make it denser). Once it is done, perform an NPR. Then, remove the pan and uncover, and run a paring knife on the edge.
Chill before serving: Let it cool on the rack for about an hour. Then, transfer it to the refrigerator to cool further for 6 hours or overnight. Put toppings, and serve.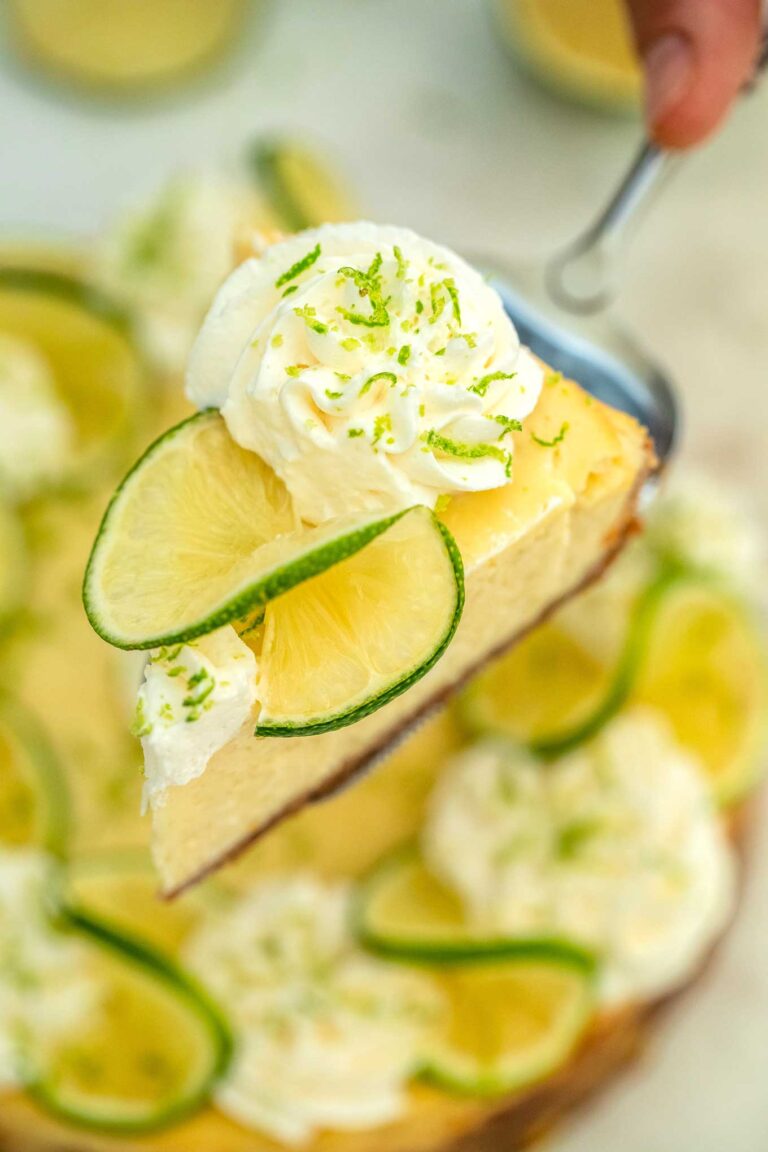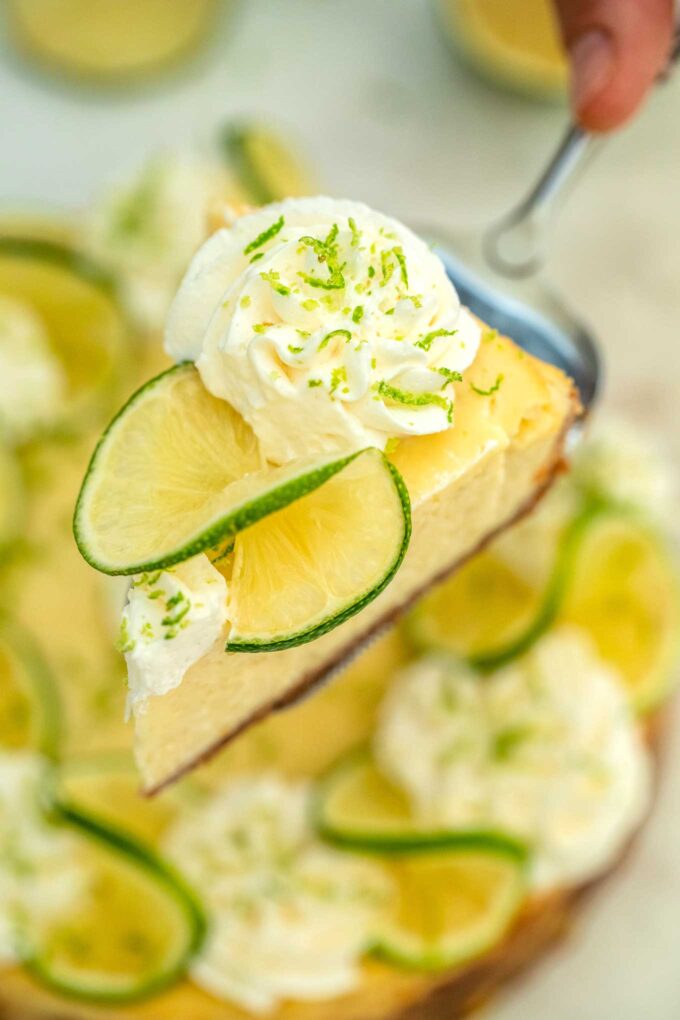 How long do you cook a cheesecake in the Instant Pot:
Aside from the 30 to 35 minutes cooking time, add another 20 to 30 minutes for allowing the pressure to dissipate on its own (NPR).
How to Store:
Refrigerate: You can put this in the fridge for up to a week, loosely covered in foil.
Freeze: You can also freeze this for up to 6 months! But do so without the whipped cream on top and wrap this tightly with foil. To thaw, transfer it to the fridge overnight.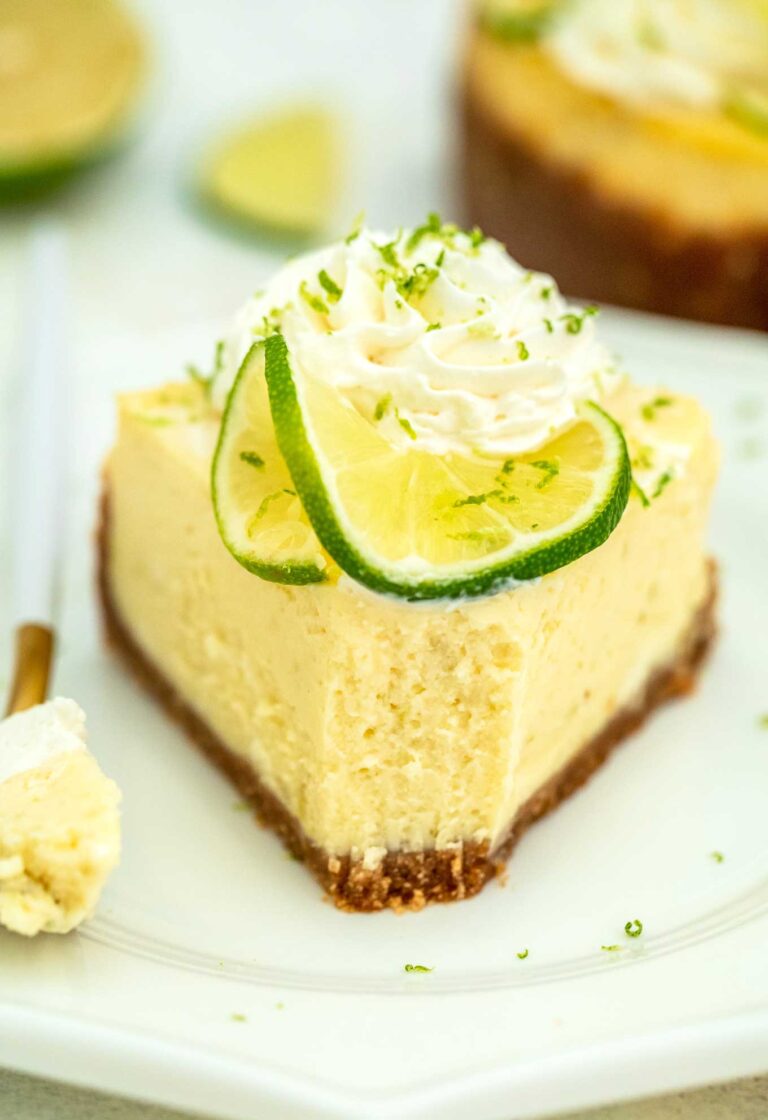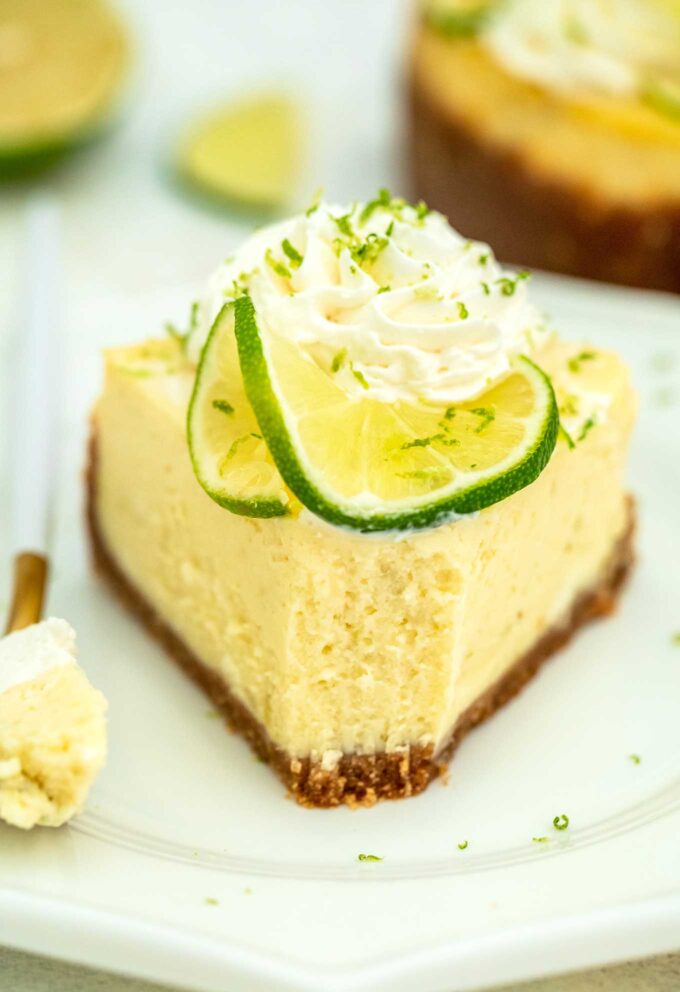 Recipe Tips:
You can make your topping, just use this homemade whipped cream recipe.
The ingredients must be at room temperature so that you can be sure to mix them smoothly.
You can use a food processor to make sure that your graham crumbs are fine.
Save Recipe
Instant Pot Key Lime Cheesecake
Author: Catalina Castravet
Serves: 8 slices
Prep time:

30

minutes
Cook time:

30

minutes
Total time:

1

hr

30

mins
Ingredients
Crust:
1 1/2 cups graham crackers crumbs
1 tablespoon sugar
1/2 teaspoon ground cinnamon
5 tablespoons unsalted butter melted
Batter:
2 8- ounce packages cream cheese (at room temperature)
3/4 cup white granulated sugar
1 tablespoon cornstarch
3 large eggs at room temperature
1/2 cup heavy cream at room temperature
1/4 cup sour cream
1 teaspoon vanilla extract
Juice of 2 limes
Zest of 2 limes
Topping:
Whipped cream
Lime slices
Instructions
Cheesecake Crust:
Lightly coat a 7x3-inch springform pan with nonstick spray and set aside.
Add all the crust ingredients to a large bowl and stir until well combined.
Press the mixture into the prepared springform pan. Press the crust and try to line the sides about to the middle of the pan edges.
Freeze for at least 20 minutes.
Cheesecake Batter:
In a large bowl using a hand mixer, beat the cream cheese until light and fluffy on medium-low speed.
Add the sugar and cornstarch and continue beating until well combined. Scrape the sides and bottom of the bowl.
Add the eggs one at a time and beat after each addition until well combined.
Add heavy cream, sour cream, vanilla extract, lime juice, and lime zest. Beat until just combined.
Remove crust from freezer and pour cheesecake batter mixture into the prepared pan. Cover the top with foil.
Cook:
Place metal trivet into a 6-qt Instant Pot and add 1 1/2 cups water.
Gently transfer the cheesecake pan on top of the trivet.
Select manual setting and adjust the pressure to high. Set time to 30 minutes. You can do 35 minutes for a denser cheesecake.
When finished cooking and the Instant Pot beeps, release pressure naturally for about 20-30 minutes.
Carefully open the pot and transfer cheesecake to a cooling rack. Let it cool for 1 hour, after which run a paring knife around the edges.
Transfer cheesecake to the refrigerator for at least 6 hours or overnight.
Garnish with whipped cream and lime slices before serving.
Calories: 433 Carbohydrates: 38 Protein: 8 Fat: 28 Saturated Fat: 16 Cholesterol: 142 Sodium: 297 Potassium: 138 Fiber: 1 Sugar: 23 Vitamin A: 1026 Calcium: 103 Iron: 1
Save Recipe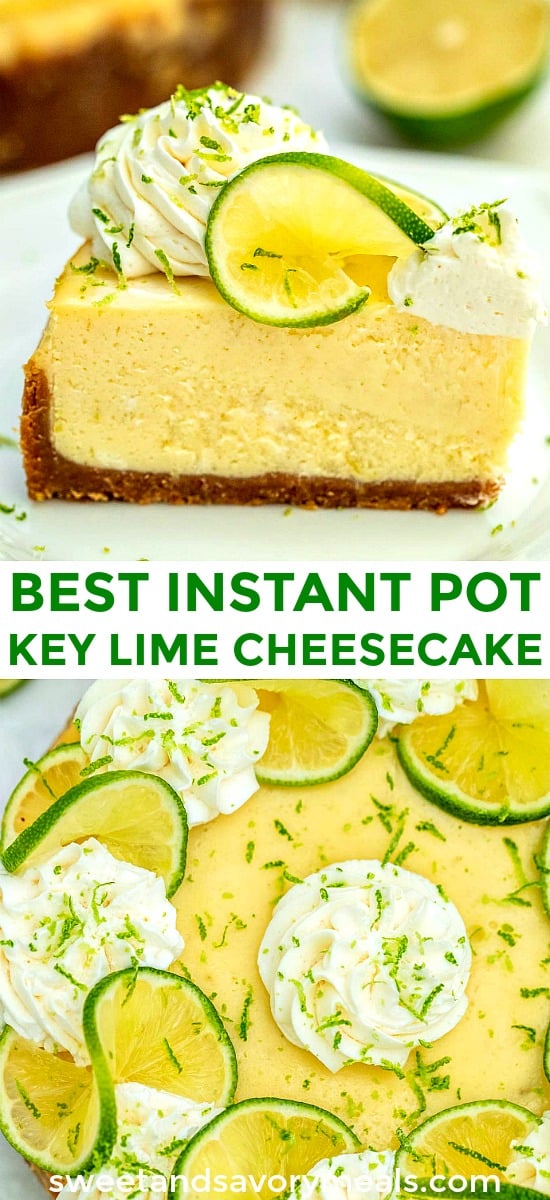 More recipes you might love