Mini Rainbow Cheesecakes With Whipped Cream [video]
Mini Rainbow Cheesecakes are incredibly easy to make and very festive. They taste delicious and would be a fun project to do with the kids. Check out the short video tutorial below and see how festive and easy this recipe is!
Cheesecake recipes are very popular on the blog, being that cheesecake is my favorite dessert. If you are a cheesecake addict like me, you should try these Pumpkin Cheesecake Bars, Chocolate Peanut Butter Cheesecake and the Cheesecake Factory Original Cheesecake copycat recipe.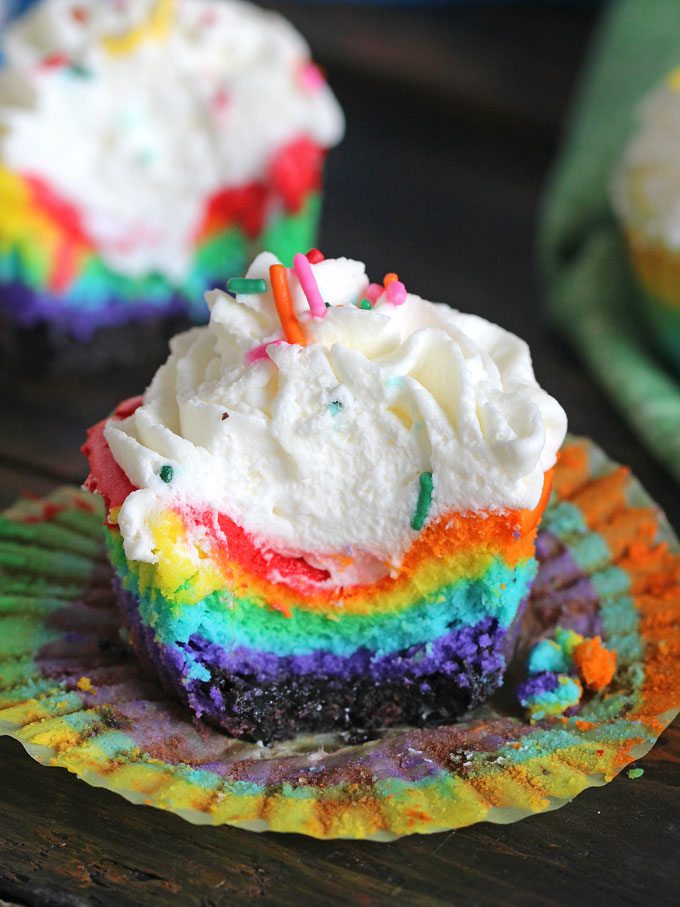 Mini Rainbow Cheesecakes
Mini Rainbow Cheesecakes are so festive and fun to make. They would be perfect for a birthday party or on St. Patrick Day. They are so colorful and festive that it is guaranteed that they will cheer up everyone. The cheesecakes have a subtle vanilla flavor and perfect creamy texture, topped with fluffy whipped cream and rainbow sprinkles. I made these together with my toddler boy and he had so much fun mixing the colors.
Why You'll Love These Mini Rainbow Cheesecakes:
Festive and colorful the cheesecakes are perfect for a special occasion.
Very easy to make and perfectly portioned, the mini cheesecakes are baked in muffin cups and are the size of a cupcake.
Endless colorful possibilities mix and match as you like.
Delicious and creamy texture of a NY Cheesecake.
So good that kids and adults will love them equally.
The perfect project to do with the kids, everyone will have so much fun.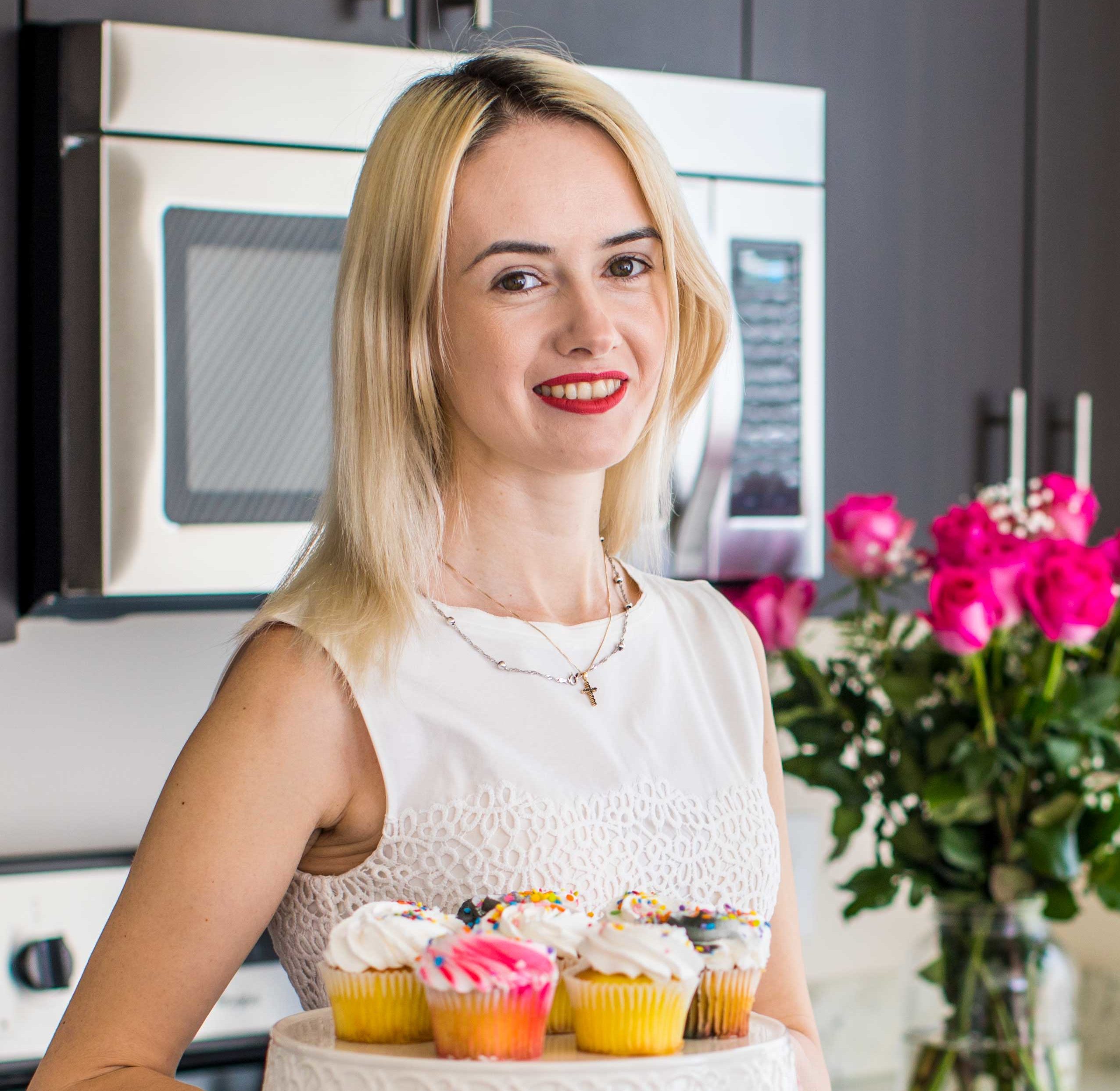 Follow us on Pinterest for more delicious recipes!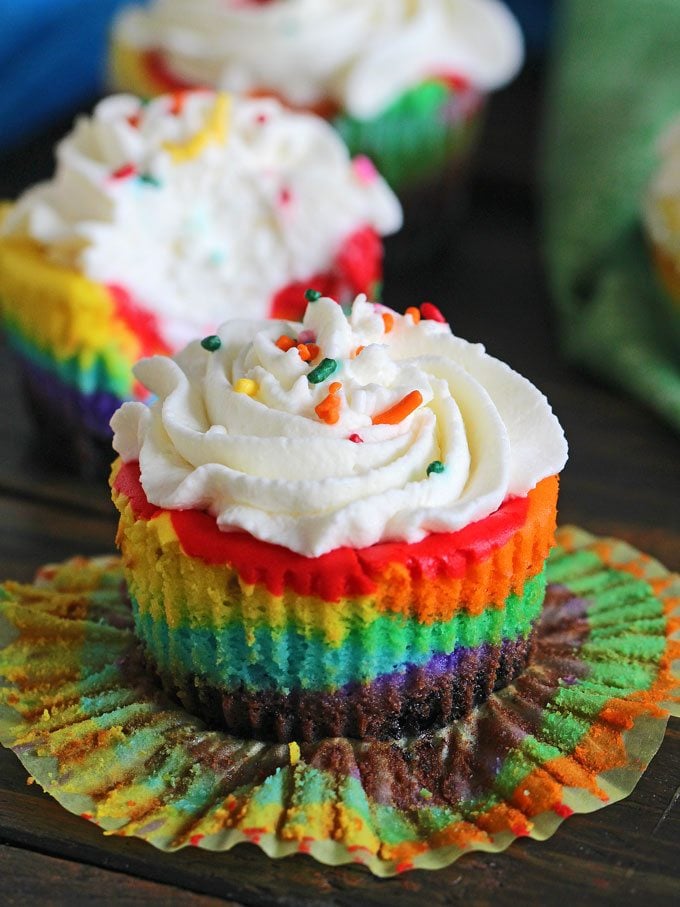 Mini Rainbow Cheesecakes Recipe Tips:
I used a foolproof NY Cheesecake recipe for these Mini Rainbow Cheesecakes that is creamy, rich and delicious.
Adding the sour cream will make the cheesecakes heartier and extra creamy.
Using gel food color is essential, as it won't add much extra liquid to the batter; a few drops will create gorgeous colors.
Don't open the oven door when baking; open it when you are ready to check if the mini cheesecakes are done.
If by any chance your cheesecakes got some cracks or sunk in the middle, don't worry, the whipped cream topping will fix these little imperfections.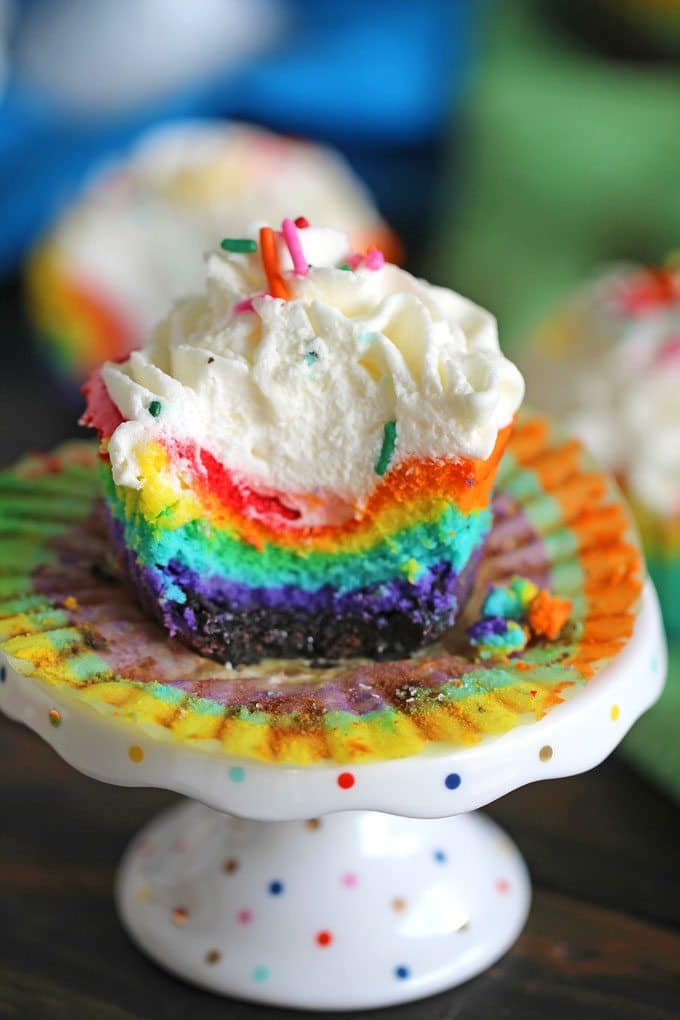 Tools/Ingredients I used to make this Mini Rainbow Cheesecakes Recipe:
Save Recipe
Author: Catalina Castravet
Serves: 16 cupcakes
Prep time:

30

minutes
Cook time:

25

minutes
Total time:

55

mins
Ingredients
Crust:
1 1/2 cup graham cracker crumbs
4 1/2 tablespoons unsalted butter (melted)
Cheesecakes:
3 packages cream cheese (8 ounces each, room temperature)
1 cup white granulated sugar
1/2 cup milk (room temperature)
3 eggs (room temperature)
3/4 cup sour cream (room temperature)
1 tablespoon vanilla extract
1/4 cup all-purpose flour
5-8 drops purple gel food color
5-8 drops blue gel food color
5-8 drops green gel food color
5-8 drops yellow gel food color
5-8 drops orange gel food color
5-8 drops red gel food color
Whipped Cream:
2 cups heavy whipping cream (cold)
2 tablespoons sugar
1 teaspoon vanilla extract
2 tablespoons rainbow sprinkles
Instructions
Preheat oven to 350º F. Position oven rack in the middle.
Crust:
Line a regular sized muffin pan with 12 muffin liners. Plus 4 more if you have a small 6 cups muffin pan.
In a mixing bowl, combine the graham cracker crumbs and melted butter until it resembles coarse sand.
Add 1 tablespoon of graham cracker crumbs into each muffin cup.
Use the back of a measuring spoon to press the crumbs down firmly into the muffin cups.
Bake the crust for 5 minutes. Remove the pan from the oven and allow it to cool while prepping the cheesecakes.
Cheesecakes:
In a large bowl, using a high speed mixer, mix cream cheese with sugar until smooth. Stop and scrape the sides and bottom of the bowl once during the process.
Blend in milk, mix in the eggs one at a time, mixing just enough to incorporate.
Mix in sour cream, vanilla extract and flour until smooth. Stop and scrape the sides and bottom of the bowl once.
Divide the cheesecake filling evenly between 6 bowls, I used soup bowls.
Stir in the gel food colors into each one, add a few drops, stir using a spatula and if needed add more. Stir until well combined.
Add the colored cheesecake batter to the muffin cups, about 3 - 4 tablespoons per muffin cup. Add the colored cheesecake batter in the following order: purple, blue, green, and yellow, orange, red. Make sure you divide it evenly and have enough of each color for all the muffin cups.
Bake for 15-20 minutes or until the center of the cheesecake is only slightly jiggly.
Allow the cheesecakes to cool to room temperature before topping with whipped cream.
Whipped Cream:
Add heavy whipping cream to a cold bowl (I usually refrigerate it for 15 minutes), add sugar and vanilla extract and whisk on slow - medium speed, gradually increasing to high speed. Mix until soft peaks form and the whipped cream holds its shape.
Add the whipped cream to a pipping bag fitted with a star tip and frost the cheesecakes. Garnish with rainbow sprinkles.
Place cheesecakes in the fridge for at least 2-3 hours to chill before serving.
Enjoy!
Calories: 355 Carbohydrates: 27 Protein: 6 Fat: 24 Saturated Fat: 14 Cholesterol: 109 Sodium: 314 Potassium: 182 Fiber: 0 Sugar: 20 Vitamin A: 895 Vitamin C: 0.2 Calcium: 117 Iron: 0.7
Save Recipe
More recipes you might love