Last updated on June 18th, 2021 at 10:06 pm
Green Smoothie Bowl is everyone's go-to healthy and filling breakfast or snack. With fresh and flavorful ingredients blended together, who said healthy can't be delicious?
Do you want to start a healthier lifestyle? Begin your journey with the following recipes for delicious options: Rainbow Roasted Vegetables, Boiled Chicken, and Healthy Pancake.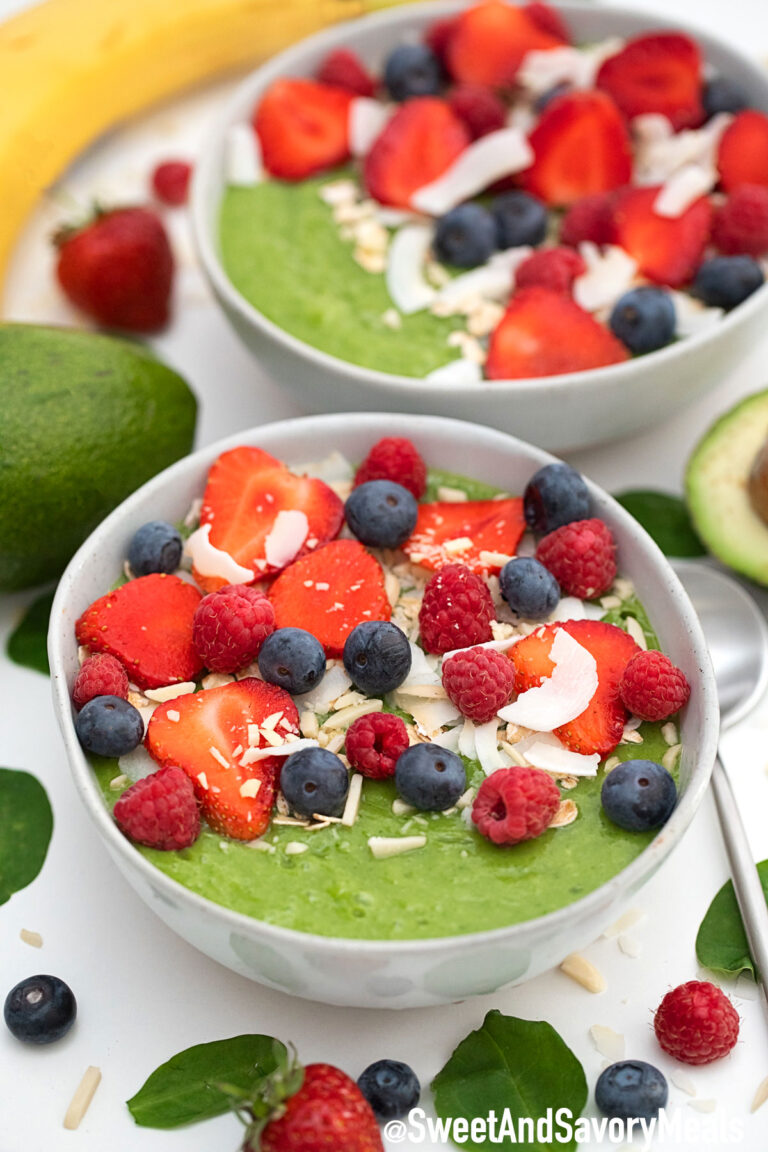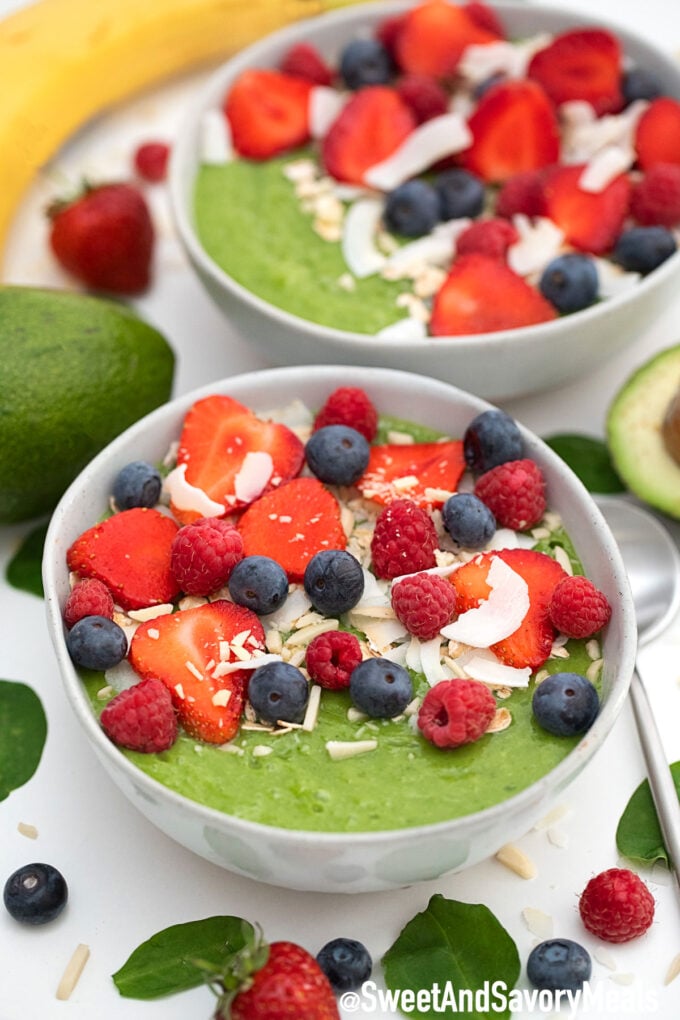 Healthy Green Smoothie Bowl Recipe
Green Smoothie Bowl is the top option for those looking for a fulfilling and nourishing meal. Loaded with fiber, mineral, and healthy fats, this recipe is great to boost your energy levels.
Most of the time, parents have a hard time letting kids eat their veggies. This dish is a great alternative to make sure they get their necessary nutrients.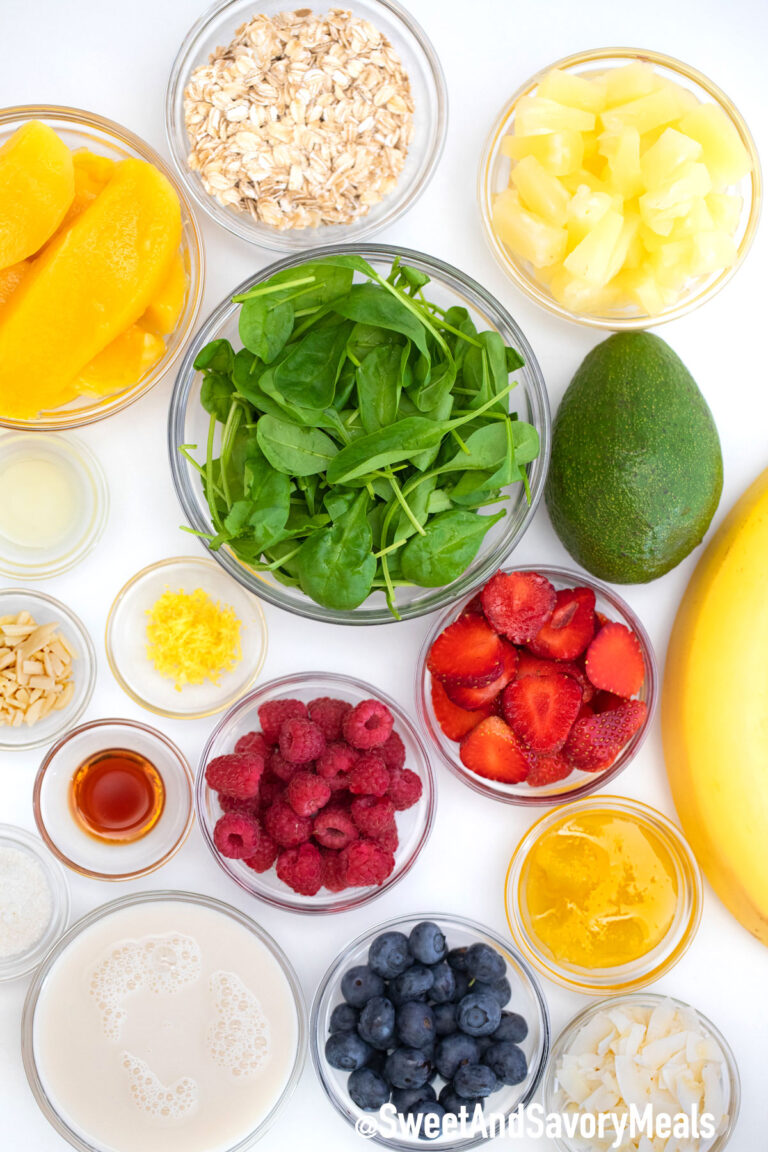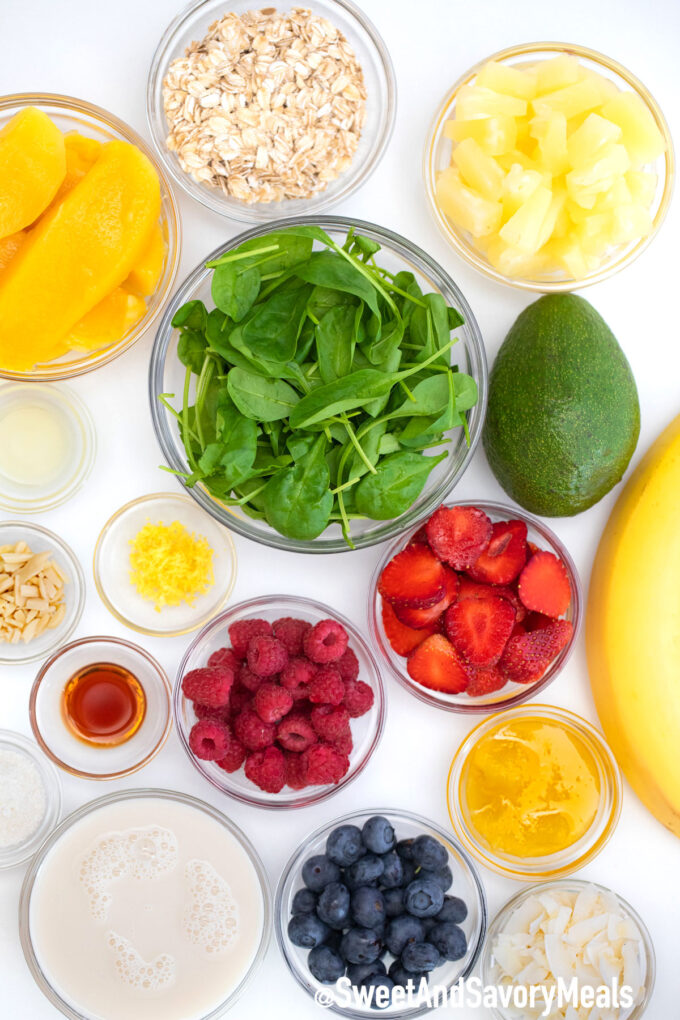 Plus, this drink is so easy to make as it takes only less than 5 minutes. So, if your craving for something healthy but too lazy to cook, this one should be your go-to dish.
I absolutely love this recipe because it is so versatile and customizable. I usually place fruits depending on what is in season in addition to what is in season and it just makes it tastier.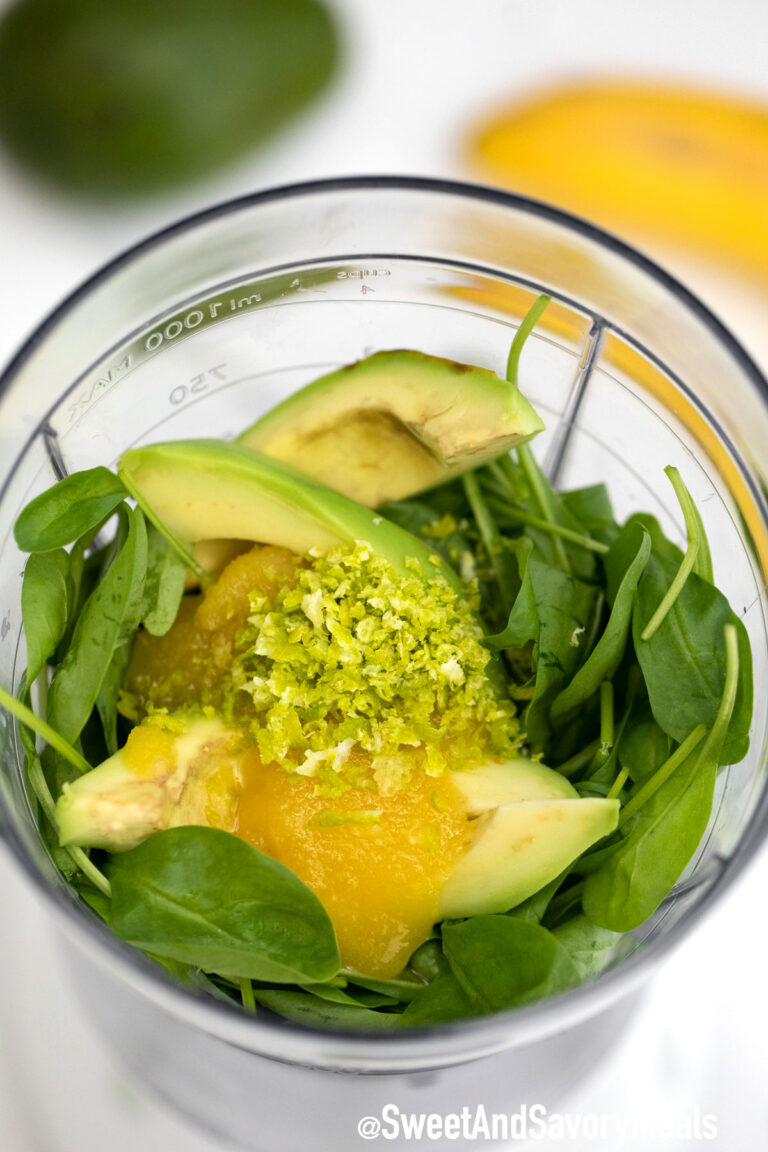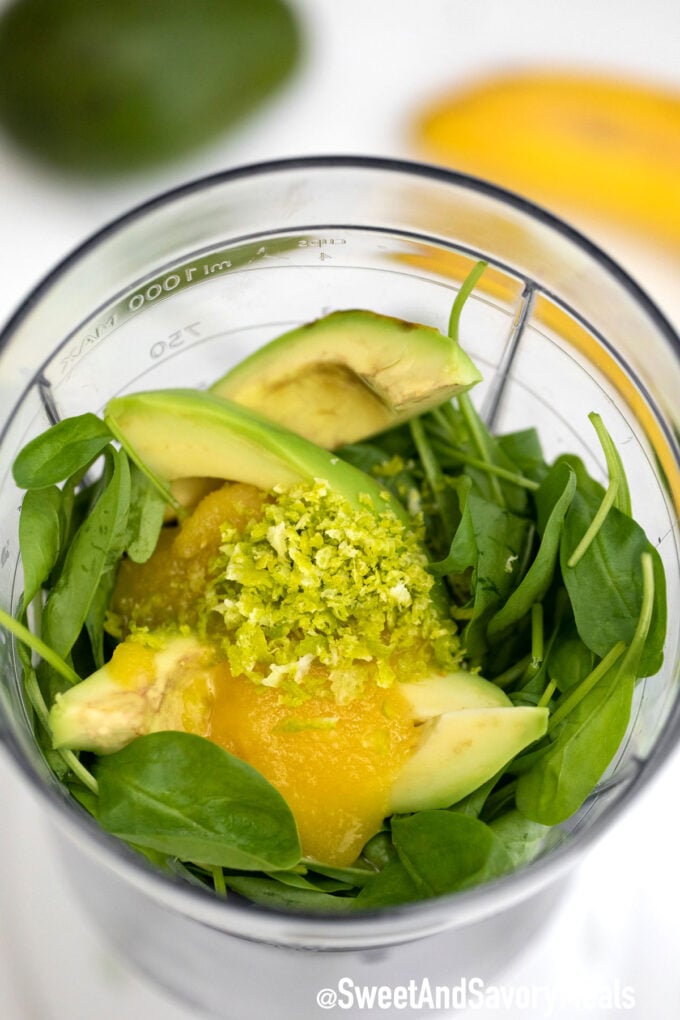 How to make Green Smoothie Bowl
Load up the blender. Place the following ingredients in order: coconut milk, spinach, avocado, honey, vanilla extract, lime juice, lime zest, banana, pineapple, and mango. Add half a cup of water afterward.

Mix ingredients in the blender. Once all ingredients are placed inside, start the blender on low speed. Scrape the sides occasionally while gradually speeding it up until it becomes thick and creamy.

Assemble then serve. Once it reaches the desired consistency, place it in a bowl and top with preferred toppings. Afterward, serve.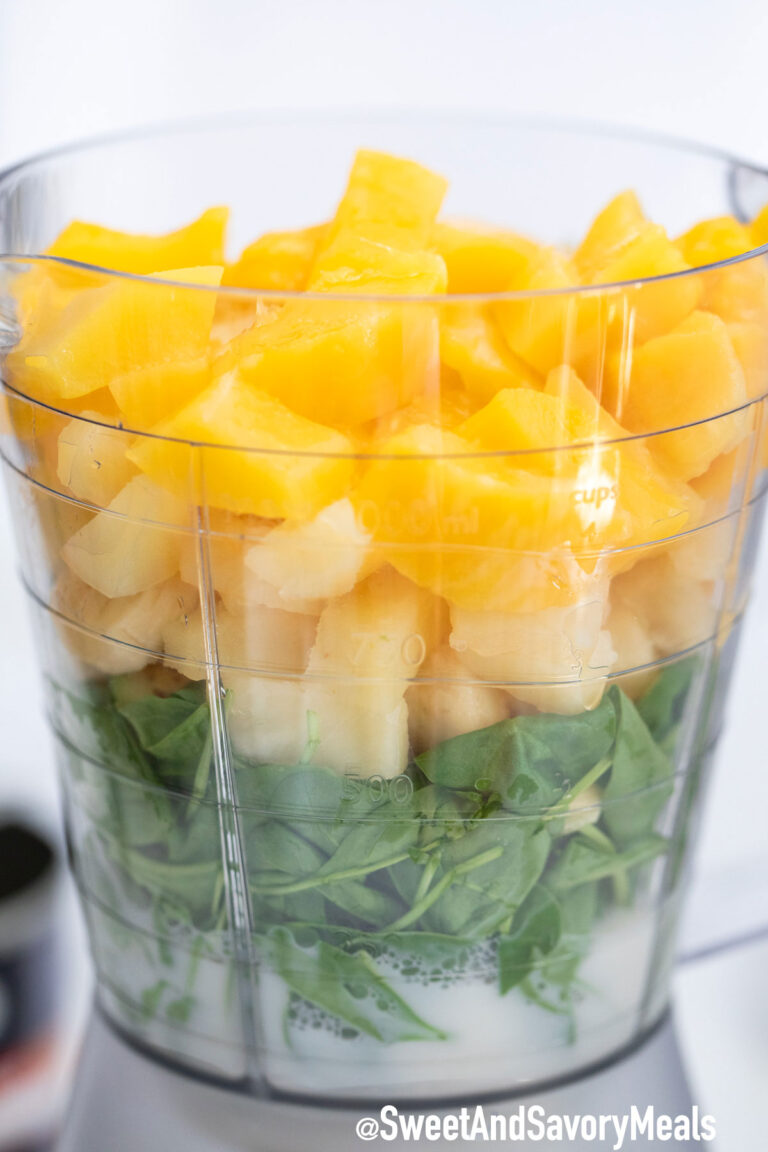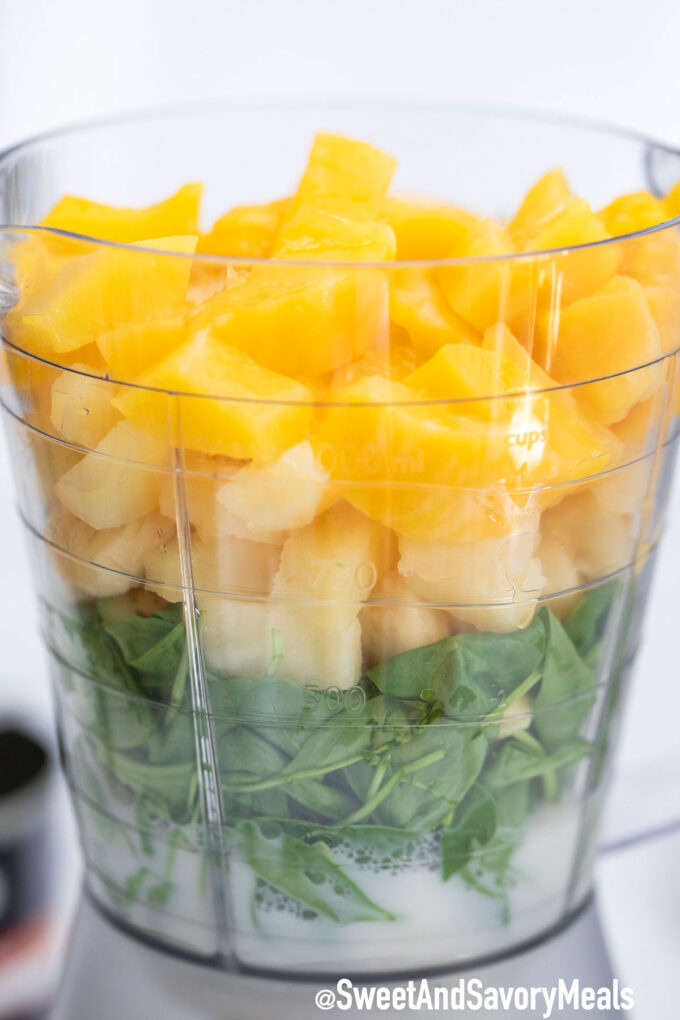 How do you thicken a Smoothie bowl?
To get that thick consistency, make sure to use frozen fruits and don't overpour water or other liquids. Adding chia or flax seeds not only helps thicken it but provides additional nutrients.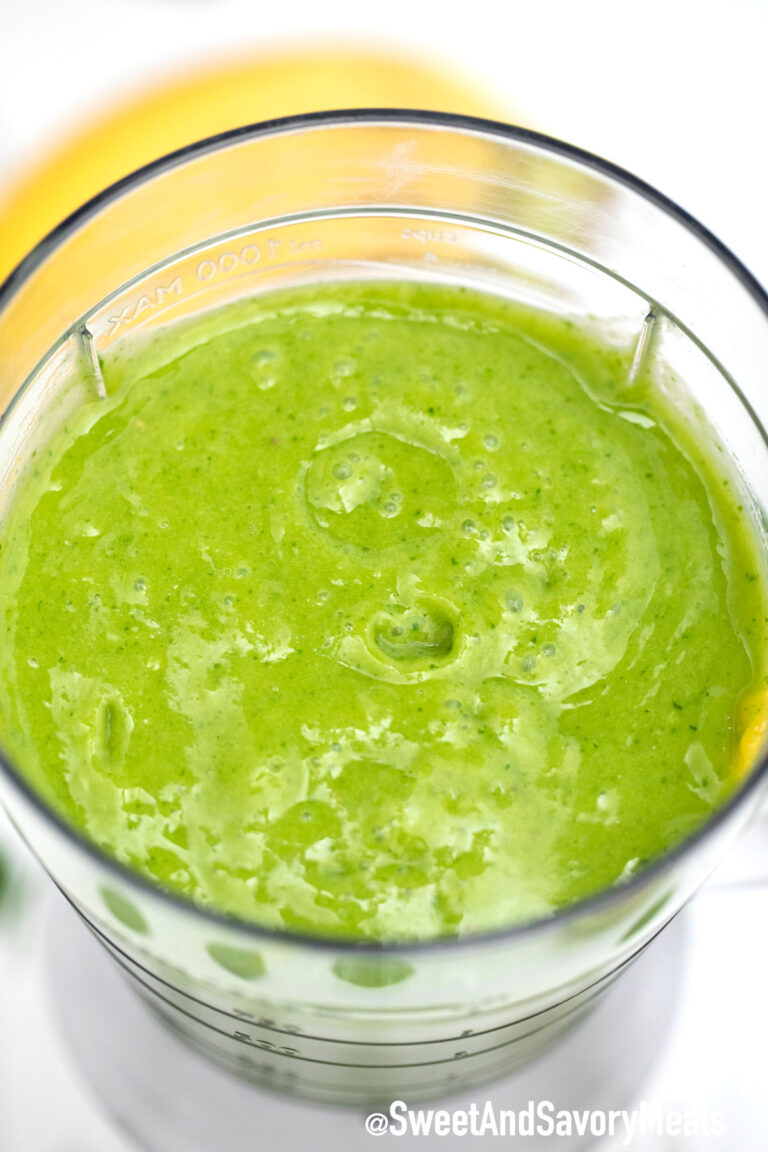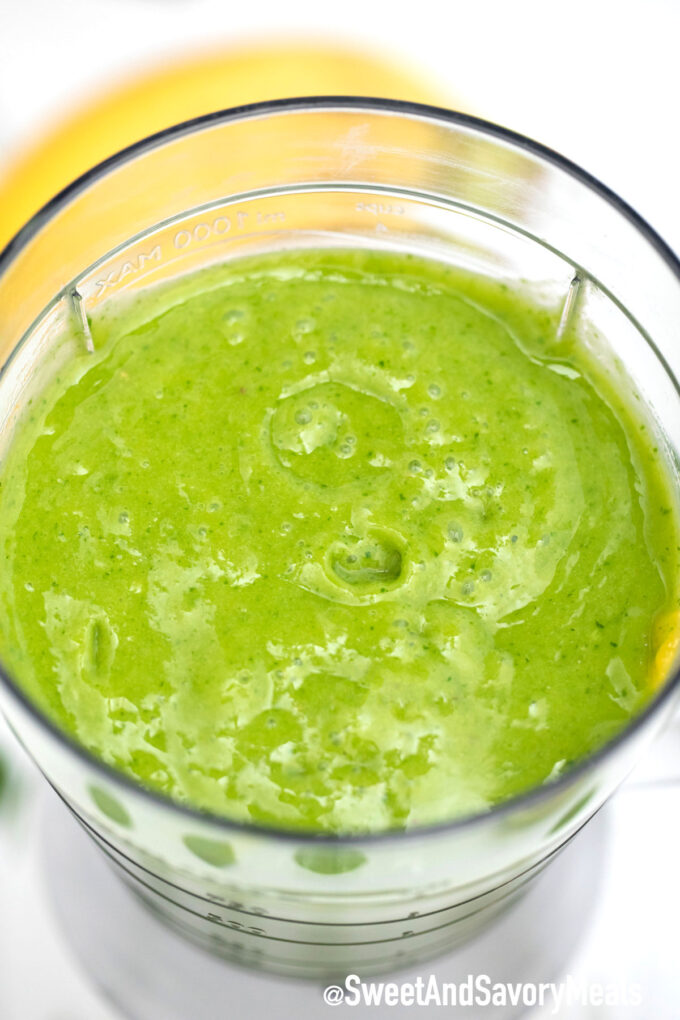 Best Smoothie Bowl Toppings:
Sliced fruits: Banana, pineapple, plum, coconut, avocado, and mango.
Berries: Raspberry and blueberry.
Seeds: Flax, chia, and hemp.
Nuts: Granola, almond, pecan, and macadamia.
Herbs: Mint, cinnamon, parsley, and basil.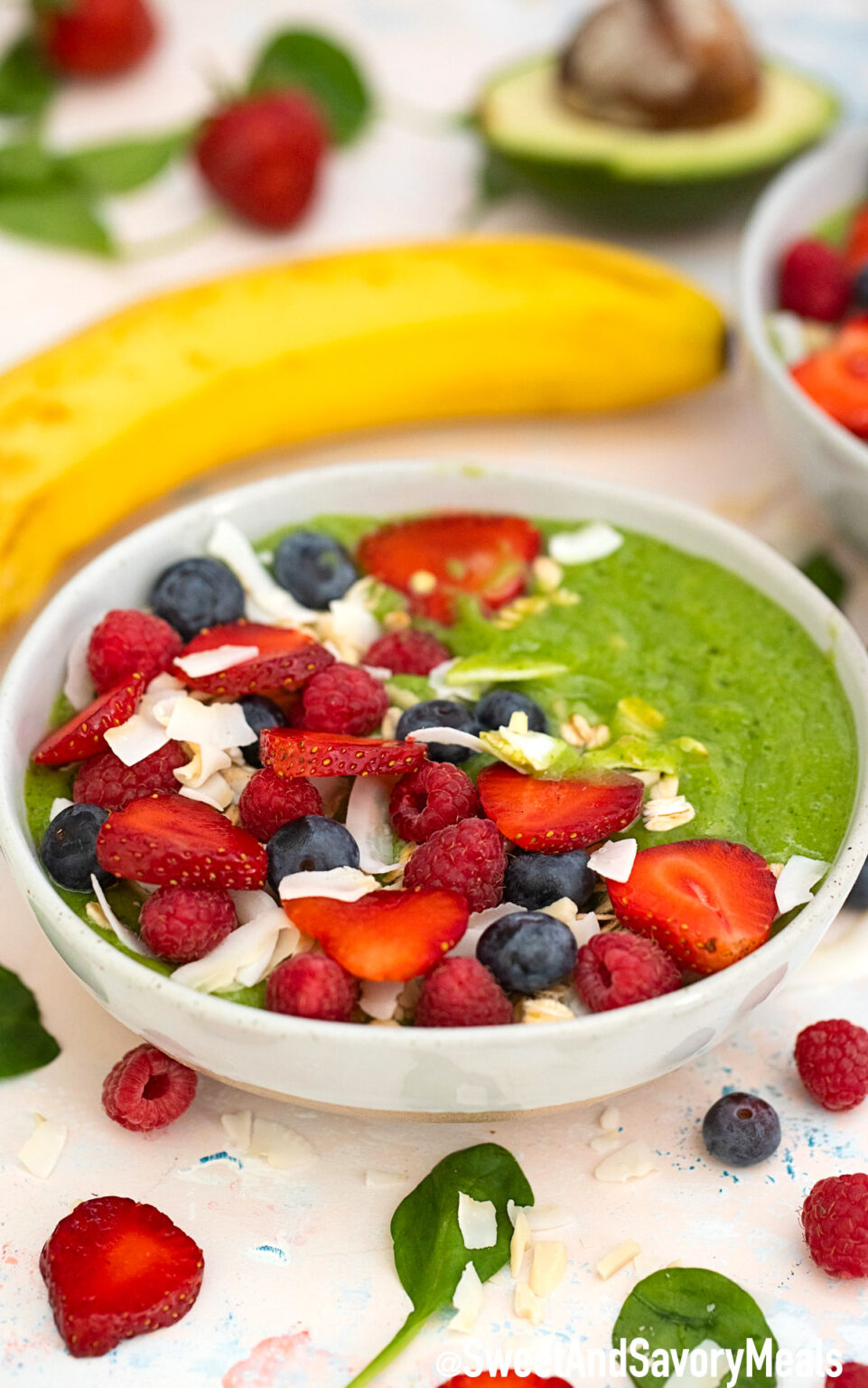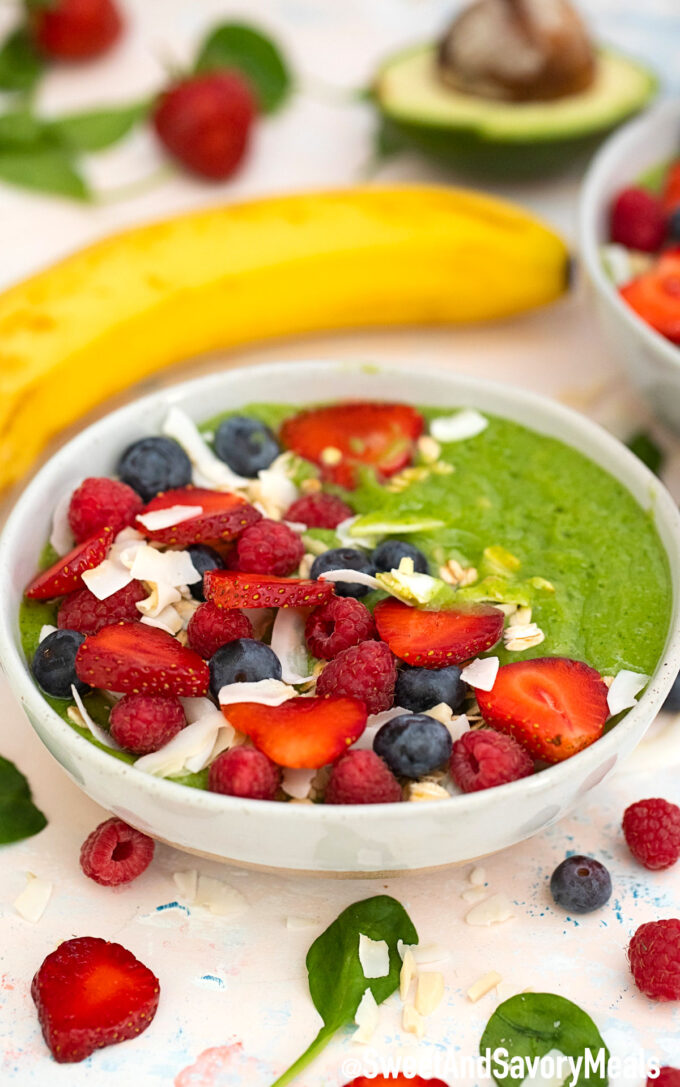 Can you make it in advance?
Absolutely. This dish is great for those who prefer to meal prep and save time. To store this, you may want to place the solid ingredients in a zipper storage bag for convenience.
However, you can also make it and store it in a glass container with a tight lid before placing it in a fridge. If you find it watery, just add frozen fruits to increase thickness.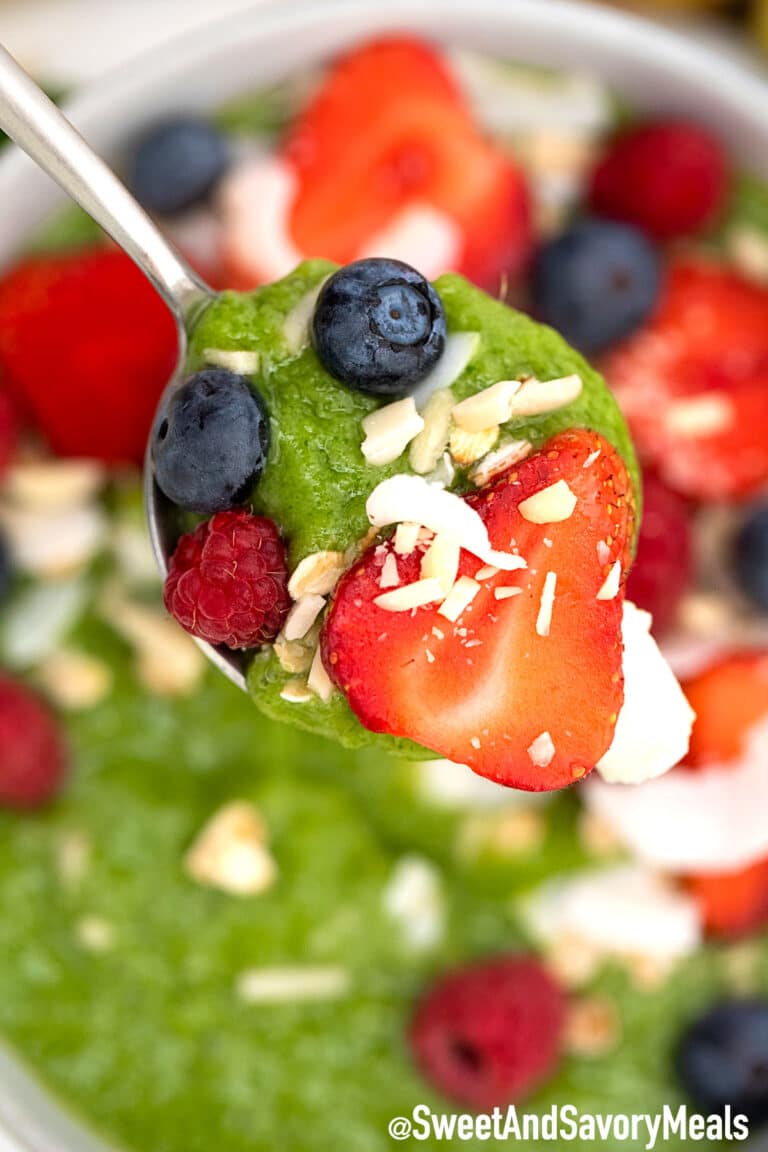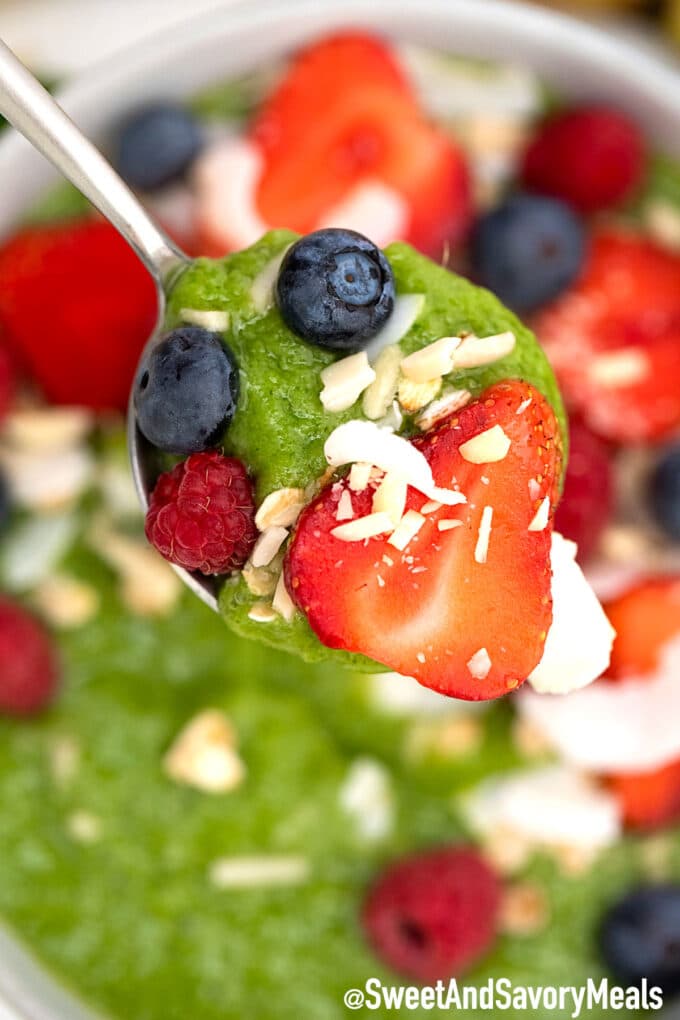 More delicious smoothie recipes:
If you can't get enough of this healthy drink, you may want to take a look at these other equally delicious recipes to help jumpstart your day:
Serving this drink during a summer event? Pair it with these delicacies to make a refreshing and revitalizing combo: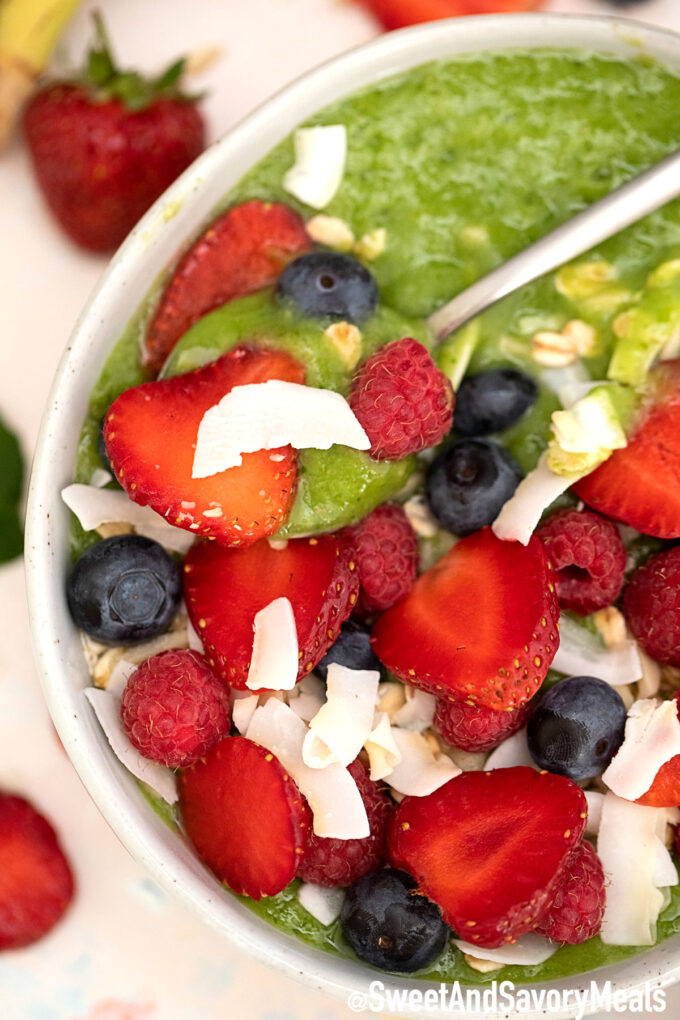 Recipe Tips:
If you are adding flax and chia seeds, you have to wait for at least 10 minutes. This helps it settle for it to turn gelatinous, thus making the drink thicker.
You can also use other kinds of milk such as soy and almond if you don't have coconut milk.

Pick an unsweetened variety to maintain healthiness.
Adding a tablespoon of Greek yogurt also increases nutrition and thickness.
If you want this drink to have a little more kick and help increase your energy, you can add mint and ginger. This is great and effective especially if you are taking this drink for breakfast.
To help maintain consistency, you should chill your bowl at least 20 minutes before making this recipe. This helps avoid the drink from melting too quickly.
Layer the toppings symmetrically to get that Instagram worthy picture!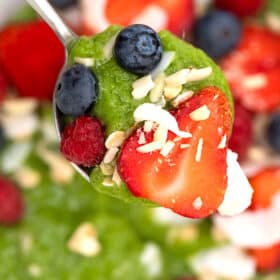 Green Smoothie Bowl
Green Smoothie Bowl is everyone's go-to healthy and filling breakfast or snack. With fresh and flavorful ingredients blended together, who said healthy can't be delicious?
Save
Share
Print
Pin
Rate
Ingredients
Smoothie Bowl Ingredients:
1

cup

coconut milk

2

cups

spinach

(fresh or frozen)

1/2

avocado

(ripe)

2

tablespoons

honey

(or more)

1

teaspoon

vanilla extract

1

teaspoon

lime juice

1

teaspoon

lime zest

1

ripe banana peeled

(sliced and frozen)

1

cups

pineapple peeled

(sliced and frozen)

1/2

ripe mango peeled

(chopped and frozen)
Smoothie Bowl Topping Options:
1/2

cup

granola

1

tablespoon

coconut flakes

1

tablespoon

slivered almonds

1/2

cup

fresh strawberries

(blueberries and/or raspberries)
Instructions
Add the Smoothie Bowl Ingredients to a high powered blender, and blend until smooth and combined.

Start on low speed, scrape down the bowl as needed, and add more liquid if needed.

Divide the smoothie mixture between 2 bowls and garnish with the suggested toppings.
Nutrition
Calories:
604
kcal
|
Carbohydrates:
83
g
|
Protein:
11
g
|
Fat:
42
g
|
Saturated Fat:
25
g
|
Sodium:
56
mg
|
Potassium:
1256
mg
|
Fiber:
11
g
|
Sugar:
49
g
|
Vitamin A:
3532
IU
|
Vitamin C:
100
mg
|
Calcium:
118
mg
|
Iron:
7
mg
More recipes you might love