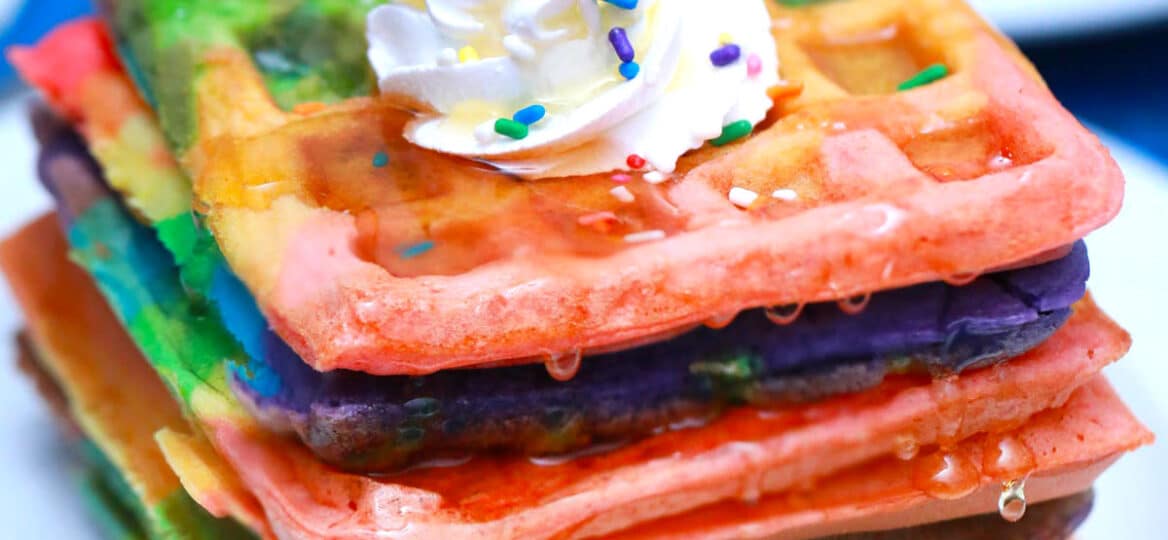 Rainbow Waffles Recipe [Video]
Rainbow Waffles are tender like a soft pillow, colorful, delicious, and so easy to make. Decorate with puffs of whipped cream to create a cloud effect!
For more kid-friendly treats, these Mini Rainbow Cheesecakes With Whipped Cream, Edible Chocolate Cereal Bowl, and Rainbow Bread with Sugar Icing are always a winner!
Belgian Rainbow Waffles
Rainbow Waffles are the colorful version of everyone's favorite breakfast. All the flavor you know and love is there— rich and fluffy with the crispiest edges. Except instead of golden brown, these ones look like a bright and beautiful rainbow on your plate!
This recipe couldn't be easier, too. Use whatever mix you like, and just tint it with food color. After that, go crazy with toppings! Fill those waffle pockets with whipped cream, jam, syrup, chocolate, and anything else you like eating with them.
Everyone will love these delicious, colorful treats for an extra-special breakfast, sleepovers, brunch, parties, or even as a snack!
What are rainbow waffles?
It's a simple waffle batter mixed with different food colors, then cooked in the waffle-maker until crisp and fluffy. That's it! They taste just like the classic version if you're wondering.
More breakfast recipes to try:
What is the difference between a waffle and a Belgian waffle?
The biggest differences are how big the pockets are – Belgian-style ones are deeper due to the larger grid pattern of the iron. In terms of taste, Belgian mix usually has yeast for that trademark light crispness, which you can also achieve with beaten egg whites.
On the other hand, regular waffles tend to be thicker and on the richer side, a bit similar to cake. There's usually buttermilk in the mix as well, versus yeast or beaten egg whites.
Rainbow waffles ingredients:
Waffle mix: We're using our favorite boxed mix, but you can definitely make the batter from scratch if you wish.

Food colors: Get all the rainbow colors, except indigo.
Cooking spray: To prevent the mix from sticking, and to help form a crisp surface.
Whipped cream: As a garnish, they look like small, fluffy clouds!
How to make homemade Belgian rainbow waffles from scratch?
Mix the batter. Follow the directions on your preferred boxed mix, or make from scratch if you wish.
Tint with rainbow colors. Divide the batter into 6 equal parts. Color one red, the next orange, then repeat until all the colors are done.

Cook. In your preheated waffle maker, begin by piping a purple semicircle of batter around the edge of the iron. Follow with each of the colors.

Cook until the mixture is set. Repeat with the rest.
Serve. Make the waffles look like a rainbow by slicing them in a semi-circle. Pipe some whipped cream at each end to look like clouds, and enjoy!
Recipe variations and substitutions:
Savory: Mix up some crispy bacon, sausage bits, or small cubes of cheese with the batter for a sweet and savory version!
Fruits and jams: Mix in some blueberries, slices of bananas, and strawberries, and swirls of jam or marmalade.
Chocolate: Mix in some chocolate chips! Other types of chips like caramel, white chocolate, caramel, and peanut butter are delicious, as well.
Other patterns: Instead of semi-circles try a tie-dye pattern, color swirls, or even other color combinations!
Topping suggestions:
Consider these a blank canvas for your favorite toppings! Aside from whipped cream, we also love:
Maple syrups, honey, agave, pancake syrup
Chocolate sauce, blueberry sauce, and caramel sauce
Crushed nuts like almonds, macadamia, hazelnuts, etc.
Cinnamon sugar
Jams like persimmon, peach, plum, strawberry, and apple butter
Curds like vanilla bean strawberry curd, lemon curd, lime curd
Shredded cheddar cheese
Crispy bacon bits
Why aren't my waffles crispy?
Your iron is not probably not hot enough yet, so make sure to preheat it before pouring the mixture in. Brush the iron with melted butter or cooking spray as well. Not only does it make the surface crispy, but it also adds richness and flavor.
Can I make rainbow waffles in advance?
Yes, you can this in advance up to 3 days ahead. You can mix them up, divide and tint each color, and store them in an air-tight baggie or container. You can also freeze the cooked waffles for up to 6 months. Thaw, then reheat in the oven or in the toaster.
More rainbow recipes to try:
Recipe tips:
Don't overcook the batter! The colors will darken instead of turn out bright and vibrant. Check it near the end— as soon as they look done and begin to pull off the iron, take them out.
You can use melted butter in place of cooking spray if you wish.
Remember to preheat the iron so the batter won't stick to the grates.
Deliciousness to your inbox
Enjoy weekly hand picked recipes and recommendations