Perfect Rainbow Bread with Sugar Icing
This post may contain affiliate links. Please read my disclosure policy.
Easy and perfect Rainbow Bread made with just a few ingredients, topped with sugar icing and Rainbow Sprinkles is perfect for sweet sandwiches.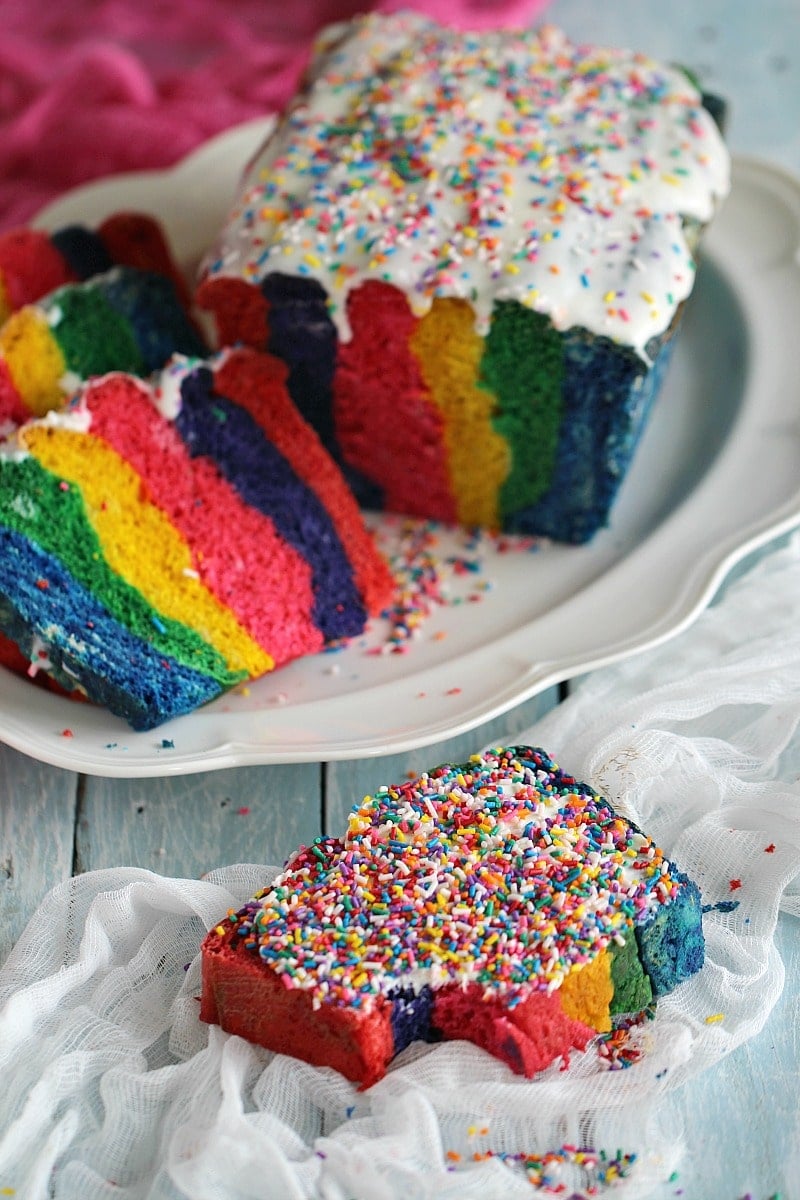 Have you ever wondered how unicorns eat their sandwiches? Well, I am sure if I ever meet an unicorn he would only ask for a Rainbow Bread sandwich topped with cream cheese and sprinkles. This is definitely the best way to enjoy a sandwich in my humble opinion.

In all seriousness, this Rainbow Bread is amazing, the bread itself it just a regular sandwich bread, but not so regular anymore because of the gorgeous colors. Do you have kids who completely refuse to eat their sandwiches? Well, try making one with this Rainbow Bread and I am sure they will even ask for seconds.
You can keep the Rainbow Bread simple, or you can take an extra step, just like I did and top it with a simple icing and colorful rainbow sprinkles, because Rainbow Bread and Rainbow Sprinkles just go hand in hand.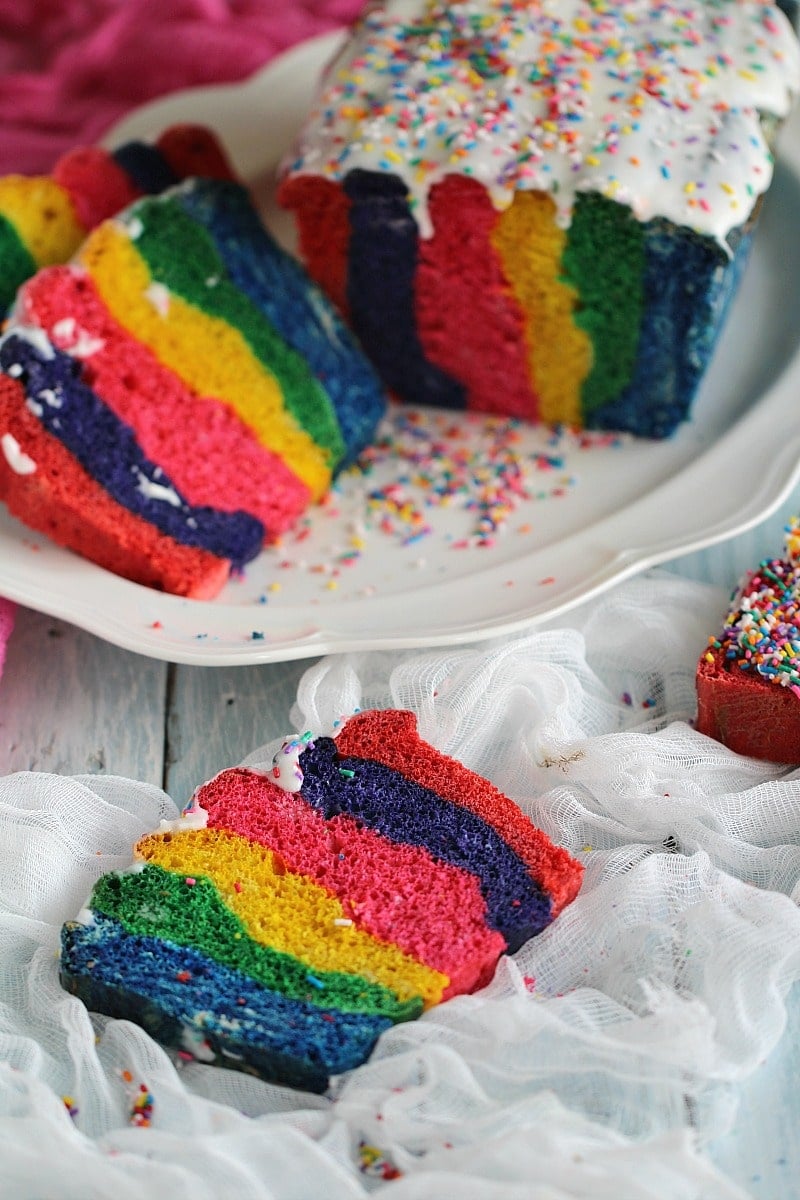 This Rainbow Bread is extremely easy to make, just a few ingredients, the recipe is fool proof and is actually the one I use for homemade sandwich bread. This Rainbow Bread was actually a project I made with my mother in law, she is amazing at making homemade bread, so I must give her credit for this recipe.

MY LATEST VIDEOS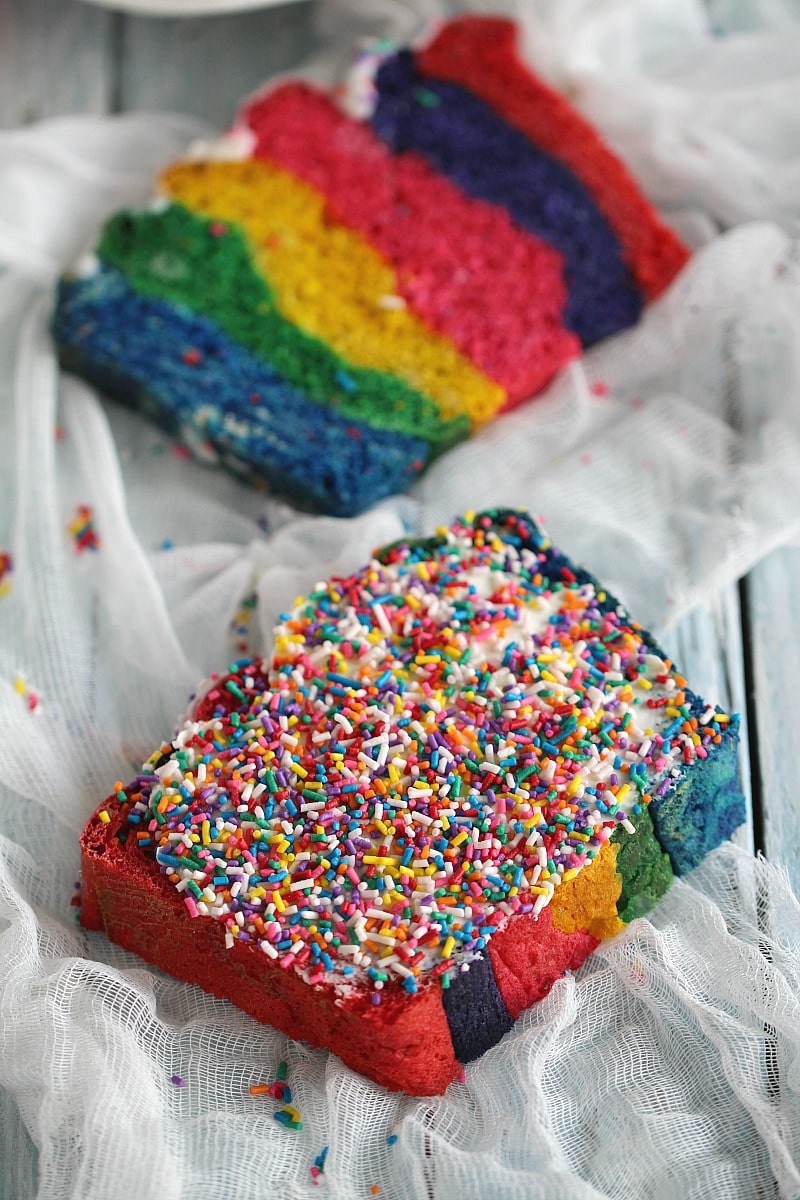 So what do you do when you have Rainbow Bread on hand!? Oh well, first  you stare at it for like an hour, admiring it from each angle, you take 1000 pictures of the bread, of you and the bread, of your kids and the bread and post them on Instagram, finally you decide that you can't take it anymore and you eat a slice! Now it feels like you tasted the rainbow!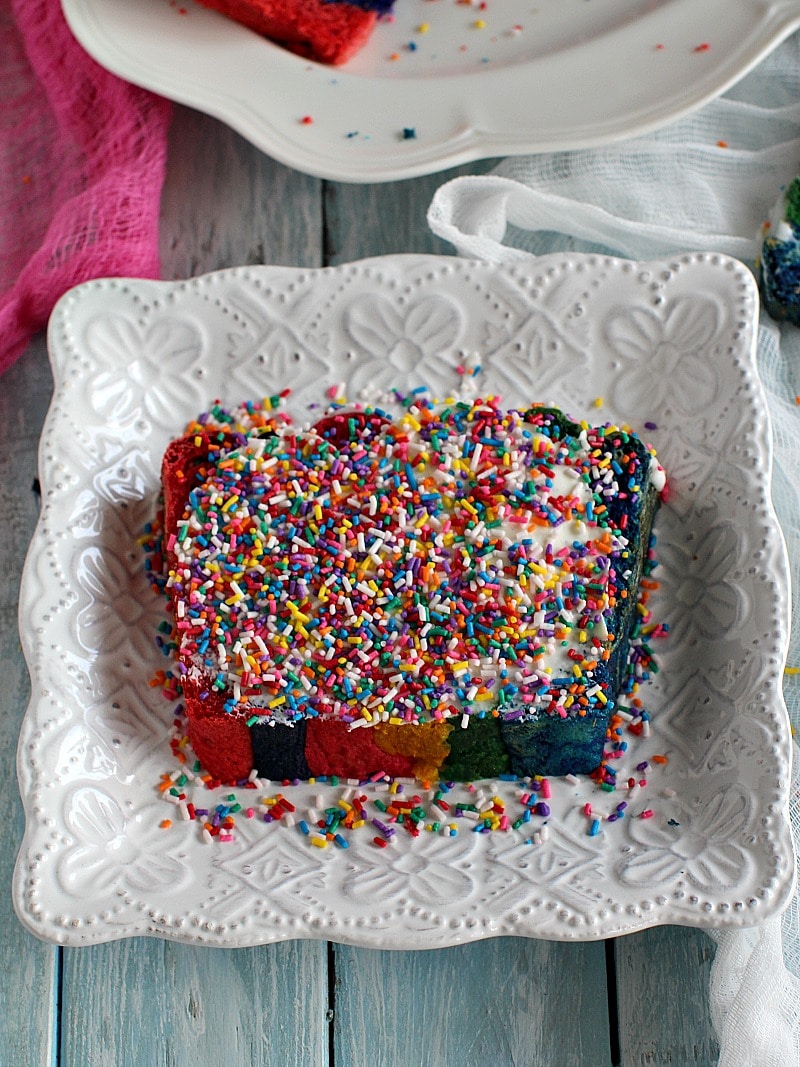 I figured that a proper way to eat Rainbow Bread is with cream cheese and topped with sprinkles, and was I right, boy, this combo is amazing, and I felt so good and oh so cool eating Rainbow Bread topped with sprinkles. The Sugar Icing adds a bit of sweetness too, so it all works out perfectly!
Now what else can you do with RainbowBread ? Well, you can toast it and serve it with Nutella and strawberries, or maybe with strawberry cream cheese, or make a Rainbow Peanut Butter and Jelly Sandwich! Or you can make a Rainbow French Toast and this is what I am doing next!
So let me grab another slice of this Rainbow Bread while I brainstorm more idea how to eat it.
This is what I used (affiliate links, you don't pay extra, I just earn a small commission):
Gel Food Color

Perfect Rainbow Bread
Easy and perfect Rainbow Bread made with just a few ingredients, topped with sugar icing and Rainbow Sprinkles is perfect for sweet sandwiches.
Author:
Katalina Kastravet
Ingredients
1 package (7 grams) Dry Active Yeast
2⅙ cups warm water
5½ cups flour
1 tablespoon sugar
1½ tablespoons salt
6 gel food colors of choice
1 egg, beaten
Icing:
1 cup confectioner's sugar
3-4 tablespoons heavy cream or milk
sprinkles
Instructions
In a large bowl mix salt and flour and set aside.
Add water to a medium bowl, stir in sugar until dissolved and add yeast, let the mixture sit for 5-7 minutes for the yeast to bloom.
Give the yeast mixture a stir and add it to the flour mixture, knead by hand or using a mixer. The dough will be a little sticky, but it should come off the walls of the bowl. If its still very, very sticky add ½ cup of flour. Knead until all flour is well combined, about 7-10 minutes. Cover the dough with a dry, clean kitchen towel, put it in a warm place and let it rise for 1-2 hours.
To speed this process, I usually turn the oven to 300F and place the bowl on top of the stove or close to the stove, since its warmer.
Once the dough tripled in size, divide it in 6 balls. One by one take each dough ball, add it to a medium mixer bowl, add in the food gel color of choice and mix until combined, for 1 minute, using the paddle attachment. Knead by hand to make sure the color gets distributed evenly.
My recommendation is to wear latex gloves, so you don't get food coloring on your hands, also, use a lot of gel food color, not just a few drops, I used ½ teaspoon for each dough ball, sometimes more. Check the color you get and add more if needed. The color will intensify and distribute better after the second round of rest.
Place colored dough ball in a soup bowl on top of the warm stove and cover with a towel.
Wash your hands (covered with gloves) and wash the mixer bowl and paddle attachment.
Repeat with the remaining dough balls, coloring each in a different color, place each one in a separate soup bowl over the warm stove (warm from the oven) and cover with a dry towel. Let the dough balls rest and rise for 1 hour to 1½ hours.
Spray a loaf pan with baking spray, take each dough ball, press it with your hands and shape it into a rectangular, doesn't have to be perfect. Stack them in the color order that you want, starting with the first rectangular pressed on the loaf pan side, and adding the rest.
Place loaf pan on the warm stove and cover with a clean, dry towel, let the dough rest and rise for 1-1½ hours.
Increase oven temperature to 350F.
Cover the top of the bread with the egg wash, or if you want to keep it vegan, use a little oil, bake for 45-60 minutes, until a toothpick inserted in the middle of the bread comes out clean.
Remove from oven and let it cool in the pan for 30 minutes, before transferring to a wire rack.
Once the bread is completely cooled, make the icing by mixing sugar and cream until you achieve a pourable consistency, add the cream 1 tablespoon at a time. Pour over the bread, spread with a spoon and top with sprinkles.
Serve!
Peas and Peonies, LLC. owns the copyright on all images and text and does not allow for its original recipes and pictures to be reproduced anywhere other than at this site unless authorization is given. If you enjoyed the recipe and would like to publish it on your own site, please re-write it in your own words, and link back to my site and recipe page. Copying and/or pasting full recipes to social media or personal blogs is strictly prohibited. Sharing this recipe is very much appreciated and encouraged. Read my disclosure and privacy policy. This post may contain affiliate links.