Rainbow Bread with Sugar Icing
Rainbow Bread made with just a few ingredients, topped with sugar icing and rainbow sprinkles is perfect for sweet sandwiches.
Making easy, puffy and delicious breads is our specialty. We enjoy making them rich and tender like our popular Chocolate Banana Bread, Skinny Blueberry Banana Bread and Pumpkin Bread.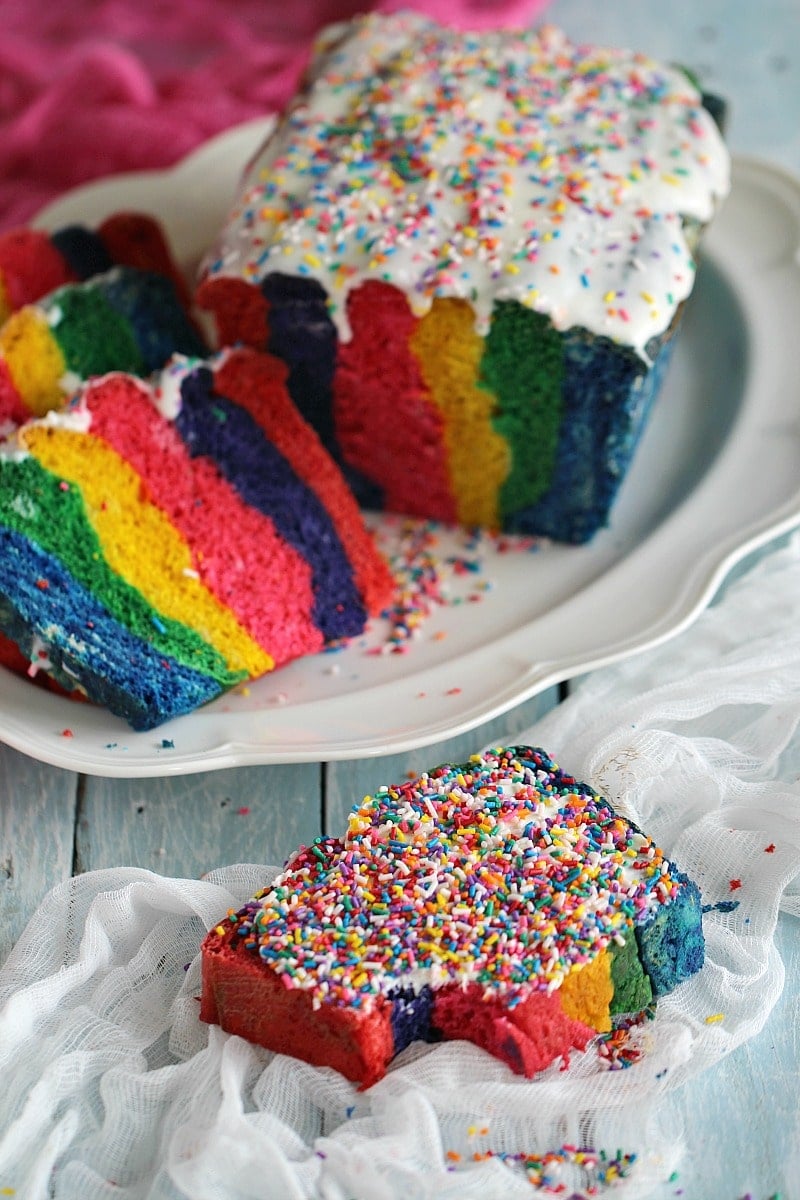 Rainbow Bread
This Rainbow Bread is simply amazing. First, the bread itself it just a regular sandwich bread, but not so regular anymore because of the gorgeous colors. Do you have kids who completely refuse to eat their sandwiches? Well, try making one with this Rainbow Bread and I am sure they will even ask for seconds.
You can keep the Rainbow Bread simple, or you can take an extra step, just like I did and top it with a simple icing and colorful rainbow sprinkles. Because Rainbow Bread and Sprinkles just go hand in hand.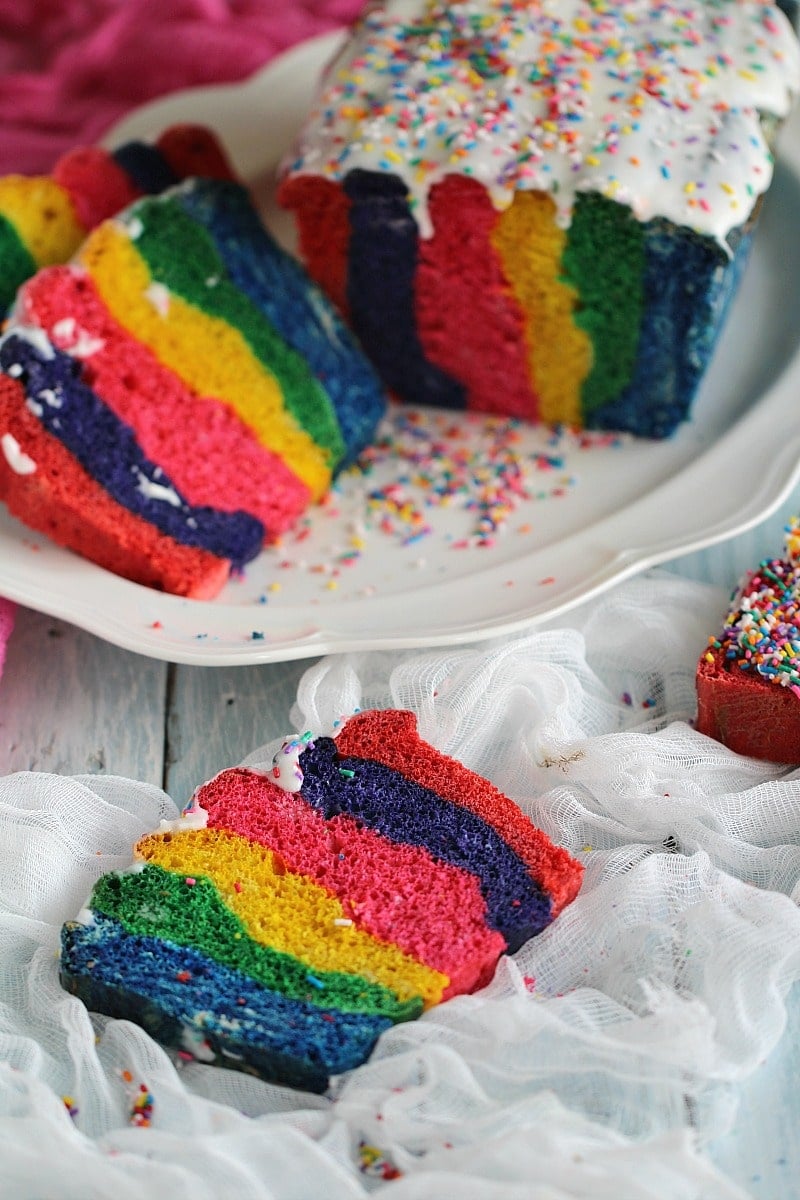 This Bread is extremely easy to make, just a few ingredients needed. Also, the recipe is fool proof and is actually the one I use for homemade sandwich bread. I figured that a proper way to eat this bread is with cream cheese and topped with sprinkles. The combo is just amazing, and topped with sprinkles is just pure heaven. In addition, the sugar icing adds a bit of sweetness too, so it all works out perfectly.
What else can you do with Rainbow Bread?
Well, you can toast it and serve it with Nutella and strawberries.
Or with strawberry cream cheese
Also, you can make a Rainbow Peanut Butter and Jelly Sandwich.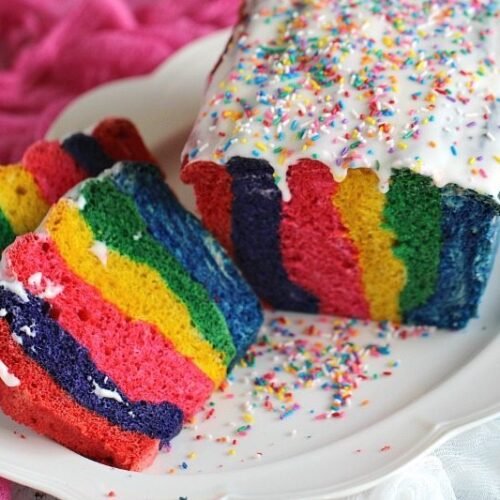 Rainbow Bread
Rainbow Bread made with just a few ingredients, topped with sugar icing and rainbow sprinkles is perfect for sweet sandwiches.
Save
Share
Print
Pin
Rate
Ingredients
1

package

(7 grams Dry Active Yeast)

2 1/6

cups

warm water

5 1/2

cups

flour

1

tablespoon

sugar

1 1/2

tablespoons

salt

6

gel food colors of choice

1

egg

(beaten)
Icing:
1

cup

confectioner's sugar

3-4

tablespoons

heavy cream or milk

sprinkles
Instructions
In a large bowl mix salt and flour and set aside.

Add water to a medium bowl, stir in sugar until dissolved and add yeast, let the mixture sit for 5-7 minutes for the yeast to bloom.

Give the yeast mixture a stir and add it to the flour mixture, knead by hand or using a mixer. The dough will be a little sticky, but it should come off the walls of the bowl. If its still very, very sticky add 1/2 cup of flour. Knead until all flour is well combined, about 7-10 minutes. Cover the dough with a dry, clean kitchen towel, put it in a warm place and let it rise for 1-2 hours.

To speed this process, I usually turn the oven to 300F and place the bowl on top of the stove or close to the stove, since its warmer.

Once the dough tripled in size, divide it in 6 balls. One by one take each dough ball, add it to a medium mixer bowl, add in the food gel color of choice and mix until combined, for 1 minute, using the paddle attachment. Knead by hand to make sure the color gets distributed evenly.

My recommendation is to wear latex gloves, so you don't get food coloring on your hands, also, use a lot of gel food color, not just a few drops, I used 1/2 teaspoon for each dough ball, sometimes more. Check the color you get and add more if needed. The color will intensify and distribute better after the second round of rest.

Place colored dough ball in a soup bowl on top of the warm stove and cover with a towel.

Wash your hands (covered with gloves) and wash the mixer bowl and paddle attachment.

Repeat with the remaining dough balls, coloring each in a different color, place each one in a separate soup bowl over the warm stove (warm from the oven) and cover with a dry towel. Let the dough balls rest and rise for 1 hour to 1 1/2 hours.

Spray a loaf pan with baking spray, take each dough ball, press it with your hands and shape it into a rectangular, doesn't have to be perfect. Stack them in the color order that you want, starting with the first rectangular pressed on the loaf pan side, and adding the rest.

Place loaf pan on the warm stove and cover with a clean, dry towel, let the dough rest and rise for 1-1 1/2 hours.

Increase oven temperature to 350F.

Cover the top of the bread with the egg wash, or if you want to keep it vegan, use a little oil, bake for 45-60 minutes, until a toothpick inserted in the middle of the bread comes out clean.

Remove from oven and let it cool in the pan for 30 minutes, before transferring to a wire rack.

Once the bread is completely cooled, make the icing by mixing sugar and cream until you achieve a pourable consistency; add the cream 1 tablespoon at a time. Pour over the bread, spread with a spoon and top with sprinkles.

Serve!
Nutrition
Calories:
320
kcal
|
Carbohydrates:
67
g
|
Protein:
8
g
|
Fat:
1
g
|
Saturated Fat:
0
g
|
Cholesterol:
16
mg
|
Sodium:
1059
mg
|
Potassium:
91
mg
|
Fiber:
1
g
|
Sugar:
13
g
|
Vitamin A:
30
IU
|
Calcium:
19
mg
|
Iron:
3.3
mg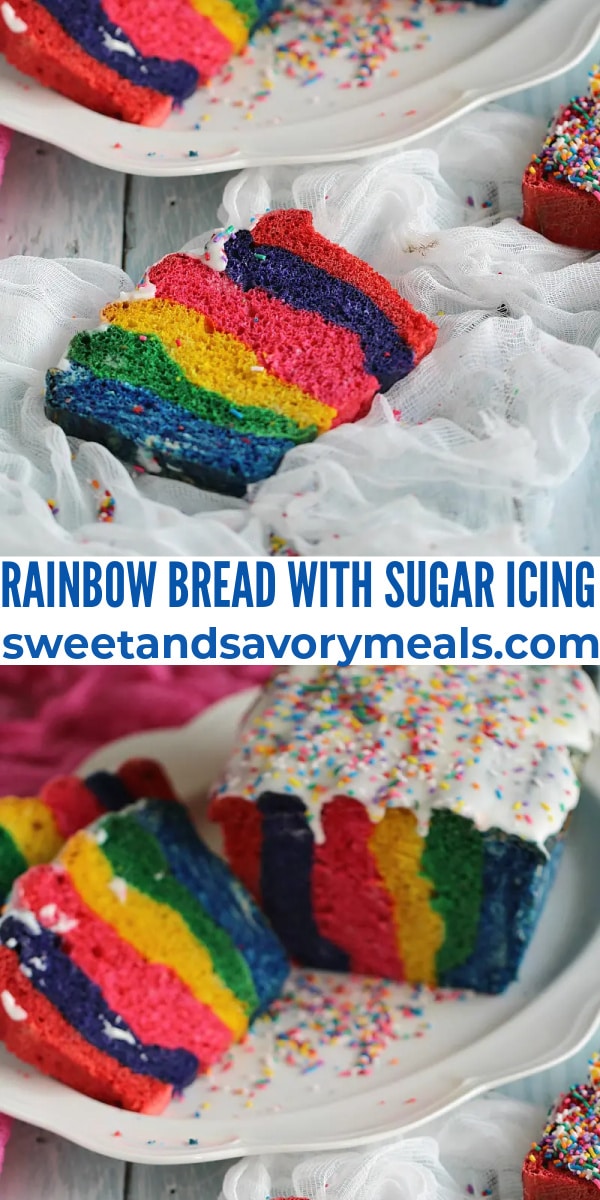 More recipes you might love