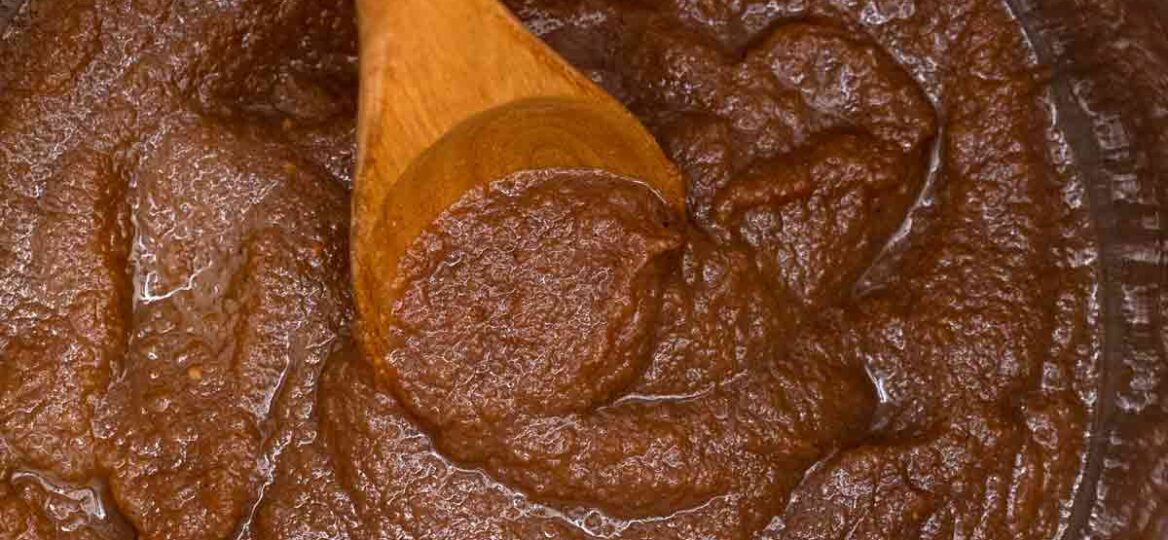 Instant Pot Apple Butter is pure autumn feels in one amazing spread. Enjoy its rich apple flavor on toast, in your baked goods, or straight off a spoon! A super quick and easy dish to make at home.
If you like fruity spreads, you'll fall in love with the Best Peach Jam you'll ever make. Fill up jars with my no-pectin Plum Jam and this Easy Strawberry Jam so you always have some for breakfast or as a snack. Great for giveaways too!
Easy Instant Pot Apple Butter Recipe
Instant Pot Apple Butter will make you forget about plain-old applesauce. I mean, that version is great, but this stuff is absolutely magical. It's got that deep fruit flavor you can only get from slow and low cooking.
But since we make this in the Instant Pot, you don't need to wait the usual 12 hours in the slow cooker.
This recipe is super quick and easy and has all the flavors you are looking for. Also, it tastes much better than the store-bought version, and it costs considerably less.
Not to mention, it is healthier! This is the perfect recipe to make in the pressure cooker at home in less than one hour from start to finish.
What is apple butter?
Despite the name, there's absolutely no butter in this recipe. It's literally cooked-down fruit with intensely concentrated flavor and delicious caramelization. Also, because there's no dairy or butter in it, this is a vegan dish.
Some people confuse it with the sauce version, and the two are very similar. However, this is so much smoother, thicker, and bursting with concentrated with fruit essence.
It's perfect slathered on toast and soft rolls, or as a sub for fruit filling in baked treats that call for jam. Great as a side dish as well.
What are the characteristics of Apple Butter?
Here's what to look for in your finished product:
Thick and spreadable consistency
Deep brown color similar to caramel
Intense sweet fruit flavor
Super smooth texture
How to make Instant Pot Apple Butter?
Spray the Pressure Cooker: For easy clean-up, apply the non-stick spray to the side of your Instant Pot.
Prepare the apples: Wash and peel your fruits. Remove the core and chop. Then, blend half of the chopped fruit and cider until totally smooth. Repeat with the remaining half.
Add the spices: Stir in your spices.
Cook: Pressure cook for five minutes at High Pressure, and Natural Release for 20 minutes.
Season: Add sugar to taste.
Serve: Enjoy fresh as a spread on your favorite bread.
Do I have to peel them?
Yes. You need to peel them to achieve that ultra-smooth consistency.
The best kind to use for Instant Pot Apple butter?
Any type, really. But I'm partial to Fuji, Gala, and Golden Delicious for their natural sweetness. Also, if you prefer something a bit tarter, try the Granny Smith kind. I like mixing different types as well!
How do you thicken it?
There are a couple of ways to thicken it in the Instant Pot. First, you can use the Sauté function for 30 minutes to an hour to thicken it. Second, you can also look at the Slow Cook function for 4-8 hours to achieve a thicker consistency.
How to serve Apple Butter?
It goes so well on so many things! I use it as a filling for cakes and cupcakes. Spoon some on top of pancakes and ice cream. Spread a generous amount on bread or warm, buttered toast!
It's also a fantastic accompaniment to savory items like my Pork Chops, Lemon Garlic Roast Chicken, Perfect Dry Brined Turkey, the Best Honey Butter Ham!
I also highly recommend making up a big batch and giving them as Christmas gifts to your family and friends. There's nothing like a jar of homemade deliciousness to show people you care!
Want to make it in the slow cooker?
For the slow cooker fans out there, I've got the perfect Slow Cooker Apple Butter Recipe for you too!
Storage Instructions:
This recipe has an incredibly long shelf life. You can store it a couple of ways:
Use sterilized leaded mason jars or glass containers. Then, keep in the fridge for up 1o to 14 days.
Use sterilized freezer-proof jars and seal them tightly. Keep in the freezer for up to 6 months!
More delicious apple recipes:
Recipe Tips:
Play with spice combinations! Try saffron, allspice, and pumpkin pie spice for a twist.
Aside from table sugar, you can also use molasses, brown sugar, honey, or any preferred sweetener.
You can switch the order of preparation: pressure cook the fruit first, then blend if you prefer.
It's okay to just chop the fruit roughly since you'll be blending them smooth anyway.
Also, if using the Sauté function to thicken, make sure to use a splatter guard.
Deliciousness to your inbox
Enjoy weekly hand picked recipes and recommendations