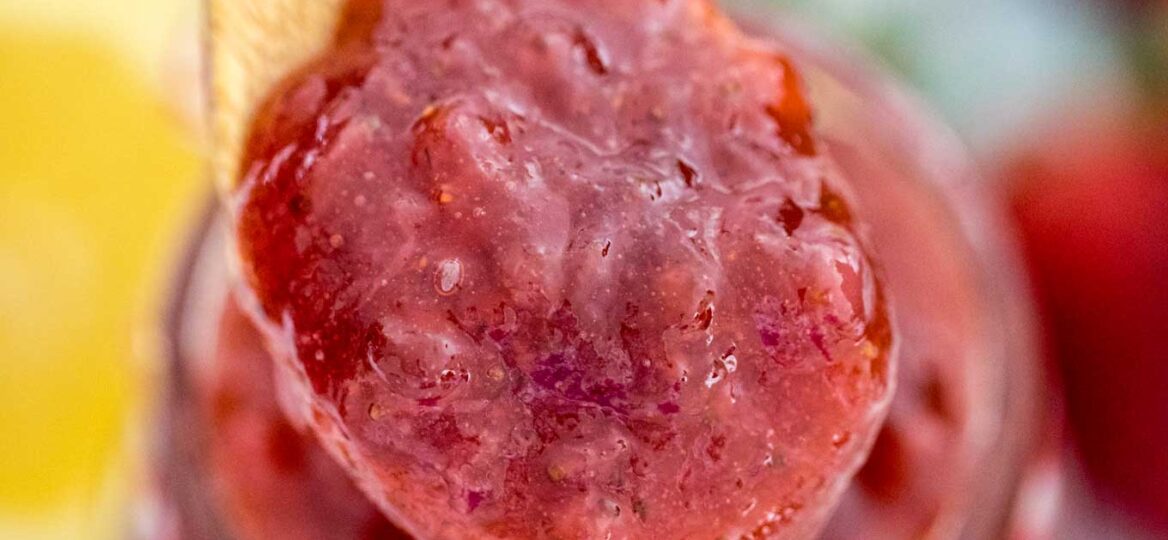 Easy Strawberry Jam Recipe
Strawberry Jam is a spreadable pearl of wonder that can take your breakfast or afternoon tea to another level. You can enjoy this recipe all year round!
This recipe can be used to enhance your baked goods like Snickerdoodle Bread, Lavender Cookies and even as a topping for your Baked French Toast Sticks!
Homemade Strawberry Jam
This Strawberry Jam recipe is super quick and easy to make at home. In addition, by making it at home, you will end up saving a lot of money, and have better quality, and a healthier product. And this is exactly why we always make our strawberry jam at home! It is so much better than the store-bought version!
Have you ever done that before? We get so excited when we see all those boxes of fresh strawberries at the market, that we couldn't help but buy three or four of them. When we get home, and after stuffing ourselves full of the luscious fruits, we started to wonder what are we going to do with the rest of them!
Well, here is an easy to follow recipe that will solve all your berry problems. And we just love using the jam on just about anything, really! We use it to add more flavor to our toast, cookies, and at breakfast with our pancakes, waffles, and French toast!
WHAT ARE THE HEALTH BENEFITS OF STRAWBERRIES?
Strawberries are full of fiber, Vitamin C, Folic Acid, and Potassium! Eating strawberry jam can also provide you with energy that can fill you up until your next meal.
HOW TO CHOOSE RIPE STRAWBERRIES?
Choosing the ripe once is a must when making this recipe. Strawberries do not continue to ripen once picked. Therefore, it is important to pick the best available ripe berries. In addition, they are super tasty and sweet when ripe.
Choose bright red strawberries with shiny green leaves. Size doesn't matter. Small once can be just as sweet as large once. Both will be delicious in this recipe.
HOW DO YOU MAKE STRAWBERRY JAM?
This recipe is the easiest thing to do! First, mash the strawberries with a potato masher. Then, transfer to a large enough pot with the rest of the ingredients. Mix until fully combined. Let sit for about 20 minutes, the berries will release more juice. Then, place on low-medium heat and bring to a boil and simmer for 15 – 20 minutes.
Next, turn off the heat and let it cool. Test for thickness by dipping a spoon in the mixture. Run a finger at the back of the spoon. If the mixture does not run back together, then your jam is thick enough.
Last, transfer to sterilized jars and secure with a lid and store in your pantry, the refrigerator or in your freezer.
DO YOU NEED PECTIN TO MAKE STRAWBERRY JAM?
You can certainly make this recipe with pectin. Pectin is a substance that sets our jams and jellies. But if you are a bit wary of using powdered pectin, just add lemon wedges or apple slices to your strawberry mixture. There is plenty of pectins found in the skins of lemon and apple that can set your jams and jellies!
WHY DO YOU PUT LEMON JUICE IN STRAWBERRY JAM?
There are two reasons why you put lemon juice in it. Lemon juice balances the sweetness of the sugar in the mixture, and the juice has natural pectin that sets the jams and jellies as well.
HOW DO YOU MAKE STRAWBERRY JAM WITH CORNSTARCH?
We use cornstarch in this recipe to thicken the jam. Cornstarch is a fine powder made from corn and is used to thicken liquids. Just adding one or two teaspoons can quickly thicken your jams and jellies.
HOW TO THICKEN STRAWBERRY JAM?
There are a few ways to thicken it such as:
To cook until it is thick enough.
Adding powdered pectin to your mixture.
Adding lemon wedges and slices to it.
Using cornstarch.
WHAT DO I DO IF MY JAM IS TOO THICK?
It is easily fixable! Just add more water to the mixture and cook it again until you've reached the desired thickness.
HOW DO YOU STORE IT?
After cooking it, just let it cool and transfer it to sterilized jars and secure it with a lid and the ring. Place it in your pantry, refrigerator or freezer depending on your preference.
Opened jar containers will last in the refrigerator for a month. But it can be frozen for up to 6 months when properly canned.
HOW DO YOU CAN Strawberry Jam?
You have to sterilize your jars, lids, and rings for 10 minutes in boiling water before using it to transfer your cooked jams in. Seal with a lid and a ring. Place all the jars back into the boiling water and boil again for another 10 minutes. Let them cool and store in your pantry or in your freezer.
HOW DO YOU FREEZE IT?
After placing the jam in the sterilized jars, and securing it with lids and rings, place the jars in the freezer, in they are freezer safe. You can also use freezer-safe containers. Frozen jams can last in the freezer for up to six months until its texture changes.
RECIPE TIPS:
It is important to choose bright red strawberries.
Also, we recommend using granulated sugar to sweeten it.
Use four to eight ounces jars if you're canning for easy handling.
If you want to naturally thicken your jams, just use lemon wedges and apple slices when cooking it.