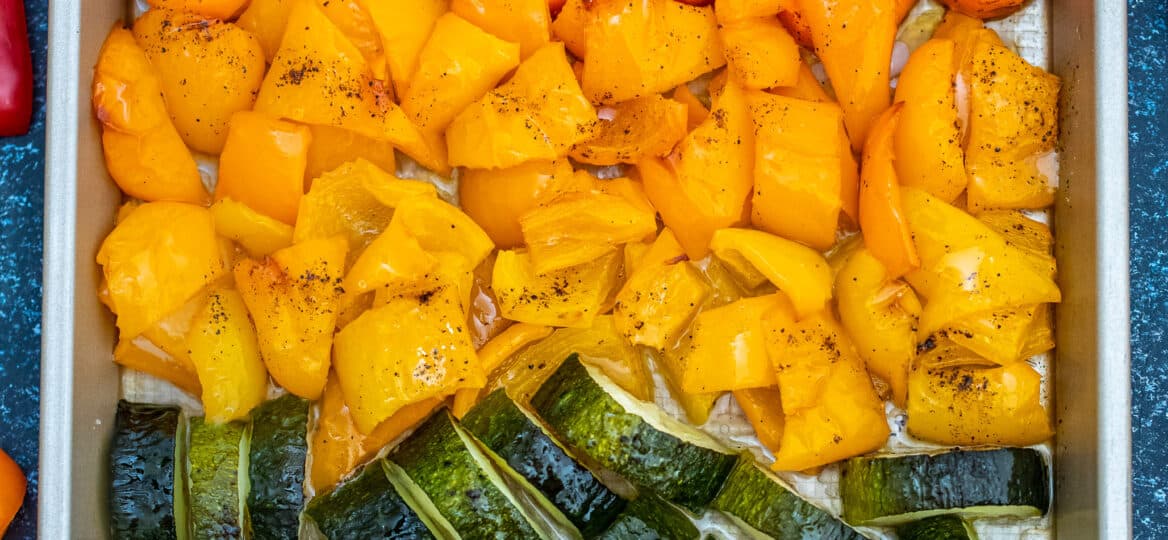 Rainbow Roasted Vegetables [Video]
Rainbow Roasted Vegetables are a fun and easy way to feast on healthy fiber! Not only are they colorful, but they are flavorful and nutritious, too! Watch the short video recipe below and see how simple this is!
This makes for a delightful side dish to your meaty entrees like the Creamy Beef and Shells, Goulash, and Bacon Cheeseburger Meatloaf!
Rainbow Roasted Vegetables
Rainbow Roasted Vegetables may easily be the most colorful side dish on the planet. The arrangement of colorful rows of veggies in various textures makes it appetizing, too.
It is a fun way to entice kids to eat more fruits and vegetables. But, this healthy side dish is not for kids only.
Did you know that only 10% of Americans meet the daily requirement of at least 2 cups of veggies per day? It turns out that even adults need also some prodding.
And did you know that roasting certain veggies make them even more beneficial for the body as certain nutrients become more readily available when cooked?
Take the carrot for example. The beta carotene in it is absorbed better by the body when cooked than raw.
And this dish is all that and more! It is simple, easy to assemble, and the outcome is satisfying! Make one now!
Why are they called Rainbow Roasted Vegetables?
The dish is made with vegetables, sliced and chopped, and arranged in rows in an attempt to resemble the rainbow. The veggies are of various colors, just like the rainbow!
Refer to this list of suggestions when shopping for your ingredients:
Red: beets, red bell peppers, tomatoes
Orange: carrots, sweet potatoes
Yellow: yellow bell peppers, squash,
Green: broccoli, Brussel sprouts, asparagus
Blue or violet: eggplants, red onions
Roasted Veggies Health Benefits:
Put together fruits and veggies in various colors and you get to have every vitamin, antioxidant, and other nutrients together in one dish.
Completing the rainbow in a dish is the easiest way to have a complete spectrum of health benefits.
We can link each color to a certain health benefit. Here is a quick guide:
Red: good for the heart, can prevent cancer
Orange: good for the eyes and skin
Yellow: beneficial for the eyes
Green: has anticancer properties
Blue or violet: good for the heart
The way that these healthy fruits and veggies are roasted can help release the antioxidants and other healthy chemicals in them without adding too much fat.
What do you need to make Rainbow Roasted Vegetables?
veggies: simply select veggies that are good for roasting like broccoli, butternut squash, carrots, red onions, bell peppers
seasonings: salt, pepper, and your favorite herbs and spices
oil or balsamic vinegar
How to make Rainbow Roasted Vegetables:
Prepare for roasting: Preheat the oven to a temperature of at least 400 to 450 degrees Fahrenheit.
Prepare the veggies: Cut them up into 1- or 1/2-inch thick cuts. If using broccoli, cut into bite-sized florets.
Season: In a small bowl, combine olive oil with veggies. You can toss them first per kind, before arranging on the foil-lined baking sheet. Keep them all in one layer.
Roast: Cook them until tender and toss halfway. Check for doneness, garnish, then, serve.
How to Store:
Let them cool and then, put in the fridge for about 3 to 4 days. You can pop them back into the oven to reheat. And, do not freeze them as they will just turn mushy.
Recipe Tips:
Put them all in one layer with ample space in between each piece. You want as much surface area as needed to caramelize them beautifully.
If you have leftovers, you can put them in soups, salads, and dips.
You can add cheese on top and broil for a couple more minutes.
Deliciousness to your inbox
Enjoy weekly hand picked recipes and recommendations