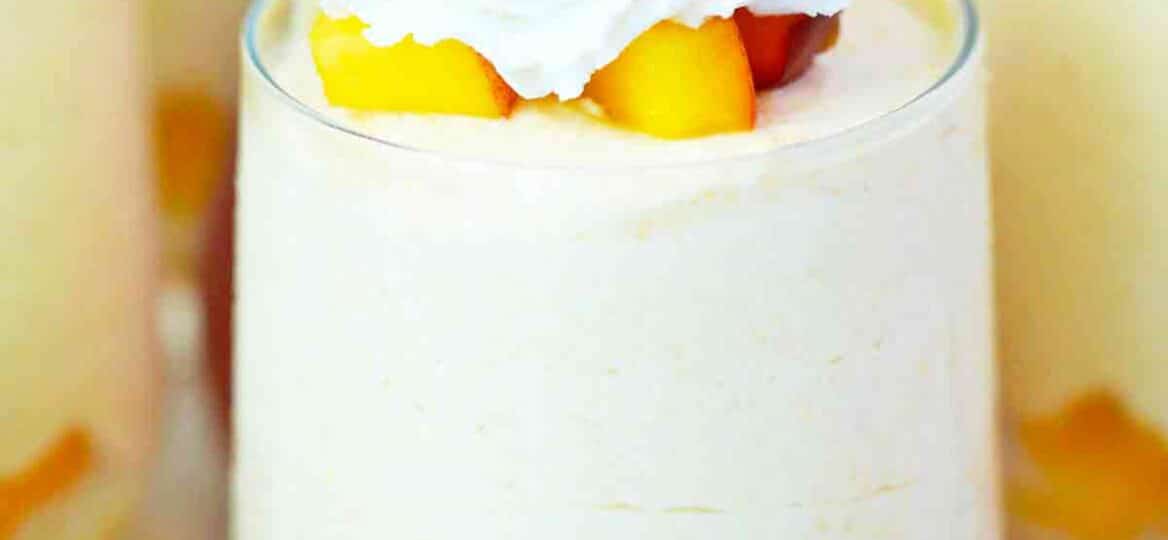 This Peach Mousse is refreshing and loaded with fresh peaches, making it the perfect summer dessert. It is very simple to make and looks quite festive when served in individual cups or trifles.
During summertime, mousses are my favorite dessert. It is airy, refreshing, and you can make it with various fruits in season. For more flavor variations, please try my Strawberry Mousse, Lemon Mousse, and Milk Chocolate Mousse.
Easy Peach Mousse Dessert
This Peach Mousse is a smooth and creamy dessert that is also light and refreshing. The ideal treat to indulge yourself during the summer season at the pool with friends and family. You can even serve it for breakfast, or as the main dessert after lunch or dinner.
When peaches are in season, I highly recommended utilizing them by making this recipe with fresh fruits. Puréed ripe peaches give it outstanding flavors, yet making it a light and refreshing dessert.
However, when the fruits are not in season, replace them with canned or frozen ones.
We make this dessert quite often because it is super easy to prepare, and the kids just love it. In addition, you can easily transform it into a trifle or swap up the flavors, or use various other fruits instead.
You can make it ahead and refrigerate it for days to come. I like serving it in individual servings and garnish with peach slices and whipped cream.
Peach mousse ingredients:
Fresh Peaches: Use fresh and ripe peaches whenever possible. When pureed the flavors and aromas are simply outstanding.
Whipping cream: Go with chilled, HEAVY whipping cream. It works the best here as it will give the dessert a rich texture.
Gelatin: Get clear unflavored.
Water: About a half cup, to help the gelatin bloom.
Sugars: A combination of granulated and powdered sugar is used. However, you can incorporate brown sugar, or totally replace it with honey.
Lemon Juice and vanilla: Freshly squeezed lemon juice and vanilla are the perfect combos. Use more or less based on your discretion.
How to make the best peach mousse from scratch?
Dissolve the gelatine: In a bowl, add water and dissolve the gelatine according to package instruction.
Blend: Next, in a blender, add the ripe peaches along with sugar and blend till smooth. If you do not have a blender, simply slice the fruits with a sharp knife and sprinkle them with sugar. Then, set aside.
Whip. Mix the COLD cream with some freshly squeezed lemon juice, vanilla, and powdered sugar. Whip the ingredients together.
Stir in the gelatine mixture: Next, heat up the gelatine mixture over medium heat or microwave for a few seconds until it is properly dissolved. Pour it over the pureed fruit, then fold into the whipped cream.
Refrigerate and serve: Spoon over some fruit into individual serving cups, then place the mousse on top. Refrigerate for a few hours, and serve chilled.
Mousse flavor variations and substitutions:
Other fruits: Make this recipe with any other fruits on hand. Some great alternatives would be Strawberry, Lemon, Pumpkin, mango, raspberry, berries, etc.
Dairy-free: Traditionally mousse is made with whipping cream. However, feel free to make it dairy-free by substituting it with coconut cream.
Egg Base mousse: Instead of gelatine, you can use tempered eggs for a base. In this case, the texture will be richer and thicker, more like a pudding.
Make it into a trifle: Do not puree the fruits. Simply, slice them, and then layer each ingredient.
Honey: For a healthier take, replace sugar with honey or maple syrup.
Do I have to use fresh peaches?
No. Although fresh fruits work the best here, you can use canned or frozen fruits. When using frozen type, ensure to thaw them prior to use, and drain off any excess liquid.
However, for the best result and flavors, I would recommend using fresh whenever possible, especially if they are in season.
Can I use flavored gelatin?
Clear and unflavored gelatin is what I always use for mousses. This is because I can control the flavors based on the ingredients used. This is a delicate dessert, therefore I love to get the flavors mostly from the fruits.
But if you decide to go with flavored gelatin, know that you might end up with overpowering flavors. Therefore, use it at your own discretion.
Can I make mousse in advance?
Yes! This dessert is actually recommended to be made in advance. Because it is made with gelatine, it needs at least a few hours to firm-up, and for the flavors to combine.
It can be made ahead and refrigerated for up to 5 days.
More easy summer desserts to try:
Recipe tips:
Make sure you use gelatin that has NOT expired. Once you combine it with the liquid it should bloom, if it doesn't discard and re-do the mixture.
Using cold heavy whipping cream is also very important. The warm tends to crud and you won't be able to beat it properly.
For this recipe, use either fresh or canned peaches. Since the canned peaches may be already sweetened, you can reduce some of the sugar the recipe asks for.
Peach Mousse Recipe
Ingredients
1 1/2

tablespoons

unflavored gelatin

1/4

cup

peach juice

1/2

cup

water

2 1/2

pounds

peach slices

from a can - divided

8

tablespoons

granulated sugar

divided

2

cups

heavy whipping cream

1/4

cup

powdered sugar

1

teaspoon

vanilla extract

1

teaspoon

lemon juice
Garnish:
1 1/2

cups

heavy whipping cream

4

tablespoons

powdered sugar

fresh peaches
Instructions
Add the water and juice to a small bowl and sprinkle the gelatin on top of it. Mix until combined and set aside for about 5 minutes for the gelatin to bloom. If it doesn't bloom, discard and repeat.

Chop 1 1/2 pounds of peaches, add them to a large bowl and sprinkle with 4 tablespoons of sugar. Set aside for about 5-10 minutes.

Add them to a food processor and pulse a few times until the mixture is smooth.

Add the heavy whipping cream, vanilla. lemon juice, and powdered sugar to a large bowl. Using a hand mixer whip the mixture until stiff peaks form.

Give the bowl with gelatin a stir and melt in the microwave for about 30 seconds or just until the gelatin dissolves. Do NOT bring to a boil.

Pour the gelatin mixture into the pureed peaches, stir well, and after that fold carefully into the whipped cream.

Chop the remaining pound of peach slices and sprinkle with 3-4 tablespoons of sugar. Mix and let stand for 10 minutes.

Stir again the peaches and place some into the bottom of each serving glass. Top with the mousse mixture.

Chill for about 4 hours in the refrigerator or until the mousse is set.

Garnish with the remaining chopped fresh peaches and more fresh homemade whipped cream.
Deliciousness to your inbox
Enjoy weekly hand picked recipes and recommendations