Strawberry Pie Recipe [video]
Strawberry Pie has a perfectly buttery crust and is loaded with juicy and fresh strawberries. It has the best combination of sweetness and sourness in a decadent dessert!
This dessert goes well during a summer barbecue, picnics, and potlucks. Pair it with Grilled Potatoes, Grilled Pork Chops, and Bang Bang Shrimp.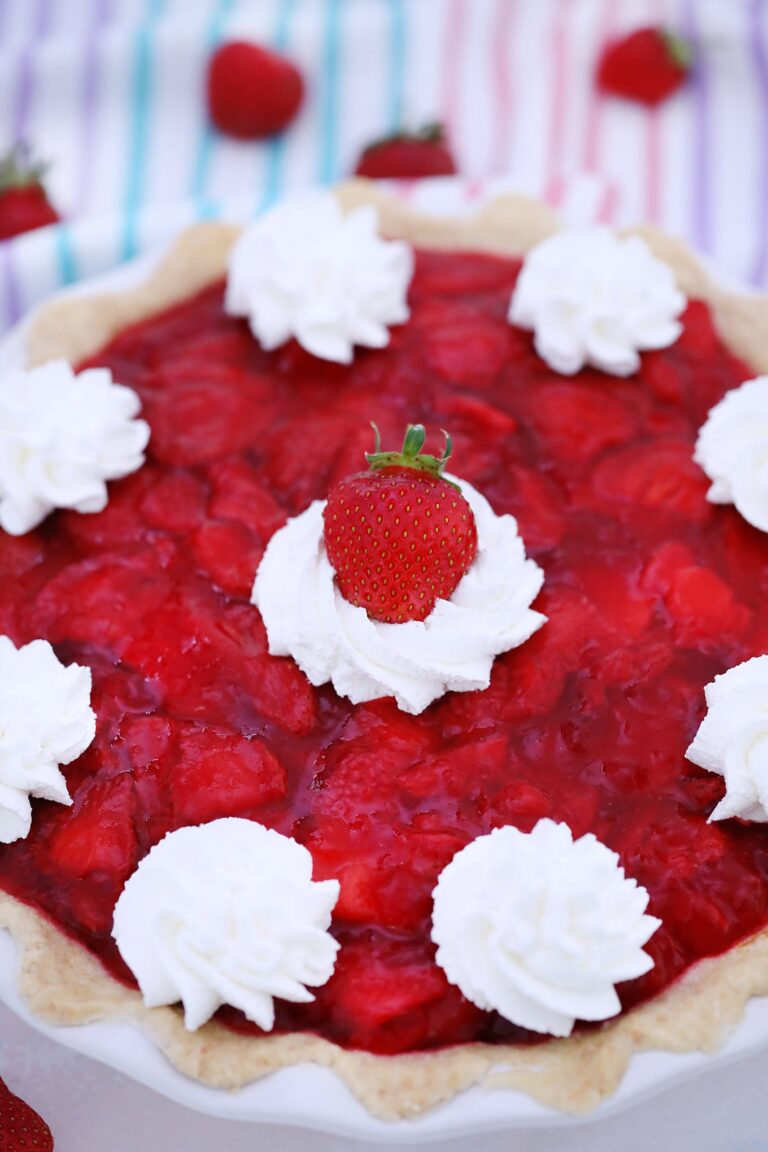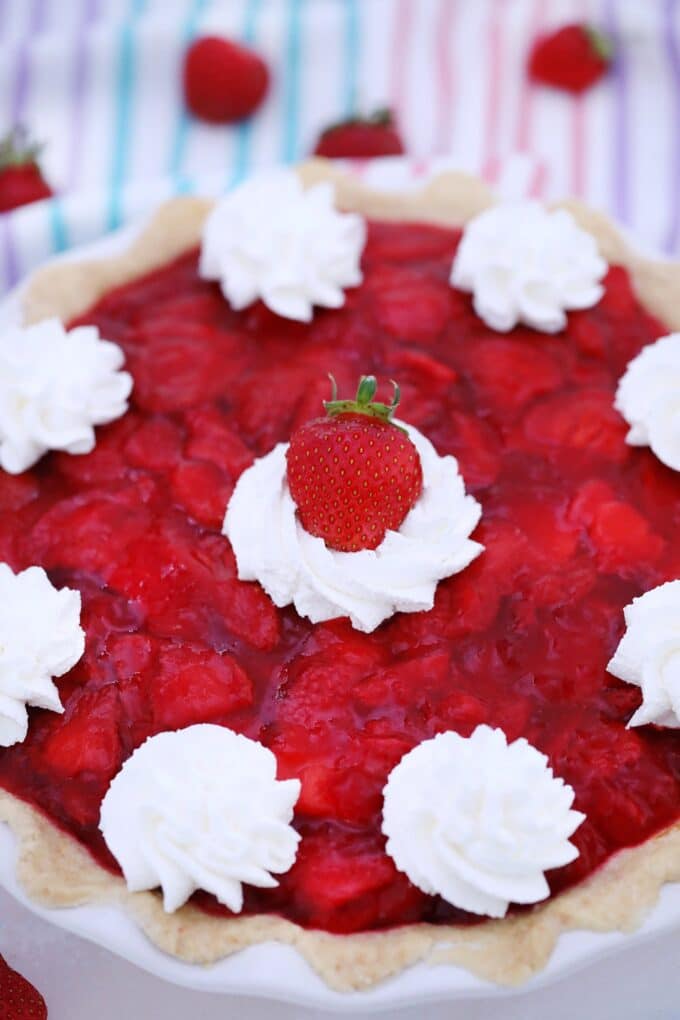 Easy Fresh Strawberry Pie
Strawberry Pie is a great dessert all-year around, but especially great during summer since the fruit is in season. Though you can find strawberries in marketplaces and groceries all the time, you can be sure that during summer, you will have the freshest ones available.
We will share with you how to prepare this dish from scratch. Starting from the homemade filling to the homemade pie crust. Even beginning chefs can make this pastry as it's quite simple and easy to follow.
And besides, anything homemade is better in terms of cost and quality. Make the most out of the fruit this summer. Once you try it, you will never go for the store-bought version again!
How do you make Strawberry Pie Filling?
We already have the homemade recipe for it, and you can check it out in this link. It is a great easy to follow recipe where you can make the filling from the sweetest berries and jello without breaking the bank with this recipe.
How do you make a homemade pie crust?
Blend: In a food processor, combine flour, salt, sugar, cinnamon with butter and shortening. These will create crumbs and then, add water.
Shape: The resulting dough will need to be shaped into a ball and refrigerated for at least 3 hours to overnight.
Roll: On a flat surface, put a waxed paper and lightly dust off with flour. Then, roll out the dough to fit a 9-inch plate.
Press: Put the flattened dough in the pie plate and press evenly at the sides.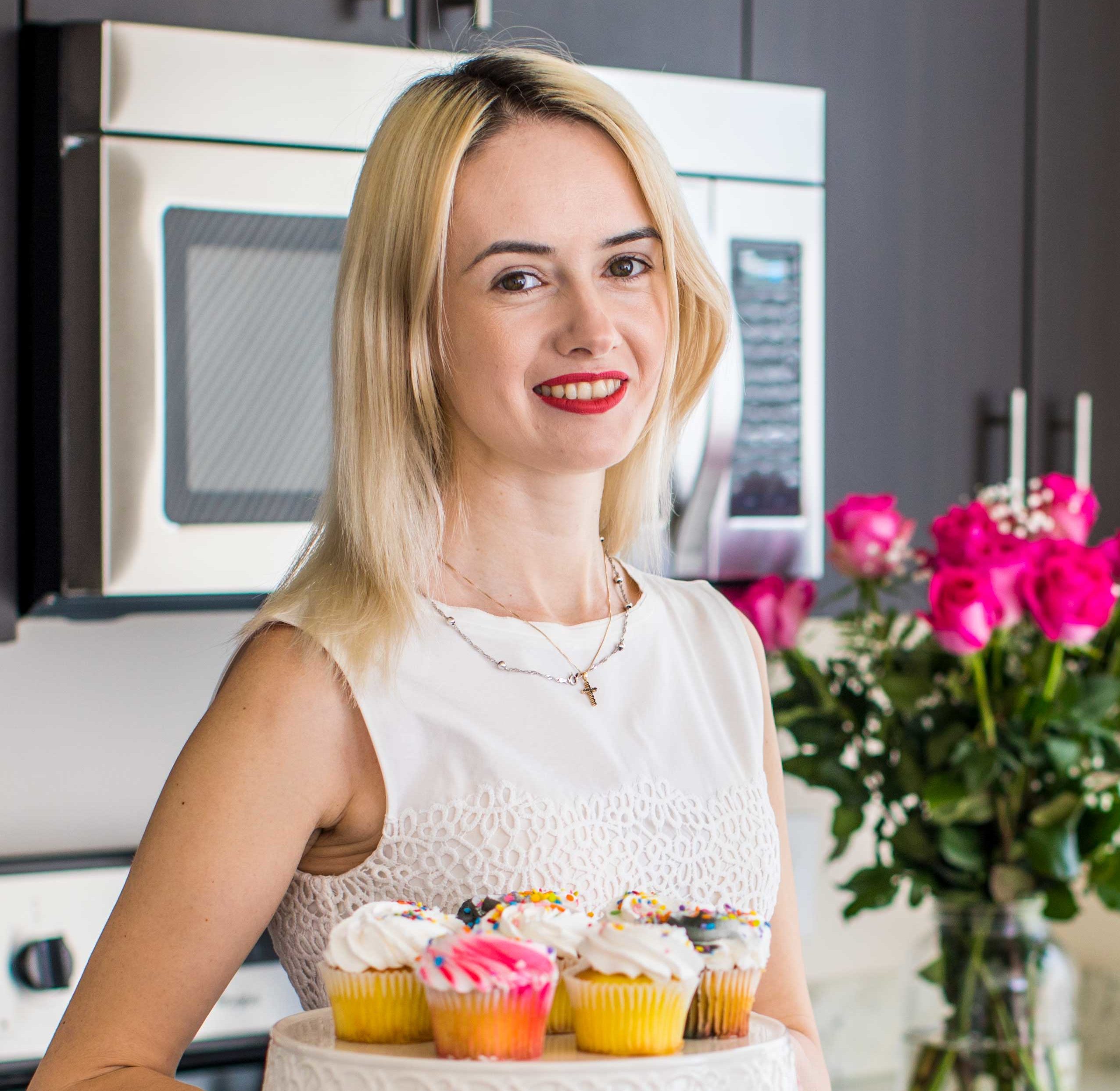 Follow us on Pinterest for more delicious recipes!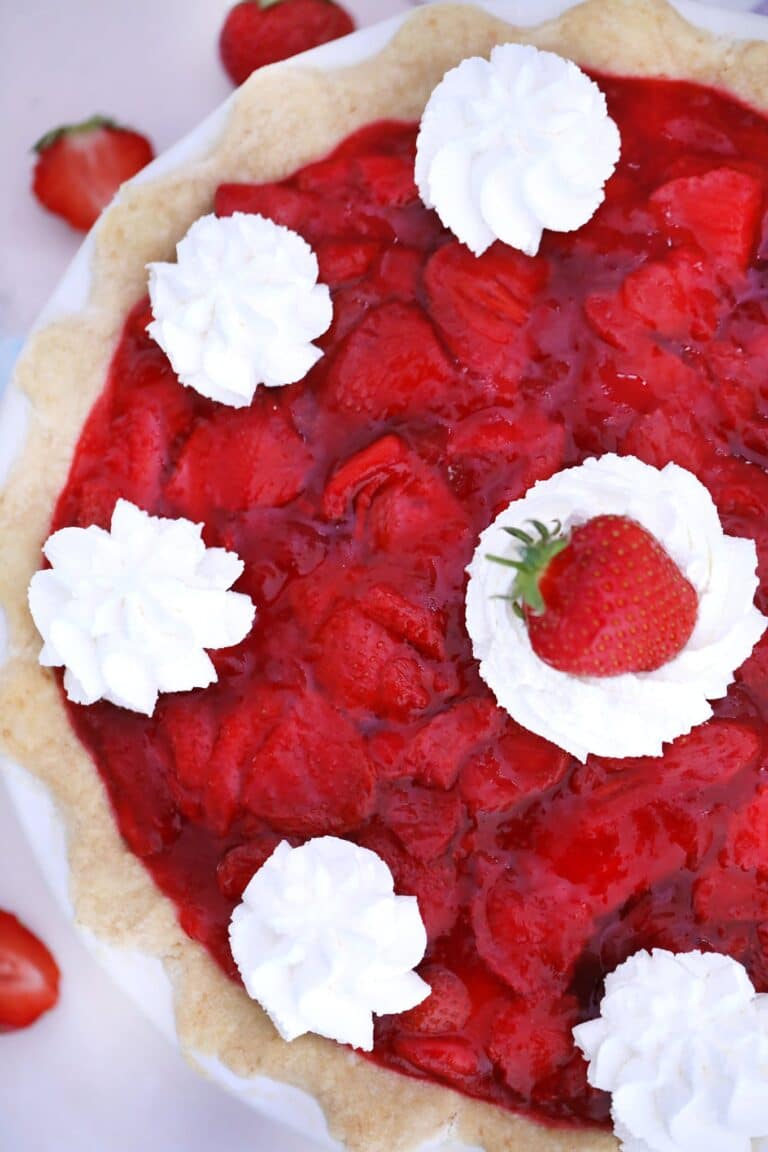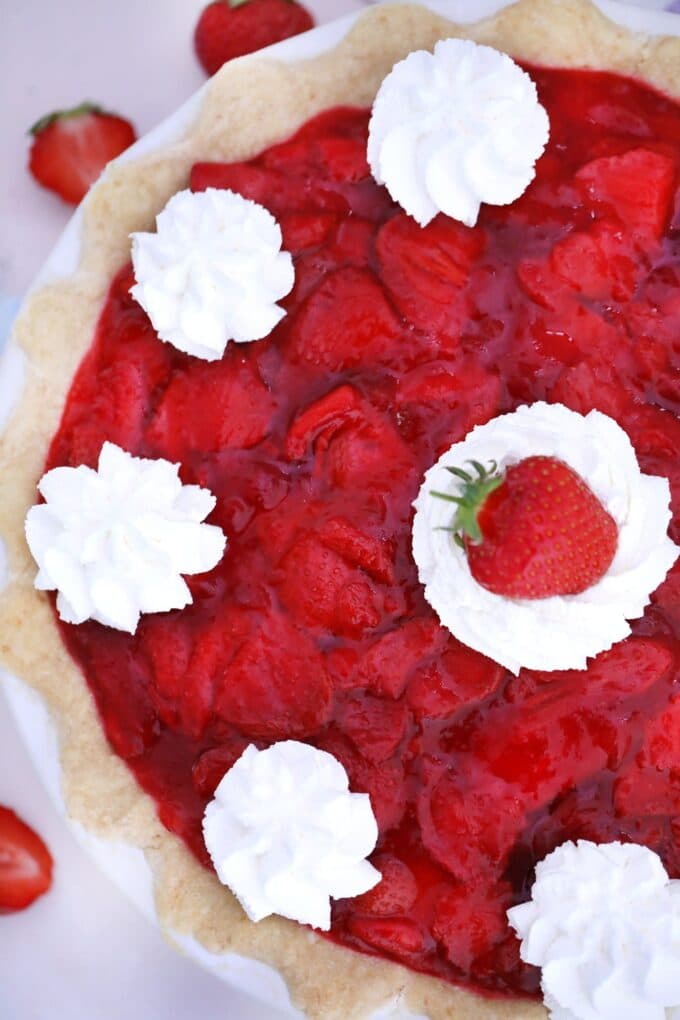 How do you make a cheesecake strawberry pie?
Once you have prepared the crust as described above, you can then add the cheesecake layer and then, top it with the filling. To make the cheesecake layer, simply combine the cream cheese, flour, and sugar until fluffy.
Then, add the egg, vanilla, and cream and continue mixing until creamy. Use an electric mixer for this.
Put this cheesecake layer on the prepared crust, and then, bake for 30 minutes (preheated at 350 degrees). After baking, refrigerate this for at least two hours before topping it off with the homemade filling. Then, serve with some whipped cream on top!
How much does a quart of strawberries weigh?
One quart of strawberries may range from 1.5 lbs to 2.3 lbs depending on the size. The smaller the size is, the more berries will fit in one quart whereas the bigger ones will leave more space in between.
Should homemade strawberry pie be refrigerated?
Generally, it can stay good for up to two days even when stored at room temperature. But, if it is a cream pie, the answer is a resounding yes.
If there is any leftover (which I doubt), refrigerate the freshly baked pie for 4 to 5 days. Just make sure that the whole thing is covered loosely with an aluminum foil.
How do you make a no-bake strawberry pie?
Use a store-bought or homemade graham cracker crust for the crust part. Skip the eggs in the cheesecake layer, and refrigerate it for a few hours after adding it to the crust. Afterward, you can top it with the strawberry filling and refrigerate again until ready to serve.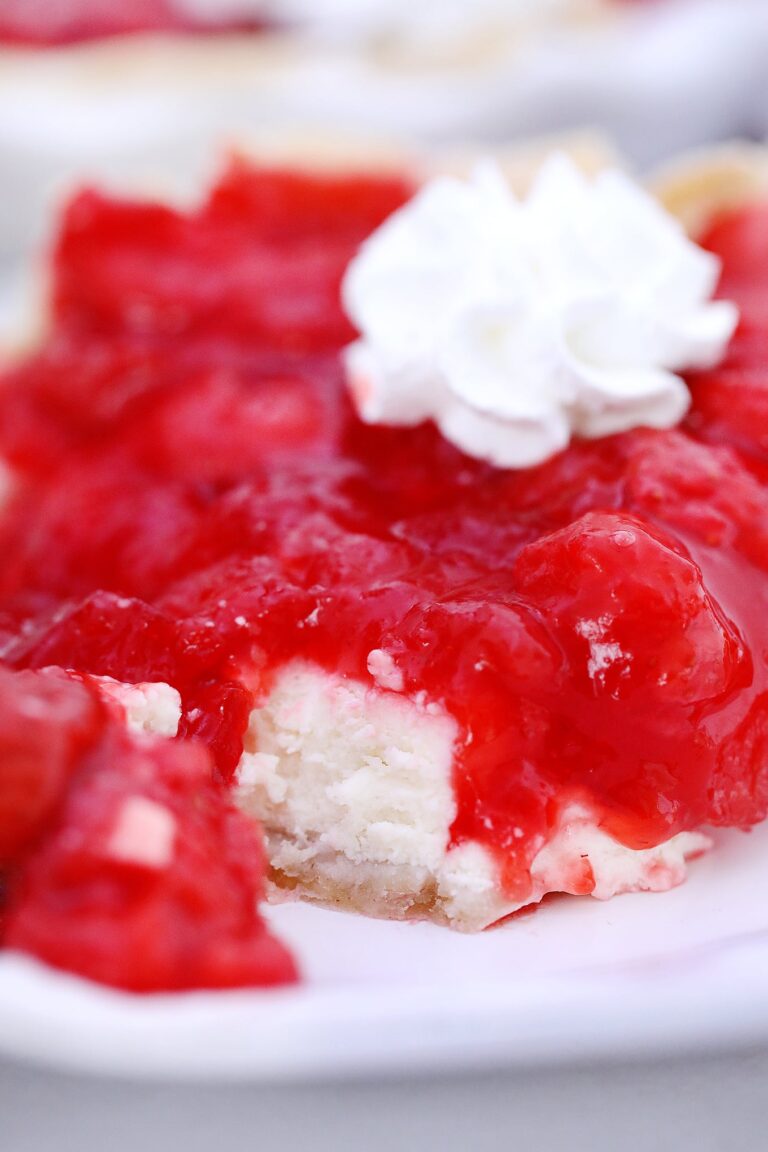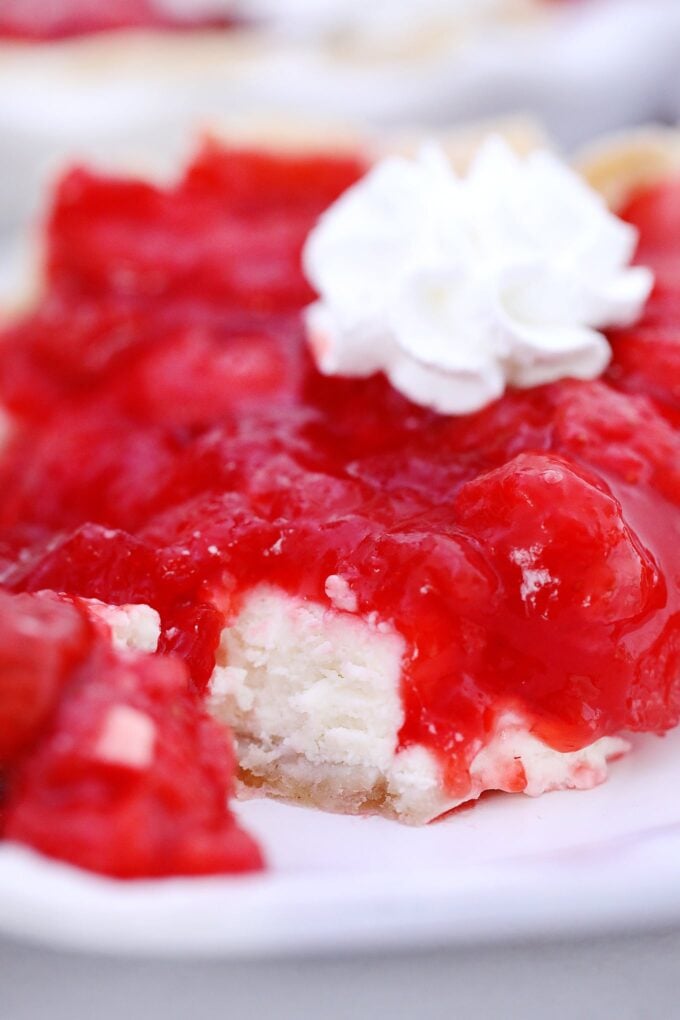 Can you make a strawberry pie in advance?
Sure, you can. It can come in handy when there are surprise visitors, or, on days that you are craving for it. Also, it has a robust shelf life so you can make this in advance.
However, if possible, refrigerate this without the filling. Then, just put the filling once ready to serve.
How to slice a pie correctly?
With a serrated knife, press on it to cut. Then, follow the lines with a small paring knife. Next, use a pie server to serve.
If it is a cream pie, wipe the knife clean after each cut.
Can you freeze a strawberry pie?
Yes! Just tightly wrap with plastic wrap or aluminum foil and put in the freezer. Properly stored, it can last for at least six months.
More homemade pie recipes:
Recipe Tips
For best results, refrigerate it prior to slicing. A slightly frozen one is easier to cut.
If needed, substitute the cream cheese with yogurt or cottage cheese that has been pureed.
Also, you can use fresh strawberries instead of a cheesecake layer. On the crust, put whole berries upside down then, cover with glaze and top with whipped cream. To make the glaze, cook together a cup of pureed strawberry, water, cornstarch, and sugar. Serve this cold.
Save Recipe
Strawberry Pie with Cheesecake Layer
Strawberry Pie has a perfectly buttery crust and is loaded with juicy and fresh strawberries. It has the best combination of sweetness and sourness in a decadent dessert!
Author: Catalina Castravet
Serves: 10 slices
Prep time:

30

minutes
Cook time:

30

minutes
Total time:

1

hr
Ingredients
Pie Crust or use store-bought:
Cheesecake Layer:
Strawberry Pie Filling or use store-bought:
Instructions
Pie Crust:
Cheesecake Layer:
Strawberry Pie Filling:
Nutrition information
Calories: 310 Carbohydrates: 40 Protein: 3 Fat: 14 Saturated Fat: 6 Cholesterol: 41 Sodium: 232 Potassium: 108 Fiber: 1 Sugar: 22 Vitamin A: 335 Vitamin C: 15 Calcium: 82 Iron: 1.6
Save Recipe
More recipes you might love
Categories: