Crustless Pumpkin Pie [Video]
Crustless Pumpkin Pie is a very tasty, creamy, and easy-to-make dessert that is also crazy low in calories. It is gluten-free and perfect to serve for Thanksgiving or the holiday season.
We love making high-quality and delicious pumpkin flavor desserts. With holidays around the corner, pumpkin recipes are surely high on the to-do list. Among our other favorite fall desserts are Pumpkin Cheesecake Bars, Pecan Pie Pumpkin Cheesecake, and Pumpkin Poke Cake. I recommend you give at least one of them a try, they are all delicious!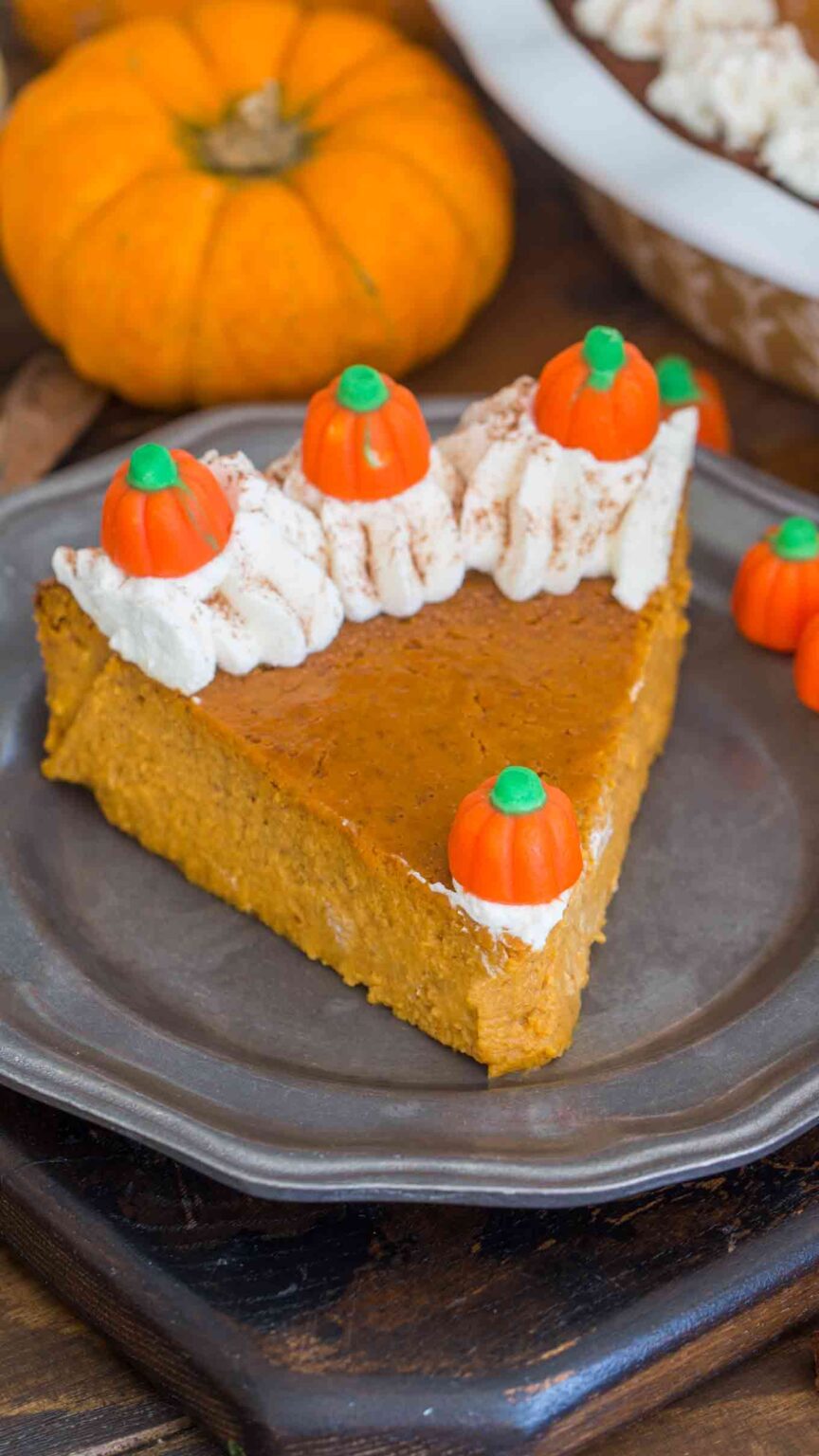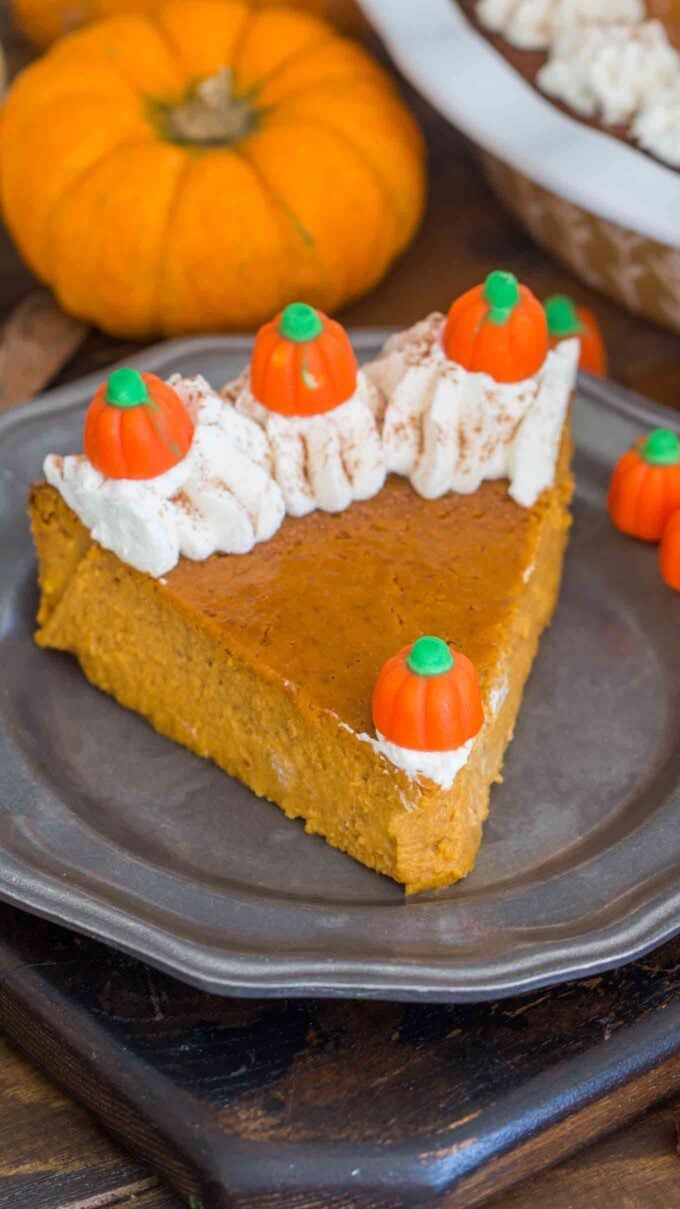 Best Crustless Pumpkin Pie
This Crustless Pumpkin Pie is the perfect dessert option to make in the calorie-heavy holiday season! The pie is so easy to make, with a foolproof recipe, that is very hard to mess up.
Also, since the pie has no crust, it literally melts pleasantly in your mouth. It has a smooth and creamy texture and is also gluten-free. It is a nice change from the traditional pumpkin pie and is also lighter in calories.
If you are looking for something more special to try during this holiday season, then this low carb pumpkin pie would be an excellent choice. It is one of our favorite recipes when it comes to Thanksgiving dinner. Also, it is very easy to make, and ready in about 1 hour from start to finish.
I used store-bought canned pumpkin puree. However, if you have some extra time and desire, you can use homemade puree. This is a great and easy option. You simply roast it prior to pureeing it.
However, both options will work great in this recipe. So, go with what you prefer. As for the topping, I used whipped cream and some ground cinnamon.
In addition, this no crust pumpkin pie is packed with vitamins and is low in sugar and unhealthy fats. It is perfect to enjoy brunch or as a dessert after family dinner!
So why is this the best crustless pumpkin pie recipe?
Gluten-free: For those with celiac disease looking for a creamy and delicious dessert, this crustless pie is the ideal treat to have. Because it has no flour, it has no gluten. Therefore, feel free to indulge yourself anytime you feel like it! Whether you want something festive during the fall season, or to serve at your Thanksgiving table, this is the perfect dish!
No refined sugars: In addition, this is a healthy pumpkin dessert because it contains no refined sugars. To keep it even healthier, I use maple syrup instead of refined sugar.
Rich, creamy, and flavorful: Also, it has a velvety smooth texture with rich flavors. The fall-inspired spices such as cinnamon, ginger, and nutmeg make it so much better!
Low Carb dessert: It is also a low-carb dish, and perfect for weight watchers diet. However, you won't even know it! So, feel free to get an extra slice without feeling guilty!
Key ingredients:
This recipe calls for simple ingredients:
Whole eggs and egg yolks: They hold the batter together, and gives it that nice fluffy texture.
Spices: I love using cinnamon, cloves, nutmeg, ground ginger, vanilla extract, and a bit of salt.
Baking powder
Cornstarch
Maple syrup
Pumpkin puree: For the best results, I would recommend using homemade pumpkin puree. However, during the holiday season, time is limited. So, it is perfectly fine to use a store-bought puree.
Unsalted butter and heavy cream: This makes the pie super-rich and creamy.
How to make crustless pumpkin pie?
For the exact steps and measures, please see the recipe card below. Also, watch the short video tutorial attached. Here are the general steps:
Preheat oven: First, preheat the oven to 350 degrees f.
Mix the ingredients: Next, in a large mixing bowl, whisk the ingredients together to make the batter filling.
Bake: Then, add the pumpkin pie filling to a greased pie plate or baking sheet, and bake for about 50-60 minutes.
Let it cool: Lastly, remove it from the oven and let it cool on a cooling rack, and then refrigerate.
Serve: Top it with some whipped cream and serve!
Possible variations and substitutions:
Dairy-free: Feel free to make it dairy-free by substituting the heavy cream with coconut milk or unsweetened almond milk instead.
Brown sugar: I love using maple syrup or honey as an alternative to white sugar. However, you can use brown sugar.
Evaporated milk: Alternatively, swap the heavy cream with evaporated milk, whole milk, or even skim milk. Use whatever you prefer. Simply use the same amount of evaporated milk if that's what you have at hand.
Keto pumpkin pie: To make it keto-friendly, use sugar-free sweetener, or sugar substitutes instead of maple syrup. Also, check out this delicious Keto Pumpkin Cheesecake.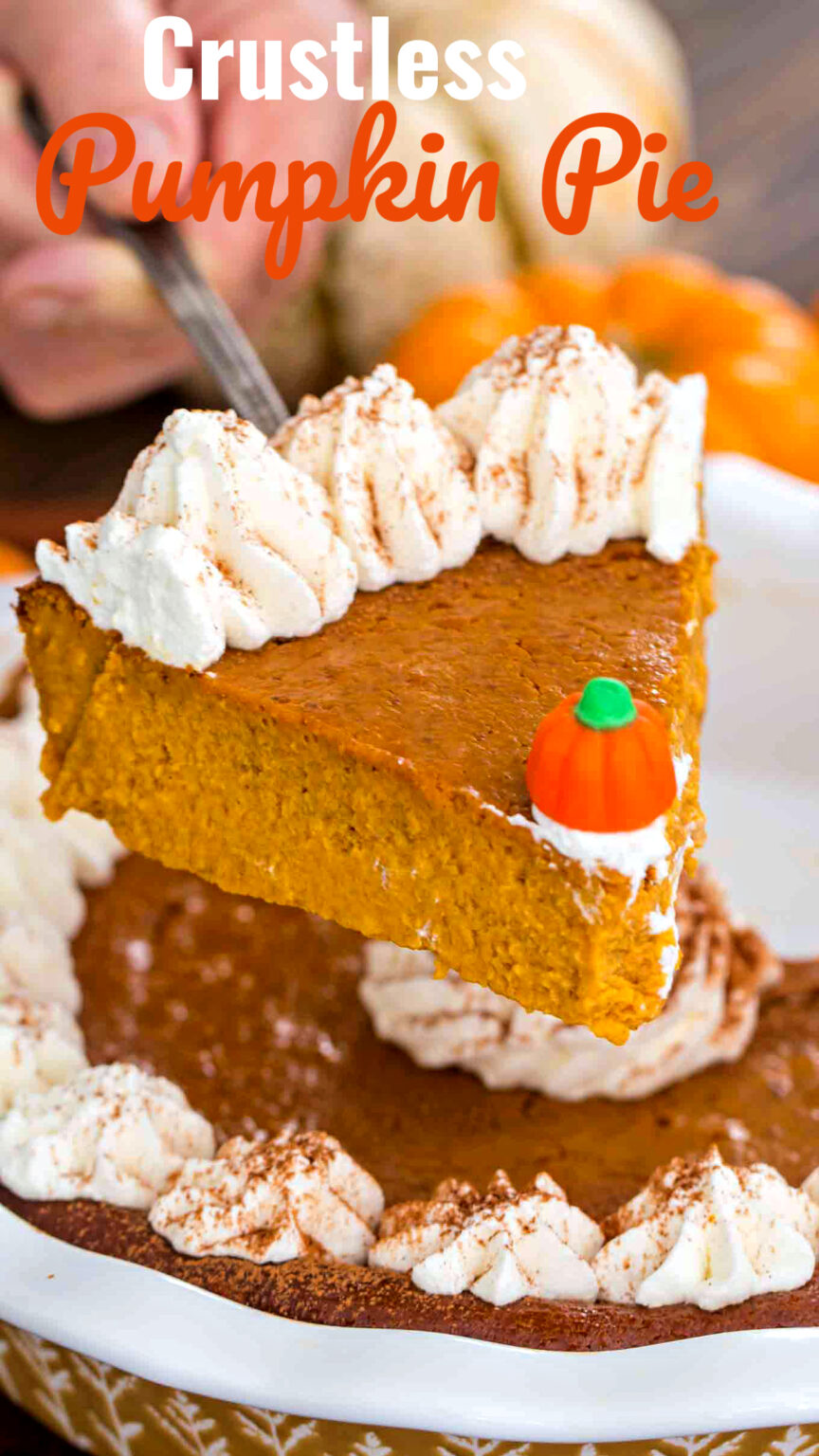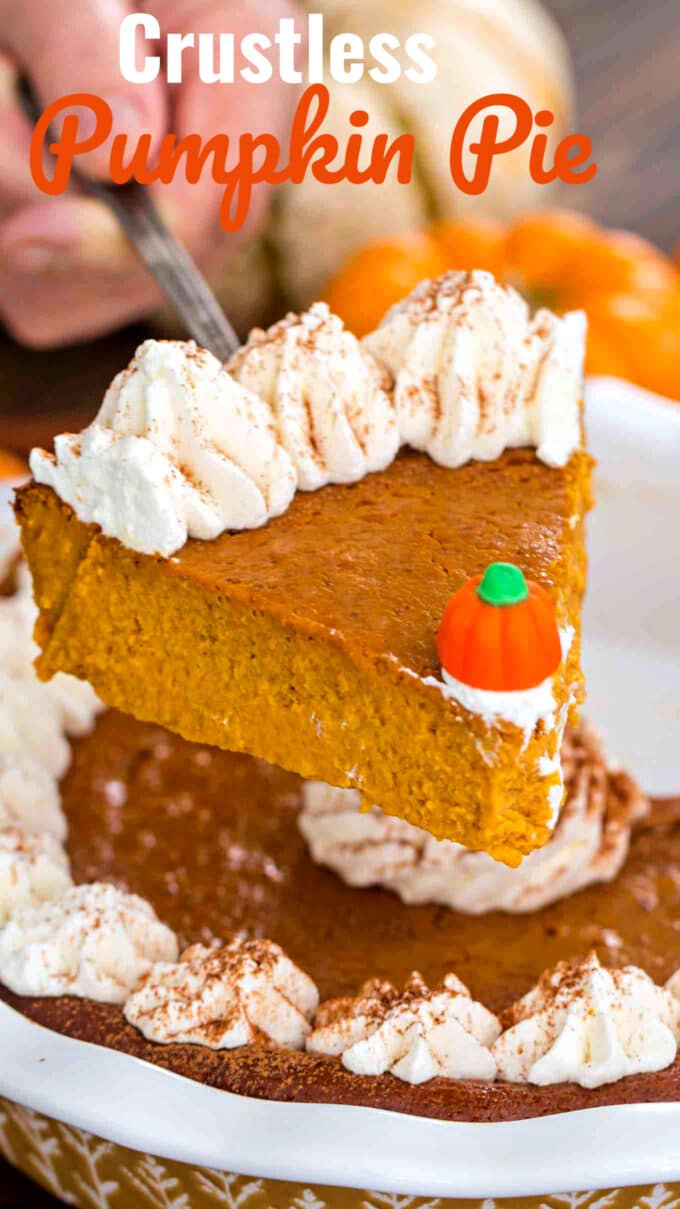 Favorite Topping ideas:
I love serving this creamy pumpkin pie with the following toppings;
A dollop of vanilla ice cream
Cashew cream
Keto ice cream
Pecans
Almonds
Pumpkin puree vs canned pumpkin
Canned pumpkin is just cooked pureed pumpkin. They are both the same thing, so do not get confused :).
Also, pumpkin pie filling is flavored with spices like cinnamon, clove, allspice, and ginger, and is also sweetened.
Can I use fresh pumpkin instead of canned?
Yes! Making the puree from fresh pumpkin is easy, and you can definitely substitute the canned version by making it from scratch. Here are the easy steps:
First, preheat the oven to 325 degrees F (165 degrees C).
Next, cut the pumpkin in half and remove seeds and pulp. Cover each half with foil.
Then, bake in the preheated oven, foil side up, 1 hour, or until tender.
Lastly, using a fork, scrape the meat from shell halves and puree in a blender or food processor. Strain to remove any remaining stringy pieces.
Store in the freezer in freezer-safe bags.
Follow this link to learn how to roast a whole pumpkin.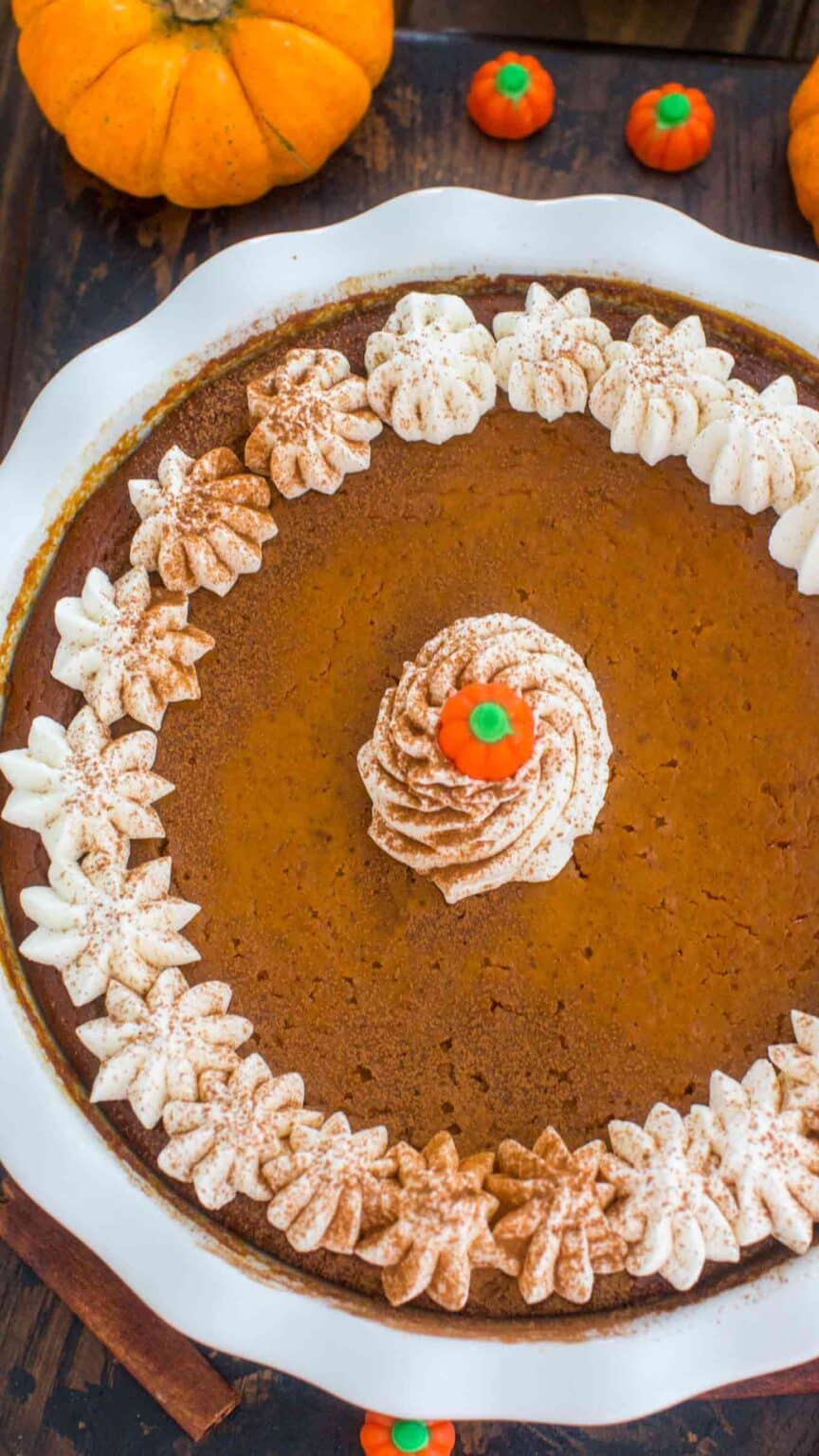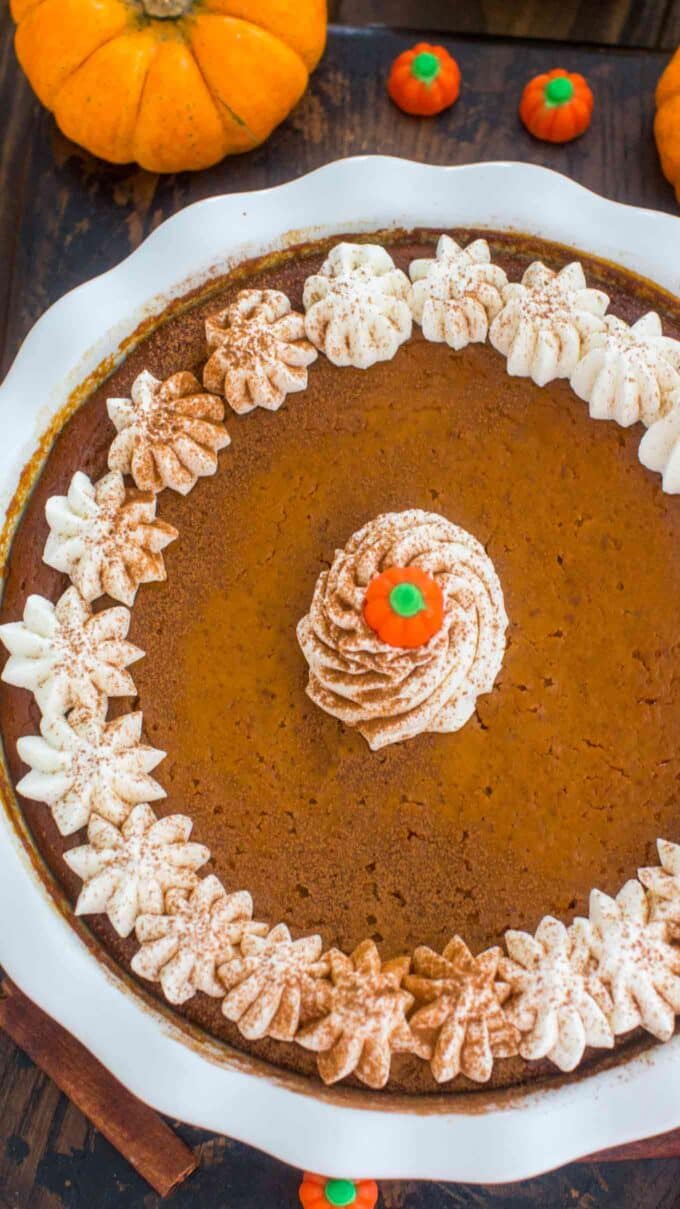 Can I make this with canned pumpkin pie filling?
Yes, if you are short on time, feel free to go with a canned version. However, I would recommend making it yourself. This way, you know exactly what goes into it, and you can control the flavors and the spices. That way you end up with the best pie.
More favorite pumpkin desserts:
Can I make it ahead?
Yes! Simply follow the recipe steps below, and skip the whipped cream topping. Once the pie is baked, let it completely cool on a wire rack. Then, cover the dish with aluminum foil, and refrigerate it for up to 3 days.
When ready to serve, simply add the whipped cream topping.
How to freeze the Crustless Pumpkin Pie?
First, wait for the pie to cool completely. Fully wrap in plastic wrap tightly. Next, wrap in aluminum foil or place it in freezer bags. Freeze for up to 3 months. Defrost before slicing.
Recipe Tips:
Please see the recipe card for the exact measures. In addition, I have attached the recipe video to better guide you through the cooking steps. So, feel free to watch it.
Also, don't skip the cornstarch as that's what holds this crustless pie together.
I recommend cooking this pie to an internal temperature of 165°F – 170°F. This ensures that you get perfect, creamy, smooth results.
When the pie is completely baked, let it cool at room temperature and then refrigerate for at least 3-6 hours. This will give you nicer and cleaner slices.
In addition, remember to immediately transfer the pie pan to a cold surface to cool off. Otherwise, the residual heat from the baking sheet will cook it further.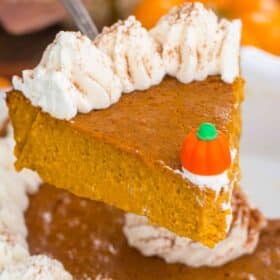 Crustless Pumpkin Pie
Crustless Pumpkin Pie is a very tasty, creamy, and easy-to-make dessert that is also low-carb. It is gluten-free and perfect for Thanksgiving.
Save
Share
Print
Pin
Rate
Ingredients
3

large eggs

2

egg yolks

1/4

teaspoon

cinnamon

1/4

teaspoon

cloves

1/4

teaspoon

ground ginger

1/4

teaspoon

nutmeg

1/4

teaspoon

salt

1

teaspoon

baking powder

3

tablespoons

cornstarch

1

cup

maple syrup

(or white sugar)

1

teaspoon

vanilla extract

1

can 29oz

pumpkin puree

1 1/2

cups

heavy cream

(room temperature)

4

tablespoons

unsalted butter

(melted)
Instructions
Preheat oven to 350 degreed F.

Butter a 9 -nch pie dish and about 6 1/2 cup ramekins or a larger, 10-inch pie dish.

To a large bowl add: cinnamon, ground ginger, nutmeg, salt, baking powder, and cornstarch. Add maple syrup and whisk until fully combined.

Add eggs, egg yolks, and vanilla extract. Whisk until fully combined.

Add pumpkin puree, cream, and melted butter. Whisk until fully combined. Use a rubber spatula to clean the sides and bottom of the bowl.

Add the mixture to the prepared pie dish.

Bake in the preheated oven for about 60-70 minutes. Or until the pie is settled and the center is just very slightly jiggly. The sides should be golden brown and puffed.

Remove pie from the oven and place on a cooling rack. Once it has completely cooled, transfer to the fridge for at least 6 hours or better overnight.

Serve topped with whipped cream.
Nutrition
Calories:
182
kcal
|
Carbohydrates:
27
g
|
Protein:
3
g
|
Fat:
6
g
|
Saturated Fat:
3
g
|
Cholesterol:
86
mg
|
Sodium:
118
mg
|
Potassium:
293
mg
|
Fiber:
2
g
|
Sugar:
19
g
|
Vitamin A:
10930
IU
|
Vitamin C:
2.9
mg
|
Calcium:
107
mg
|
Iron:
1.3
mg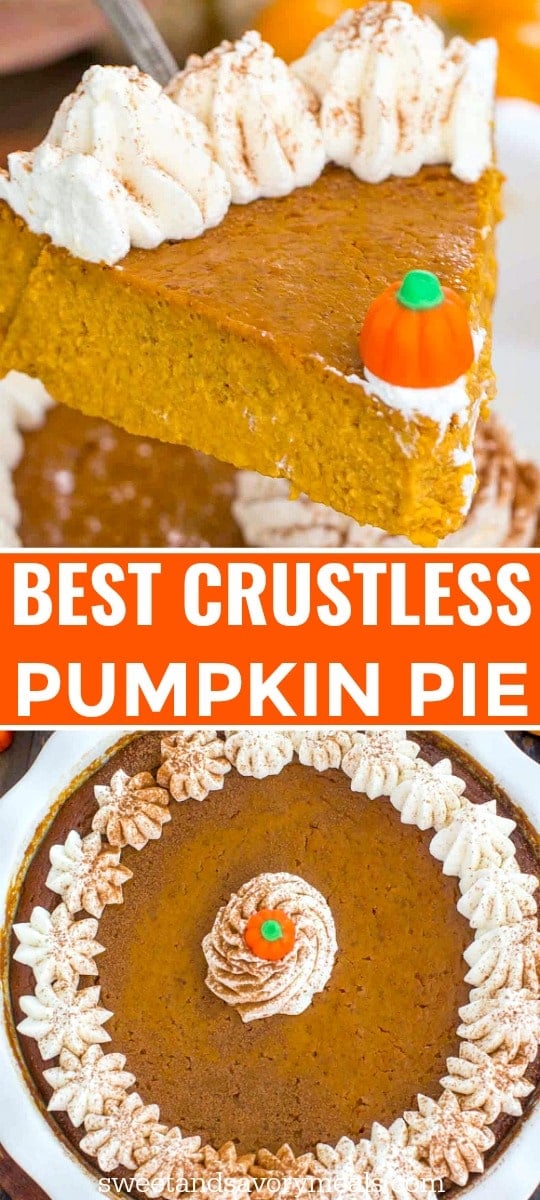 More recipes you might love