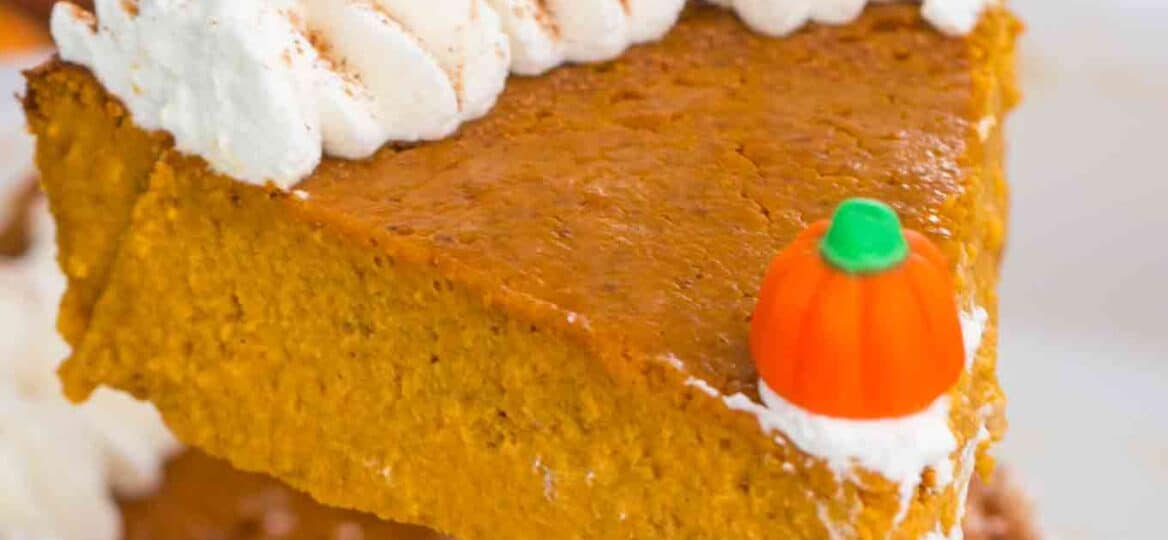 Crustless Pumpkin Pie [Video]
Crustless Pumpkin Pie has the creaminess and richness of the traditional dessert, without the extra calories and fuss, also it is naturally gluten-free. You can make this easy Thanksgiving dessert without having to worry about making the crust, saving time, and effort, and also having the option of a lighter, healthier treat.
If you cannot live without the traditional pie, our Classic Pumpkin Pie with brown sugar, whipping cream, and homemade crust is perfect. For something completely different, try this Instant Pot Pumpkin Pie Cheesecake made from cream cheese, pumpkin spice, and a graham cracker crust.
Did you know pumpkin has been used as food since 5500 BC? It is one of the earliest foods brought to the New World by European explorers. But the first pumpkin pie was documented in 1621 when the Plymouth Colony of settlers made crustless pumpkin pie! Yes, the first pumpkin pie was crustless! So, we are going back to our roots with this crustless pumpkin pie recipe.
This is the best crustless pumpkin pie recipe you will find and it is my family's new favorite way to have this delicious dessert. If you love pumpkin pie as much as we do, you will see why a crustless pie just makes a lot of sense.
You do not have to worry about the crust getting soggy or getting overcooked on the edges. Simply pour it all into a greased pie pan and bake it. This naturally-gluten free dessert is lower in calories and is the perfect alternative to the traditional pie. Whether you want something festive during the fall season, or to serve at your Thanksgiving table, this is the perfect dish!
Looking for more recipes to fill your Thanksgiving table? Whether you want an entree, side, or baked goods, we have a great recipe for just about anything. Try our foolproof recipe for the perfect oven-roasted turkey with stuffing. Or if you have a smaller family, this slow cooker turkey breast is juicy and delicious.
Ingredients needed:
To make this easy recipe, gather these ingredients. Then, when you are ready to begin, scroll down to our handy recipe card or recipe video for the exact measurements and step-by-step ingredients.
Pumpkin puree: Not pumpkin pie filling.
Maple syrup: Or white sugar.
Unsalted butter: Melted.
Heavy cream: At room temperature.
Large eggs: At room temperature.
Egg yolks: At room temperature.
Vanilla extract
Pumpkin pie spices: We used nutmeg, ground ginger, cinnamon, and cloves.
Salt
Baking powder
Corn starch
How to make crustless pumpkin pie from scratch?
Preheat: Before you begin, preheat the oven to 350 degrees F and butter or lightly grease a 10-inch pie dish or a 9×9-inch baking pan.
Start mixing the pumpkin pie filling: While you wait for the oven to heat up, combine maple syrup with the cornstarch, baking powder, salt, nutmeg, ginger, and cinnamon in a large mixing bowl.
Whisk it: Next, add the vanilla extract, egg yolks, and eggs and whisk until it is frothy.
Finish mixing: After, add in the melted butter, cream, and pumpkin puree and whisk it thoroughly, using a rubber spatula to scrape the sides and bottom of the bowl.
Bake the pie: Then, pour the pumpkin pie filling into the greased pie plate and bake in the preheated oven for 60 to 70 minutes. The middle should be slightly jiggly with the edges puffy and golden brown. Baking times vary depending on your pan and your stove.
Remove and cool: Lastly, remove the pie from the oven and place it on a wire rack to let it cool completely.
Chill the pie: Here is the hard part. Cover with plastic wrap and let it cool in the fridge for at least six hours but preferably overnight to make sure it is completely cooled.
Serve: Finally, you can serve your delicious pie with or without whipped cream.
Why is this the best crustless pumpkin pie recipe?
Gluten-free: For those with celiac disease looking for a creamy and delicious dessert, this crustless pie is the ideal treat to have. Because it has no flour, it has no gluten. Therefore, feel free to indulge yourself anytime you feel like it!
No refined sugars: In addition, this is a healthy pumpkin dessert because it contains no refined sugars. To keep it even healthier, I use maple syrup instead of refined sugar.
Rich, creamy, and flavorful: Also, it has a velvety smooth texture with rich flavors. The fall-inspired spices such as cinnamon, ginger, and nutmeg make it so much better!
Low-Carb dessert: It is also a low-carb dish, and perfect for a weight watchers diet. However, you won't even know it! So, feel free to get an extra slice without feeling guilty!
Recipe variations:
Brown sugar: Instead of white sugar or maple syrup, try using 3/4 cup of brown sugar instead. It will add a richer flavor.
Sugar-free: You can also use sugar substitutes instead of refined sugar.
Evaporated milk: For less fat and calories, use evaporated milk or skim milk instead of cream.
Other milk: You can also try coconut milk or unsweetened almond milk. If the pie filling is not thick enough you will have to add the cornstarch slurry.
No dairy milk: For lactose intolerant folks, use coconut cream instead of cream to make this dairy free.
Coconut oil: Instead of butter, you can use coconut oil for fewer carbs.
How to serve:
Even if you love pie crust, this crustless pumpkin pie recipe will make you happy. Not only is it easier but it has fewer calories and tastes scrumptious. Try one of our serving ideas or share one of your own in the comments below.
Most people insist on having whipped cream on their pumpkin pie whether it has crust or not. Try our creamy and delicious homemade whipped cream recipe.
Another way to top this pie is with a dollop of vanilla ice cream.
This goes great with all the Thanksgiving dinner favorites including sweet potato casserole, mashed potatoes, and of course, turkey. Try our recipe for savory and sweet loaded sweet potato casserole.
Sprinkle coconut sugar on top before serving for a bit of extra sweetness.
Chocolate lovers would appreciate some chocolate chips or syrup on top.
Use leftovers to make our sweet and delightful pumpkin pie dip.
You could also use leftover crustless pumpkin pie for pumpkin mousse, soup, or casserole.
Can I use fresh pumpkin instead of canned?
Yes! Making the puree from fresh pumpkin is easy, and you can definitely substitute the canned version by making it from scratch. Here are the easy steps:
First, preheat the oven to 325 degrees F (165 degrees C).
Next, cut the pumpkin in half and remove the seeds and pulp. Cover each half with foil.
Then, bake in the preheated oven, foil side up, for 1 hour, or until tender.
Lastly, using a fork, scrape the meat from the shell halves and puree it in a blender or food processor. Strain to remove any remaining stringy pieces.
Store in the freezer in freezer-safe bags.
Follow this link to learn how to roast a whole pumpkin.
Frequently asked questions
What is in pumpkin pie spice?
If you do not have any pumpkin pie spice mix on hand, it is easy to make your own. Simply mix 1/4 teaspoon of nutmeg, 1/2 teaspoon of cloves, 3/4 teaspoon of ginger, and 1 teaspoon of cinnamon. Some recipes also call for 1/2 teaspoon of allspice, but you do not have to use it unless you want to.
Can I make this with canned pumpkin pie filling?
Yes, if you are short on time, feel free to go with a canned version. However, I would recommend making it yourself. This way, you know exactly what goes into it, and you can control the flavors and the spices. That way you end up with the best pie.
Why do you put maple syrup in your pumpkin pie?
Although this recipe calls for maple syrup, you could also use granulated sugar or some kind of sugar substitute. The syrup just gives it just the right amount of sweetness with a lower glycemic index. Also, because it is sweeter than sugar, you do not have to use it as much.
What is the difference between whipped cream and whipped topping?
Canned whipped cream has real cream as its first ingredient but also has sugar and chemicals to stabilize it. Whipped topping like Cool Whip also has cream but the main ingredients are typically water, oils, and sugar. But the best whipped cream is the kind you make yourself because then you know what is in it.
What are the nutrition facts in this recipe?
Because you are eating a pie without the crust, it cuts a lot of calories and fat. Per serving, you only get 182 calories, 27 grams of carbs, 3 grams of saturated fat, 86 milligrams of cholesterol, and 19 grams of sugar. On the other hand, you also get 3 grams of protein, 2 grams of fiber, 107 milligrams of calcium, and a whopping 10,930 units of vitamin A!
How to store leftovers:
Store: To store your crustless pumpkin pie, wrap the whole pie in plastic wrap including the pan. It will stay good in the fridge for about four or five days.
Freeze: If you cannot finish in five days, you can freeze it. First, refrigerate for four hours before placing the plastic-wrapped pie in a freezer bag and eating it within three months.
Thaw: Remember to thaw overnight before serving for the best results.
Reheat: You can eat this pie chilled or at room temperature. Reheating is not really recommended.
More favorite pumpkin desserts:
Recipe Tips:
To cut prep time, use canned pumpkin pie filling instead of making your own.
Baking time will vary depending on the size and type of pan you use. To test for doneness, a knife inserted in the middle of the pie should come out clean.
Also, don't skip the cornstarch as that's what holds this crustless pie together.
I recommend cooking this pie to an internal temperature of 165°F – 170°F. This ensures that you get perfect, creamy, smooth results.
When the pie is completely baked, let it cool at room temperature and then refrigerate for at least 3-6 hours. This will give you nicer and cleaner slices.
In addition, remember to immediately transfer the pie pan to a cold surface to cool off. Otherwise, the residual heat from the baking sheet will cook it further.
Crustless Pumpkin Pie
Ingredients
3

large eggs

2

egg yolks

1/4

teaspoon

cinnamon

1/4

teaspoon

cloves

1/4

teaspoon

ground ginger

1/4

teaspoon

nutmeg

1/4

teaspoon

salt

1

teaspoon

baking powder

3

tablespoons

cornstarch

1

cup

maple syrup

or white sugar

1

teaspoon

vanilla extract

1

can 29oz

pumpkin puree

1 1/2

cups

heavy cream

room temperature

4

tablespoons

unsalted butter

melted
Instructions
Preheat oven to 350 degrees F.

Butter a 9 -inch pie dish and about 6 1/2-cup ramekins or a larger, 10-inch pie dish.

To a large bowl add cinnamon, ground ginger, nutmeg, salt, baking powder, and cornstarch. Add maple syrup and whisk until fully combined.

Add eggs, egg yolks, and vanilla extract. Whisk until fully combined.

Add pumpkin puree, cream, and melted butter. Whisk until fully combined. Use a rubber spatula to clean the sides and bottom of the bowl.

Add the mixture to the prepared pie dish.

Bake in the preheated oven for about 60-70 minutes. Or until the pie is settled and the center is just very slightly jiggly. The sides should be golden brown and puffed.

Remove the pie from the oven and place it on a cooling rack. Once it has completely cooled, transfer it to the fridge for at least 6 hours or better overnight.

Serve topped with whipped cream.
Deliciousness to your inbox
Enjoy weekly hand picked recipes and recommendations