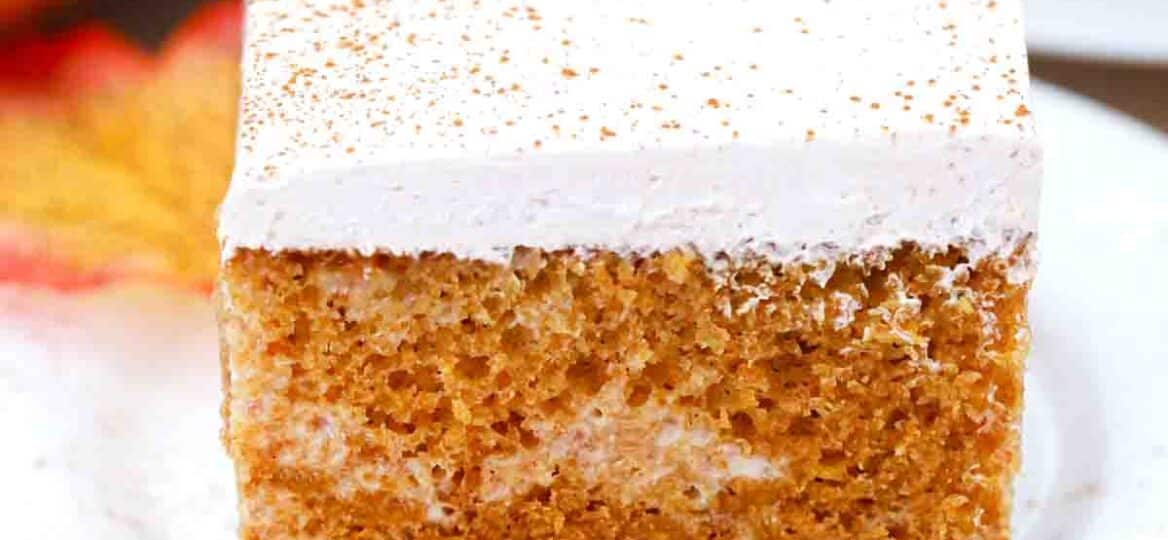 Tres Leches Pumpkin Cake Recipe [Video]
Tres Leches Pumpkin Cake is the perfect sweet treat, a delicate pumpkin spice cake filled with tres leches mixture and topped with maple whipped cream. This is a delicious twist to a classic tres leches cake by adding pumpkin puree to make a new pumpkin superstar! Everyone will be asking for the recipe so make sure you print out our recipe card at the bottom of the page.
Looking for more popular recipes? Try our Pumpkin Lava Cakes with vanilla ice cream and white chocolate. Another delicious fall treat is this Pumpkin Bundt Cake with a glaze made from cinnamon, sugar, milk, and pecans.
Tres leches actually means three kinds of milk, which is how this cake got its name. The traditional recipe called for three different kinds of milk including sweetened condensed milk, evaporated milk, and whole milk.
This is a traditional Latin American dessert you can find in almost every bakery and restaurant in Mexico. It is a very light and spongy cake that soaks up the milk mixture without being soggy.
Also known as milk cake, this is one of the best fall desserts I have found. You will be amazed at the way this fall version with pumpkin flavors makes a traditional tres leches cake taste like heaven. It is basically sponge cake that you poke holes into so it will soak up all the milky flavors. If you want more pumpkin recipes, we have them for you.
Try our instant pot pumpkin cheesecake with cream cheese and a graham cracker crust. Instead of cake, you will love these pumpkin churros with maple cream cheese sauce.
Ingredients needed:
For this pumpkin tres leches recipe, you will need to gather these ingredients. Then scroll down to our recipe card when you are ready to begin for the instructions and exact measurements.
For the cake:
All-purpose flour: Sifted.
Large eggs: At room temperature.
Granulated sugar: White sugar.
Brown sugar
Pure pumpkin puree: Not pumpkin pie filling.
Vegetable oil
Pure vanilla extract
Baking powder
Baking soda
Kosher salt
Fresh cloves
Nutmeg
Ground cinnamon
Ground ginger
The tres leches filling:
Sweetened condensed milk
Evaporated milk
Heavy cream
Ground cinnamon
For the whipped cream frosting:
Maple syrup
Maple extract
Heavy whipping cream
Confectioners' sugar: Or powdered sugar.
Ground cinnamon: Separated.
How to make tres leches cake from scratch?
Preheat oven: To begin, preheat your oven to 350 degrees F and grease a rectangular baking pan or cake pan with vegetable oil or non-stick cooking spray.
Cream the wet ingredients: Meanwhile, cream the sugars, pumpkin puree, vanilla extract, eggs, and oil in a large bowl with your stand mixer fixed with a paddle attachment for about 30 seconds on low speed.
Whisk the dry ingredients: Then, whisk together the salt, baking soda, flour, baking powder, and spices in a medium bowl. Gradually add the flour mixture to the pumpkin mixture until it is fully combined, and the cake batter is smooth.
Bake the cake: Next, pour the batter evenly into the prepared pan and bake for 25 to 30 minutes or until it passes the toothpick test.
Let it cool just a little: After, let the cake cool for just 15 minutes. You do not want it to be completely cooled.
Whisk together the milk mixture: Then, whisk together the cinnamon, both milks, and heavy cream in a medium bowl. Then set it aside.
Poke and chill: Now, poke holes in the cake while it is still warm and pour the milk mixture over the cake. It may seem like too much milk, but it will soak in as it chills in the fridge. Cover it with plastic wrap and refrigerate for at least eight hours or overnight.
Serve topped with whipped cream: Finally, just before you serve it, make the whipped cream frosting in the bowl of your stand mixer. Whip the heavy cream, cinnamon, maple extract, and maple syrup until stiff peaks form, which should take about five to seven minutes. Spread it on top of the cake and dust it with ground cinnamon before presenting your masterpiece on a serving plate.
Recipe variations:
Coconut milk: For a tropical flavor, add coconut milk to the milk mixture and sprinkle toasted coconut on top.
Pumpkin pie spice: For more pumpkin flavor, use pumpkin pie spice instead of cinnamon, ginger, nutmeg, and cloves. It also saves you time.
Whole milk: For a lighter filling, use whole milk instead of heavy cream.
Add liquor: Try this recipe with rum. It will give your cake a tiramisu flavor if you add 1/3 cup of rum to your tres leches mixture.
Add nuts: For a crunchier texture, toss in a cup of chopped pecans or walnuts.
Spiced pumpkin topping: For more pumpkin taste, add a 1/2 teaspoon of pumpkin spice.
No syrup: Instead of syrup, you can also use honey.
How to serve:
This great recipe is a nice dessert cuisine for your Thanksgiving dinner or any holiday dinner you make. With an amazing flavor of pumpkin spice and homemade whipped cream to make it super creamy, your whole family will be asking for more. Try one of our delicious serving ideas here or share one of your own ideas with us in the comments below.
Sprinkle a cup of toasted pumpkin seeds on top for a crunchy topping.
Add a scoop of ice cream to this dish for a more decadent dessert.
Another delicious topping for this cake is your favorite berries like blackberries, raspberries, or strawberries.
Your tres leches cake is the perfect accompaniment to any main meal.
Chocolate lovers will enjoy a cup of chocolate chips and some chocolate syrup on top.
Serve this delicious dessert with your favorite turkey recipe. Try our cranberry orange turkey breast for a small gathering or this perfect oven-roasted turkey for a large group.
Celebrating something special? Add some rainbow sprinkles on top for a more festive look.
Frequently asked questions
Why is my cake dry?
It may be caused by too much flour. To measure flour properly, you need to spoon the flour gently into a large measuring cup and then level it with a butter knife. Using a measuring cup to scoop your flour will always give you more flour than the recipe calls for. You may have also cooked your cake too long. But don't worry, the milk mixture will make it creamy.
Why is my cake soggy?
Your cake should not be soggy unless you have added too much liquid. Be sure to measure your ingredients carefully. It may also be that you did not pour the milk evenly over the whole cake.
This recipe is for a sponge cake texture so it can soak up the thick milk mixture without disintegrating. It is supposed to hold the milk like a pudding or custard cake if you use the correct measurements.
How big should the holes be?
The holes should be about the same size as the tip of your pinky. It is best to use the end of a wooden spoon to poke holes in your cake. You could also use a large skewer or wooden dowel.
However, if you would rather have smaller holes, that will work too. Just be careful that the holes are big enough to allow the milk mixture to soak into the cake.
What are the nutrition facts in this recipe?
Each serving of this pumpkin tres leches cake has 301 calories, 30 grams of carbs, and 18 grams of fat with 13 grams of saturated fat as well as 65 milligrams of cholesterol, 175 milligrams of sodium, and 21 grams of sugar. But you also get 2 milligrams of vitamin C, 3,633 units of vitamin A, and 134 milligrams of calcium.
How to store leftovers:
Store: You can store your leftover tres leches cake in an airtight container or gallon-size zip baggie. Refrigerate for up to three days.
Freeze: It is also safe to freeze your pumpkin cake for up to three months.
Thaw: Remember to put your frozen leftovers in the fridge to thaw overnight before serving.
More pumpkin recipes:
Baking tips:
You can use the whisk attachment on your stand mixer to whisk together the dry ingredients as well.
To shorten prep time, you could use whipped topping from the store.
Another way to save time is to buy tres leches in a can instead of making your own.
For even more saved time, use a boxed cake such as a white sponge cake.
To check your cake, a toothpick inserted into the middle of the cake comes out clean.
For a lighter cake, you can bake this cake without egg yolks. Just use the egg whites and beat them on high until soft peaks form. Then add the sugar and beat until you have stiff peaks.
Clean your knife after each cut for cleaner-looking slices.
Tres Leches Pumpkin Cake
Ingredients
Pumpkin cake:
1

cups

granulated white sugar

1/2

cup

brown sugar

packed

15

oz

(1 can) pure pumpkin puree

NOT pumpkin pie filling

3/4

cup

vegetable oil

2

teaspoons

pure vanilla extract

4

large eggs

2

cups

all-purpose flour

2

teaspoons

baking powder

1

teaspoon

baking soda

1/2

teaspoon

salt

2

teaspoons

ground cinnamon

1/4

teaspoon

ground nutmeg

1/4

teaspoon

ground ginger

Pinch

of cloves
Tres leches filling:
1/2

cup

heavy whipping cream

12

oz

evaporated milk

1 can

14

oz

sweetened condensed milk

1 can

2

teaspoons

ground cinnamon
Maple whipped cream frosting:
1 1/2

cups

heavy whipping cream

cold

1/4

cup

confectioners' sugar

1

tablespoon

maple syrup

1

teaspoon

maple extract

1

teaspoon

cinnamon

Ground cinnamon

for dusting the top, optional
Instructions
Preheat the oven to 350 degrees F.

Grease a 9x13-inch baking pan with cooking spray. Set aside.

In a large bowl, beat together both sugars, pumpkin puree, oil, eggs, and vanilla extract with an electric mixer on medium-low speed until just combined, about 30 seconds.

In a medium bowl, whisk together the flour, baking powder, baking soda, salt, and spices.

Gradually add the flour mixture to the pumpkin mixture, and beat on medium speed until fully combined.

Transfer the batter to the prepared pan and smooth out the top with a spatula.

Bake for 25-30 minutes or until a toothpick inserted in the middle comes out clean or with just a few crumbs, but not raw butter.

Place the cake on a cooling rack and let it cool for 15 minutes.

In the meantime, in a medium bowl, whisk together the heavy whipping cream, evaporated milk, sweetened condensed milk, and cinnamon until combined.

Using the end of a wooden spoon, poke holes all over the warm cake.

Pour the milk mixture evenly over the pumpkin cake. Cover the cake with plastic wrap and refrigerate for 8 hours or overnight.

Just before serving, make the maple whipped cream frosting.

In a large cold bowl, whip together the heavy whipping cream and confectioners' sugar, maple syrup, extract, and cinnamon until stiff peaks form, about 5-7 minutes.

Spread the whipped cream evenly over the pumpkin poke cake and sprinkle some ground cinnamon on top.
Deliciousness to your inbox
Enjoy weekly hand picked recipes and recommendations