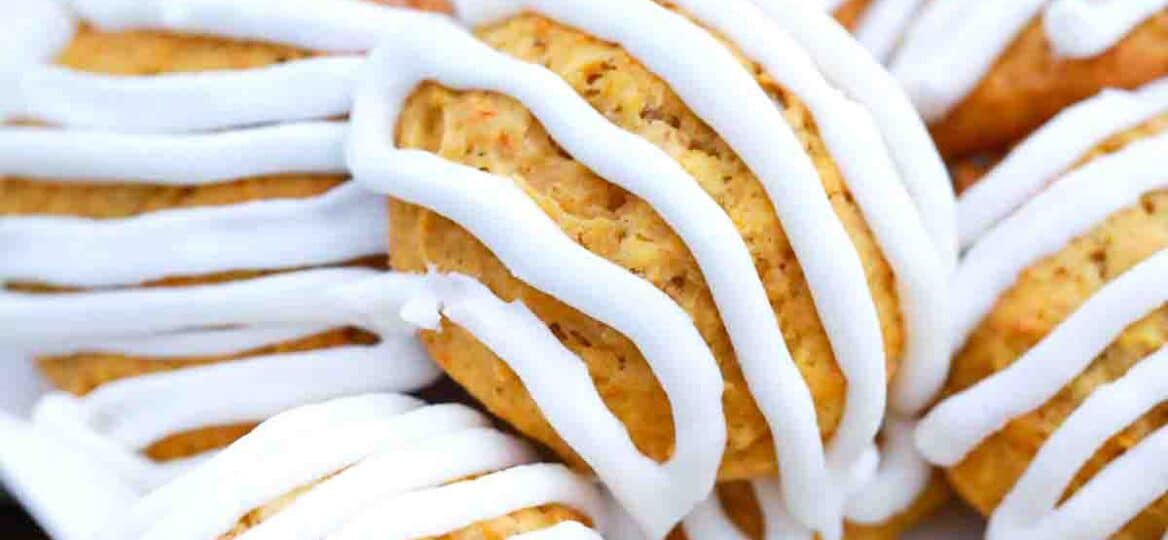 Pumpkin Oatmeal Cookies with Maple Glaze [Video]
Pumpkin Oatmeal Cookies have a soft and chewy texture with an absolutely delicious pumpkin flavor and are covered in a sweet maple glaze. This is one of the best pumpkin cookie recipes I have made with the fall spices and maple glaze, these delightful cookies are great for fall parties or any time of the year.
For cookies you do not have to bake, try our Chocolate Peanut Butter No-Bake Cookies made from cornflakes, brown sugar, and creamy peanut butter. You may also enjoy our Pineapple Crisp recipe with crushed pineapples, cinnamon, and coconut.
The first American oatmeal cookies are credited to Fannie Merritt Farmer. She made the very first ones in the United States and published her recipe in the Boston Cooking School Cook Book in 1896.
However, Scottish oatcakes were first discovered in 43 AD and made as thin dry cracker-type cookies. Nothing like the chewy and delicious oatmeal cookies of today.
Chewy pumpkin oatmeal cookies are perfect for holiday parties or as a snack any time you need a little something both tasty and healthy. Just because they are cookies does not mean they have to be bad for you.
These pumpkin cookies are full of vitamin A, iron, magnesium, vitamin C, and vitamin B as well as folate, calcium, potassium, and fiber.
Looking for more pumpkin recipes? This pumpkin pound cake is extremely moist and yummy made with a whole stick of butter and cream cheese. You can even enjoy pumpkin for breakfast with these fluffy delicious pumpkin cheesecake pancakes.
Follow us on Pinterest for more delicious recipes!
Ingredients needed:
These healthy pumpkin oatmeal cookies are easy to make with the ingredients below. Then, when you are ready to begin making them, scroll down to our recipe card where you can find the measurements and directions.
Unsalted butter: Softened to room temperature.
Brown sugar: Packed.
White sugar: Granulated sugar.
Canned pumpkin puree: Not pumpkin pie filling.
Egg: At room temperature.
Vanilla extract
All-purpose flour
Quick cooking oats: Or quick oats.
Nutmeg
Ground cinnamon
Baking soda
Baking powder
Salt
Maple glaze:
Powdered sugar: Or confectioners' sugar.
Milk
Pure vanilla extract
Pumpkin pie spice
Maple syrup
How to make pumpkin oatmeal cookies from scratch?
Preheat: First, preheat your oven to 350 degrees and prepare baking sheets by coating them with nonstick cooking spray. Set prepared baking sheets aside.
Beat the wet ingredients: In the meantime, use your electric mixer to beat butter and sugars in a large bowl. Then, add the vanilla extract, egg, and pumpkin puree. Beat until it is smooth.
Mix the dry ingredients: Next, mix the oats, salt, baking soda, baking powder, cinnamon, and flour in a medium bowl.
Combine: After, add the flour mixture to the wet ingredients in the large bowl and stir until it is completely mixed.
Shape the cookies: Then, shape cookie dough balls and place them on a greased baking sheet with a spoon or cookie scoop. Slightly flatten each one with a plastic spatula.
Bake the cookies: Lastly, bake oatmeal cookies in your preheated oven for 11 to 14 minutes or until they are lightly browned.
Make the glaze: While you let the cookies cool completely, make the glaze. Whisk the pumpkin pie spice, vanilla extract, milk, and sugar together in a small bowl.
Glaze and serve: Finally, drizzle the glaze onto the cooled cookies and let them set before serving.
How to make air fryer pumpkin oatmeal cookies from scratch?
Prepare your pans: First, prepare baking sheets using your favorite cooking oil such as coconut oil, and set them aside while you make the cookie dough.
Combine the wet ingredients: Then, beat the sugars and butter together until it is creamy before you add pumpkin, vanilla, and egg until it is smooth.
Make the dry mix: After, combine flour, cinnamon, baking soda, baking powder, salt, and oats in a medium bowl.
Mix all ingredients: Now, combine the wet and dry ingredients until it is completely mixed.
Scoop the cookies: Next, scoop small balls of oatmeal cookie dough onto your prepared cookie sheet.
Air fry the cookies: Afterward, place the tray into the air fryer and cook at 400 degrees F for three or four minutes on each side. Remove them and let them cool completely on a wire rack while you make the glaze.
Make the glaze: To make the glaze, mix all the glaze ingredients and use a spoon to drip it on top of the cooled cookies.
Serve: Once the glaze is set, serve these perfectly chewy pumpkin oatmeal cookies with your favorite drink.
Recipe variations:
Chocolate chips: For chocolate lovers, add semisweet chocolate chips to make pumpkin oatmeal chocolate chip cookies.
Dark chocolate: In fact, try using dark chocolate chips for a more intense chocolatey flavor.
White chocolate: Alternatively, try using white chocolate chips instead.
Chopped nuts: Add chopped walnuts to your cookie dough for extra crunch.
Add fruit: Feel free to add dried cranberries, raisins, or another dried fruit.
Extra flavor: Add an egg yolk to your dough for an extra rich flavor.
Less sugar: For less sugar and fewer calories, try using coconut sugar or an artificial sweetener.
More spice: For extra flavor, add your favorite spices like rosemary, basil, or thyme.
How to serve:
These pumpkin oatmeal cookies can be served as a dessert after Thanksgiving dinner or as a snack anytime. Try one of our serving suggestions or share your own ideas in the comments section below.
These chewy cookies go perfectly with a cold glass of milk.
Another way to enjoy these pumpkin oatmeal cookies is with hot chocolate. Try our amazing recipe for homemade hot chocolate.
You may also enjoy this red velvet hot chocolate or creamy peanut butter hot chocolate.
These cookies would also taste great with a scoop of vanilla ice cream.
Top these with rainbow sprinkles before the glaze dries for a festive look.
Use leftover cookies to make a crumble to top your favorite cupcakes like these pumpkin brownie cupcakes.
Alternatively, make a cookie sandwich with a scoop of ice cream between two cookies.
Frequently asked questions
Why are my pumpkin oatmeal cookies dry?
The most common reason for dry cookies is too much flour. You have to measure your flour carefully to get the correct amount. First, sift the flour and then spoon it lightly into the measuring cup. Then, use a butter knife to level the top. Do not scoop the flour with the measuring cup or you will have too much flour and dry cookies.
What makes cookies spread too much?
Often, cookies will spread and become too thin. This is usually because of the temperature of the ingredients. For example, if your butter is too soft or melted, your cookies will spread.
The butter should be at about 68 degrees F for the best results. Your dough may have also become too warm. Keep it in the fridge for about an hour before baking.
How do I brown butter?
To make brown butter cookies, first, you need to brown your butter. This is a simple task that only takes a few minutes on the stove. Use a light-colored pan over medium heat and stir 1/2 cup of butter chopped into small pieces.
Keep the butter moving so it does not burn. Continue to stir the browned butter for about five to seven minutes until it is golden brown.
What are the nutrition facts in this recipe?
Each cookie has about 125 calories, 20 carbs, and 6 grams of fat with 3 grams of saturated fat as well as 13 milligrams of cholesterol and 120 milligrams. On the other hand, you will also get 58 milligrams of potassium, 1 milligram of iron, 17 milligrams of calcium, and 8 milligrams of vitamin C as well as 44 units of vitamin A, 2 grams of protein, and 3 grams of fiber.
How to store leftovers:
Store: You can store your leftover pumpkin oatmeal cookies in an airtight container or gallon-size zip baggie. Keep them in the refrigerator where they will stay fresh for three or four days.
Freeze: It is also safe to freeze your pumpkin oatmeal cookies for up to three months.
Thaw: Be sure to thaw cookies in the fridge the night before serving for the best flavor and texture.
More cookie recipes to try:
Baking tips:
You can also use rolled oats or old-fashioned oats if you do not have quick oats.
Use parchment paper as well as oil to prevent the oatmeal cookies from sticking to the cookie sheets.
However, do not use too much oil or your cookies will spread too much.
For even better results, try using silicone baking mats.
Feel free to use light brown sugar instead of dark.
If you use salted butter, omit the salt from the recipe.
Be sure to pack the brown sugar tightly to get the best results.
Pumpkin Oatmeal Cookies
Ingredients
3/4

cup

unsalted butter

softened

1

cup

brown sugar

packed

1

cup

white sugar

1

can

(15-ounce) pumpkin puree

NOT pumpkin pie filling

1

egg

room temperature

1

teaspoon

vanilla extract

2 1/4

cups

all-purpose flour

1

cup

quick cooking oats

2

teaspoons

ground cinnamon

1/4

teaspoon

ground nutmeg

1

teaspoon

baking soda

1

teaspoon

baking powder

1/2

teaspoon

salt
Maple glaze:
1

cup

powdered sugar

2

tablespoons

milk

2

tablespoons

maple syrup

1

teaspoon

pure vanilla extract

1/4

teaspoon

pumpkin pie spice
Instructions
Preheat oven to 375 degrees F.

In a medium bowl, beat together the butter and both sugars until creamy.

Next, add pumpkin puree, egg, and vanilla and beat until combined. Stop once to scrape the bottom and sides of the bowl.

In another bowl mix together the flour, oats, cinnamon, nutmeg, baking soda, baking powder, and salt.

Combine the dry ingredients with the wet ingredients and stir until combined.

Cover a baking sheet with parchment paper or lightly grease it with cooking spray.

Use a medium cookie scoop to scoop the batter onto the prepared baking sheet at least 2-3 inches apart.

Bake for 11-14 minutes, or until the edges are golden and the cookies are set.

Once baked, cool the cookies on the baking sheet for 5 minutes, and after that transfer them to a wire rack to fully cool.

Once the cookies are cool, make the glaze by whisking together all the glaze ingredients until smooth, and use a fork or spoon to drizzle it over the cookies.