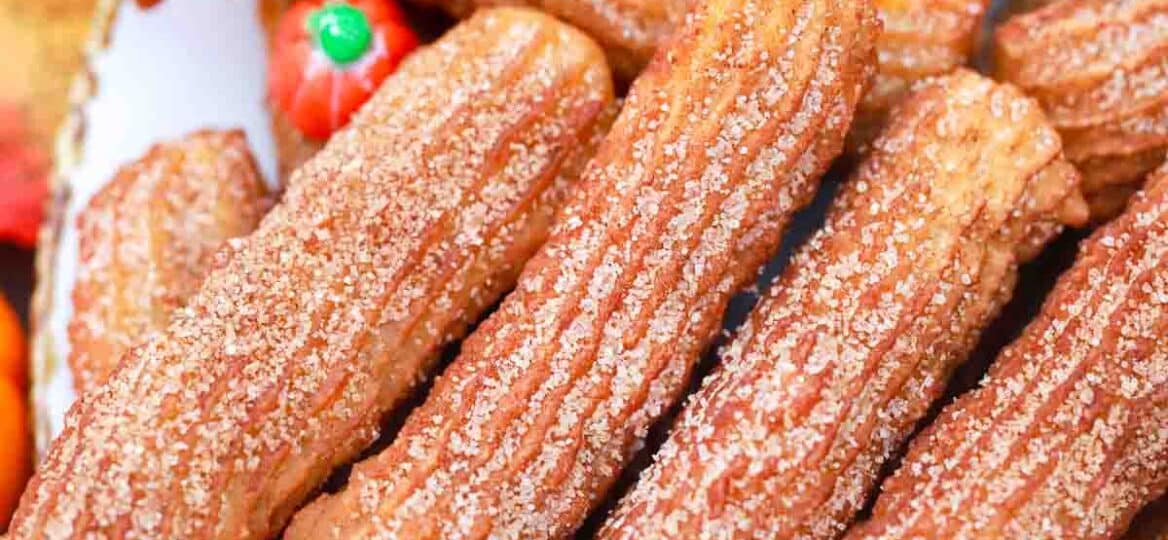 Pumpkin Churros with Maple Cream Cheese Sauce [Video]
Pumpkin Churros are the perfect fall treat, lightly sweet and crispy, with a cinnamon sugar coating and dunked in homemade maple cream cheese dip. The pumpkin flavor melds so deliciously with the maple, making these crunchy little churros a tasty delight. And you can use whatever kind of dip you like if you do not lime maple cream cheese.
To cut calories and fat, try our recipe for Air Fryer Churros and add pumpkin puree for flavor. Another churro treat you may recognize if you have ever been to Disneyland is this Churro Toffee Copycat recipe. They are easy to make with just five ingredients.
Nobody is quite certain who started the churro but some say it was from China while others say it came from Portugal. One story claims the Portuguese cooks brought the recipe back from China during the Ming Dynasty during the 14th century.
Another says it was first made by Spanish shepherds who cooked the churro paste over an open fire while they were shepherding. Along the way, it was turned into a delicious dessert made in many different flavors.
Looking for new dessert cuisine? These pumpkin churros made with homemade pumpkin pie spice and dipped in maple cream cheese dip would be great for your next holiday gathering. And if you want more recipes for your holiday table, we have them!
You can start with our creamy slow cooker pumpkin soup topped with pumpkin seeds, cilantro, and cream. For a main dish, this pumpkin pot roast is absolutely delicious made from beef chuck roast, fresh pumpkin, and diced pineapples.
Ingredients needed:
Gather the ingredients below to make these pumpkin churros with creamy homemade dip. Then, when you are ready to begin, scroll down to our handy recipe card at the bottom of the page for instructions and measurements.
Pumpkin mixture:
Pumpkin puree
All-purpose flour
Brown sugar: Light or dark brown sugar will both work here.

Granulated sugar
Vegetable oil: You can also use canola oil or whatever kind of oil you like.

Vanilla extract
Ground cinnamon
Ground nutmeg
Salt: We used kosher salt.

Water
Oil for frying: Vegetable, canola, or peanut oil will all work.
Cinnamon maple cream cheese dip:
Cream cheese: Softened to room temperature.
Granulated sugar
Light brown sugar: You can use dark brown sugar if that is all you have.
Milk: Any kind will do.
Vanilla extract
Cinnamon
Maple syrup: Or try our recipe for golden syrup.
How to make pumpkin churros from scratch?
Make the dip: First, prepare the dip by beating the cream cheese, sugars, milk, vanilla, cinnamon, and maple syrup in a medium bowl until smooth. Cover and set aside.

Prepare the cinnamon sugar: Then, whisk together one-half of a cup of the granulated sugar with two teaspoons of cinnamon in a small bowl and put it in a shallow bowl to dip the churros.
Make the wet ingredients: After, combine water, vanilla, oil, and pumpkin puree in a large bowl.
Combine the dry ingredients: Next, whisk the salt, nutmeg, cinnamon, sugar, and flour until it is completely combined. Add the flour mixture to the wet ingredients and stir until thoroughly mixed.

Heat the oil: Afterward, use a deep fryer or a deep skillet to heat the cooking oil to 375 degrees F. Keep a candy thermometer in the oil to make sure it stays at the right temperature.

Pipe the dough: Now, transfer dough into a pastry bag fitted with a large star tip and carefully pipe dough into the hot oil. Make it about four inches long. You can fry three or four strips at a time, making sure you do not overcrowd the pan.

Fry the churros: Then, fry over medium-high heat for two minutes on each side. They should be lightly golden brown when they are done. Cook time may vary depending on your oil and your frying pan.
Cool and roll: Afterward, Immediately transfer the cooked pumpkin churros to a large plate or baking sheet lined with paper towels to let them drain for about a minute. Then carefully roll them in the cinnamon sugar mixture making sure they are evenly coated.

Serve warm: Once you are finished frying all of them, serve warm with maple cream cheese dip on the side.
How to make baked pumpkin churros from scratch?
Preheat: First, preheat your oven to 400 degrees F and line a baking sheet with parchment paper.

Mix the dipping sauce: Meanwhile, beat the maple syrup, cinnamon, vanilla, milk, both sugars, and cream cheese in a stand mixer until it is soft and creamy.

Make cinnamon sugar mixture: Combine cinnamon and a half-cup granulated sugar in a shallow bowl and set aside.

Cook pumpkin mixture: Then, in a medium saucepan, mix water, pumpkin puree, cinnamon, nutmeg, oil, salt, brown sugar, and water over medium heat, whisking constantly until it reaches a full boil. Add flour and cook, stirring with a wooden spoon for one minute before adding the vanilla.

Cool the dough: After, let the dough cool before putting it into a piping bag fitted with a star tip.

Pipe and bake: Next, pipe the dough onto the cooking sheet, making them about four inches long, and bake for 25 to 30 minutes.

Butter and coat: While still warm, brush churros with melted unsalted butter and roll them in the cinnamon sugar coating before cooling on a wire rack.
Serve churros and dip: Serve churros while they are still warm with dip on the side.
Recipe variations:
Pumpkin spice: You can use pumpkin pie spice instead of cinnamon and nutmeg.

Add eggs: For more fluffy churros, add eggs, one egg at a time, to your dough.

Fresh pumpkin: Instead of canned pumpkin, feel free to use fresh pumpkin. Just bake it and puree it yourself in a food processor or blender.

Less prep time: Make the dip ahead of time and keep it in the fridge until you are ready to make the churros. Then, heat it up in the microwave for 30 to 50 seconds.

Other flavors: Instead of pumpkin, try another flavor like mashed sweet potatoes.
Extracts: You can also change the flavor by using different flavored extracts such as almond, chocolate, or maple.
How to serve:
This delicious snack is perfect for any time of year, but it is really great for Thanksgiving or Christmas dinner or a holiday appetizer platter. Try one of these fun serving ideas or share one of your own in the comments section below.
This is the perfect fall treat for after-school snacks.
Another way to enjoy these churros is dipped into your coffee. Try our delicious recipe for spiced iced coffee latte.

Make some chocolate sauce to dip your churros in or drizzle chocolate syrup on top.

You could also use caramel sauce on top or as a dip.
Nutella or melted peanut butter would make a great dip as well.

Try this delicious instant pot dulce de leche recipe for an even richer dip for your pumpkin churros.
Frequently asked questions
Why aren't my churros crispy?
You may need to cook them a little bit longer. If they are still doughy or slightly raw inside, add a few minutes to your cooking time. For a half-inch diameter pumpkin churro, you will need about five minutes in the hot oil. If they are getting too brown on the outside and doughy inside, turn the heat down because the oil is too hot.
How do I make light and fluffy churros instead of crispy?
What makes these pumpkin churros so crispy is not having eggs in the batter. They will be moist inside and crunchy outside without any eggs. If you want light and fluffy pumpkin churros, add a few eggs to your dough. This will make them fluff up nicely and they will be a lot lighter than the original ones.
Do I have to use a special piping tip?
No, the only reason we use a star tip is for the ridged shape. But these pumpkin churros are just as delicious if you just pipe dough from a plastic baggie with the corner cut off.
If you do not have any baggies, cut a triangle of parchment paper and make a cone. Roll it up and use tape to keep it that way, and you have your makeshift piping bag.
What are the nutrition facts in this recipe?
Each serving of these pumpkin churros has 200 calories, 37 grams of carbs, and 17 grams of fat with 10 grams of saturated fat. You also get 40 milligrams of cholesterol, 101 milligrams of sodium, and 13 grams of sugar.
The good news is that one serving also has 2 milligrams of iron, 18 milligrams of vitamin C, and 100 units of vitamin A as well as 4 grams of fiber.
How to store leftovers:
Store: Put leftovers in a sealed plastic bag or another airtight container. They will stay fresh for several days at room temperature and for five days in the fridge.
Freeze: Did you make too much? Go ahead and bag these up in freezer bags and you can freeze them for several months.

Thaw: Thaw these overnight in the fridge for best results.

Reheat: To reheat, air fry for 10 minutes at 375 degrees F for crispy churros or in the microwave for one minute for chewier churros.
More pumpkin desserts:
Cooking tips:
If you do not have a piping bag, you can use a zipper baggie. Simply put the dough into the baggie and cut the tip of one corner off.

Do not crowd the skillet when frying churros. This will lower the temperature of the oil and cause them to cook unevenly.

Keep a candy thermometer in the pan as you cook to make sure it stays at the right temperature for the best results.

When baking pumpkin churros, stack two cooking sheets on top of each other to prevent the bottoms from burning.

Also, chill for 30 minutes before baking so they do not melt.

If you are using eggs, make sure they are warmed to room temperature.
Pumpkin Churros with Maple Cream Cheese Sauce
Ingredients
Pumpkin churros:
1

cup

water

1/2

cup

pumpkin puree

2

tablespoons

vegetable oil

1

teaspoon

vanilla extract

1 3/4

cups

all-purpose flour

3

tablespoons

brown sugar

1

teaspoon

cinnamon

1/4

teaspoon

nutmeg

1/2

teaspoon

salt

1/2

cup

granulated sugar

2

teaspoons

cinnamon

1

quart

vegetable oil

for frying
Cinnamon maple cream cheese dip:
8

oz

cream cheese

softened

1/4

cup

granulated sugar

1/4

cup

light brown sugar

packed

1/4

cup

milk

1

tablespoon

vanilla extract

1

teaspoon

cinnamon

3

tablespoons

maple syrup
Instructions
First, to make the dip, use an electric mixer to beat cream cheese, sugars, milk, vanilla extract, cinnamon, and maple until smooth. Set aside in the fridge until ready to serve.
Pumpkin churros:
In a small bowl, toss together granulated sugar and cinnamon. Set aside.

Line a plate with paper towels and set it aside.

In a large bowl, whisk together water, pumpkin puree, 2 tablespoons vegetable oil, and vanilla extract.

Using a wooden spoon, stir in the flour, sugar, cinnamon, nutmeg, and salt, until well combined.

Add the dough to a pastry bag fitted with a large star tip.

Heat oil for frying in a deep-fryer or deep skillet, or dutch-oven, to 375 degrees F. Use a candy thermometer to measure the temperature.

Pipe 4-inch strips of dough into the hot oil, frying 3 or 4 strips at a time. Fry the churros until golden brown, about 2 minutes per side.

Transfer the cooked churros to the prepared plate and let them drain on paper towels for 1 minute. Then quickly toss in the cinnamon sugar mixture.

Serve warm with the cinnamon maple cream cheese dip on the side.
Deliciousness to your inbox
Enjoy weekly hand picked recipes and recommendations