Pumpkin Snickerdoodle Bars Recipe [Video]
Last updated on October 1st, 2022 at 06:31 pm
Pumpkin Snickerdoodle Bars are sweet, chewy, and extremely buttery, loaded with pumpkin and warm fall spices. The pumpkin dessert is easy to make, fun to eat, and you only need a handful of ingredients. Just pumpkin puree, brown sugar, nutmeg, cinnamon sugar, and the basic pantry and fridge staples are all you need. Pumpkin snickerdoodle cookie bars can be done and on the table in less than 30 minutes.
For another easy pumpkin dessert, try our rich and creamy Snickerdoodle Cheesecake Bars made with sour cream, cream cheese, and pumpkin puree. For something different, these Pumpkin Pretzel Bites make a fun surprise at your next family dinner. Those who do not like pumpkin will love these Fluffy Cinnamon Rolls with Cream Cheese Icing.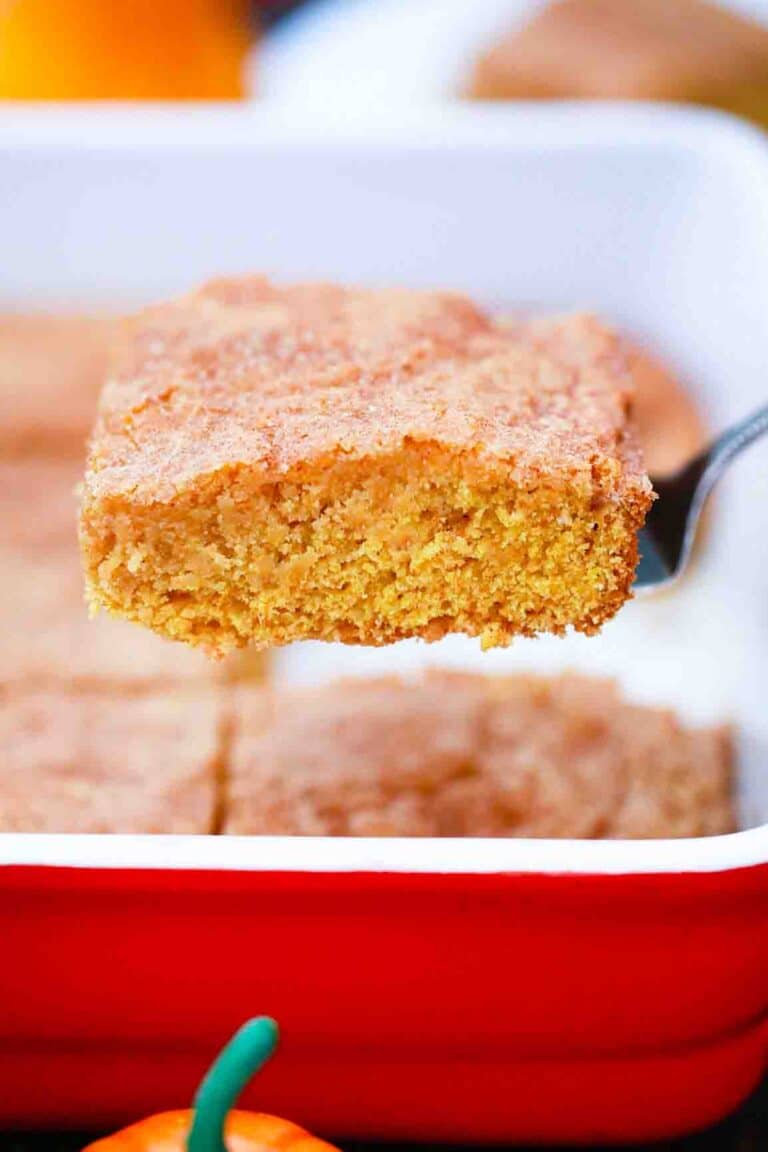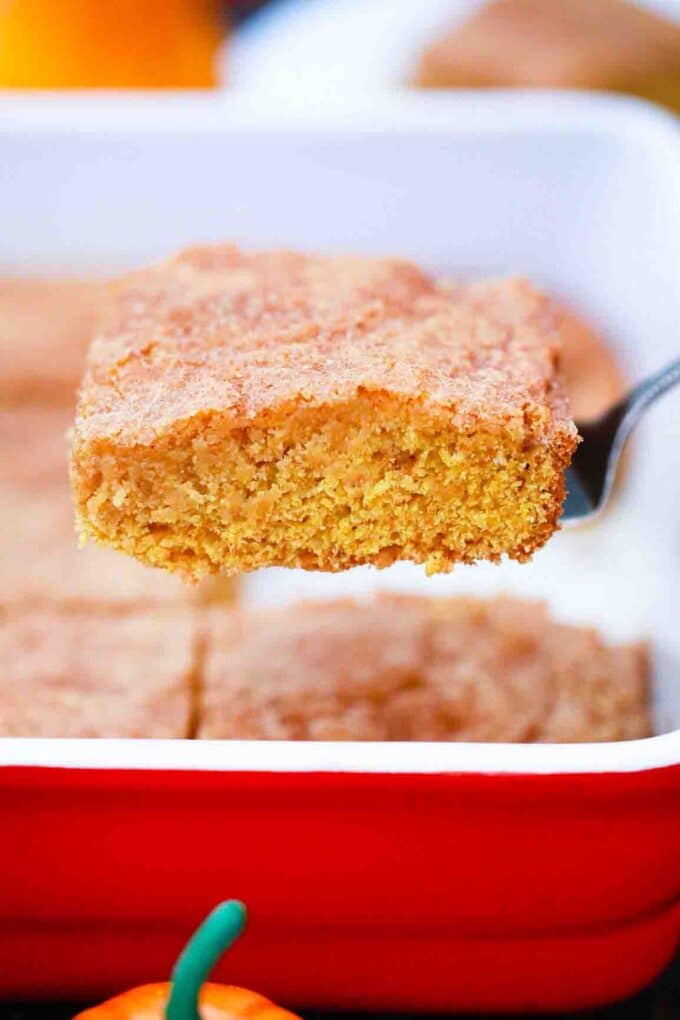 Snickerdoodles probably have the weirdest name out of all the cookie recipes. They seem just like sugar cookies with some added cinnamon so why not call them cinnamon sugar cookies?
According to the 1931 Joy of Cooking book, the name came from the German word, Schneckennudel, which is a German pastry that looks like a cinnamon roll. They thought it looked like a snail, so they called it Schneckennudel, which means snail noodle.
Also known as pumpkin snickerdoodle blondies, these are full of pumpkin flavor and crunchy goodness. If you are a pumpkin fan, make these pumpkin snickerdoodles tonight and they will be gone by tomorrow!
With very little prep time and just minutes of bake time, you will have these absolutely delicious pumpkin bars done in no time! Don't you wish all your recipes were this easy?
In the mood to make some delicious baked goods? Are you looking for more pumpkin recipes? Chocolate lovers will enjoy these pumpkin brownies with buttercream icing. Or try our pumpkin cheesecake pancakes with cheesecake bites for a fun fall breakfast. This unique pumpkin mac and cheese is the perfect side dish to serve on your Thanksgiving dinner table.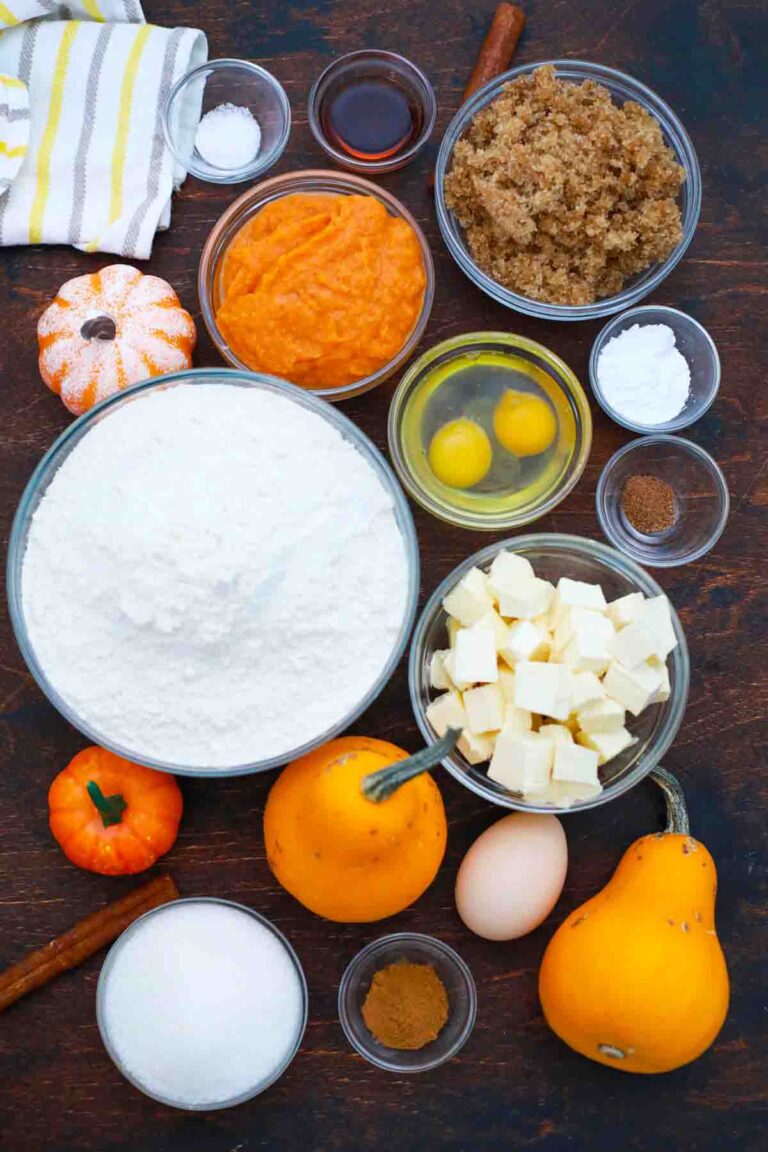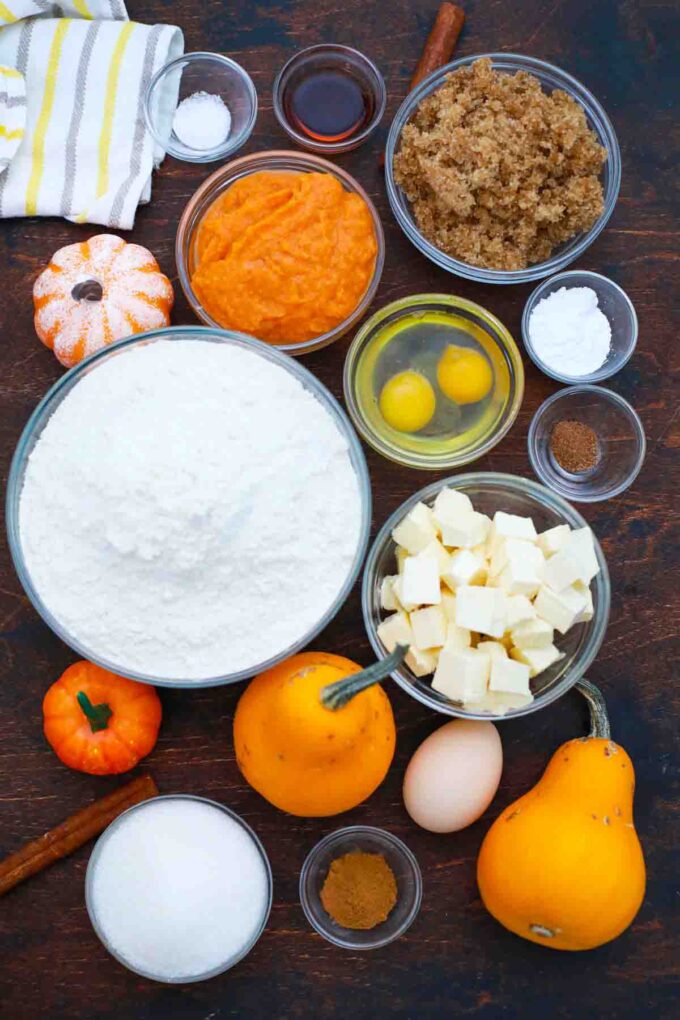 Ingredients needed:
For this easy recipe, all you need are these basic ingredients. When you are ready to get started, scroll down to the bottom of the page to our recipe card where you can find the precise measurements and step-by-step directions.
Cookie bars:
Canned pumpkin puree: Not pumpkin pie filling.
Melted butter: At room temperature.
Large eggs: At room temperature.
Dark or light brown sugar: Packed.
Ground cinnamon
Nutmeg
Salt
Pure vanilla extract
Baking powder: Not baking soda.
All-purpose flour
Topping:
Granulated sugar
Ground cinnamon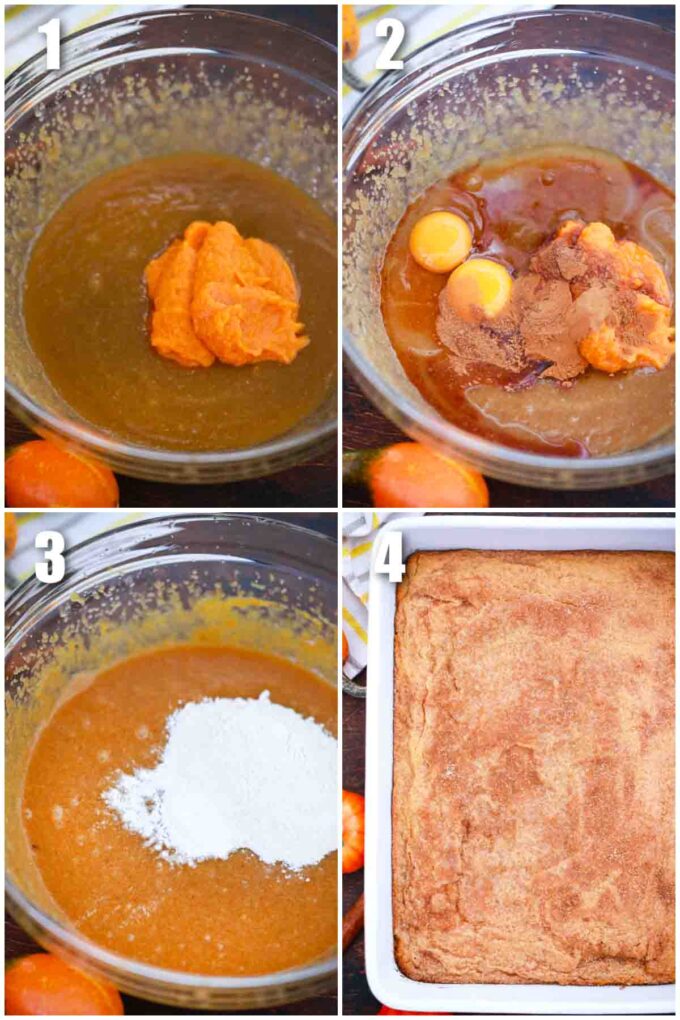 How to make pumpkin snickerdoodle bars from scratch?
Preheat: First, preheat the oven to 350 degrees F. Lightly grease a baking pan with cooking spray and set it aside.
Mix the wet ingredients: In the meantime, mix the sugar and butter together in a large bowl until it is creamy. Add pumpkin, the eggs, vanilla extract, salt, nutmeg, and cinnamon, and stir with a wooden
Add the dry ingredients: Then, add the flour and baking powder, a little at a time, and stir until it is just mixed. Spread the cookie dough into the prepared pan.
Make the cinnamon sugar topping: Now, whisk the cinnamon and sugar together in a small bowl and sprinkle evenly over the cookie dough.
Bake snickerdoodle cookies: Last, bake your pumpkin snickerdoodles at 350 degrees F for 20 minutes or until a toothpick inserted into the middle of the pan comes out with just a few moist crumbs. Be sure not to overbake.
Cool and serve: Finally, let pumpkin snickerdoodle bars cool completely before serving.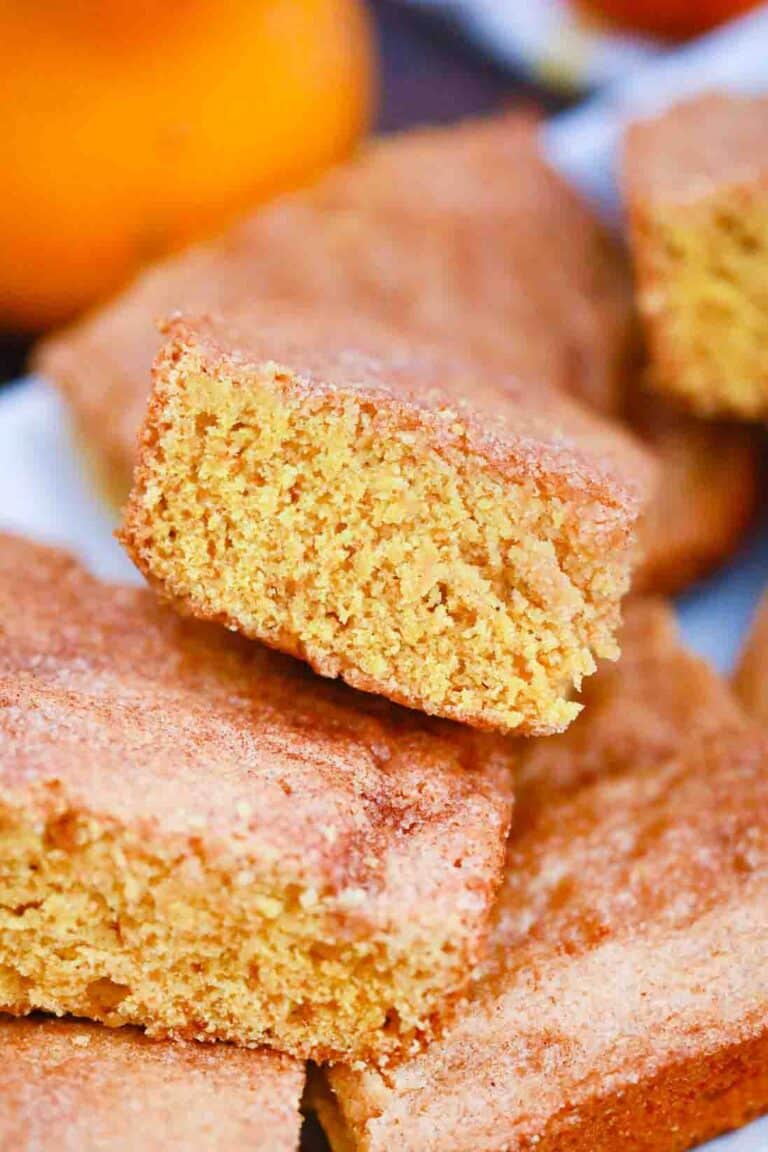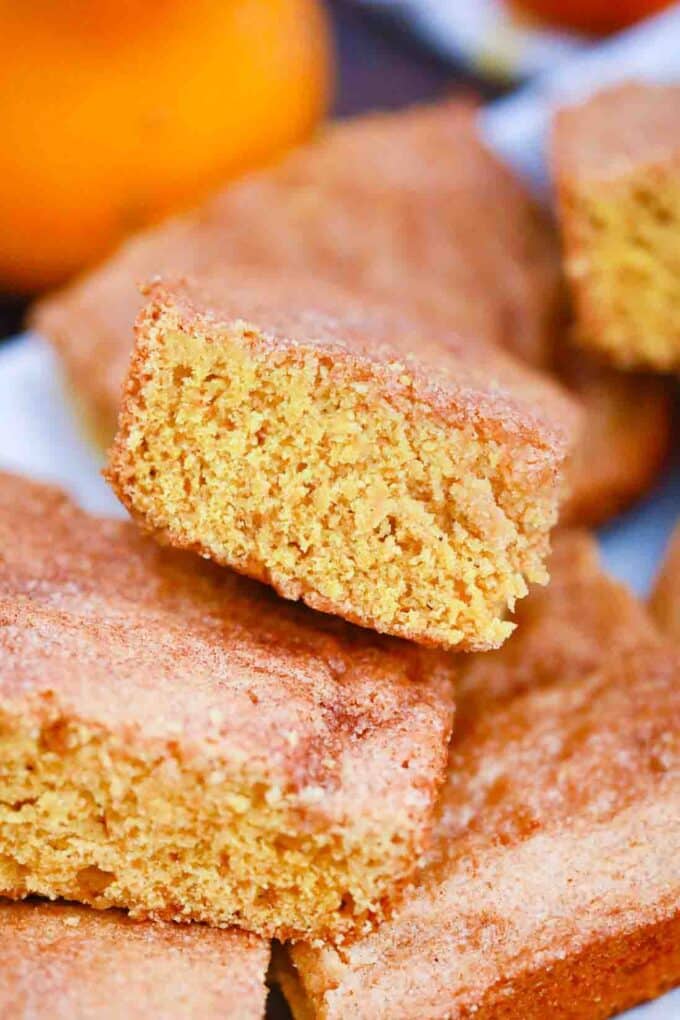 Recipe variations:
Pumpkin spice: Instead of cinnamon and nutmeg, use pumpkin pie spice for cookies that taste like pumpkin pie.
Whole wheat flour: For a healthier dessert, use whole wheat flour.
Coconut oil: You can also switch the melted butter to coconut oil.
Cream of tartar: Add a half teaspoon of cream of tartar for a tangy kick.
Extra cinnamon: Make extra cinnamon sugar topping and sprinkle it in with the cookie dough for an even sweeter pumpkin dessert.
Pumpkin snickerdoodle muffins: Use a mini-muffin pan to make muffins instead of cookie bars. But shorten the cooking time to about 10 minutes.
Karo syrup: Swap Karo or maple syrup for sugar for a richer flavor.
How to serve:
This is one of the best pumpkin desserts and it is such a great recipe for any time of the year. It does not have to be fall to enjoy pumpkin desserts. You can serve these pumpkin blondies for an afterschool snack or even for breakfast. Try one of these fun serving ideas or share one of your own with us below.
Sprinkle powdered sugar on top of your cookies before serving for a sweeter flavor.
Add a dollop of whipped cream to the top of each pumpkin bar. It is just like pumpkin pie with whipped cream. Try our delicious and easy homemade whipped cream recipe.
Instead, a scoop of vanilla ice cream would also go great on these cookie bars.
You could also top your cookies with some kind of fruit sauce. Our sweet and tangy strawberry sauce would be amazing.
You can serve these as a dessert with your next turkey dinner for a mouthwatering meal.
Instead, spoon some caramel sauce on top. Our caramel sauce recipe is perfect and you do not even need a candy thermometer.
Spread a thick layer of our cream cheese frosting on these for an absolutely delicious and decadent dessert.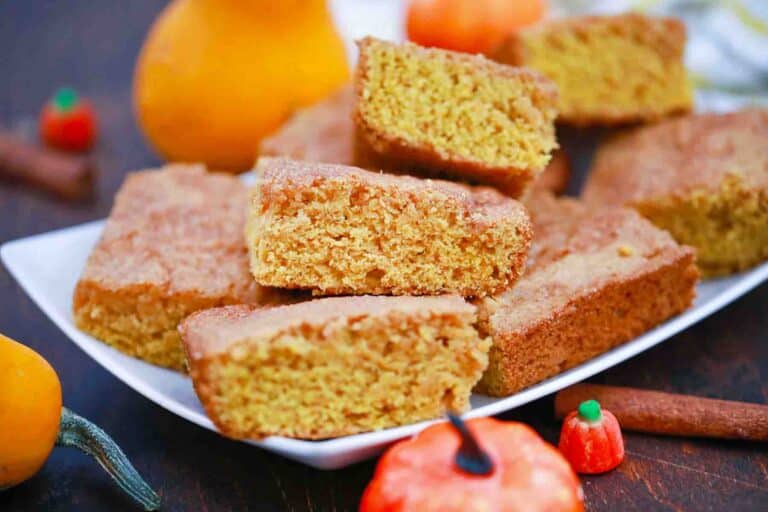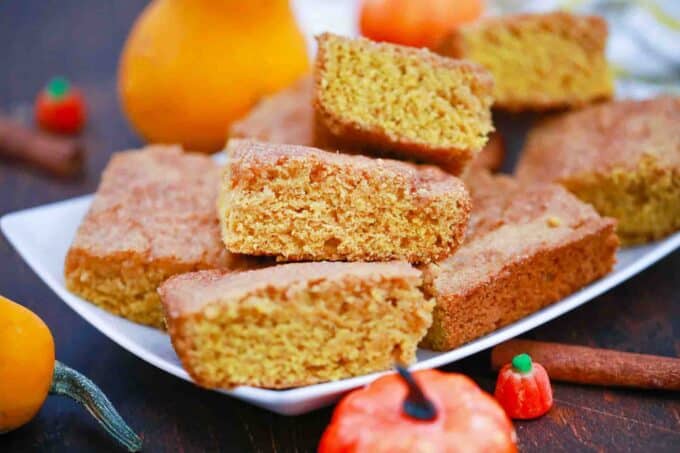 Frequently asked questions
How do you make homemade pumpkin puree?
It is easy to make your own pumpkin puree, especially if you love pumpkin. You just need a small pumpkin and some pumpkin pie spices. Slice the pumpkin in half and bake halves cut side down for 40 to 45 minutes at 400 degrees F. Then, remove and let them cool completely before you peel them and chop them into chunks. Puree in your food processor with the pumpkin pie spices and then let it chill.
How do I make these gluten-free?
Just like with all your other recipes, you can make it gluten-free by using a different kind of flour. Some of the best choices are almond, buckwheat, and oat flour. Everything else in the recipe is naturally free of gluten. If you want to make them low-carb too, replace the sugar with sugar-free sweetener.
Why are my pumpkin cookie bars dry?
Sometimes, cookies and cakes can become dry because they are overmixed. It could also be that you cooked them too long. Even a minute too long can dry these out. In fact, it is better to underbake than to cook them too long. Use brown sugar instead of granulated sugar for more moisture overall. You could even swap the granulated sugar for corn syrup.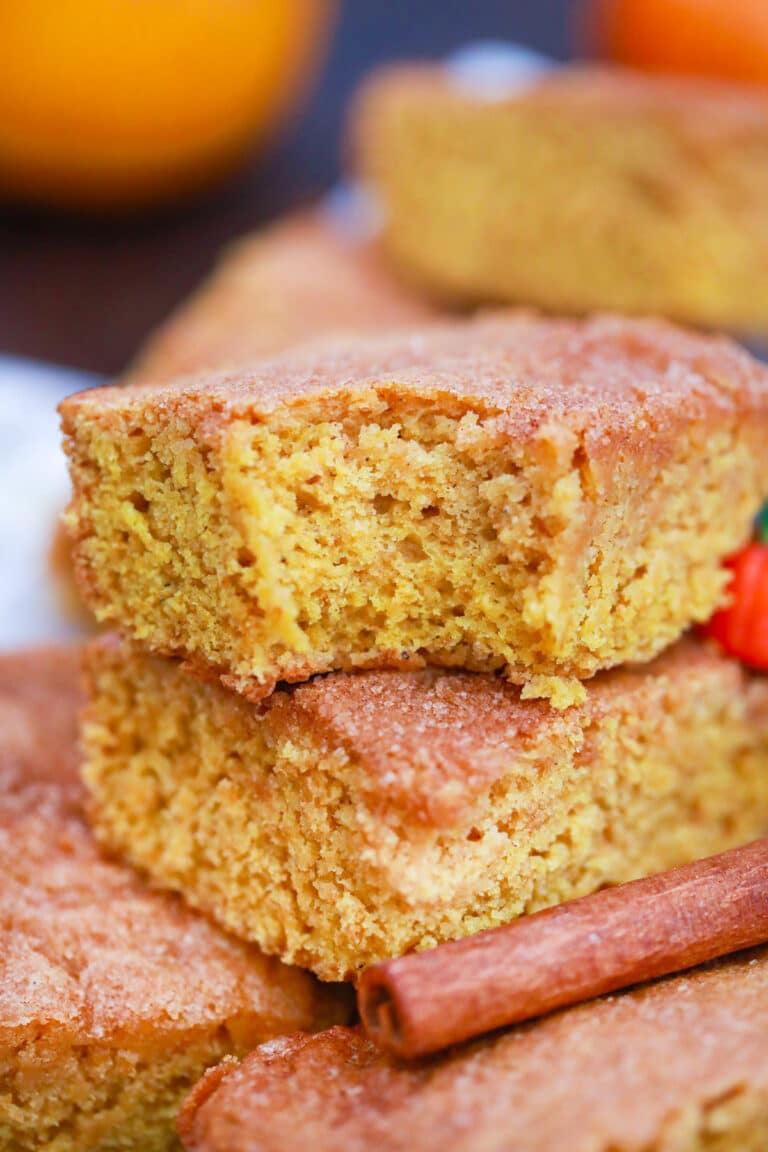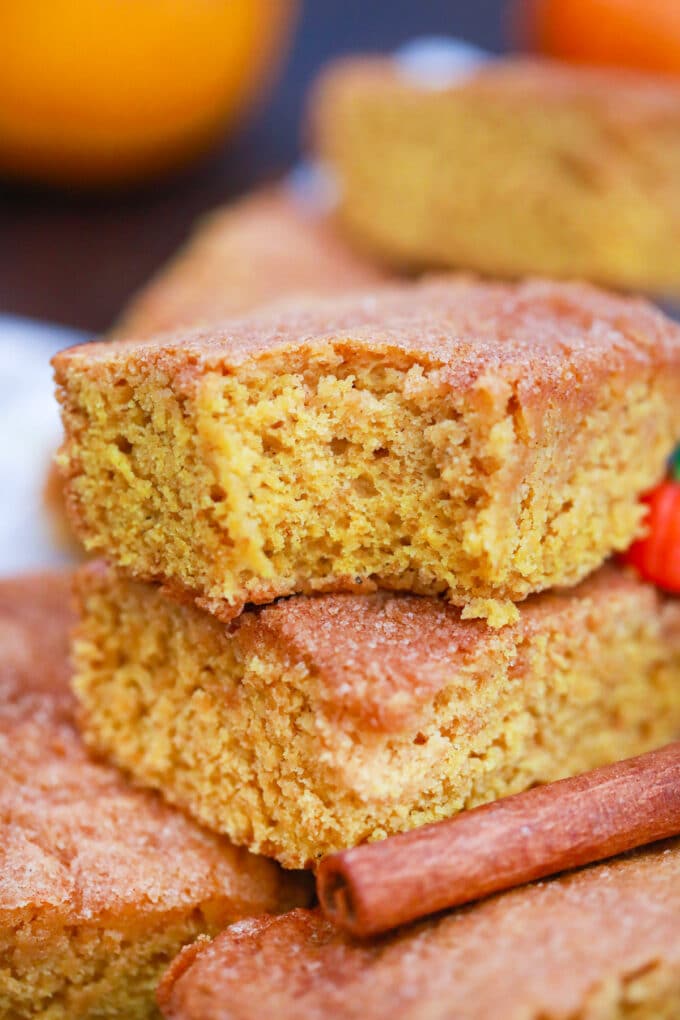 What are the nutrition facts in this recipe?
The calories in each serving should be about 150 to 200 depending on how big or small you cut them. The total fat is about 10 grams with 3 grams of unsaturated fat and 5 grams of saturated fat. The carbs are about 30 grams and the sugar is 20 grams. However, you also get 2 grams of protein, 103 milligrams of calcium, and 3,400 units of vitamin A.
How to store leftovers:
Store: You can store your leftover pumpkin snickerdoodle bars in an airtight container or wrapped in aluminum foil for several days in your fridge.
Freeze: It is also safe to freeze your pumpkin snickerdoodle bars for up to three months.
Thaw: Be sure to put your leftovers in the fridge to thaw overnight before serving for best results.
Reheat: No need to reheat. However, if you want them warm, pop them in the microwave for 30 to 60 seconds.
More pumpkin recipes:
Cooking tips:
Cut prep time by using a cake mix instead of the flour and other cake ingredients. Just mix the pumpkin puree and pumpkin pie spice and leave out the oil.
These pumpkin cookie bars are somewhat more cake-like than cookies. If you want them chewier, remove the white part of one of the eggs and just use the yoke.
Instead of melted butter, just let your butter soften to room temperature. This makes the cookies fluffier.
Make sure you do not overbake your cookies. Start checking them five minutes before the time is up.
You can use parchment paper instead of non-stick spray to keep your cookie bars from sticking.
To make your own pumpkin pie spice, mix 3 tablespoons of cinnamon, 2 teaspoons of nutmeg and ginger, and 1 1/2 teaspoons of cloves and allspice.
For more easy recipes, check out our food blog.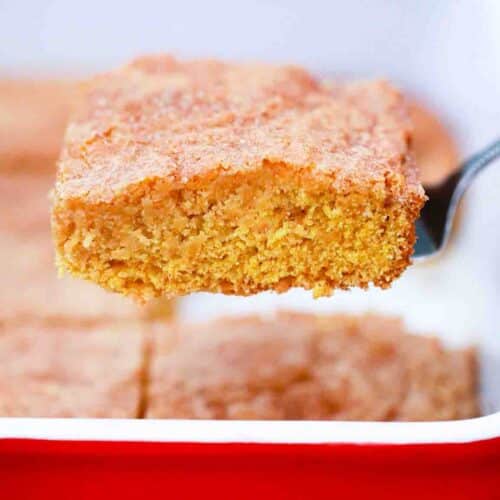 Pumpkin Snickerdoodle Bars
Pumpkin Snickerdoodle Bars are sweet, chewy, and extremely buttery, loaded with pumpkin and warm fall spices.
Save
Share
Print
Pin
Rate
Ingredients
1

cup

unsalted butter

(softened)

1/2

cup

pumpkin puree

2

cups

brown sugar

(packed)

1

teaspoon

ground cinnamon

1/4

teaspoon

nutmeg

1/2

teaspoon

salt

2

teaspoons

vanilla extract

2

eggs

(room temperature)

1 1/2

teaspoons

baking powder

2 2/3

cups

all purpose flour
Topping:
1/4

cup

granulated sugar

2

teaspoons

ground cinnamon
Instructions
Preheat the oven to 350 degrees F.

In a mixing bowl beat together the butter and sugar until light and creamy.

Add pumpkin puree, and beat for 1 minute.

Add cinnamon, nutmeg, salt, vanilla, and eggs, and mix well.

Add the baking powder and flour, a little at a time, and mix just until incorporated.

Spread the batter into a greased 9x13 pan.

In a small bowl whisk together the topping ingredients and sprinkle evenly on top of the batter.

Bake for 20 minutes or until a toothpick inserted into the center of the pan comes out with fudgy crumbs but NOT raw batter. Do not overbake.

Cool on a cooling rack for 15 minutes before slicing.
Nutrition
Calories:
401
kcal
|
Carbohydrates:
61
g
|
Protein:
4
g
|
Fat:
17
g
|
Saturated Fat:
10
g
|
Polyunsaturated Fat:
1
g
|
Monounsaturated Fat:
5
g
|
Trans Fat:
1
g
|
Cholesterol:
68
mg
|
Sodium:
242
mg
|
Potassium:
205
mg
|
Fiber:
2
g
|
Sugar:
40
g
|
Vitamin A:
2157
IU
|
Vitamin C:
0.4
mg
|
Calcium:
103
mg
|
Iron:
3
mg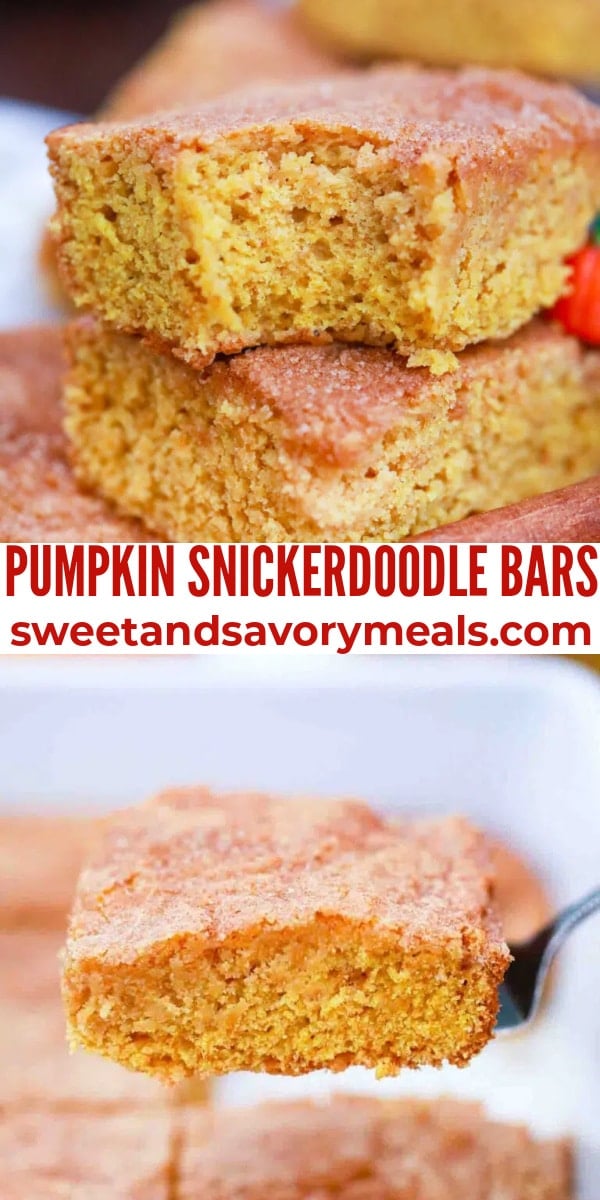 More recipes you might love