Homemade Cinnamon Rolls [Video]
Last updated on June 18th, 2021 at 09:37 pm
Cinnamon rolls are made with sweet dough and laced with gooey cinnamon sugar goodness that would have you licking your fingers clean and reaching out for more! They are fluffy, festive, and super delicious!
There are days when we just love having a breather with a cup of coffee and our favorite rolls such as Pecan Pie Cinnamon Rolls, Cranberry Orange Rolls, and Homemade Sweet Crescent Rolls with Cherries.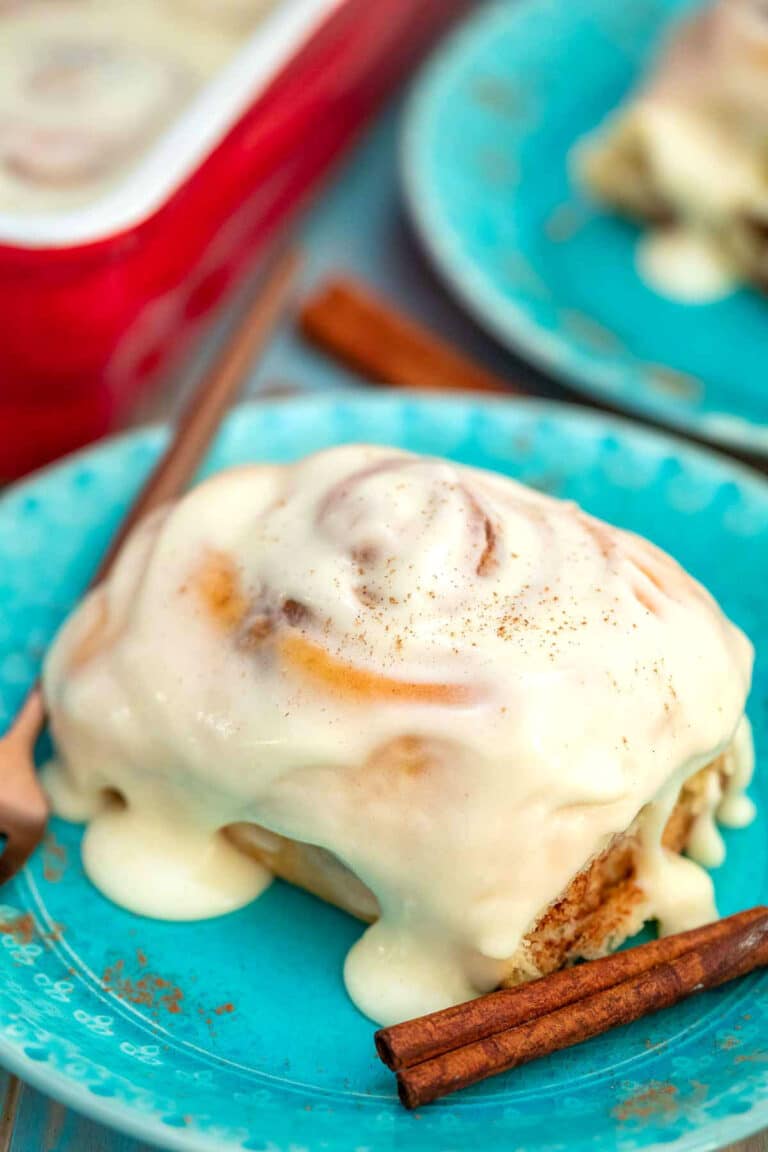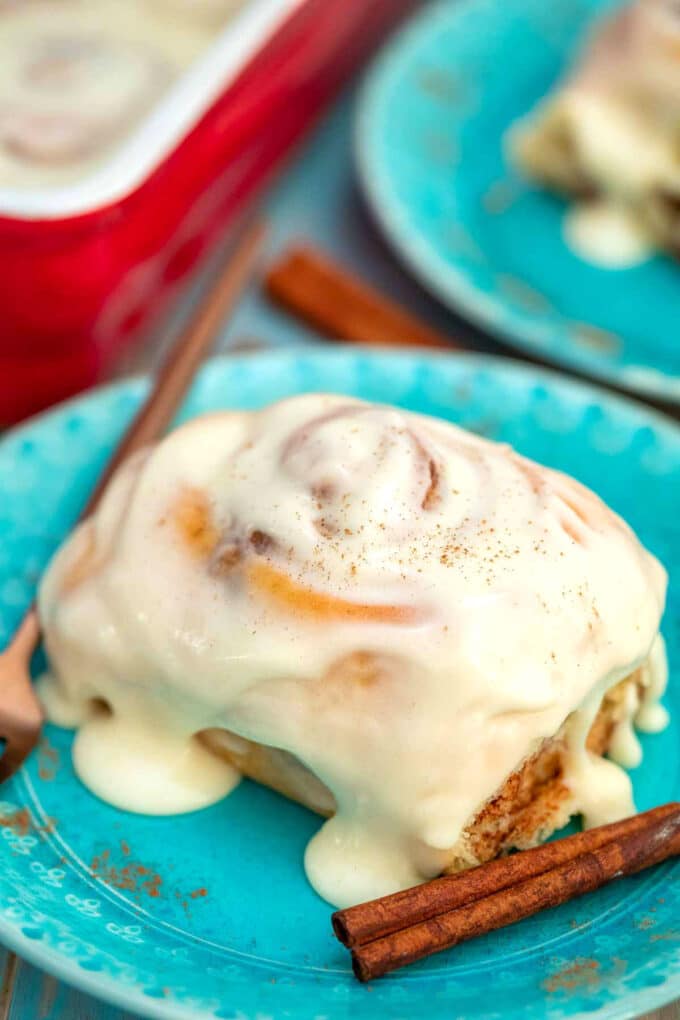 Easy Cinnamon Rolls
This Cinnamon Rolls recipe is becoming one of our favorites. It is made with sweet, soft dough, sticky cinnamon filling, and the best Homemade Cream Cheese Frosting. That alone would have you reaching out for more once you're done with your first roll. Then, the cream cheese frosting brings the finger-licking goodness to a higher level!
Making them at home is guaranteed that you will end up with the best homemade fluffy cinnamon rolls. In fact, these taste better than the Cinnabon version and are way cheaper. So give them a try, you will be craving for more!
The rolls are amazingly delicious and perfect for any occasion. You can make them for a birthday party, mother's day, Thanksgiving, Easter brunch or simply to enjoy them in the morning with a cup of tea or coffee.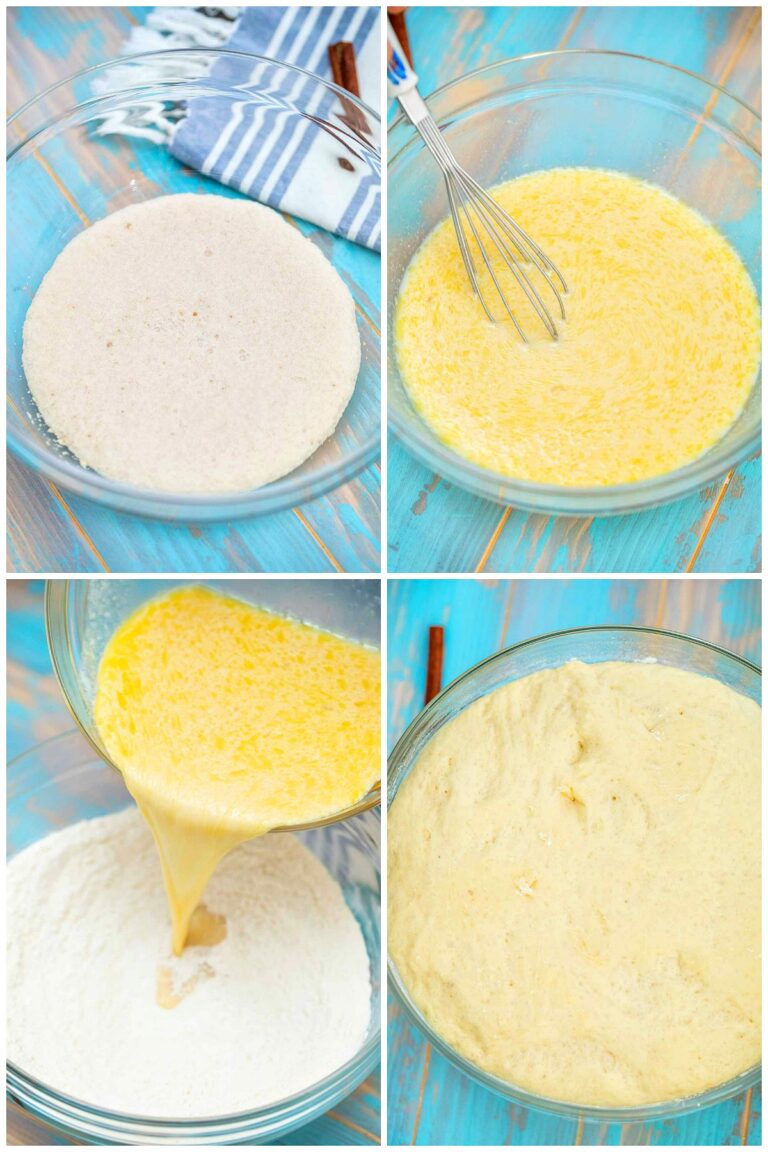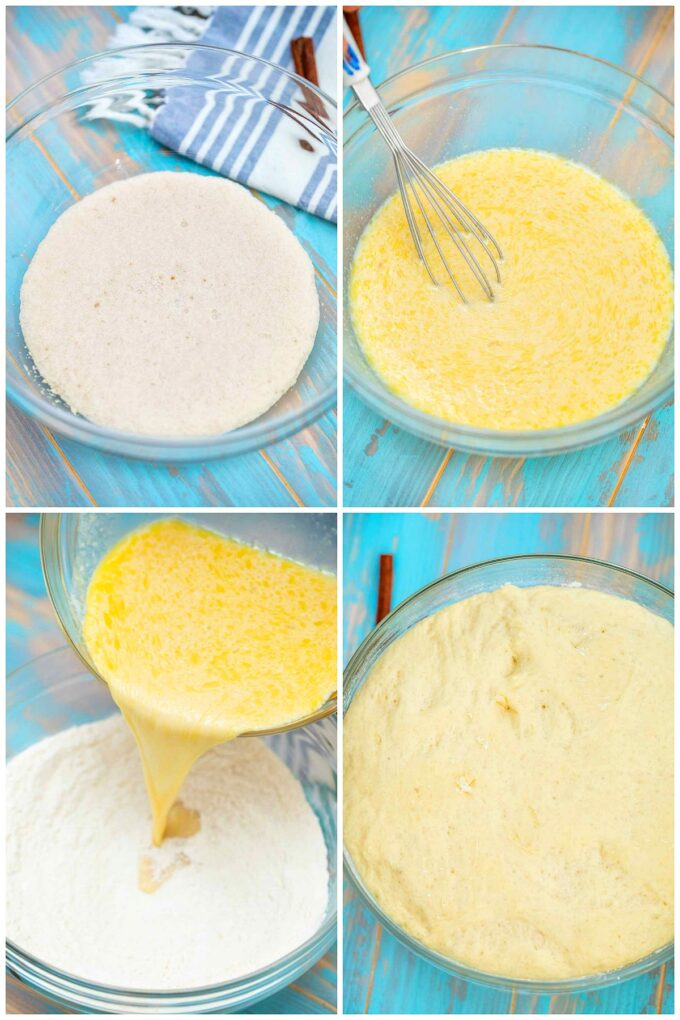 What are the ingredients in cinnamon rolls?
For the dough:
Milk
Yeast
Sugar
Salt
Butter
All-Purpose Flour
For the filling:
For the Cream Cheese Frosting:
Butter
Confectioner's Sugar
Cream Cheese
Vanilla Extract
Salt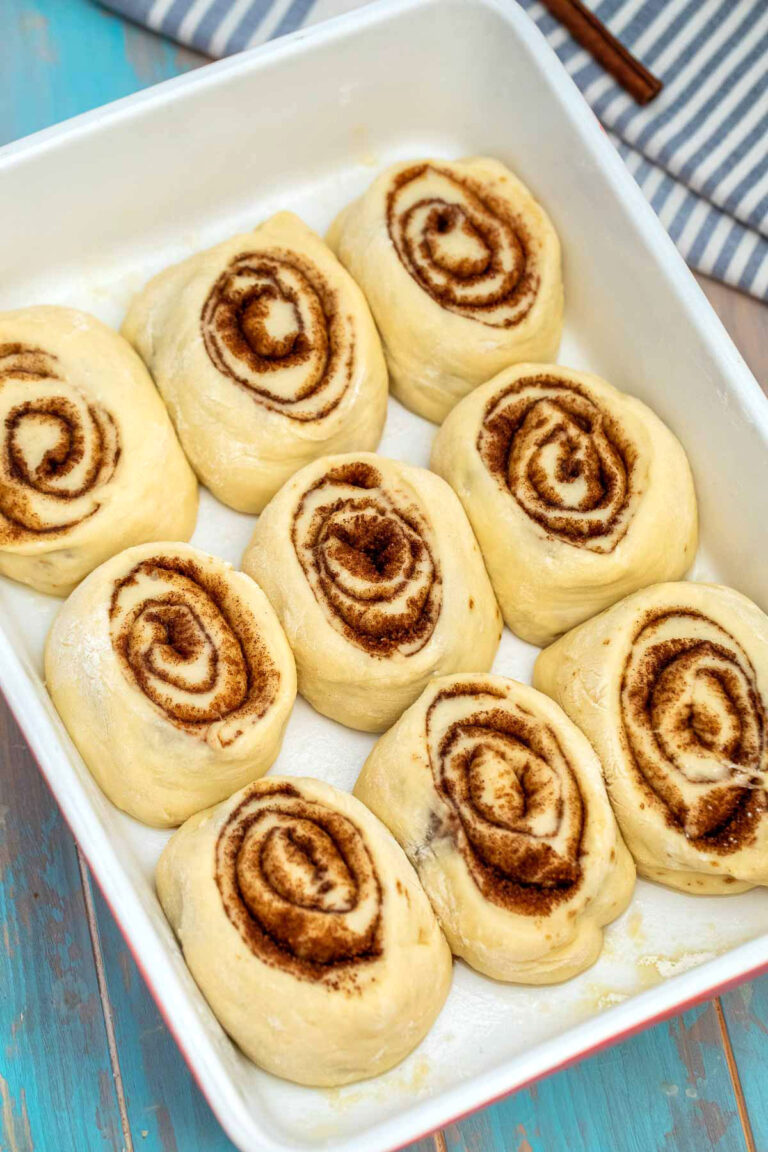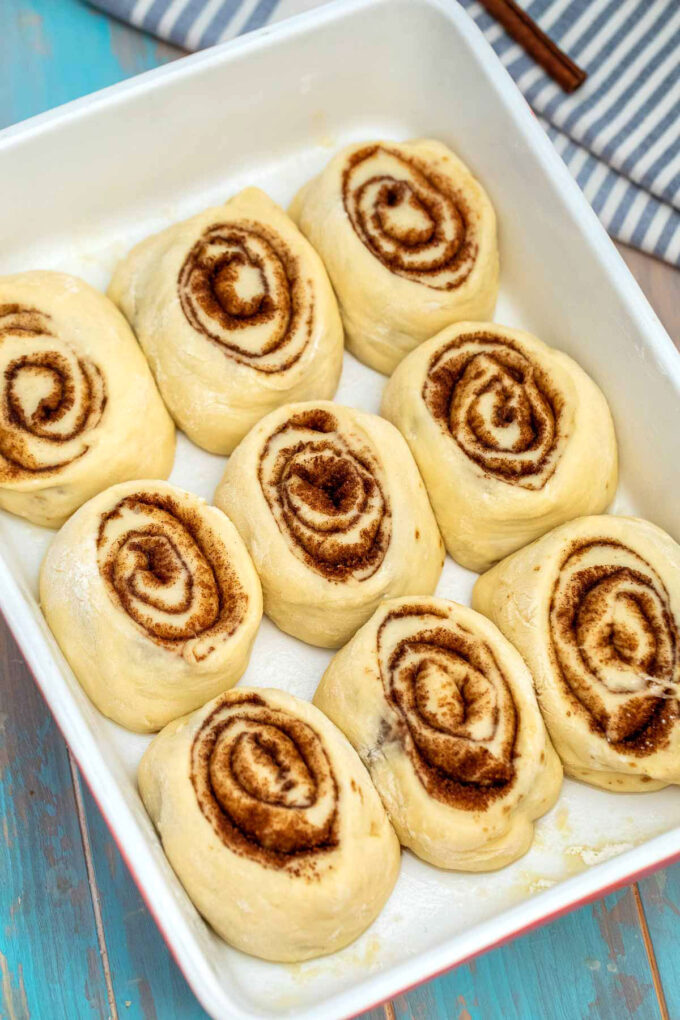 How to make cinnamon rolls?
First, in a large mixing bowl add the yeast and sugar in your warm milk. Make sure that the milk is not super hot so it won't kill the yeast. Wait until it is bubbly. Add in your softened butter, salt, eggs, and flour. Knead for about 10 minutes. It would be sticky but should come off the sides of the bowl.
Place the dough in an oiled bowl and cover with a kitchen towel. Let it rest in a warm place until it is doubled in size.
While waiting, you can mix together the brown sugar and cinnamon powder. Set aside. Then, melt the butter, and have a brush ready. At this point, you can also do your cream cheese filling.
After proofing, grab your dough and place it on a clean dry surface. Punch it down to deflate the air. Roll it out into a rectangular shape, about ¼ – inch thick.
Brush the dough with butter and sprinkle with cinnamon sugar. If you are using raisins, distribute the raisins all over. Then, roll the dough like a log, and slice to the desired thickness. Place in a baking dish.
Bake until golden brown on top and frost with cream cheese icing.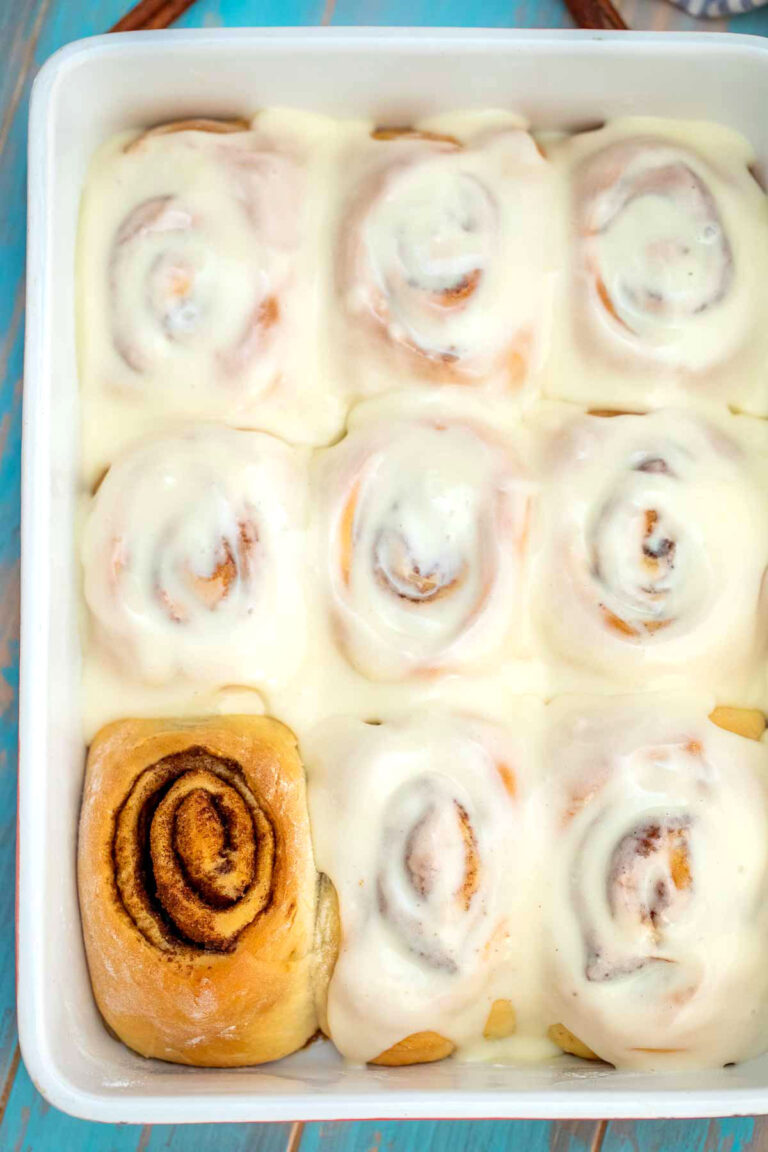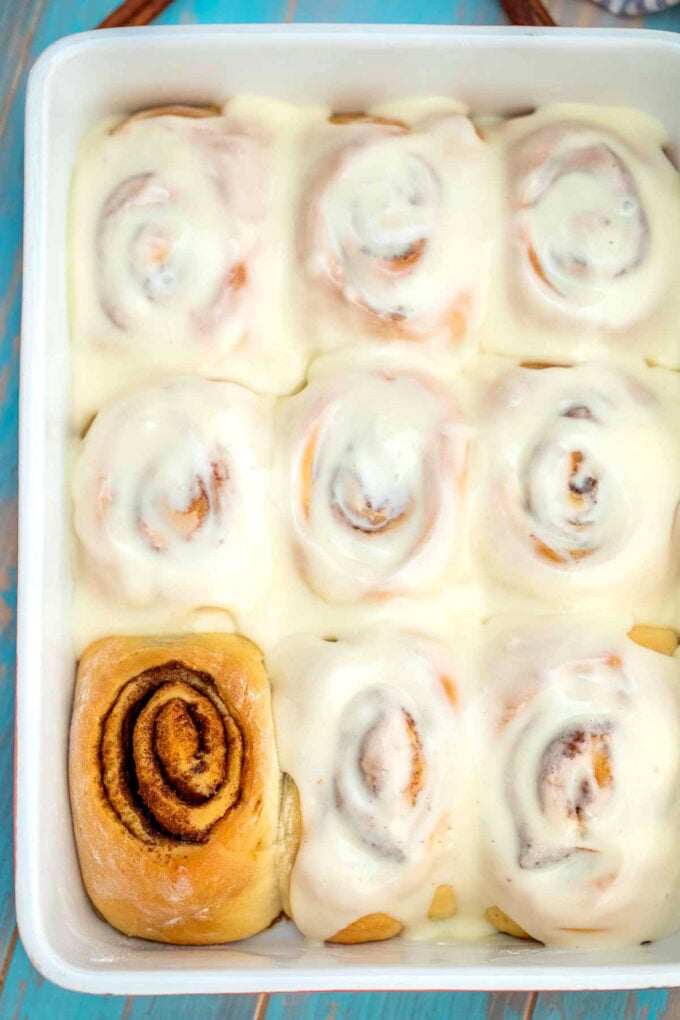 How to make the dough rise faster?
There are a few ways to make it rise faster. Here are two techniques that we like using:
One would be to cover the dough with a damp towel. Place it in an oiled bowl. Wet your kitchen towel with warm water, wring out excess water and cover the whole bowl with it. Place the bowl near a warm oven, or on the stovetop while the oven is working.
Another way would be to place the dough in the oven. Heat water on the stovetop and place it in an ovenproof container. Turn the oven on at the lowest setting and preheat for 2 minutes. Place both the water and the dough inside the oven. Let it rise until it is doubled in bulk.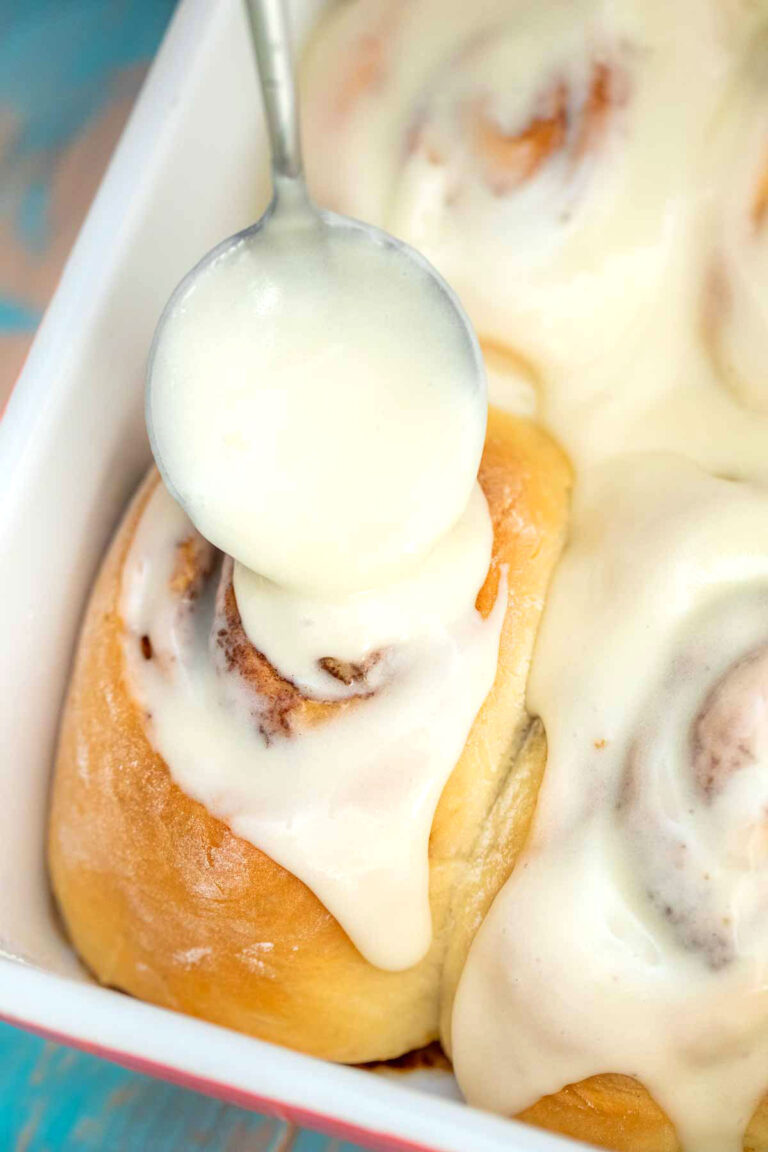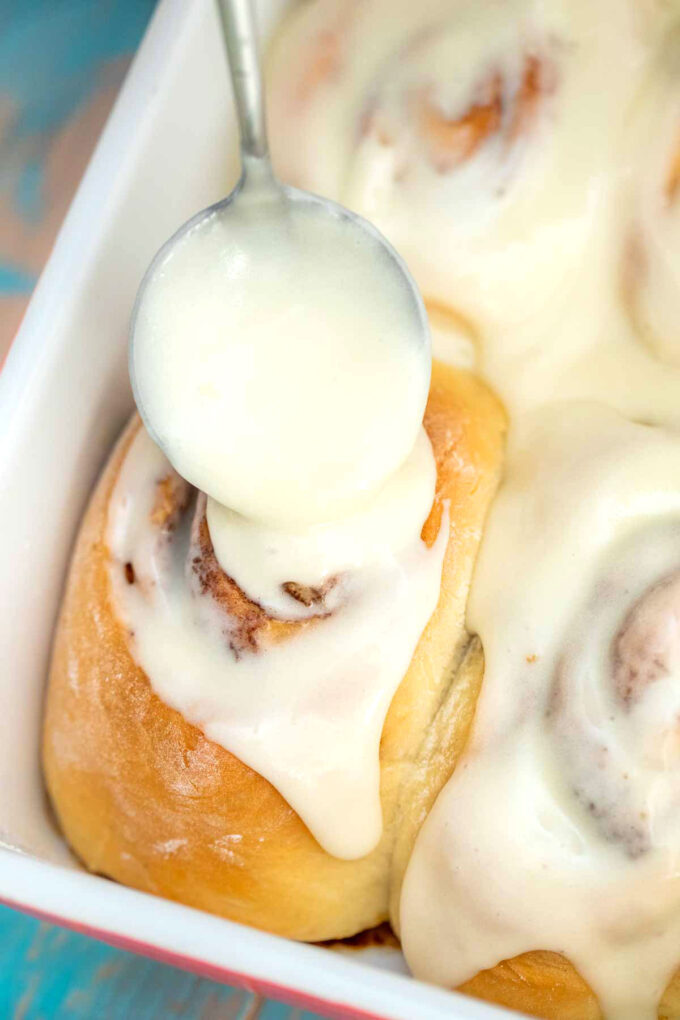 How to make cinnamon rolls icing?
Cream the softened butter and cream cheese in a mixer until light and fluffy. Then, add in the confectioner's sugar, vanilla extract, and a pinch of salt. Mix until smooth.
Can you freeze Cinnamon rolls?
Absolutely! Prior to freezing make sure they are completely cooled. Then, transfer them to an airtight container and ensure that it is properly sealed. Store in the freezer for up to 3 months. Defrost overnight in the fridge or kitchen counter prior to serving.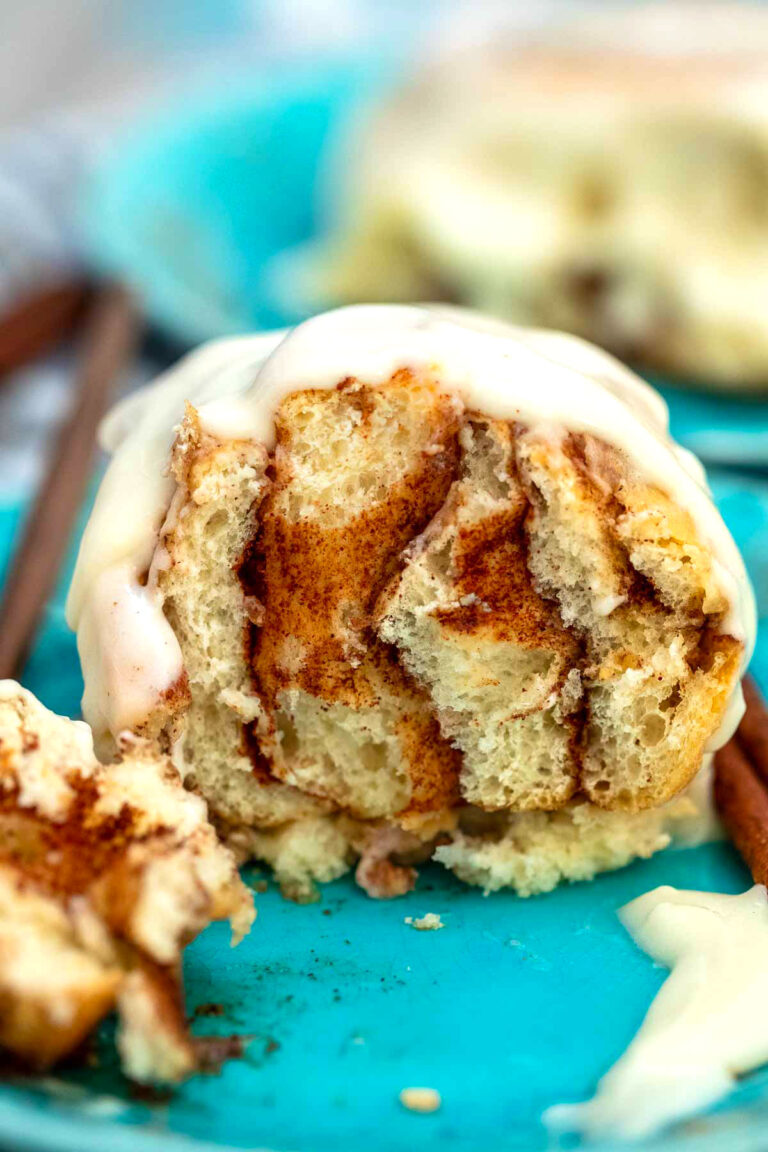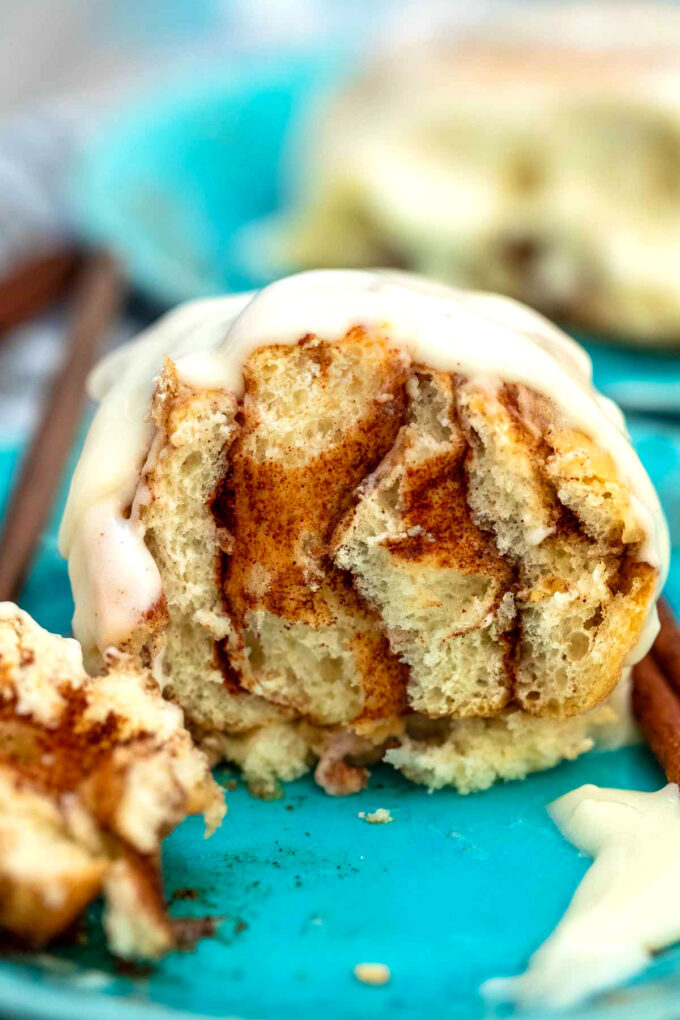 More delicious desserts:
Recipe Tips and Notes:
Don't put too much flour on your hands, and on the working surface when you're kneading the dough. This would make it too bready.
Have a little bit of melted butter on hand while kneading to moisten your hand and the work surface with it.
Make sure not to over – bake the rolls. Because every oven is different, it is best to check on them after the 18-minute mark. You want to end up with fluffy and rolls.
Also, to get the most fluffy rolls possible, we recommend to use butter when making the dough and avoid using margarine or shortening. A pinch of salt to the dough will balance sweetness nicely.
In addition, use a little bit of nutmeg with the cinnamon filling. It boosts the flavor tremendously without overpowering it.
Don't be afraid of the glaze, it is what makes this dessert so special. We like to put some extra glaze on them. Therefore, do not be afraid to use more glaze, it will taste so much better!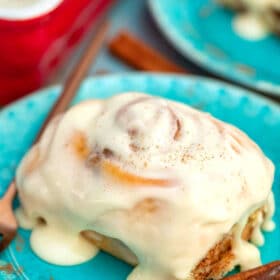 Fluffy Cinnamon Rolls with Cream Cheese Icing
Cinnamon rolls are made with sweet dough and laced with gooey cinnamon sugar goodness that would have you licking your fingers clean and reaching out for more!
Save
Share
Print
Pin
Rate
Ingredients
Dough:
1/3

cup

water

(warm)

2 1/4

teaspoon

instant yeast

(1 package)

1

tablespoon

granulated sugar

2

eggs

(room temperature)

1

cup

milk

(lukewarm)

1/2

cup

granulated sugar

1/3

cup

unsalted butter

(melted)

4

cups

all-purpose flour

1

teaspoon

salt
Cinnamon Sugar Filling:
3/4

cup

dark brown sugar

(packed)

2

tablespoons

ground cinnamon

1/2

cup

unsalted butter

(softened)
Cream Cheese Icing
8

oz

cream cheese

(room temperature)

8

tablespoons

unsalted butter

(softened)

2

cups

powdered sugar

1

tablespoon

vanilla extract

1/8

teaspoon

salt
Instructions
Make the dough:
Whisk 4 cups of flour and salt in a large bowl and set aside.

Add instant yeast, 1 tablespoon of sugar and lukewarm water to a medium bowl and whisk to combine. Let it rest for 5 minutes.

Add the eggs, milk, remaining 1/2 cup sugar and melted butter to the yeast mixture and whisk until well combined.

Add the yeast mixture to the flour mix and using a wooden spoon or spatula, stir until well combined.

The dough will be sticky. Cover with plastic wrap and let it rest for 10 minutes, preferably in a warm place.
Make Cinnamon Sugar Filling:
In a small bowl whisk together the dark brown sugar with the ground cinnamon until fully combined. Set aside. You will use the butter to spread it on the dough.
Prepare the Rolls:
Preheat oven to 350 F degrees. Place an oven rack into the middle of the oven.

Line a 9x13 inch baking pan with parchment paper and spray it with baking spray.

Flour a flat surface and roll the dough. You will need a good amount of flour, use it liberally on your hands, rolling pin and also sprinkle the dough with some.

Roll the dough until it's about 16 inches long by 13 inches wide and it should be about 1/4 inch thick. It is important for the dough to not be very thin, as it won't be able to hold well the filling.

When rolling, make sure the dough doesn't stick to the surface.

Spread the 1/2 cup of softened butter over the entire surface of the dough.

Sprinkle with the cinnamon sugar evenly over the surface of the dough.

Starting at the long edge, away from you, roll the dough down to the bottom edge.

Cut the dough into 12 two-inch slices and place the rolls into the prepared baking pan.

Let the rolls rest for 10 minutes, during which the will rise a bit.

Place the baking pan in the oven and bake for 20-25 minutes or until golden brown.
Make the Cream Cheese Icing:
Add the cream cheese and butter to a mixing bowl and beat until smooth.

Add the powdered sugar, vanilla extract and pinch of salt and mix until smooth. Stop to scrape the sides and bottom of the bowl with a spatula.

If the icing is too stiff, add 1 tablespoon of milk.
Icing the Rolls:
Once the rolls are done baking, remove from oven and immediately ice the rolls.

Preferably serve warm, but they are great at room temperature as well.
Nutrition
Calories:
445
kcal
|
Carbohydrates:
76
g
|
Protein:
8
g
|
Fat:
35
g
|
Saturated Fat:
15
g
|
Cholesterol:
89
mg
|
Sodium:
684
mg
|
Potassium:
205
mg
|
Fiber:
3
g
|
Sugar:
43
g
|
Vitamin A:
880
IU
|
Calcium:
143
mg
|
Iron:
3.4
mg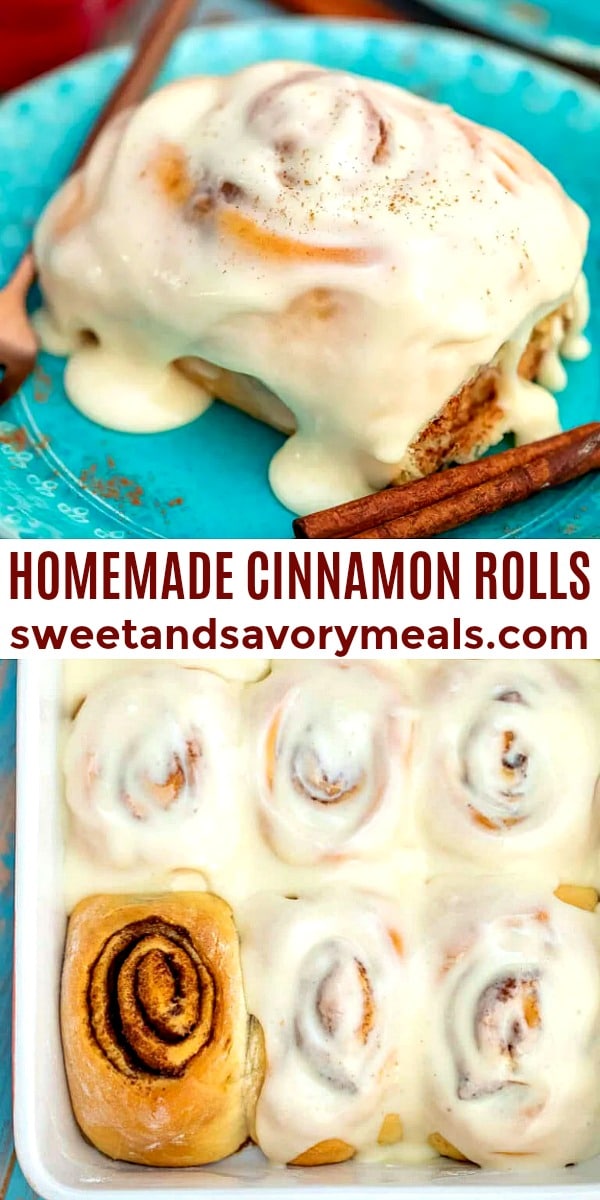 More recipes you might love