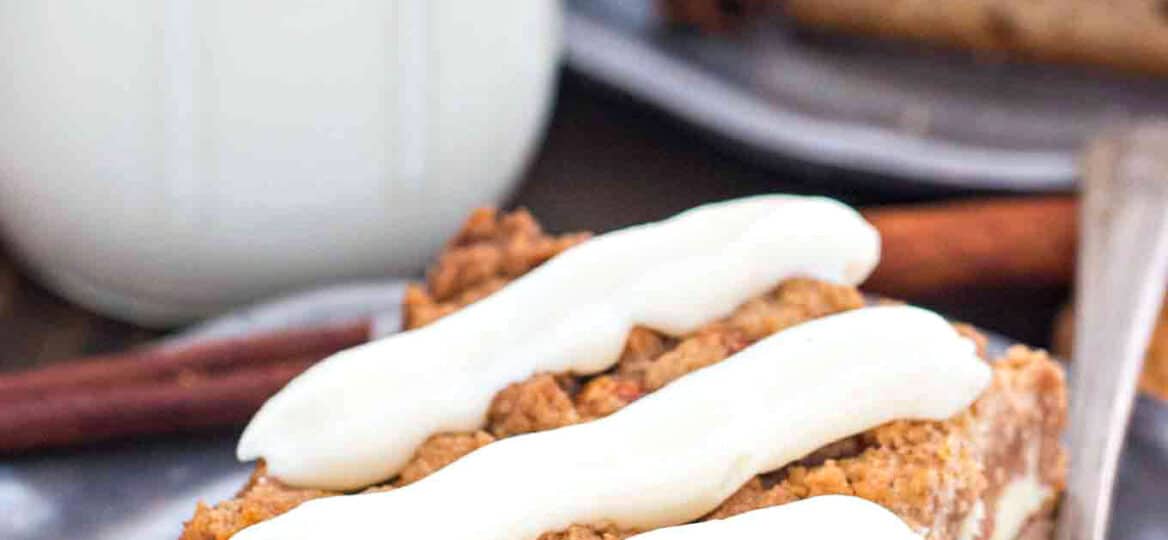 Snickerdoodle Cheesecake Bars [Video]
Snickerdoodle Cheesecake Bars are creamy, filled with a cheesecake layer, and finished with a perfect cinnamon streusel topping! It combines the best flavors of both worlds, and is guaranteed to become a favorite dessert!
We already have some delicious homemade cinnamon sugar desserts on our blog. This amazing New York Style Coffee Cake, Sopapillas and Sopapilla Cheesecake are among our most popular.
Similarly, we have a variety of cheesecake recipes to pick from. In this recipe, we decided to combine snickerdoodle cookies and cheesecake together, for the ultimate Snickerdoodle Cheesecake Bars.
Best Snickerdoodle Cheesecake Bars
These Snickerdoodle Cheesecake Bars are such a treat and so much fun to make! These bars are a beautiful combination of textures and flavors. The base layer is made of a snickerdoodle cookie dough mixture. Then, topped with cinnamon sugar mix, followed by a rich and creamy cheesecake layer. Finally, the mixture is topped with more cinnamon sugar and a crumbly streusel topping.
This is by far the most amazing and delicious Snickerdoodle Cheesecake Bars you can make. They are indulgent on all levels. A square is more than enough to satisfy your sweet tooth and it's also hearty and delicious.
Snickerdoodle Bars with Cream Cheese Recipe Tips:
Feel free to watch the recipe step-by-step video tutorial. It is a short video and a nice guide on how to easily make the snickerdoodle cheesecake bars recipe.
Make sure all the ingredients are of room temperature. Also, it is very important for the butter and cream cheese to be soft, so you can easily whip them.
Also, the cinnamon streusel topping is absolutely delicious, but if you want to cut on some calories, you can make half of it only.
The cheesecake layer is smooth and creamy, and best served cold. Make sure you chill the bars before serving.
Similarly, we recommend sprinkling the cinnamon sugar on top of the cheesecake layer. You can also sprinkle some on the cookie layer before adding the cheesecake mixture.
How to cut the snickerdoodle cheesecake bars?
Before cutting the bars, make sure you use a sharp knife. Similarly, it is important that the cheesecake bars are chilled before cutting. Once the bars are chilled, run a long, sharp thin-bladed slicing knife through water, wipe and cut in the desired shapes and forms.
Wash the knife after each cut.
How long can you store the cream cheese snickerdoodle bars?
The bars will last about 5-6 days in the fridge. It is best to warp them in foil and store them.
How to freeze the snickerdoodle cream cheese bars?
First, cool the Snickerdoodle Cheesecake Bars completely.
Then, fully wrap the bars in plastic wrap, tightly. After that, wrap in aluminum foil or place in freezer bags.
Freeze for up to 3 months. Defrost before serving.
You can thaw the bars overnight in the fridge.
Tools Used in the Making of these Snickerdoodle Cheesecake Bars:
Watch Recipe Video:
Deliciousness to your inbox
Enjoy weekly hand picked recipes and recommendations