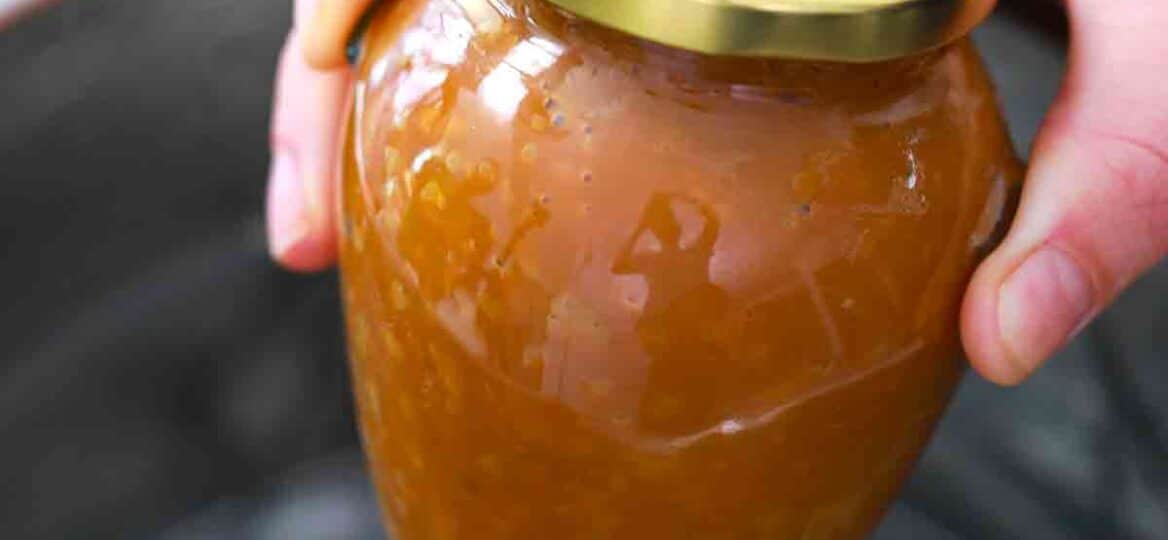 Instant Pot Dulce de Leche [Video]
Instant Pot Dulce de Leche is a rich and velvety caramel confection made from condensed milk. It tastes heavenly in desserts, drinks, or just eaten straight off a spoon! Best of all, you only need ONE ingredient and 35 minutes to make it!
Dulce de leche is like the more intense cousin of caramel, but we love them both the same! For more caramel-loaded treats, try our Salted Caramel Scones, Snickers Cookies with Caramel Sauce, and Homemade Caramel Popcorn!
Pressure Cooker Dulce de Leche
Instant Pot Dulce de Leche is liquid gold, and we're so excited for you to try it! If you haven't had it before, it's like caramel sauce but much thicker and creamier because it's made from pure condensed milk.
Traditional recipes require cooking this for at least 3 hours. However, the Instant Pot cuts that down to less than an hour. You don't even need to watch or check it.
Let the IP do its thing while you look up delicious ways to enjoy your homemade treat. We recommend starting off with this Spicy Iced Coffe Latte or this decadent Apple Pie Caramel Cheesecake!
What is dulce de leche?
It's basically cooked condensed milk. However, it's impossible to describe just how good this stuff is.
As the condensed milk is heated up over several hours, it becomes super thick, aromatic, and creamy with intense caramel flavors and a gorgeous golden color. It's seriously AMAZING, and you'll want to put it on everything!
What goes into homemade Instant Pot Dulce de Leche
Just one ingredient— condensed milk! Check the can. It should say "condensed," not "evaporated," because the latter will not work for this recipe at all.
How to make homemade Instant Pot Dulce de Leche at home
Transfer. First, pour milk into a glass jar with a tight seal.

Layer. Next, place your IP's trivet, followed by the sealed jar. After that, pour water into the IP until it almost covers the jar, below the lid.
Cook. Finally, set the IP for 35 mins., then release all the steam quickly afterward.
Cool. Afterward, remove the jar (careful, it will be really HOT!), and set it aside on a rack until it cools down completely.
Serve. In the end, enjoy it in your favorite recipes, or eat it with a spoon!
How do you know when IP Dulce de Leche is finished cooking?
It'll turn a deep, golden brown. However, the best way to tell is to follow the IP cooking time.
Recipe variations:
Deeper color: Extend the cooking time to 45 minutes.
Can method: Instead of the jar, try the recipe using the can. It can be sealed or unsealed and covered very tightly with foil. The water should only reach the can's bottom half. Cook for 35-45 mins.
Frequently Asked Questions:
Is carnation caramel same as dulce de leche?
It's marketed as such, because it's so easy and cheap to make your own, though (plus you can have it anytime), we highly recommend just making it from scratch!
You can also control how lightly or deeply caramelized it is, which means it will fit your taste perfectly.
Is evaporated milk the same as dulce de leche?
Not at all, it doesn't have sugar. It's simply milk that's had about 60% of its water content removed. DO NOT use it for this recipe.
Is dulce de leche just caramel?
No, classic caramel is sugar cooked with water, meanwhile, dulce de leche is cooked milk and sugar.
How long before condensed milk becomes dulce de leche?
It all depends on the method you're using, for instance, on the stove, it'll take you about 3 hours, while in the Instant Pot, only 35 minutes.
Can I replace condensed milk in recipes with dulce de leche?
Sure, if you want to infuse the recipe with a deeper caramel flavor.
How to store leftovers?
Keep the cooled jar in the fridge, sealed air-tight, and finish within 2 weeks.
What is dulce de leche used for?
This sinfully sweet and delicious confection is part of some of our favorite treats! Therefore, use it to make Alfajores, Chocolate Linzer Cookies, Ombre Meringue Cake, Apple Butter Cake with Dulce de Leche Buttercream, and Dulce de Leche Stuffed Pumpkin Lava Cakes!
Spread it on toast, pancakes, and rolls
Drizzle it over ice cream
Mix into coffee, tea, and milkshakes
Swirl it into brownies and cheesecakes
Dip apples and other slices of fruit in it
Freeze and stuff into cookies
Fill tarts and pies with it
Give them away as edible gifts
Eat straight out of the jar!
Can you freeze dulce de leche?
You can also freeze it, we suggest you put it in a freezer-safe container, so there's no risk of the glass jar breaking, and freeze it for up to 6 months.
Next, when you're ready to use it, heat it gently in simmering water until it's soft and spreadable again.
Deliciousness to your inbox
Enjoy weekly hand picked recipes and recommendations