Salted Caramel Scones with Sea Salt
This post may contain affiliate links. Please read my disclosure policy.
Soft and buttery salted caramel scones with vanilla hints, stuffed with milky way mini chocolates and topped with a homemade salted caramel sauce.
Hello and lets celebrate since its the middle of the week, in true Peas and Peonies fashion each celebration is not complete without dessert in this case Salted Caramel Scones with lots of homemade caramel sauce. Since I assume we all had salads on Monday and Tuesday we can go ahead and enjoy dessert.

I became obsessed with scones one year ago, I just woke up one day craving one for breakfast, and I think we should clarify this from the start, scones are a breakfast food, even if they are loaded with sugar and swim in hot, delicious caramel sauce, they are still a breakfast food, so go ahead and enjoy one, or two, or more with your morning coffee.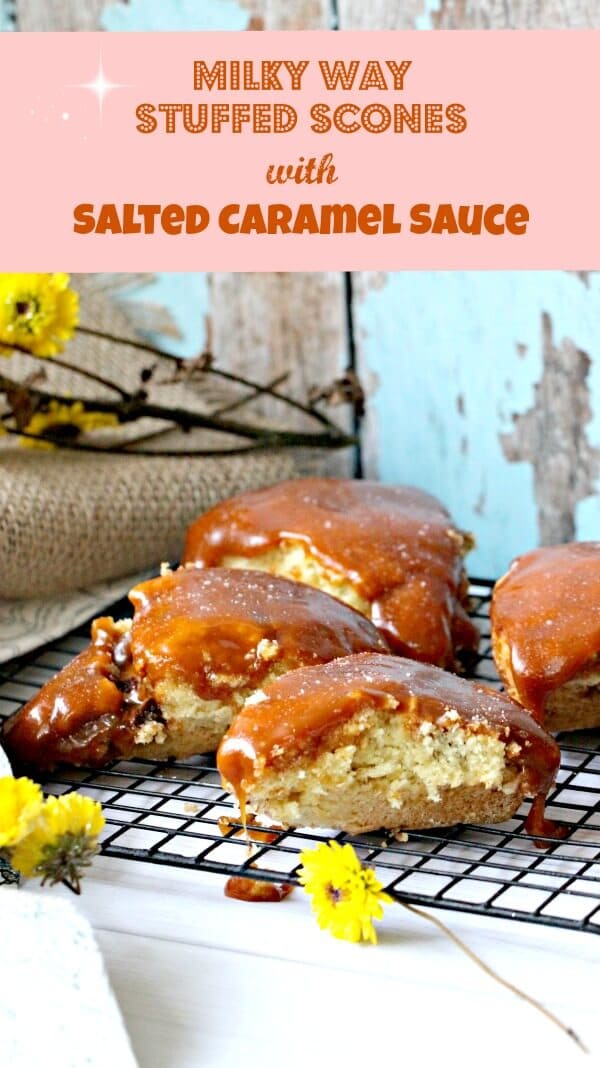 These salted caramel scones are what dreams are made of, I am not even kidding, I would love to say that they lasted more than a few minutes in our house, but they didn't, being completely honest and transparent here. I took a plate to some friends to test taste and they all gave me rave reviews.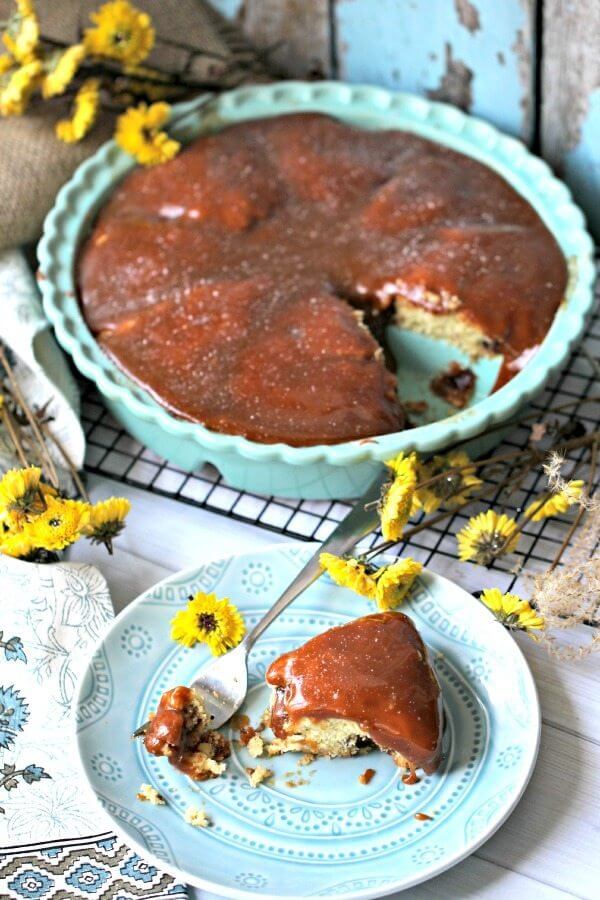 Ok, so let me get to business here, these are not your regular dry scones that break your teeth, I hate those and I am very disappointed when I get one. These salted caramel scones are soft and crumbly, with hints of vanilla flavor, stuffed with miniature milky way chocolates and topped with a delicious homemade caramel sauce, pink Himalayan salt is sprinkled on top for an out of this world finish.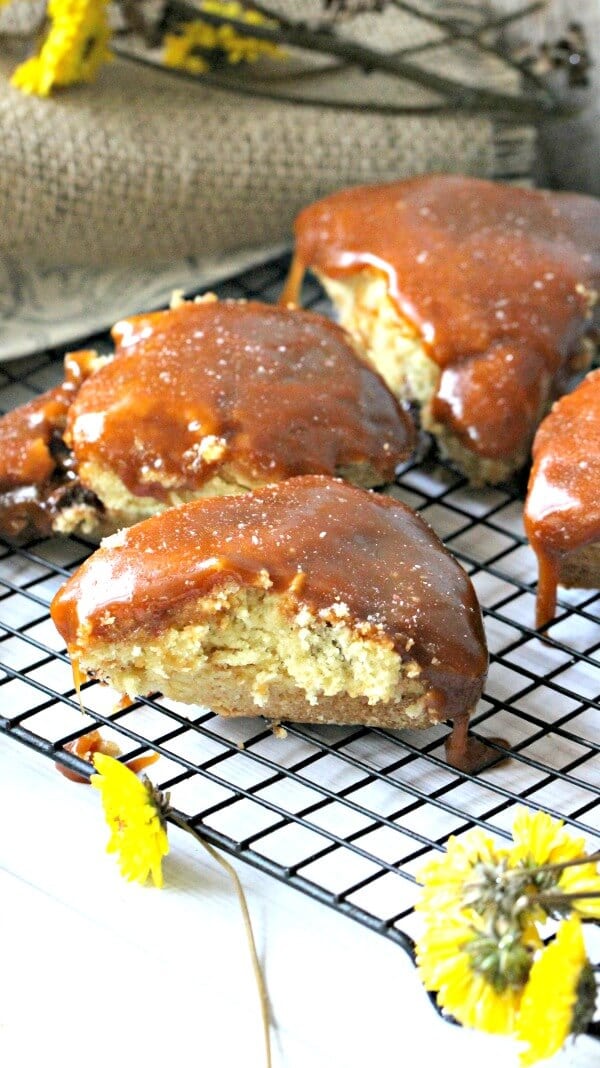 They are best served warm, right after the caramel got a chance to harden a little, these salted caramel scones truly melt in your mouth, and all the sweet and buttery crumbles mix with the melted chocolate from the milky way chocolates and sweet caramel making you crave more and lick your fingers.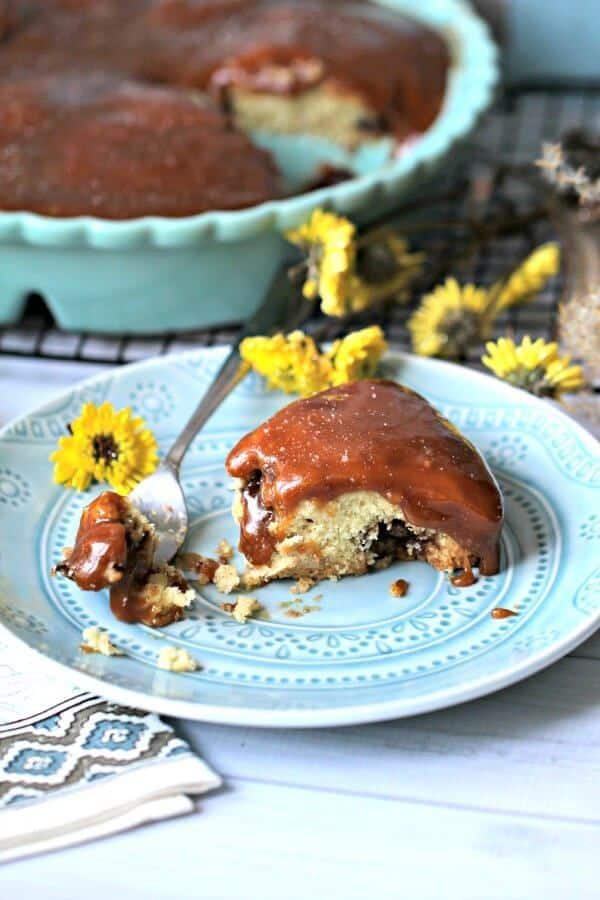 Like one of my friends said when eating her scone, if you decide to have dessert, you better opt for something delicious that is worth every bite, so you can enjoy it at the maximum, well, these scones are that type of dessert for me.

Salted Caramel Scones with Mini Milky Way Chocolates
Soft and buttery salted caramel scones with vanilla hints, stuffed with milky way mini chocolates and topped with a homemade salted caramel sauce.
Author:
Katalina Kastravet
Ingredients
Scones:
2 cups unbleached all-purpose flour
⅓ cup sugar
1 teaspoon baking powder
½ teaspoon baking soda
½ teaspoon salt
6 tablespoons chilled unsalted butter, diced + 2 tablespoon for greasing the pan
¾ cup miniature milky way
¾ cup chilled buttermilk
1 large egg yolk
1 teaspoon vanilla extract
⅓ cup milk
Homemade Caramel Sauce:
1 cup granulated sugar
6 tbsps. unsalted butter, at room temperature and cut up into pieces
½ cup heavy cream
1 tsp. salt
pink Himalayan salt for garnish
Instructions
Scones:
Preheat oven to 400F degrees.
Butter and flour a baking sheet or scone pan.
In a large mixing bowl combine flour, sugar, baking powder, baking soda and salt. Add butter and rub in with your fingertips until butter is reduced to the size of rice grains.
In a medium mixing bowl using an electric mixer fitted with the wire attachment or a hand mixer, whisk together buttermilk, egg yolk and vanilla. Add the mixture to the dry ingredients; mix until dough comes together in moist clumps. Mix in miniature milky way. Gather dough into a ball.
Press dough out on a lightly floured surface into an 8-inch round; cut round into 8 wedges. Transfer wedges to prepared baking sheet spacing 1 inch apart; or to scone pan.
Brush scones lightly with milk and bake until the scones become crusty and the top is golden; a tester inserted into center comes out clean, about 20 - 25 minutes.
Caramel Sauce:
In the meantime work on the caramel sauce. In a medium sauce pan over medium heat melt sugar until a brownish liquid forms, make sure to stir constantly during this process.
When sugar has completely melted, add the butter and stir until well combined.
Carefully while still stirring add the heavy cream, once all the cream has been added let the mixture boil without stirring for one minute.
Remove from heat, stir in salt, transfer to a mason jar (or any other container) and let it cool.
Pour caramel on top of the scones, grind pink Himalayan sea salt on top. Serve warm.
Peas and Peonies, LLC. owns the copyright on all images and text and does not allow for its original recipes and pictures to be reproduced anywhere other than at this site unless authorization is given. If you enjoyed the recipe and would like to publish it on your own site, please re-write it in your own words, and link back to my site and recipe page. Copying and/or pasting full recipes to social media or personal blogs is strictly prohibited. Sharing this recipe is very much appreciated and encouraged. Read my disclosure and privacy policy. This post may contain affiliate links.