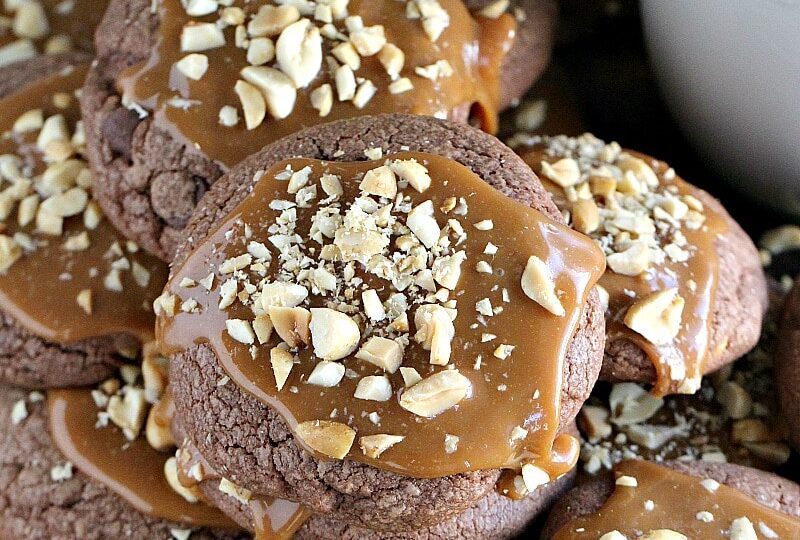 Snickers Cookies with Caramel Sauce
Snickers Cookies are loaded with salted peanuts, milk chocolate chips and topped with caramel, making them the perfect comfort dessert.
I am in love with Snickers bars, and making easy and delicious snickers desserts is somewhat of a quest for me. After making Homemade Snickers Bars, I decided to indulge you with these easy and delicious homemade cookies.
Snickers Cookies
Snickers Cookies are the best, because they combine the perfect pair mix of caramel and chocolate chips. I am not a fan when people take regular sugar cookies, stuff them with Snickers candy bars and call those Snickers Cookies! Well, in my sugary opinion, those are not the real deal.
The base for my cookies are soft and dense chocolate cookies, loaded with milk chocolate chips and salty peanuts. The cookies are later topped with melted caramels and more salty peanuts! This version packs all the beautiful flavors and textures you would find in a Snickers candy bar. In addition, they are a great hit with kids and adults alike. They will make for a great party dessert!
Why You'll Love These Snickers Cookies:
Firstly, the Snickers flavor is front and center.
They can be easily made, and baked in another 12 minutes.
Also, they are perfect hostess gift.
Great project to make with kids.
Rich in chocolate and creamy, that both kids and grownups would love.
Foolproof, easy to follow recipe.
Pin This Snickers Cookies Recipe to your Favorite Board
How long will the cookies stay fresh?
The cookies can be stored wrapped in plastic wrap or in a closed container at room temperature for about 5-7 days.
Can you freeze Snickers Cookies?
Absolutely! Cool the cookies completely and fully wrap it in plastic wrap, tightly. After that wrap in aluminum foil. Freeze for up to 2-3 months. Defrost before serving.