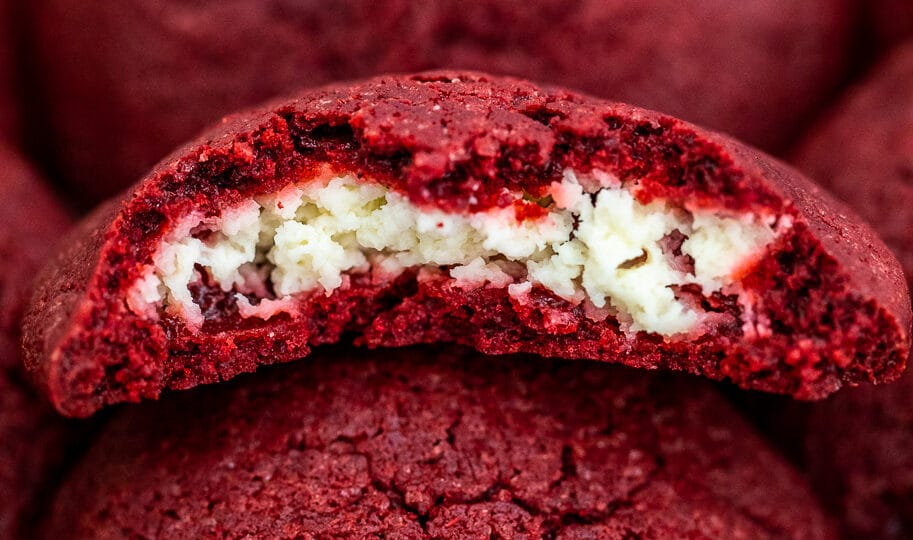 Cheesecake Stuffed Red Velvet Cookies [Video]
Cheesecake Stuffed Red Velvet Cookies are creamy, festive, and are the perfect treat to have during the holiday season. You get a dessert which is the best of both worlds. A delicious red velvet filled with cream cheese, in cookie form!
If you are looking for a delicious and decadent sweet to make for the upcoming Christmas, Valentine's Day, or any special occasion, then this recipe is the one to go! You might also like Mint Chocolate Chip Cookies, Red Cheesecake Bites, and Pecan Pie Bars.
Red Velvet Cookies Filled with Cream Cheese
With the holiday season approaching, I try to find some of the best desserts to compliment this Christmas occasion. And these Cheesecake Stuffed Red Velvet Cookies are just the perfect treat for it. They are festive, delicious, creamy, and almost too pretty to eat. Once you try one, we are quite certain you will want to eat another one!
Although this is not the easiest recipe to make, it is well worth every single step. You do need to chill the dough and filling before you bake these red velvet cookies. Therefore, plan ahead and have some spare time to make them. It is well worth the process.
In addition, they are great to make ahead. You can simply refrigerate them for a couple of days.
Kids will also love them because when they bite into them, they will find a little surprise! To finish, I like to drizzle them with some white chocolate or icing. However, this step is not necessary. They are just pure joy, and the buttery flavor will surely more than satisfy your craving!
How to make Cheesecake Stuffed Red Velvet Cookies?
Prepare cookie dough: Using a stand mixer, mix the cream butter and sugars until light and fluffy. Then, add the egg and vanilla. Add flour, cocoa powder, baking powder, food coloring, and a pinch of salt. Mix until just combined. Then, set the dough aside.
Make the Cheesecake Filling and chill: In a separate bowl, combine cream cheese, powdered sugar, and salt. Next, mix the ingredients well until smooth and combined. Cover with plastic wrap and chill in the fridge for about 30 minutes.
Assemble the cookies: Using a scoop, spoon out the individual scoops of cookie dough and flatten into a circle. You can also use a regular spoon, and simply roll each spoon into a ball as best you can. Then, place about 1.5 to 2 teaspoons of cream cheese filling into the dough. I recommend using your thumb. Cover the filling with another cookie dough ball and mold the two around the filling. Ensure that the edges are sticking together and that the cream cheese filling is properly covered.
Bake them: Lastly, baked them and enjoy!
How long do I bake them for?
You should bake them at 350 degrees F for about 14-17 minutes depending on your oven. I would check on them after the 14-minute mark. If they look ready, simply remove from the oven and let them slightly cool prior to serving. You do not want to overcook them.
Can I make the Cheesecake Stuffed Red Velvet Cookies in advance?
Sure thing! If you want to plan ahead and make them in advance, feel free to do so. It is best to prepare and bake them up to 2-3 days prior, then let them cool prior to storing in the fridge.
Can I freeze them?
Yes. Prior to freezing, ensure they are completely cooled. Then, transfer the cookies to a freezer-safe dish, and freeze for up to 3 months. You will have to let them defrost overnight on the counter prior to serving.
Recipe Tips:
Feel free to make them into larger or smaller sized cookies based on your licking.
Being a perfect Christmas dessert, I also love topping them with some sprinkles or icing. However, this step is optional.
Also, like with most cookie doughs, the cream cheese filling needs to be super cold going into the oven.
For a bigger batch, simply increase the ingredients accordingly. To double it, just double the ingredients.
In addition, I would highly recommend using full-fat tubs of cream cheese. It works best here, so avoid a fat-free version.
Do not overfill the cookies with cream cheese filling. Leave some room to assemble them together.