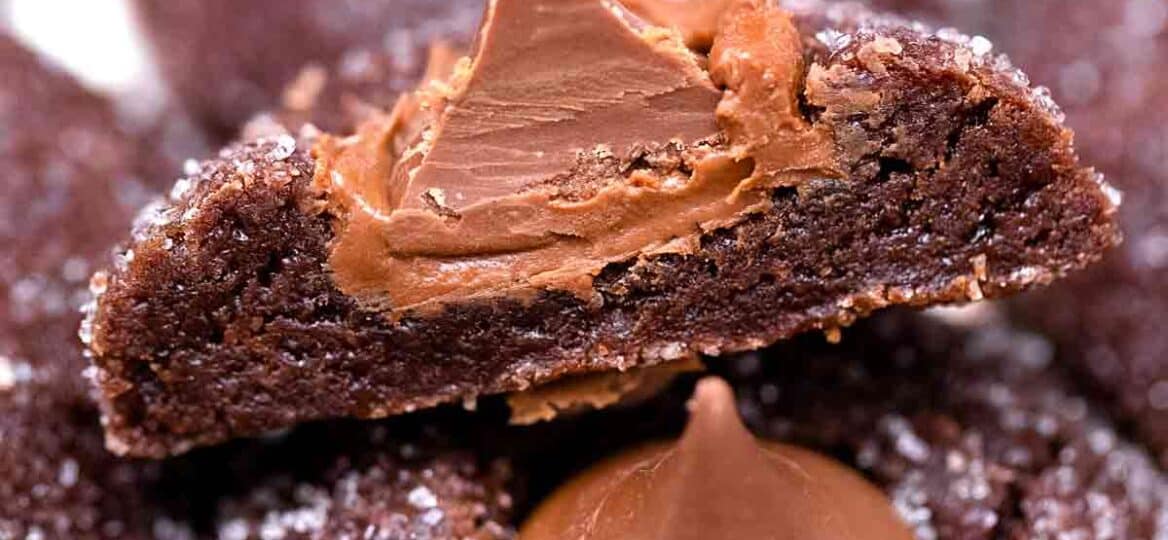 Hershey Kiss Cookies [Video]
Hershey Kiss Cookies are cute as a button and a double chocolate hit! The cocoa cookie is buttery and decadent with a chocolate Kiss on top. Yummy and so fun to make!
I love using my favorite chocolate snacks and candies in baked goods! Treat yourself to this Dream Extreme Oreo Cheesecake, M&M's Twister Cookies, and No-Bake Nutella Fudge. Don't forget to share!
Chocolate Hershey Kiss Cookies Recipe
Hershey Kiss Cookies make me so happy every time I bake them. They make me feel like a kid again— unwrapping the foil, popping the kisses into my mouth, then grabbing another from the bag until I was in a blissful chocolate coma. I thought nothing could be better than that until I had these Hershey Kiss Cookies!
These treats have double the chocolate factor thanks to the cocoa in the dough and the kiss in the middle. Aside from being a fantastic snack, they're also great as delicious, homemade giveaways. They look so adorable in a cute tin and are always guaranteed to put a smile on people's faces!
What are Hershey Kisses?
These are bite-sized chocolate pieces shaped like teardrops. Aside from classic milk chocolate, they come in almost endless flavors.
You can buy Kisses in the usual dark chocolate, mint, cookies 'n' cream, white, and with almonds. They also come in seasonal flavors like a candy cane, cherry crème, and more!
What are Hershey Cookies?
These are basically the chocolate version of thumbprint cookies. Instead of putting a dollop of jam in the middle, you fill that little space with Hershey Kisses instead! If you're familiar with peanut butter blossoms, they're very similar to those as well.
How do you make Hershey Kiss Cookies?
Make the dough. Mix sugar and butter until lighter in color and fluffy. Incorporate vanilla and fresh egg. Blend the dry, then mix into the wet little by little. Don't overmix.

Chill. Refrigerate for about an hour. This makes the dough easier to work with and gives the cookies a better structure.
Bake. Shape the dough into 24 small balls, around 1 inch each. Roll carefully in the sugar then place in the oven at 350F, baking for 9 to 11 mins. Let cool for a couple of minutes.
Finish with a chocolate kiss. Gently press a kiss into the center of each warm cookie, then cool completely.
Recipe variations:
Decorate with sprinkles: Making this for the holidays or any special occasion? Roll in colored sprinkles instead of sugar! If you're making this for your Christmas cookie tray, for instance, roll them in festive red and green sprinkles.
Use other Hershey Kiss flavors: Try this with caramel, cookies and cream, special dark, mocha, hazelnut, mint, or hot cocoa.
Peanut butter version: Mix some peanut butter into the dough instead of cocoa for a nutty delight!
What is the best chocolate to use in cookies?
Choose one that you'd love to eat on its own. That chocolate flavor will really shine, especially when you're using a simple cookie dough like this one.
Can you make these in advance?
Yes, you can let the raw dough chill overnight or for a couple of days. It's a great way to get the deeper, almost toffee-like flavor in the dough, and you can bake them fresh every time.
If you want to keep them longer, shape the dough into balls then freeze on a sheet. Transfer to a sealed bag and keep up to a month or two. No need to thaw the frozen balls before baking. Just add a minute or two to the baking time!
How to store:
Cool them completely on a rack first to prevent them from getting soggy in storage. Once cool, transfer to a well-sealed baggie or container. These will stay fresh at room temp for about 3 days, and double that in the fridge.
Can you freeze Hershey Kiss Cookies?
Yes! Transfer the cooled pieces into a foil-lined airtight container, then keep them in the freezer for 2 mos. You may also wrap them individually in cling film before freezing.
More Recipes:
Recipe Tips:
Making these ahead? Aside from storing the dough, unwrap all the kisses and keep them in a bag for easier baking time the next day.
Don't skip the chilling time! Not only does it make the dough easier to shape, but it also prevents them from spreading too much in the oven.
Deliciousness to your inbox
Enjoy weekly hand picked recipes and recommendations