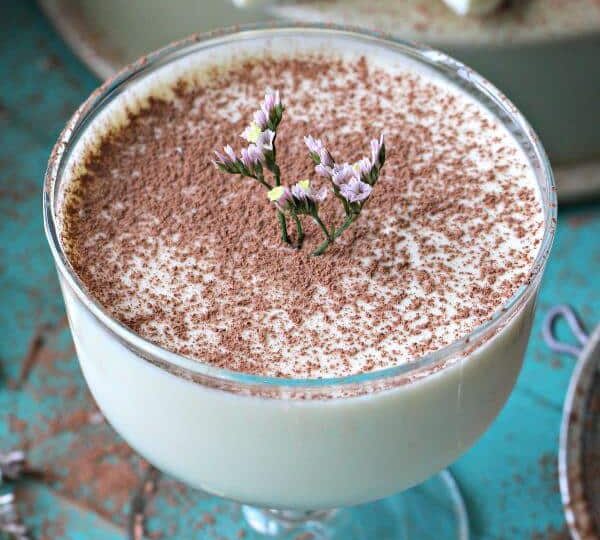 Easy White Chocolate Mousse
Easy White Chocolate Mousse is rich, creamy and fluffy, with a hint of cherry Baileys. It is a delicious and elegant dessert.
We love making easy and puffy Mousse. Some of my popular recipes are Peanut Butter Brownies Mousse, Milk Chocolate Mousse and Mango Mousse Cake.
White Chocolate Mousse
White Chocolate Mousse as the title suggests, is very easy to make, and would be a prefer creamy deserts. This mousse is a light, fluffy and elegant dessert, perfectly sized in single serving cups so you don't have to share yours! A rich sweet treat that is soft like a cloud, and served cold from the fridge. It's the perfect finish to any meal.
I prefer the mousse cold, straight from the fridge, because its so refreshing, sweet and delicious. I served mine in ice cream cups, and I got exactly 2 servings from the recipe. Also, what I like about this easy white chocolate mousse is that the recipe is versatile. For example, you can make it in ice cream glasses as I did, or you can use the filling to make a mousse cake. Also, you can play with the flavors as you want, you can add some fresh raspberries for a beautiful pink and summery dessert. This is a base recipe, that can be adjusted to meet your needs and to satisfy your taste.
Why You'll Love This White Chocolate Mousse:
Firstly, it is puffy, pretty and delicious, and is a show stopper dessert.
Also, the bowls presentation make them elegant.
Easy to find ingredients and minimum prep work is needed.
Chocolate cherry Baileys makes this an elegant and thoughtful dessert.
Lastly, they can be made 1 day in advance, so you don't have to worry about a last minute dessert.
How Long Will White Chocolate Mousse Stay Fresh?
The Chocolate Mousse can be stored wrapped in plastic wrap at room temperature for about 3-4 days.
CAN YOU FREEZE White Chocolate Mousse?
Freezing the Mousse is not recommended, as the cream wouldn't freeze well, and upon defrosting it will become watery.
Pin This White Chocolate Mousse Recipe to your Favorite Board
Deliciousness to your inbox
Enjoy weekly hand picked recipes and recommendations